Blackberry Panna Cotta
May 12, 2021 | Updated May 27, 2022
As an Amazon Associate I earn from qualifying purchases.
Blackberry panna cotta is a joy of summer, and can be made in several different ways that I'll go through here.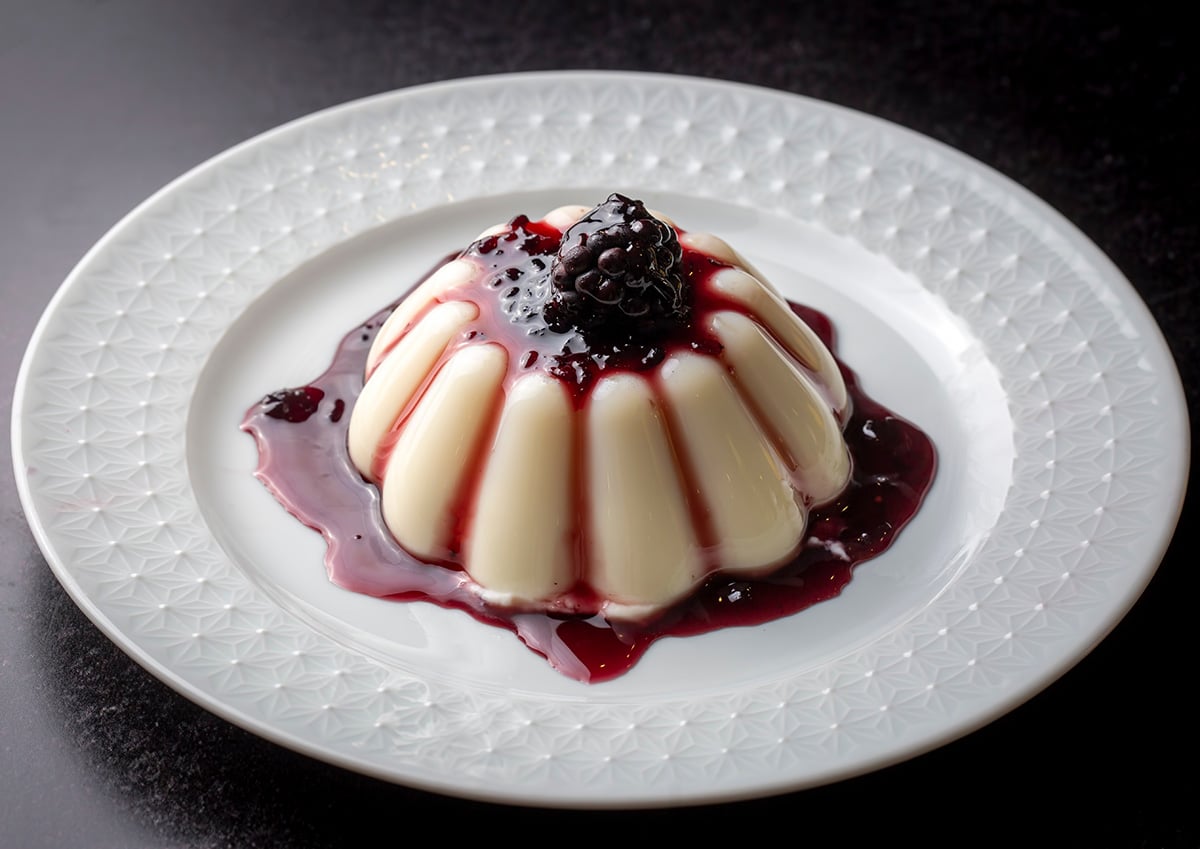 A traditional blackberry panna cotta would actually be a vanilla panna cotta with blackberry syrup and fresh or macerated blackberries on top, as in the picture.
I prefer to infuse the blackberries in the cream to make a pretty pink panna cotta, and then add the extra hits of syrup and fresh berries — or go with a complimentary berry.
If you're not familiar with a panna cotta, it's an Italian dessert where you use gelatin to set cream into a mold. It is not the same thing as a crème brulee or custard, which is set with eggs.
The goal of a panna cotta is to use as little gelatin as you can and still have it set up fully. I have tinkered with Knox gelatin to the point where I like this recipe, but I notice different brands of gelatin act differently, so you might need to experiment.
Obviously this is a model for other fruits. Anything that looks like a blackberry will work exactly the same way: dewberries, raspberries, salmonberries, boysenberries, marionberries, and, if you are ever so lucky, nagoon berries and cloudberries make ethereal panna cotta.
You can make blackberry panna cotta up to two days ahead, making it one of the less stressful "fancy" desserts. You can also choose not to pop it out of the ramekins, which makes it even easier — then it's like a cream-based jello, only less firm.
A tip on getting panna cotta out of molds: If they are sticky, dip the ramekin into a bowl of hot water — obviously don't get the actual dessert wet. This can slightly melt the outermost layer, allowing you to carefully invert the mold over the dessert plate.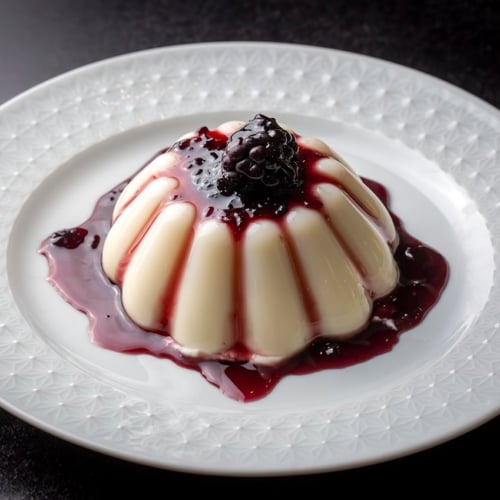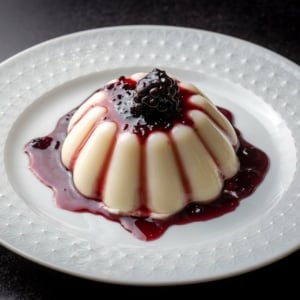 Blackberry Panna Cotta
You can use most berries for this recipe. Raspberries, salmonberries, loganberries, etc., are perfect, and you can also use gooseberries, blueberries or currants. Same basic procedure.
Ingredients
2

cups

cream

1/3

cup

sugar

2

cups

blackberries

(see above)

1

teaspoon

Knox gelatin

6

teaspoons

cold water

Canola or grapeseed oil to grease ramekins

4

dessert ramekins
Instructions
Mix the blackberries with the sugar and let sit for 30 minutes.

Meanwhile, oil the ramekins with the grapeseed, or any neutral-tasting oil. You can skip this if you are planning to serve the panna cotta as a parfait, and not pop it out of the container.

Heat the blackberries-sugar mixture with the cream and bring it to a steam, about 170°F. Don't let it simmer. Turn off the heat and let this steep 30 minutes.

When the 30 minutes is about done, mix the gelatin with the cold water in a container you can pour from, like a quart measuring cup or a bowl with a pouring spout.

Heat the cream mixture again, just back to the steaming point. Don't simmer it.

Set up a fine-meshed strainer over the container that has the gelatin in it. Pour the hot cream through the strainer into the container so you leave the blackberries behind.

Now, pick up the strainer and shake it gently over the cream to release some extra blackberry goodness. This is important, as this last bit of juice and cream in the blackberries is concentrated and can give you a lot more flavor and color in your panna cotta.

Stir the panna cotta mixture a few times to incorporate the gelatin, then pour it into your ramekins.

Put in the fridge for a few hours to set. Panna cotta can be made up to a day ahead, just cover the ramekins once they've set.
Nutrition
Calories:
509
kcal
|
Carbohydrates:
27
g
|
Protein:
4
g
|
Fat:
44
g
|
Saturated Fat:
27
g
|
Cholesterol:
163
mg
|
Sodium:
48
mg
|
Potassium:
206
mg
|
Fiber:
4
g
|
Sugar:
20
g
|
Vitamin A:
1903
IU
|
Vitamin C:
16
mg
|
Calcium:
98
mg
|
Iron:
1
mg
Nutrition information is automatically calculated, so should only be used as an approximation.