As an Amazon Associate I earn from qualifying purchases.
If you've ever had Texas barbecue, chances are you've had hot links; they are almost a requirement at most Hill Country BBQ joints. Here's how to make them at home.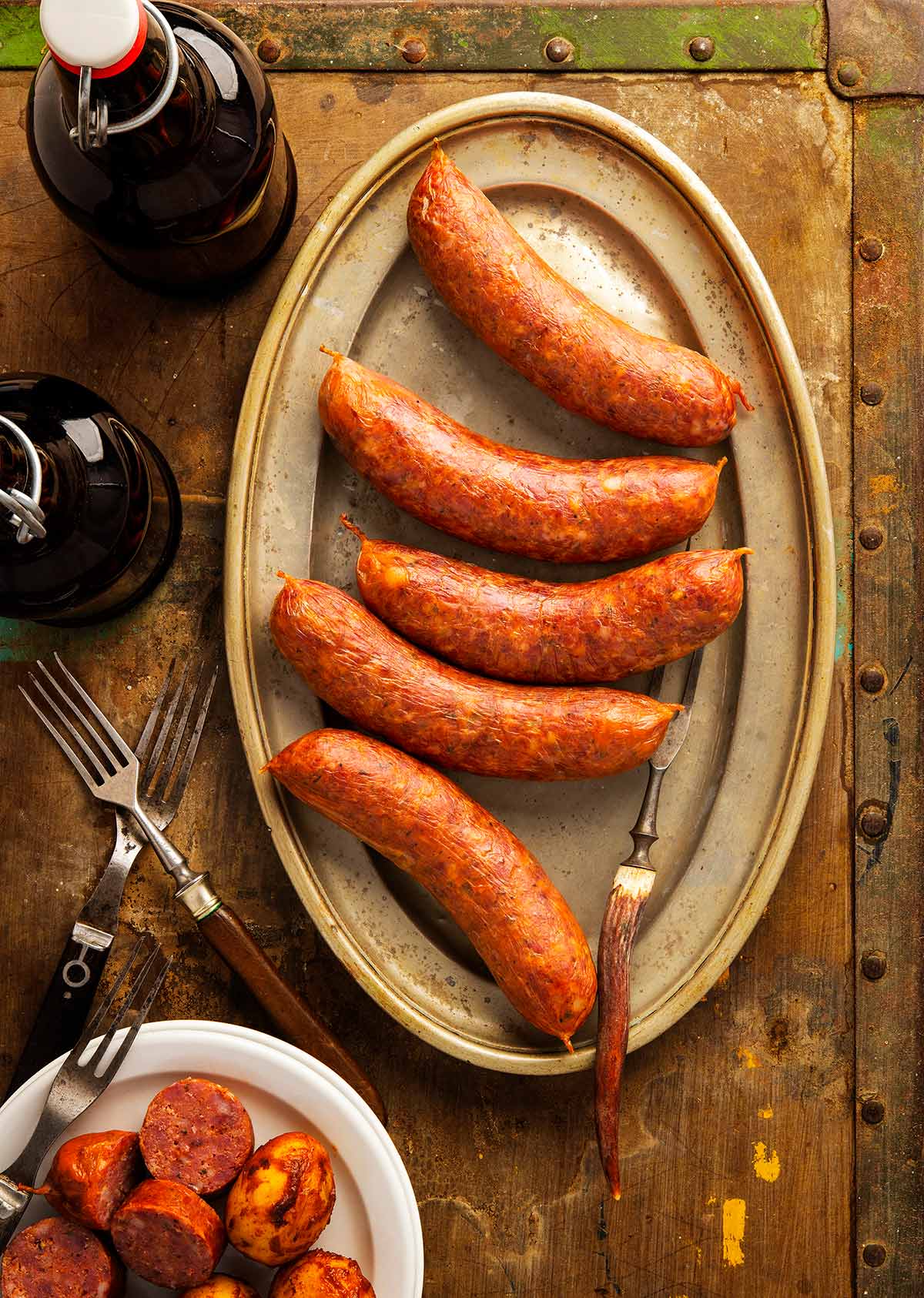 There are several versions of hot links sausage, depending on where you are from. Growing up, to me hot links were a sort of hot dog, obviously a spicy one.
Louisiana makes a hot link, too, which is kinda-sorta similar to andouille, but spicier. This recipe is for the standard Texas hot links you'll see pretty much everywhere in the Lone Star State — except for east Texas, where hot links are short, fat links that are purposely mushy inside, a bit like boudin.
(Incidentally, there is another common sausage in Hill Country that is very simply known as "sausage," and it's an all-beef link flavored with garlic and black pepper. Smitty's in Lockhart makes a good one.)
Most hot links wherever you find them are either pork, beef or a combination. I took that route and made pork and venison sausages.
Interestingly, most Texas hot links I've eaten weren't terribly hot. Some use cayenne and paprika to give them a red hue (mine does), and others just use cayenne. But it's always a mild, pleasing heat.
That's not to say you can't amp things up to suit your tastes. I am sure some Texans somewhere use ghost peppers or Carolina reapers or somesuch in their recipes, but I'll pass.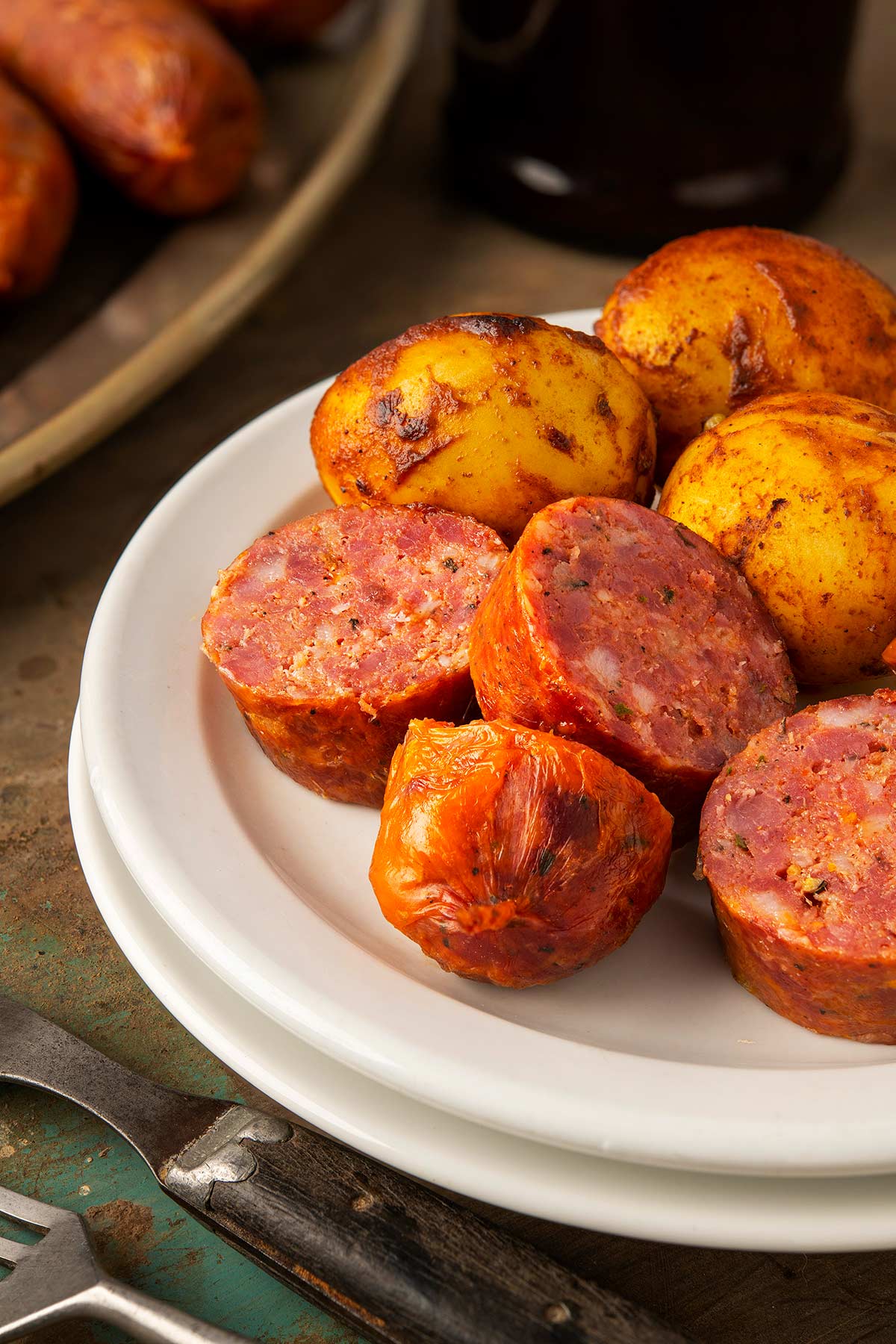 Tips on Making the Sausage
If you're not already familiar with sausage making, here is a comprehensive tutorial on making sausage.
Generally speaking, this should be a coarse sausage, ground twice. But you can grind finer if you want. I will grind once with a medium die, 6 or 7 mm, and then sometimes I'll grind some of that through a finer, 4.5 mm die. This gives the sausage a more interesting consistency.
For the liquid, I use something like Lone Star beer or a Mexican lager like Modelo or Carta Blanca, but you could use ice water, too.
Regular hog casings will work fine, but I've seen hot links range from skinny to weirdly fat; those would be the east Texas stubby links.
Smoking Hot Links
This is a smoked sausage, so you'll need a smoker. Any will do, but you will want to smoke these links to an internal temperature of about 150°F, getting there over the course of a few hours. For me, that means smoking at about 180°F for three hours.
Wood choice is up to you, but since these are Texas hot links, I prefer either oak or mesquite.
Serving Hot Links
I generally eat hot links as is as part of a barbecue spread, along with brisket, barbecued chicken, barbecued pork shoulder, potato salad, cole slaw, pickles and, if you want to be super authentic, Texas toast, which is a heavier, thicker cut white bread.
You can also put them in gumbo or jambalaya, and they make a good stand-in for spicy Italian sausage in a pasta sauce or for sausage, peppers and onions — although if you know you are planning on using them for this, don't smoke the sausages.
They are also good in place of linguica in a Portuguese kale soup.
Storing and Preserving
The general rhythm is that you make hot links, smoke them, then either eat them right away or plunge them into cold water to stop the cooking and then eat them later.
What this means is that the sausages will be heat-and-eat, whether it's the next day or months later. Pretty convenient. Texas hot links will keep a week in the fridge and a year in the freezer if you vacuum seal them.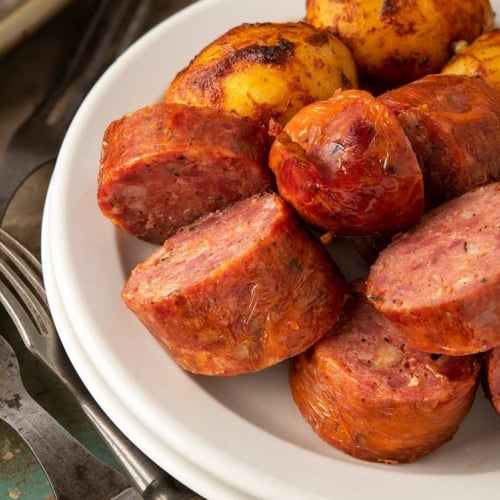 Texas Hot Links
This is a country style, reasonably spicy sausage made with pork, beef, or a combination. I used venison in place of beef. This recipe makes 5 pounds. If you're not already an expert, here's a tutorial on how to make sausage.
Ingredients
3

pounds

venison

2

pounds

fatty pork shoulder,

or belly

34

grams

salt,

a little less than 2 tablespoons

5

grams

Instacure no. 1, a little less than a teaspoon

(optional)

1

tablespoon

sugar

(optional)

2

tablespoons

paprika

1

tablespoon

freshly ground black pepper

1

tablespoon

cayenne

2

teaspoons

thyme

6

bay leaves,

ground fine

3

cloves

garlic,

minced

1/3

cup

lager beer,

or ice water

Hog casings
Instructions
Cut the venison and pork into chunks that will fit into your grinder. Mix well with the salt and sugar. Let this sit in the fridge for as long as you can stand, up to overnight if you have time; it helps the sausage bind to itself better.

Get out about 10 to 15 feet of hog casings and soak them in warm water.

Mix the spices and garlic with the meat and fat and grind though a coarse die, about 10 mm. If you don't have that, grind with as coarse a die as you have. If your room is warmer than about 70°F, grind into a container that is set in ice, to keep things very cold.

If the meat is still below 40°F, go ahead and grind again through a 6 mm die or similar. TIP: If you have some bread around, rip off a piece and make that the last thing in the grinder: It pushes out all of the rest of the meat so you don't waste any. If the meat is above 40°F, put it in the freezer for 30 minutes while you clean up everything.

Add the beer (or water) to the sausage mixer and mix well with your (clean) hands, or a mixer with a paddle attachment set on low, for about 2 minutes. The sausage will adhere to itself and you will see whitish streaks in the bowl. Put the sausage in a sausage stuffer.

Thread a casing onto the stuffer, leaving a few inches as a "tail" so you can tie it off later. Stuff the whole casing at once, again leaving a tail at the other end. Repeat until you've stuffed all the sausage.

Make links by pinching them off and spinning them, first one way, then the other. This prevents them from unraveling when you hang the links to dry. You can also tie them off with twine. Here's a quick video on making the links. Tie off the ends of the casings.

Carefully compress the links to reveal air pockets, and prick the links with a needle to remove them, gently compressing the meat.

Hang your sausages to dry, for an hour at room temperature, or up to a day if you can do so in 40°F or below.

Smoke your hot links at 200°F or thereabouts until they reach about 150°F internal temperature. Then, either eat them or plunge them into a bath of ice water to stop the cooking. Dry them off and store in the fridge for a week, or freeze.
Notes
I really like adding a bit of binder to these links to get a better snap and bind. I use Butcher and Packer's special meat binder, which you can buy online. You add it with the liquid, right before you mix. 
Nutrition
Calories:
131
kcal
|
Carbohydrates:
2
g
|
Protein:
21
g
|
Fat:
4
g
|
Saturated Fat:
1
g
|
Polyunsaturated Fat:
1
g
|
Monounsaturated Fat:
1
g
|
Cholesterol:
76
mg
|
Sodium:
715
mg
|
Potassium:
340
mg
|
Fiber:
0.4
g
|
Sugar:
1
g
|
Vitamin A:
464
IU
|
Vitamin C:
1
mg
|
Calcium:
13
mg
|
Iron:
3
mg
Nutrition information is automatically calculated, so should only be used as an approximation.