Wild Hog BBQ
May 29, 2018 | Updated June 06, 2022
As an Amazon Associate I earn from qualifying purchases.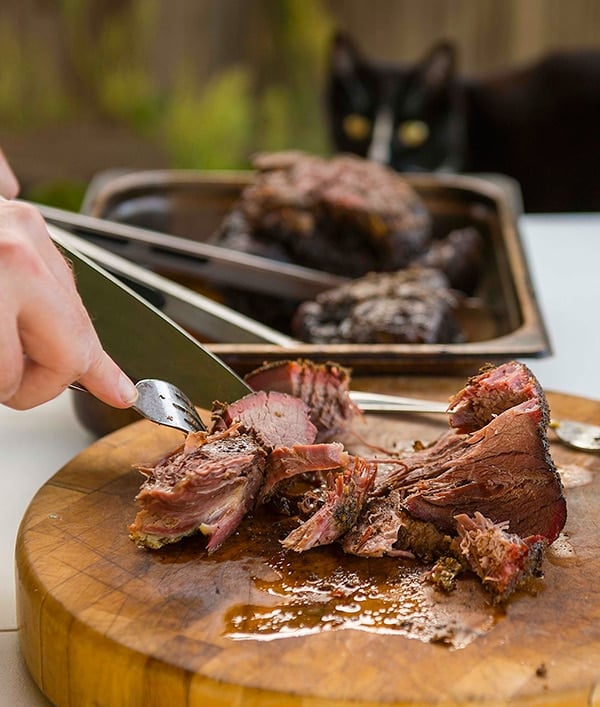 Wild hog BBQ is a bit different from your typical pulled pork barbecue, but it's pretty easy — if you have patience.
Wild, or rather feral, pigs tend to be older than farmed ones, and they're athletes by comparison.
This results in two things when it comes time to slap a wild hog butt on the BBQ: First, wild pigs will likely have a lot less fat, and almost no marbling within the shoulder meat itself. Second, the connective tissue within the shoulder itself will be much, much fiercer than it would be in a largely sedentary farmed pig.
The fat problem means you need to be careful not to let the wild pork dry out, and the connective tissue problem means you will likely need to wait a lot longer for your wild hog BBQ than you would with a Costco pork butt.
But when it's all said and done, it's worth it.
What you get when you're finished is intensely porky pulled pork that doesn't really need a BBQ sauce, although you can certainly use one if you want. My go-to is a South Carolina mustard-style sauce I use a lot on quail. You can use whatever you'd like, or, as I said, no sauce at all.
So how do you get there? You start by salting your wild pork shoulder — it can be boneless or bone-in — and keeping it in the fridge for a few hours, a day, or even up to a few days. The longer you leave it, the saltier it will get. I wouldn't leave the salt on a shoulder for more than three days.
Rinse off the salt, add a dry rub if you want — or not. If you're not using a dry rub, pat the meat dry before you put it in your smoker.
I prep my wild pig shoulder for the barbecue by lining a tray with heavy foil, leaving enough extra around each side that I can use the foil to wrap the pork later. Set the shoulder in the tray and set that in the barbecue.
In a perfect world, you smoke at about 200°F. But with wild hog BBQ that means you probably won't be eating dinner for about 12 hours, especially if you employ this not-so-secret 'cue tip: Set the meat in the barbecue cold, as in right out of the fridge. Why? You get a better smoke ring, that pretty red ring around the edges of the meat. This ring stops developing around 140°F, so the longer it takes to get the meat up there, the better the ring.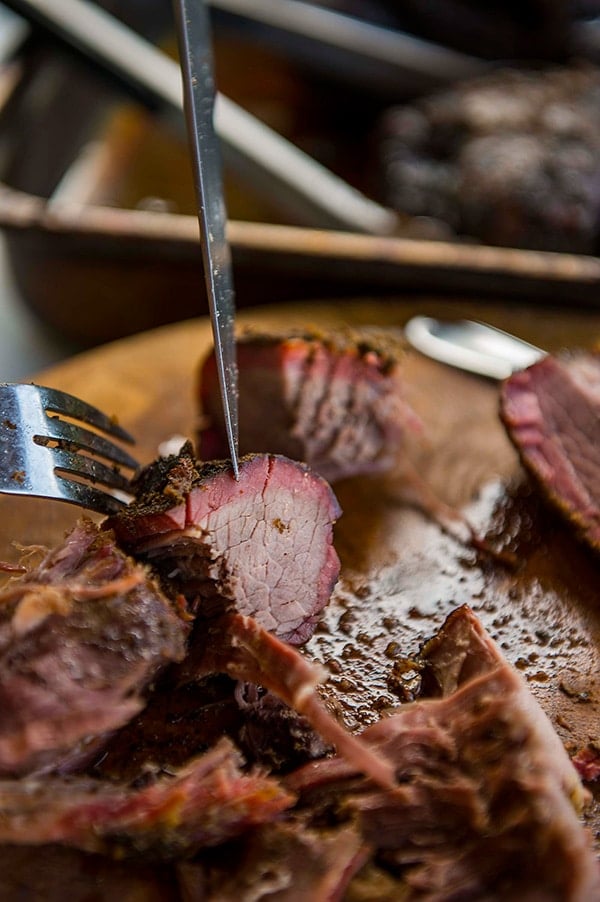 If you are pressed for time, you can barbecue up to about 250°F, but the results won't be as wonderful. Many folks like 225°F as a happy medium.
What wood? Your call. I prefer hickory, pecan or oak. But you can use whatever makes you happy.
Flip your pork shoulder every hour or so to make sure it gets even smoke. I only apply smoke to the meat for four to six hours because I think it balances the flavor of the wild hog with that of the smoke.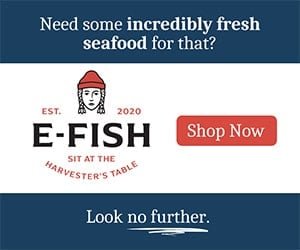 There's another reason: After about four to six hours, you will want to wrap your wild hog shoulder up in that foil to prevent it from drying out. The whole rest of the way is just waiting for that gnarly connective tissue I mentioned at the top of this post to melt — and that takes time. It won't even start happening until the meat hits about 160°F internally, and doesn't really get going until 180°F. Most BBQ gurus like a pork shoulder to actually hit 200°F internally.
This is not a bad idea with wild hogs, because of the strength of the connective tissue… but remember there's no internal fat. What to do? I cheat.
When it comes time to pull your pork shoulder (I do it with two forks), have a little bacon fat or rendered lard or even butter lying around. Mix that in when you are pulling, and you'll thank me.
Eat your wild hog BBQ on a bun with cole slaw, or bunless, or really however you want.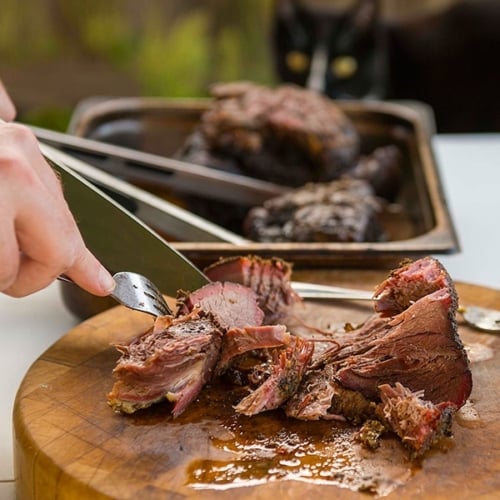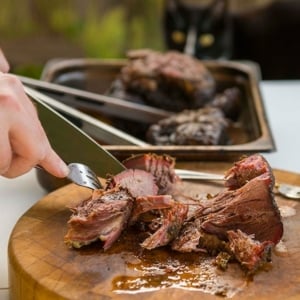 Ingredients
1

4 to 8 pound wild hog shoulder,

boneless or bone-in

Salt

Dry rub of your choice

Barbecue sauce of your choice

1/4 to 1/2

cup

bacon fat, lard or butter
Instructions
Sprinkle salt all over the pork shoulder, getting it into every crevice. Put the meat in a covered container in the refrigerator for at least 1 hour and up to 3 days. I like a solid 24 hours.

Rinse the meat and coat with the dry rub of your choice. If you're not using a dry rub, either use black pepper or pat the meat dry. Set foil in a tray that will hold the pork shoulder, leaving enough extra foil around the edges so you can wrap the meat later.

Get your smoker going. If you have lots of time, set it to 200F. A happy medium is 225F, but don't go higher than 250F. Set the meat in the tray and put it in the smoker.

Flip the pork shoulder every hour so it gets even smoke. Smoke like this for at least 4 hours, and up to eight; I prefer about six hours.

Now wrap the meat tightly in the foil and continue to cook until it's done and is shreddable, anywhere from another hour or two for a young hog or store-bought pig, to another eight hours for an old hog. You can do this in an oven, too.

Shred the meat with a pair of forks, and mix in the bacon fat. If you find yourself with long, stringy threads of meat, chop it a bit so it works better as a sandwich. Serve with the barbecue sauce of your choice on a bun with cole slaw.
Nutrition
Calories:
164
kcal
|
Protein:
22
g
|
Fat:
8
g
|
Saturated Fat:
3
g
|
Cholesterol:
74
mg
|
Sodium:
84
mg
|
Potassium:
377
mg
|
Vitamin A:
7
IU
|
Vitamin C:
1
mg
|
Calcium:
15
mg
|
Iron:
1
mg
Nutrition information is automatically calculated, so should only be used as an approximation.