Venison Gumbo
January 29, 2022 | Updated June 06, 2022
As an Amazon Associate I earn from qualifying purchases.
This venison gumbo is dark, savory and rich, a classic Cajun gumbo with no tomato and a dark roux. It's wonderful for cold nights.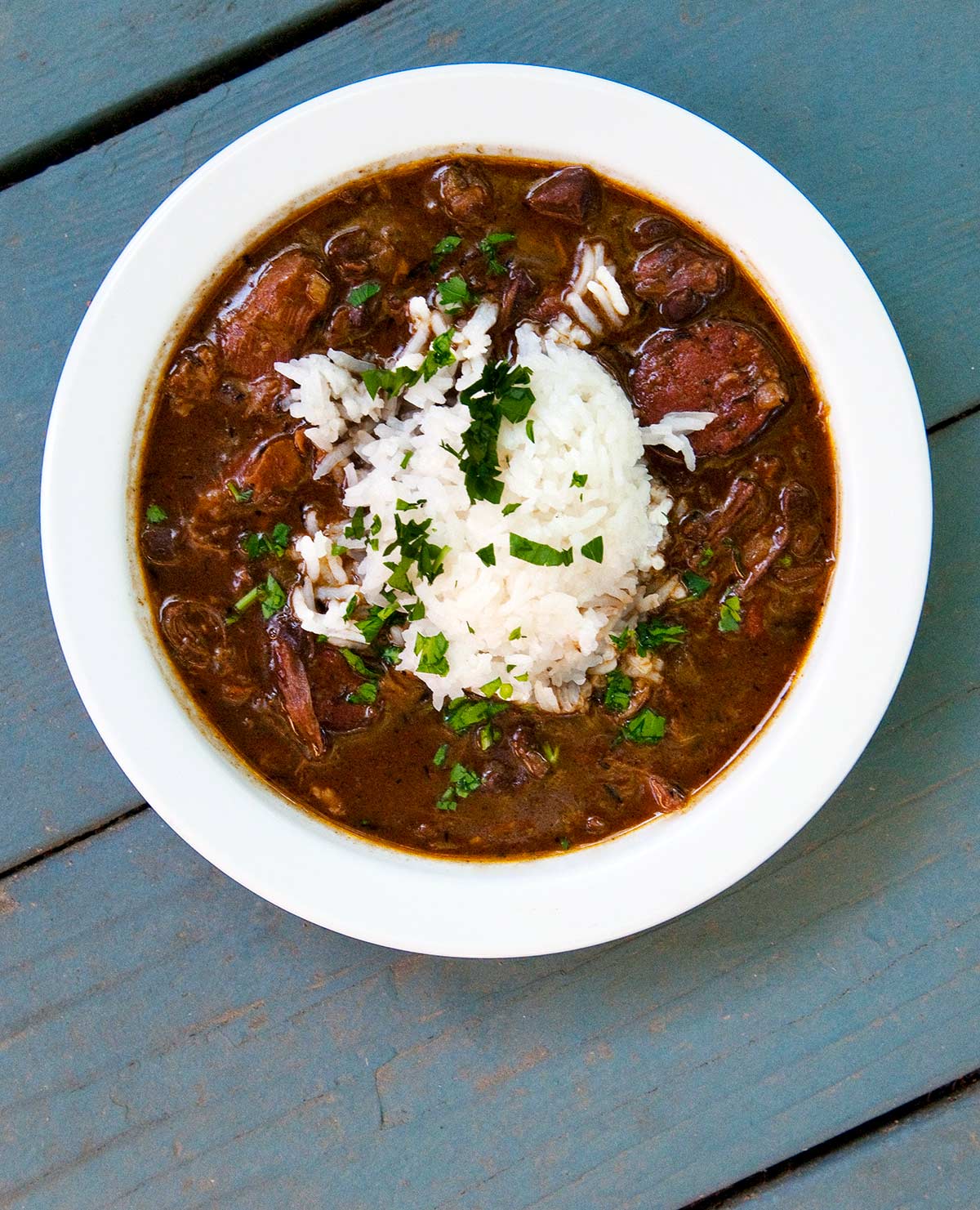 Note that there is no tomato in this gumbo. If you want a Cajun dish that does have tomato in it, try my recipe for Venison Sauce Piquante. Or if you want a gumbo where tomatoes play a larger role, try my Creole gumbo.
Typically I will use rando bits of venison for this gumbo, like stew meat, or a stray shank or bit of neck roast. You don't want to use backstrap or tenderloin here.
But I will also make a "venison gumbo" with that plus whatever other old game meats lurking in the freezer. So long as they have been vacuum-sealed, there is no reason you cannot use meats that are more than a year old — they will not be as nice as younger meats, but hey, that's what this gumbo is for.
A good Cajun gumbo relies on its roux, a cooked flour-and-fat combination that can range from ivory to black, but which is best from blonde to dark chocolate. It really is your call here. I really like the flavor of the dark chocolate roux, but cooking the flour that long will damage its ability to thicken the gumbo.
So in that case, I add okra when it's in season, unless I have some dried okra in my pantry, or I will use file gumbo, the powdered leaves of the sassafras tree. I rarely use all three.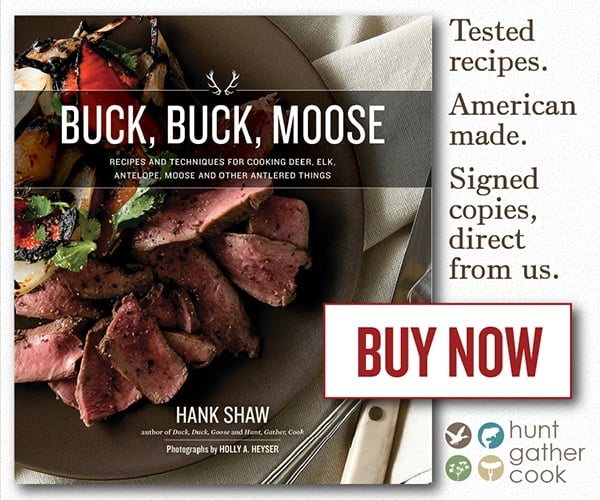 Another tip is to add your sausage late in the process. This prevents all the fat from cooking out. I almost always use homemade Cajun andouille sausage, but I've used Conecuh from Alabama, and that's good, too. Any smoked sausage will work in a pinch.
The critical factor in making venison gumbo is time. Take your time making the roux, and take your time cooking the gumbo. It might take 4 hours for some tough cuts to submit. Just drink a few beers and relax; it'll all come out well in the end.
If you are not a hunter, your cooking time will be less. I would suggest the following combination: venison shoulder, shank or neck, some turkey legs, a ham hock, and smoked andouille sausage.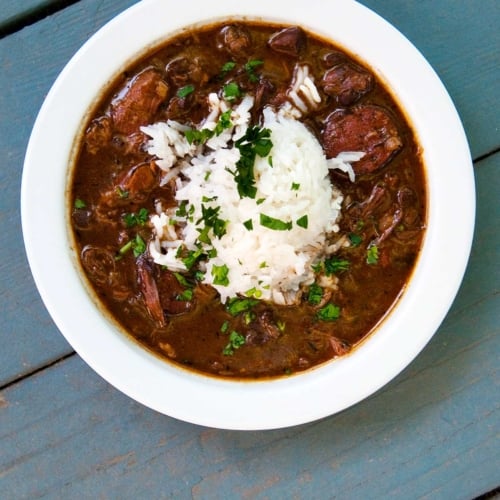 Venison Gumbo
Any cut of venison will do, as will similar meats like beef, goat, bison and such. This is the gumbo to make when you have really random meats.
Ingredients
1

cup

peanut oil,

lard or bacon fat

1 1/4

cups

flour

1

large minced green peppers

2

minced medium onions

4

minced celery stalks

6

minced cloves garlic

3 to 4

pounds

venison or other game meats

1

teaspoon

black pepper

Salt to taste

2

tablespoons

sweet paprika

1

teaspoon

cayenne pepper

1

tablespoon

dried thyme

1

tablespoon

dried oregano

2

tablespoons

garlic powder

1

teaspoon

celery seed

3

quarts

game stock,

chicken stock or water

1

pound

smoked andouille sausage,

cut into rings

2

tablespoons

file powder

2

green onions and 2 tablespoons chopped parsley per person
Instructions
Bring the stock to a gentle simmer.

In a Dutch oven or large pot, add the cup of oil to the pot, and turn the heat to medium-high. Whisk in the flour, and stir this frequently until it turns the color of chocolate. You can go as dark as dark chocolate brown, but under no circumstances can you let this roux burn. Keep in mind that this takes time, maybe 15 to 25 minutes of frequent stirring.

When the roux is ready, add the peppers, onions, celery and garlic and stir to combine. Cook this, stirring often, for 6  to 8 minutes, until the veggies are soft.

Meanwhile, mix all the dry spices together except the filé powder.

When the veggies are soft, ladle in the stock with one hand while stirring with the other. Stir in each ladle of stock before adding another. Turn the heat to high to bring the gumbo to a strong simmer.

Add half the spices, stir to combine, and add the meats except the sausage, if using. Taste and add more salt or spices if you want. Drop the heat to a simmer, cover and cook gently for at least 90 minutes, but probably more like 2 to 3 hours. Check the status of the meats every half-hour after 90 minutes have elapsed. When the meats are about falling off the bone, fish them out and when they cool enough to handle them, pick the meat off the bones. Return the meats to the gumbo and add the andouille. Cook for another 15 minutes or so.

Add the filé powder, the green onions and parsley. Cook for 3 minutes more. Serve with rice or all by itself.
Notes
You will want to get some filé powder, which is powdered sassafrass. It is an important flavor component here, and the filé (FEE-lay) needs to be added at the end of the process. If you cannot find it, do without. But be sure to look at least before you omit. If you have it, okra can substitute for the file powder. Use up to 1 pound, sliced into coins. 
Nutrition
Calories:
475
kcal
|
Carbohydrates:
21
g
|
Protein:
17
g
|
Fat:
37
g
|
Saturated Fat:
8
g
|
Trans Fat:
1
g
|
Cholesterol:
38
mg
|
Sodium:
497
mg
|
Potassium:
531
mg
|
Fiber:
2
g
|
Sugar:
2
g
|
Vitamin A:
885
IU
|
Vitamin C:
13
mg
|
Calcium:
55
mg
|
Iron:
3
mg
Nutrition information is automatically calculated, so should only be used as an approximation.