Homemade Energy Bars
January 02, 2014 | Updated April 23, 2020
As an Amazon Associate I earn from qualifying purchases.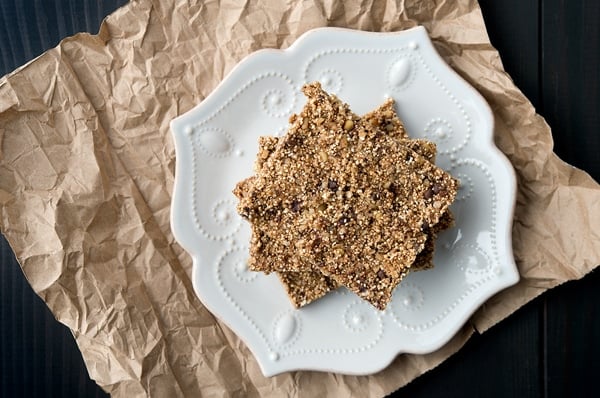 When I head out on the road for book tour or just to hunt, fish or forage, I like to take along some homemade energy bars.
I first made these back in 2013 for a long road trip, and they helped me do what I thought was impossible: I managed to go nearly two full months on the road without eating crappy fast food. These little bars pack a huge amount of energy, and their flavor is like nothing you've ever eaten before.
The reason is because many of the ingredients of these homemade energy bars are from the Desert Southwest: Amaranth, mesquite flour and syrup, piñon pine nuts, dates. The recipe below includes all kinds of more "normal" substitutions, but if you can follow the recipe, you're in for a treat.
These bars are chewy, crunchy, sweet and just a tiny bit salty. And one bar will typically last me from about 11 a.m. until dinnertime. How many calories they contain varies on the size of the bar you cut, but whatever the size, they stave off hunger something fierce.
And one of the best parts of this recipe is that there's barely any cooking involved: You need to pop the amaranth, which is kinda fun, and you need to heat up some nut butter and syrup or honey in a pot. Nothing could be easier. Feel free to play with the ingredients in this recipe to suit your tastes, but keep the ratios the same at least for the first time.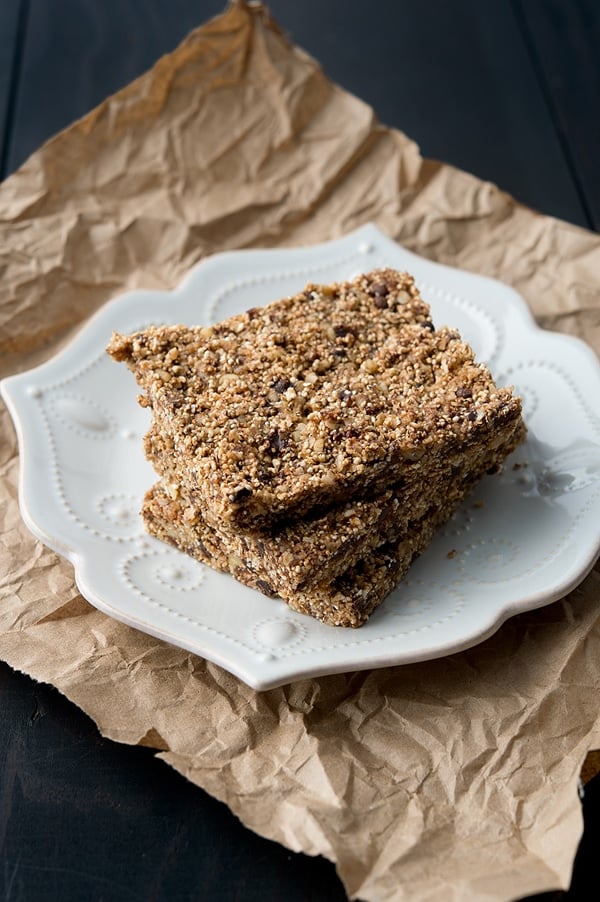 Kept dry and tightly wrapped, these energy bars will keep at room temperature for weeks, months even. Just don't let them get too hot in your car or wherever, because they will melt, just like any other energy bar.
Homemade Energy Bars
Feel free to play around with the ingredients to suit your taste -- or region. Most of the Southwest ingredients are best found online, but you should be able to find amaranth in a lot of supermarkets and pretty much every health food store. 
Ingredients
1

cup

chopped pitted dates

1 1/4

cups

popped amaranth

(or puffed rice)

1

cup

quick-cooking oats

1/3

cup

chopped pine nuts,

pecans, peanuts, walnuts, etc

2

tablespoons

mesquite bean flour or flaxseed

1/2

teaspoon

cinnamon

A healthy pinch of salt,

about 1/2 teaspoon

1/2

cup

pine nut butter,

almond butter, peanut butter, etc

1/3

cup

mesquite bean syrup,

maple syrup, honey, etc

1

teaspoon

vanilla extract

1/4

cup

small semi-sweet chocolate chips
Instructions
Grease a sheet pan with butter, oil or cooking spray. Ideally you'd use an 8x8 pan, but anything close to that will work.

Pop the amaranth. The link above goes to a video on how to do it, but it's easy: Get a pot hot over medium-high heat and put about a tablespoon of amaranth seeds in at once. They will pop almost immediately. Move them to a bowl and repeat until you have your 1 1/4 cups. Don't put too much amaranth in the pot at once or it will not pop correctly. It goes really fast, so no big deal.

Mix the chopped dates with the oats, popped amaranth, nuts, mesquite flour, cinnamon and salt together in a bowl.

Put the pine nut butter (or whatever nut butter you use) into a small pot with the syrup or honey and stir together over medium-low heat until well combined. Let this cool for a couple minutes, then stir in the vanilla extract.

Add the nut butter-syrup mixture to the dry ingredients in the bowl, and mix a little. Add the chocolate chips and mix everything well. Move everything to the greased pan and spread it over the bottom of the pan evenly. Pack it good, then let it sit out for an hour or so to set fully. Use a sharp knife to cut out bars, squares or whatever shape you like and wrap with some wax paper. Eat when hungry.
Notes
Once made, these bars kept for two months in the fridge, and a full month in a closed container at room temperature in my truck, so they are pretty hardy. They do get more crumbly as they age, however.
Nutrition
Calories:
269
kcal
|
Carbohydrates:
37
g
|
Protein:
7
g
|
Fat:
12
g
|
Saturated Fat:
2
g
|
Cholesterol:
1
mg
|
Sodium:
12
mg
|
Potassium:
335
mg
|
Fiber:
4
g
|
Sugar:
18
g
|
Vitamin A:
102
IU
|
Vitamin C:
1
mg
|
Calcium:
97
mg
|
Iron:
4
mg
Nutrition information is automatically calculated, so should only be used as an approximation.