Hen of the Woods 'Steak'
November 09, 2020 | Updated February 15, 2021
As an Amazon Associate I earn from qualifying purchases.
If you are looking for a simple, yet memorable hen of the woods recipe, look no farther.
What you see here is a hen of the woods "steak," seared hard in a little oil, under a weight to flatten it somewhat. It is then served simply, in this case over some butternut squash puree and a mushroom sauce.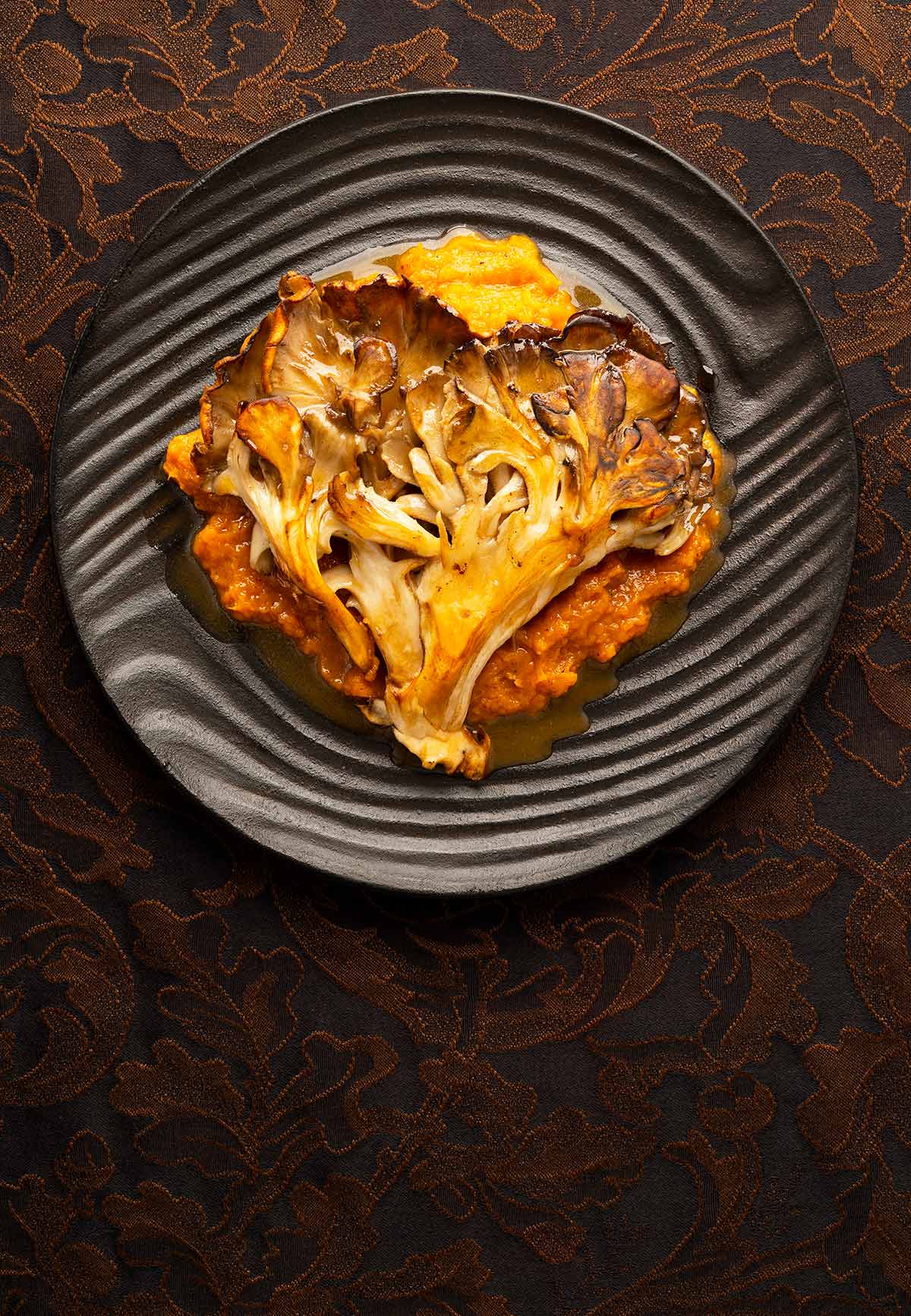 The result is meaty, and I mean that. Like, you won't miss actual meat, which makes this great for your vegetarian friends — or for vegetarians entertaining meat-eaters. Holly, who is more carnivorous than I am, believe it or not, loved this.
You get that lovely seared crust like you'd get on a beef steak, then the interior is cooked through but chewy and steamy. Hen of the woods, also called maitake, is a dense mushroom to begin with, and this cooking method highlights that.
Why weigh down the mushroom? You get a better sear, it flattens the "steak," and helps the interior cook quickly. I can't take credit for the method, however. I learned it from my friend Alan Bergo, who runs a wonderful website called Forager Chef. He has some great information on gathering hen of the woods here.
Sharp-eyed readers of this site may note that the hen, Grifola frondosa, doesn't live where I am located in California. It is one of those rare wild glories that simply doesn't exist on the West Coast, like woodcock or lingonberries. Thankfully I have friends in the Midwest, like my friend Mushroom Mike. He sent me this hen of the woods from Wisconsin. (Go Badgers!)
On a large hen of the woods, you can get several nice thick steaks — if you've ever done the cauliflower "steak" thing, it is exactly the same. I like to cut them about 1 inch thick, which is thick enough to be nice, but not so thick that the interior doesn't cook through.
Prep is simple: Lube with some high smoke-point oil like canola, grapeseed, rice bran or avocado oil, salt with fine salt, then sear in a little more oil.
You need a weight. I used a bacon press, but you could use a brick wrapped in foil, or a heavy cast iron pan. The weight compresses the steak and gives it more surface area to sear. It's a brilliant technique, so thanks Alan!
Serve your hen steaks with something simple, like pureed squash or mashed potatoes, along with a pan sauce. I made a mushroom jus, which is a French pan sauce. You can use whatever sauce you want, but this jus (pronounced "zhoo") really shines with both the hen of the woods and the squash or potatoes.
If you have a large hen of the woods, you will have stray bits that won't work nicely as steaks. In that case, you will want to use this hen of the woods recipe, which uses broken up bits of the mushroom with a venison steak.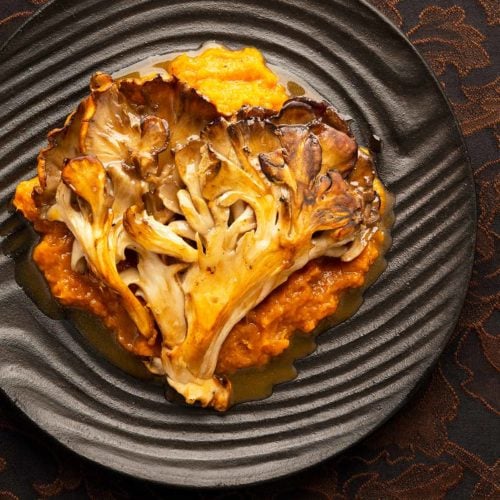 Seared Hen of the Woods Steak
I'll give you the whole recipe you see in the pictures, but the method for searing the hen of the woods is the most important thing here. You can play with the rest of the plate as you wish.
Ingredients
SQUASH
1

small butternut squash,

halved lengthwise and seeded

2

tablespoons

butter

Salt to taste
MUSHROOMS
1

large hen of the woods mushroom,

sliced into steaks

2

tablespoons

canola oil

Salt to taste
SAUCE
1/2

ounce

dried mushrooms

2

cups

beef or vegetable stock

1

tablespoon

canola oil

1/2

cup

fresh mushrooms, chopped

(any kind)

1/4

cup

minced shallot or onion

1

clove

garlic, minced

1/2

teaspoon

dried thyme

1/4

cup

red vermouth or dry red wine

3

tablespoons

butter

Salt and black pepper to taste
Instructions
SQUASH PUREE
Preheat the oven to 375°F. Slick the cut sides of the squash with a little oil, then set them cut side down on a baking sheet and roast them until they are soft, about 45 minutes to 1 hour.

Scoop out the flesh of the squash and run it though a food mill or mash it with a potato masher. Add butter and salt to taste. put this in an oven-proof bowl, cover and set in the no turned-off oven to keep warm.
SAUCE
While the squash is roasting, bring the stock to a boil and add the dried mushrooms. Cover and turn off the heat. Let this steep for about 20 minutes. When the mushrooms are soft, remove, squeeze out excess moisture back into the bowl, and chop the mushrooms finely. Set the mushrooms aside. Strain out any debris from the stock and reserve the stock.

After the mushroom steaks are seared, you'll finish the sauce. Add a little more oil to the pan you cooked the mushroom steaks in and sauté the fresh mushrooms and shallots. As they are cooking, add the chopped rehydrated mushrooms, thyme, and garlic. Let this cook until nicely browned, about 5 minutes.

Pour in the reserved stock and the vermouth or wine and boil furiously over high heat. You want this to cook down by 2/3 or so. Strain off the debris, reserving the sauce. Pour the sauce back in the pan, set over very low heat. Add the butter one tablespoon at a time, swirling it in to melt before adding the next tablespoon. Taste for salt and serve over the mushroom steak and puree.
MUSHROOM STEAK
Once you have the squash in the oven, lube up the mushroom steaks and salt them lightly. Let them sit on the cutting board while the squash cooks.

You'll want to sear the mushroom steaks after you've finished the squash puree. Get a large sauté pan very hot. Add the canola oil and swirl it around. Pat the mushroom steaks dry and set them down in the pan. Put a heavy weight over them to sear. Let them sear like this for a solid 4 to 6 minutes without disturbing them. You want a heavy sear. Turn them over and sear under the weight again for another 3 to 5 minutes. Remove the mushroom steaks and set them on a baking sheet in the oven while you finish the sauce.

Once everything is ready, set the squash on people's plates, then top with a mushroom steak and then pour some sauce over everything. A little black pepper is nice here, too.
Notes
NOTE: This recipe works with larger porcini, lobster mushrooms or big hedgehog mushrooms, too. 
Nutrition
Calories:
346
kcal
|
Carbohydrates:
30
g
|
Protein:
3
g
|
Fat:
25
g
|
Saturated Fat:
10
g
|
Cholesterol:
38
mg
|
Sodium:
605
mg
|
Potassium:
802
mg
|
Fiber:
5
g
|
Sugar:
7
g
|
Vitamin A:
20619
IU
|
Vitamin C:
41
mg
|
Calcium:
98
mg
|
Iron:
2
mg
Nutrition information is automatically calculated, so should only be used as an approximation.