Greek Fish with Honey and Ouzo
February 25, 2012 | Updated August 25, 2021
As an Amazon Associate I earn from qualifying purchases.
If you are looking for a classic Greek fish recipe, you'd simply coat a fish with olive oil, grill it, and serve it with lemon and salt. This recipe is only slightly more complicated.
I call this dish Greek fish with honey and ouzo, and it is one of my all-time favorite fish recipes. I first made it with California white seabass, then sturgeon, tuna, halibut, grouper, catfish, tautog… you get the point. Use a firm fish you can cut into chunks.
This Greek fish recipe has everything you could ask for: A crispy crust, tender fish, a hit of sweetness from the honey and a blast of salty umami from the Worcestershire sauce.
Sturgeon and other firm, meaty fish such as white seabass, swordfish, shark or tuna can be tricky to cook. If you cook them too long, they can get dry and impossibly dense. The texture of these fish is really more like beef than fish, and in fact sturgeon was once called "white beef" back in the early 1900s.
Get the pan hot, add oil and then let that get hot. Dust 2-inch chunks of fish in flour, then brown on 3 sides of the cube. If you brown more than that, you run a higher risk of overcooking the fish. Add the rest of the sauce ingredients, toss to combine and you're done. Stupid easy.
And fast.
I made this recipe start-to-finish in a 3 1/2 minute segment for a Tampa TV station back in 2011 while I was on my first book tour. I made it that time with grouper. When I added the ouzo to the pan it of course flared up, and that's when one of my favorite moments of the entire book tour happened: I shouted, "Opa!" (This is a Greek dish, after all) and the TV host shouted, "Oompa Loompa!" I almost pissed myself laughing.
At any rate, give this Greek fish recipe a go with whatever large, firm fish you can find. And yes, it's great with big shrimp, too.
If you want to make this part of a Greek feast, try it as a first course before something like my Greek venison shanks or my recipe for stifado, a rabbit stew.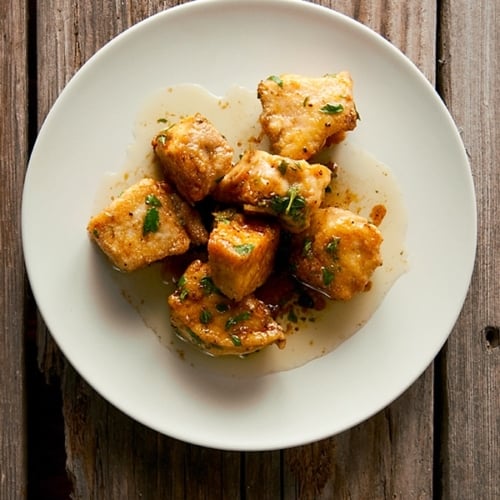 Greek Honeyed Fish
This recipe comes together pretty fast, so have everything ready before you begin. Use any firm fish you can cut into chunks. Or, do as the Greeks do and use shrimp. Try to get fresh oregano if you can find it, but good dried oregano will work, too.
Ingredients
1

to 2 pounds skinless firm fish

Salt

Flour for dusting

3

tablespoons

olive oil

3

garlic cloves,

minced

2

tablespoons

Worcestershire sauce,

or fish sauce

2

tablespoons

honey,

ideally Greek thyme honey

1-2

shots of ouzo or other anise-flavored liqueur

2

tablespoons

chopped fresh oregano,

or 2 teaspoons dried

Lots of freshly ground black pepper
Instructions
Cut the fish into chunks of between 1 1/2 inches and 2 inches across. If you are using shrimp, peel and devein them. Salt the fish well and set aside while you chop the garlic and oregano.

Heat a large sauté pan over high heat for 1 minute. Add the olive oil. Dust the fish pieces in flour, shake off the excess and lay down in the pan. Turn the heat down to medium-high and brown the fish on 3 sides. Move the finished fish to a paper towel to drain.

Add the garlic and let this fry for 30 seconds. Do not let it brown. Take the pan off the heat and add the ouzo. It will flare up. Shout, "Opa!" Put the pan back on the heat, turn it to high, and scrape off any browned bits with a wooden spoon. Add the Worcestershire sauce and honey and swirl to combine. Let this boil down until its syrupy, then add the fish back along with the oregano. Toss to combine. Turn off the heat, grind fresh black pepper over everything and serve at once.
Notes
If you can't find ouzo, another anise-flavored liqueur will work. Some other options are Pernod, anisette, raki, tsipouro, and pastis. 
Keys to Success
This comes together very quickly, so have all your ingredients ready before you start. 
You need high heat here, and you'll get some smoke, so use your stovetop fan on high. 

Serve this with rice pilaf, a green salad and some crusty bread. As for a drink, choose a lager beer or a crisp white wine such as a Greek Assyrtiko or an Italian Pinot Grigio.
Nutrition
Calories:
142
kcal
|
Carbohydrates:
13
g
|
Protein:
1
g
|
Fat:
11
g
|
Saturated Fat:
1
g
|
Cholesterol:
1
mg
|
Sodium:
85
mg
|
Potassium:
109
mg
|
Fiber:
1
g
|
Sugar:
10
g
|
Vitamin A:
43
IU
|
Vitamin C:
2
mg
|
Calcium:
53
mg
|
Iron:
1
mg
Nutrition information is automatically calculated, so should only be used as an approximation.