Thai Fried Pomfret Fish
September 05, 2019 | Updated July 04, 2020
As an Amazon Associate I earn from qualifying purchases.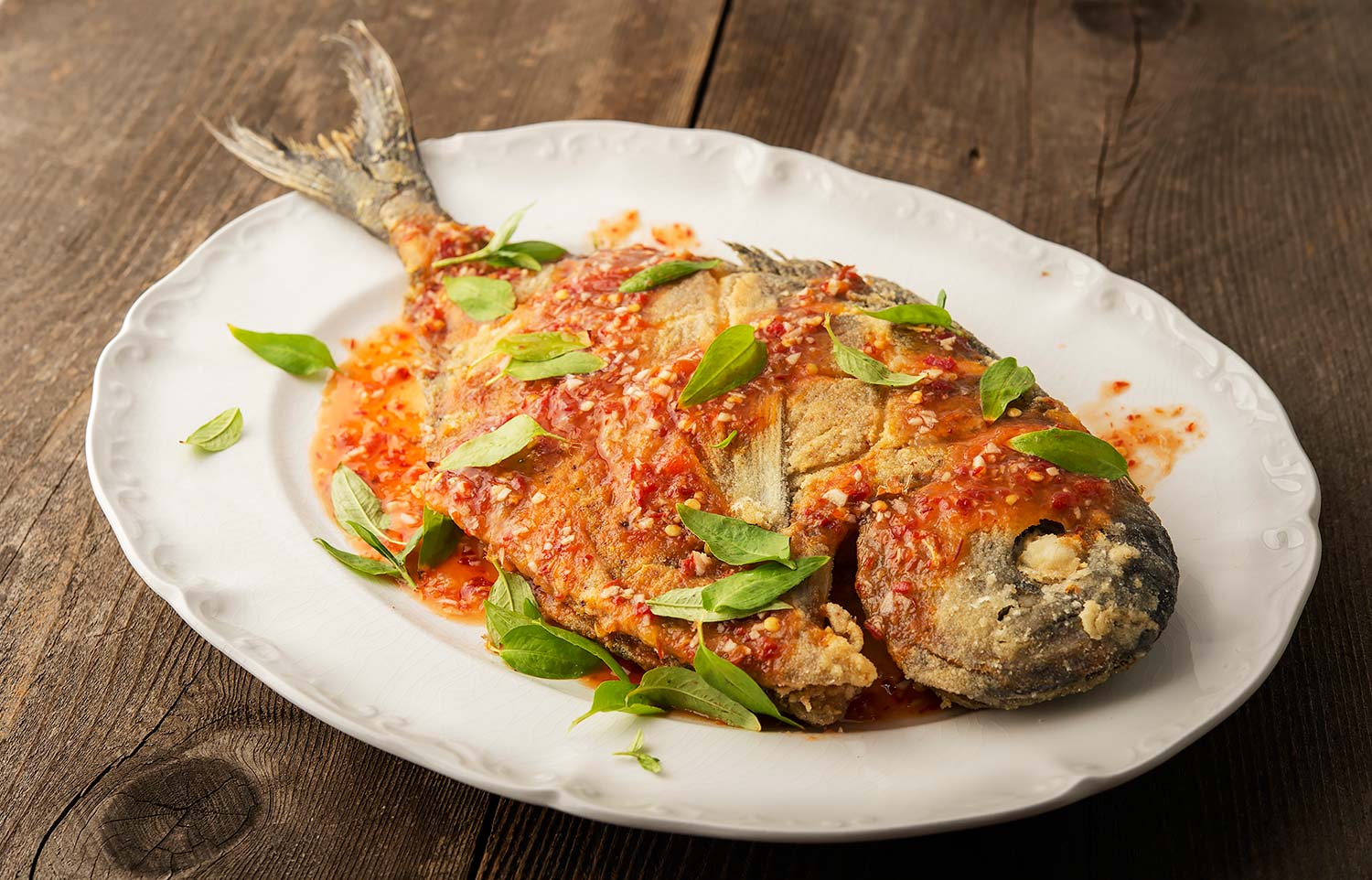 I must admit I had only a dim recollection of pomfret fish when I saw one in, of all places, Pelican, Alaska.
I normally think of pomfret as something from India, so Alaska was an odd place to find this fish, which is most closely associated with the cuisines of South and Southeast Asia. A cousin of the more familiar pompano, pomfret shares the same body type as crappies, bluegills, spadefish, porgies, butterfish and ocean perch — all of which can be substituted for any pomfret recipe.
So about that pomfret… I spend part of my summers fishing commercially in Alaska for salmon, and on this occasion we left our home grounds near Juneau to head toward the coast, to a tiny town/outpost called Pelican. This is where our fish processor is, and it's close to the salmon trolling fleet.
As it happened, the trollers had caught a number of these pomfret fish — an unusual occurrence that only happens in extremely warm years. No one there could remember catching any, but some biologists from Alaska Fish & Game say they do occasionally come that far inshore, much like the way tropical triggerfish find their way to Long Island in late summer.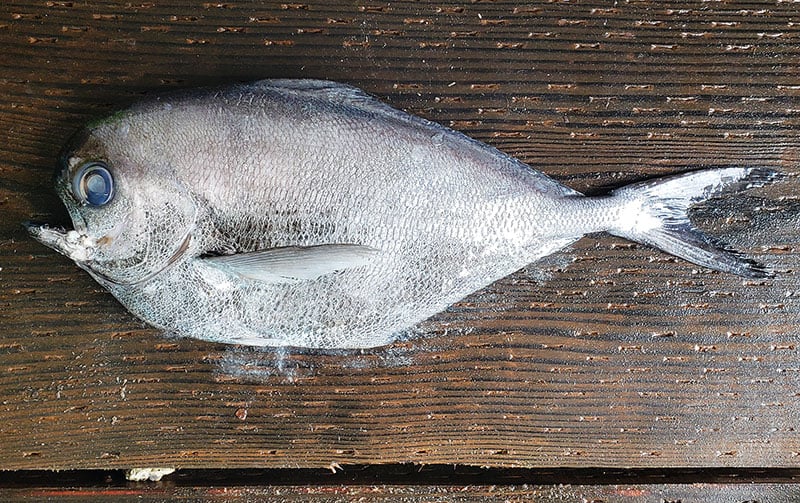 Our fish is Brama japonica, the Pacific pomfret. There are a number of species worldwide, and most prefer warm water. The largest is the Atlantic pomfret, Brama brama. Hawaiians are familiar with the sickle pomfret, Aractichthys steindachneri, also known as monchong. Every so often giant bigscale pomfret show up around New York, too.
Interestingly, so far as I can tell there is no directed fishery for pomfret in the US outside of Hawaii. But you can find pomfret fish in most Asian markets; they are primarily caught as bycatch in squid nets. Pomfret love eating squid, so that makes sense.
Pomfret fish are pelagic, meaning they live in open water at the top or middle of the water column, and like sharks, they are almost always swimming. From an eater's perspective, this means they have firm meat with a tight flake. Pomfret are a white meat fish.
According to this study, they can occasionally carry larval tapeworms, but it is a tapeworm looking to finish its lifecycle inside a shark, not a person, so you can't pick it up the way you can a freshwater tapeworm. Interestingly, there were tons of blue sharks in the area, too, likely chasing the salmon and pomfret; I even had one on my line — got it to the boat before he bit me off. What that means for you is that it is best to freeze pomfret before eating raw, so you kill the parasites. Better safe than sorry.
Pretty much every pomfret recipe you see is for a whole fish, mostly fried but sometimes grilled.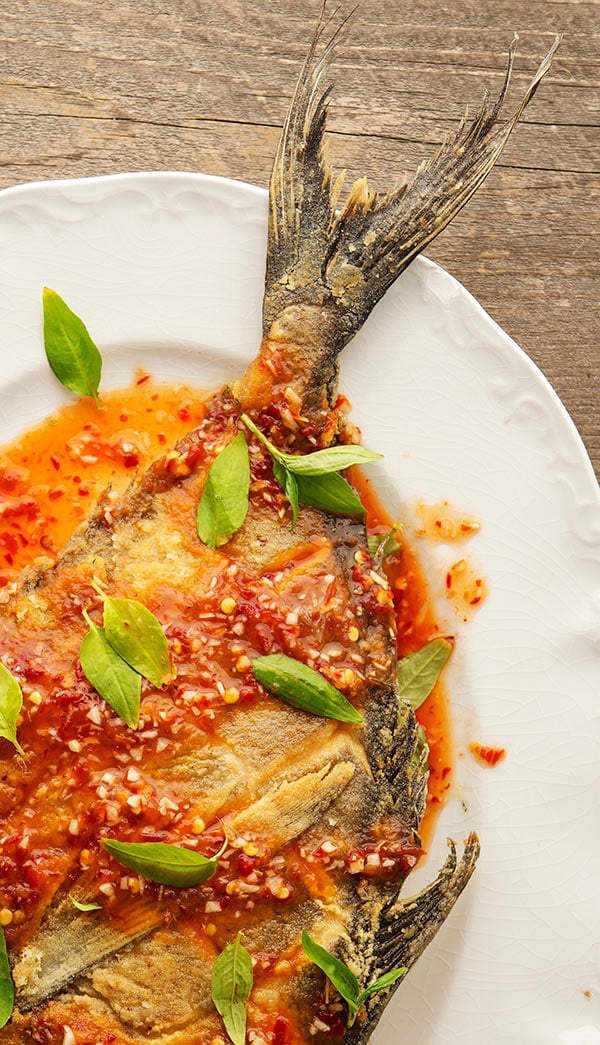 The reason is because of its shape, which doesn't lend itself to nice fillets, unless you happen to have a very large fish. To prepare a whole fish, you will want it scaled, with the gills and guts removed. Keep the fins.
Most recipes at least score the fish a few times, to open up the meat to the hot oil or grill. I prefer to cross-hatch the meat, which takes this one step further. It's also pretty. Simply slice down to the bones, but not through them.
I like to dust my pomfret in a 50-50 mix of corn or potato starch and rice flour, then fry it hard in canola or some other high smoke-point oil. All it needs then is a zippy dipping sauce. I went Thai and mixed lime juice, fish sauce, sambal oelek (any hot chile sauce will do), and minced garlic. Super easy and super tasty.
One added thing about cooking pomfret fish: The bones are soft enough to eat once fried crispy. I even like to deep fry the backbone after we've eaten the whole fish; this softens the bones so you can eat them. They taste nutty and crunchy that way.
A final word: As I mentioned above, if you don't have pomfret, use crappie, bluegill, porgy, pompano, butterfish or any other fish that is flattened this way. You can also use small flounder, too.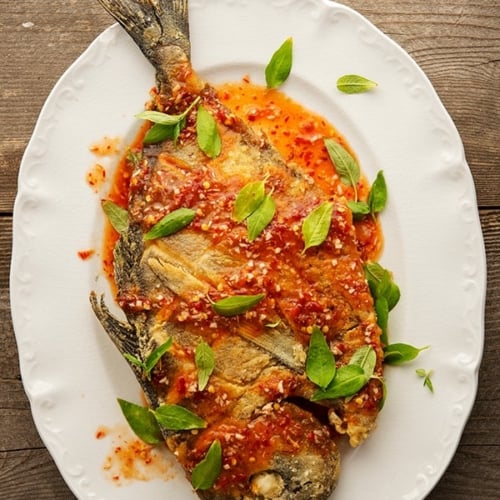 Thai Fried Pomfret
If you don't have pomfret, use any flattened fish, like crappies, bluegills, porgies, butterfish, etc. This recipe would also work with small flounder.
Ingredients
CHILE SAUCE
Juice of a lime

3

tablespoons

sambal oelek, or other chile sauce

1 to 2

tablespoons

fish sauce

1 to 2

tablespoons

minced fresh garlic
FISH
1 or 2

whole pomfret, or enough crappies or bluegills to feed four people

Salt

1/2

cup

rice flour

1/2

cup

corn starch or potato starch

Oil for frying
Instructions
Make the chile sauce by mixing all the ingredients together. Set aside at room temperature. This sauce can be made up to a few days ahead of time.

Slice the fish in a cross-hatch pattern to expose the meat. Salt the fish well inside and out. Mix the starch and rice flour together then dust the fish with it, inside and out. Get about 1/2 inch of canola or vegetable oil hot in a very large pan.

When the oil is hot, shake off any excess flour and fry the pomfret for about 5 minutes per side. One tip: If the tail overhangs the frying pan, break it off and fry it separately, then "reattach" it on the platter, covering the break point with sauce. No one will notice.

Place the fish on a platter and drizzle with the sauce. Fresh cilantro is a nice garnish, as is mint.
Notes
NOTE: You can use the oil a few times by straining it after it cools, then putting the oil in a glass jar and setting that in the fridge. Only use it for fish, though. 
Nutrition
Calories:
93
kcal
|
Carbohydrates:
20
g
|
Protein:
2
g
|
Fat:
1
g
|
Saturated Fat:
1
g
|
Sodium:
980
mg
|
Potassium:
28
mg
|
Fiber:
1
g
|
Sugar:
2
g
|
Vitamin C:
1
mg
|
Calcium:
4
mg
|
Iron:
1
mg
Nutrition information is automatically calculated, so should only be used as an approximation.