Fried Morel Mushrooms
May 25, 2015 | Updated April 02, 2021
As an Amazon Associate I earn from qualifying purchases.
Fried morels, where have you been all my life? Seriously. I have eaten morels for decades, but only recently have I experienced the glory of the fried morel. I am not looking back.
Frying morels in flour, breading or batter is the go-to method of eating these most coveted of springtime mushrooms for most of North America. But not where I live, in the Pacific West.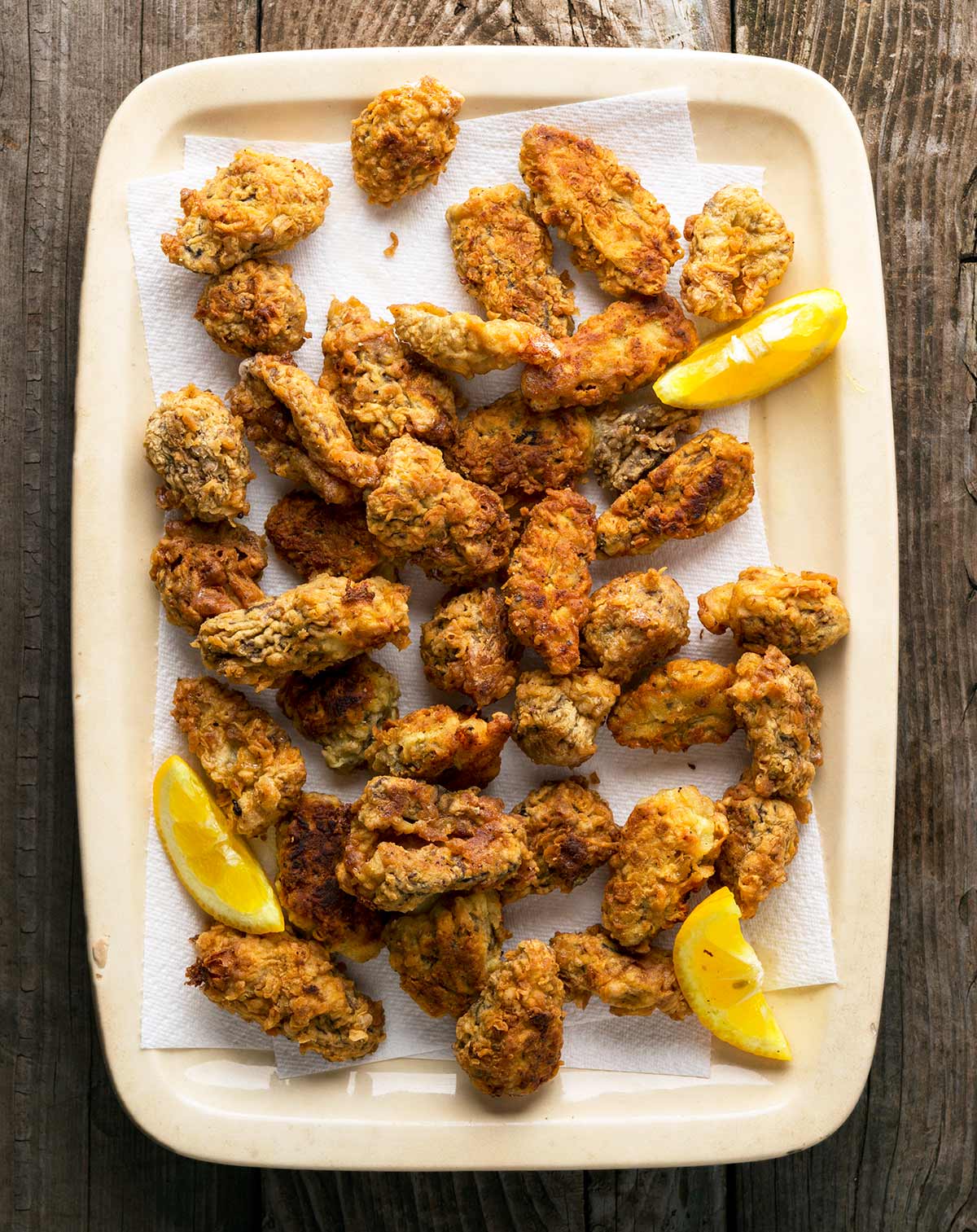 Here we tend to sauté them with other spring vegetables and toss them into pasta, make risotto or somesuch. I looked down on fried morels for a long time… until I finally had some. I was wrong. Simple? You bet. But so, so good.
The secret is the coating on the mushroom. A good breading or batter will not only give you a nice crunch, but it will protect the morel inside, which will cook not by contact with the hot oil, but by steaming from within. Few other methods really highlight the actual flavor and texture of morel mushrooms.
But know that there's a trick to this: You need a substantial breading or batter. Just a quick dip in flour isn't good enough to get this effect. The reason is because you need to fry your morels for longer than you'd think because morels must be fully cooked to be safe to eat. Raw morels will send most people to the hospital.
Undercooked morels will send many of you to the porcelain bowl. How long? Hard to say, but 6 minutes per morel seems to work fine. To get there, you actually don't want to fry your morels at ragingly hot temperatures; 325°F to 350°F is the sweet spot.
My breading of choice is flour, then egg wash, then flour one more time. I like this because it's thick enough to get you that awesome steaming effect, but it's not so thick that it's all batter, like a beer batter would be. Tempura is another good choice. You could also use finely milled cornmeal, normally sold as "fish fry." After all, some people call morels "dry land fish."
Serve your fried morels very simply. After all, this is the culmination of long hours hunting for your quarry and you want to let them shine. You want something for tartness, though. I like lemon wedges, but malt vinegar is another good choice. Oh, and beer. Lots of beer.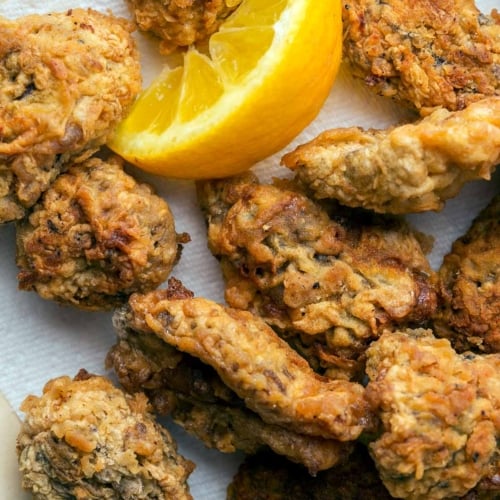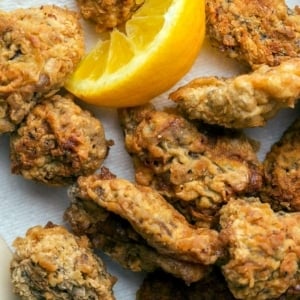 Fried Morel Mushrooms
Fried morels can be done in several ways, but I prefer this method. Be sure to cook them for at least 6 to 8 minutes, however, because undercooked morel mushrooms can give some people an upset stomach. You can also do this recipe with regular button mushrooms, shiitake mushrooms, oyster mushrooms, or "pinks," which are wild meadow mushrooms.
Ingredients
12

ounces

to 1 pound fresh morels

2

cups

flour

1

tablespoon

salt

2

teaspoons

ground black pepper

1

teaspoon

garlic powder

1

teaspoon

onion powder

2

eggs

1/2

cup

milk

Lard,

butter or vegetable oil for frying
Instructions
Slice large morels in half lengthwise and keep small ones whole. Drop the mushrooms into a bowl of cool water and shake them around a bit to let any debris fall out of the little nooks and crannies in them. Remove from the water and pat dry with paper towels.

Put the flour and all the seasonings in a bowl. Whisk together the milk and eggs in another bowl.

Pour enough oil, or lard or butter, into a large sauté pan to come up about 1/2 inch. You are shallow-frying your morels, like when you fry chicken. Heat this to at least 325°F and I prefer 350°F.

As the oil is heating, dust the morels in the seasoned flour. When the oil is hot, dip enough morels to fit into your sauté pan -- in one layer without touching each other -- into the egg wash, then into the flour once more. Shake off the excess flour and fry. You want the morels to be fully cooked so fry them for at least 3 to 4 minutes per side, adjusting the heat so they don't burn. If your heat's at the right spot, it all should sound like frying bacon.

When they're done, move the morels to a paper towel to drain. If you have a lot of morels to fry, put the paper towel in a baking sheet and set that in the oven set to "warm." Serve your morels with lemon wedges and lots of beer.
Nutrition
Calories:
311
kcal
|
Carbohydrates:
55
g
|
Protein:
13
g
|
Fat:
4
g
|
Saturated Fat:
1
g
|
Cholesterol:
85
mg
|
Sodium:
1809
mg
|
Potassium:
509
mg
|
Fiber:
4
g
|
Sugar:
2
g
|
Vitamin A:
168
IU
|
Calcium:
97
mg
|
Iron:
14
mg
Nutrition information is automatically calculated, so should only be used as an approximation.