Crispy Fried Duck Tongues
January 29, 2018 | Updated June 16, 2020
As an Amazon Associate I earn from qualifying purchases.
Yes, you read that right. Crispy. Fried. Duck. Tongues.
Admittedly this recipe is not for everyone. But if you make it, you will be rewarded. Fried duck tongues rank in the top ten bar snacks of all time. Crispy, fatty, meaty, they're one bite and the perfect shape to dredge through whatever sauce suits your fancy.
So how do you make this mystical tidbit for yourself? As the old saying goes, "First, catch your duck tongue." Or something like that.
I am a duck hunter, so I gather my own. The tongues from mallards, pintail, canvasbacks, geese, and yes, even spoonies are great candidates, as are tongues from any large duck. Don't bother with little ducks. You get them in a rather gruesome way: You snap down the lower bill to expose the tongue, then pull or cut it out.
Wash, then wrap in plastic wrap and put in a freezer bag until you have enough. Or, go to an Asian market. They often have big bags of them. Seriously, they do. And they're cheap.
Once you have your tongues — don't do this with fewer than, say, 25 or so — you will want to cook them gently until tender. I do this sous vide, which is to say sealed in a vacuum bag and cooked in hot water for many hours. You can do it in a crockpot or Dutch oven, too. Depending on my mood, I'll either spoon in some duck fat with the tongues or a little glace de viande, jellied, concentrated stock.
Seal and cook for 8 to 10 hours at about 175°F. Below a simmer is key, so use that as a gauge rather than a specific temperature.
When you remove the tongues, you must pull out the little bone while they are still hot. If you don't do this, everyone will be eating crunchy bony tongues, which is no fun… although that's how the Chinese eat them.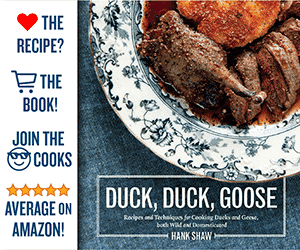 Once you have boneless, braised duck tongues — a phrase you don't hear every day — you need to dry them a bit, either in an oven set on "warm" or a dehydrator, until they are a bit tacky and firm up some. If you skip this, the collagen in the tongues will explode when you fry them. And no one wants a screaming hot, exploding duck tongue flying about the kitchen.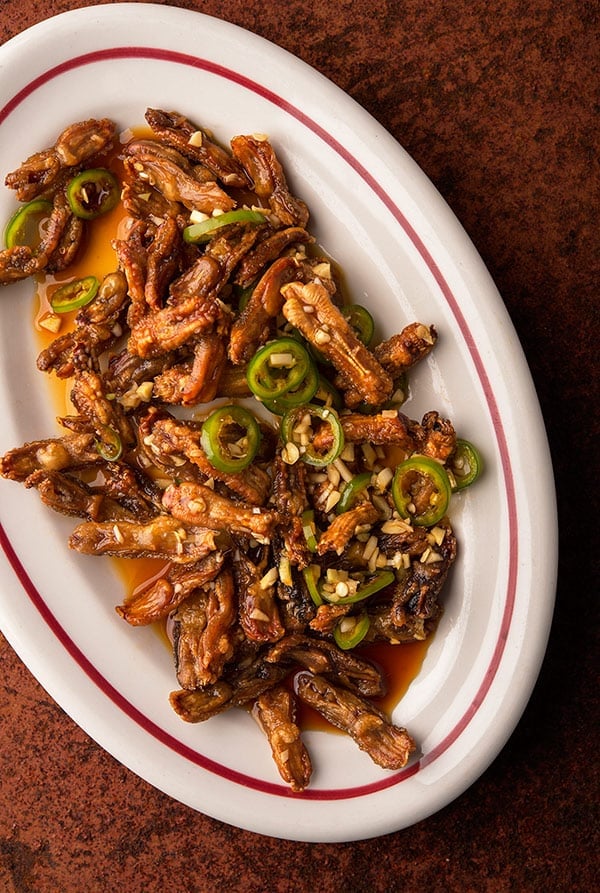 When they're fried and pretty, sauce them however you want and eat! How did I do it in the picture? Well, I used a combination of hot sauce, honey, butter and garlic from my fried snipe recipe.
Remember, eat everything but the quack, and, well, I guess this is the quack…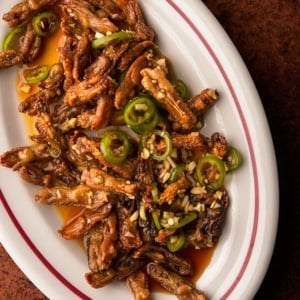 Crispy Fried Duck Tongues
I've only ever done this with duck and goose tongues, but I suppose some other sort of bird tongue would work. Who knows? Sauce these however you like. I have a collection of wild game sauces here.
Ingredients
1

pound

duck tongues

(more or less)

1/2

cup

demi-glace or glace de viande

(optional)

1/4

cup

duck fat, butter or lard

1

tablespoon

salt

1

cup

corn, potato or tapioca starch

2

cups

oil for frying

The sauce of your choice
Instructions
Put the tongues, glace, salt, and duck fat in a vacuum bag and seal. If you don't have a vacuum sealer, just put everything in a small pot, and cover with water or stock.

Get a large pot of water steaming hot, but not simmering. If you have a sous vide water oven, set the temperature for between 175F and 190F. Put the vac bag with the tongues in it and cook gently below a simmer for at least 4 hours, and up to 10 hours. The longer you go, the more tender the tongues will be and the easier it will be to remove the bones.

When the tongues are ready, remove the bones by grabbing the root end of the tongue, feeling for the bone; it will bend down slightly. Holding the tongue with one hand, use the other to slide out the bone. Discard the bones... or use as earrings.

Arrange all the deboned tongues in one layer on a dehydrator tray and dehydrate on low hear for 2 to 4 hours. Or put them on a rack in an oven set on warm. If you have a convection oven, turn it on for air flow. You can to all this up to 2 days before you want to serve them.

To fry, dust the tongues in the starch and fry in 350F oil for 2 to 3 minutes, turning so they're golden brown all over. They should puff up a bit. Fry in batches so you don't crowd the pot.

Serve piping hot with the sauce of your choice.
Notes
Note: Cook time is only fry time, not braising time.
Nutrition information is automatically calculated, so should only be used as an approximation.