Fiddleheads Stir Fry with Pork
May 01, 2017 | Updated April 02, 2021
As an Amazon Associate I earn from qualifying purchases.
Ah, fiddleheads. One of the more mysterious wild spring vegetables. They are the fresh new shoots of a few particular species of ferns, and their cool shape and crunchy, slightly slippery texture and "green" taste make them one of the most sought-after spring wild edibles. This stir fry is my favorite fiddlehead recipe.
This is not a post about identifying fiddleheads, although if you want to find your own, you need to look for fiddleheads from the ostrich fern in the East, Midwest and Canada, and lady fern everywhere else. And remember: Most ferns put up fiddleheads, which are a structure, not a species. You must find the right fiddleheads.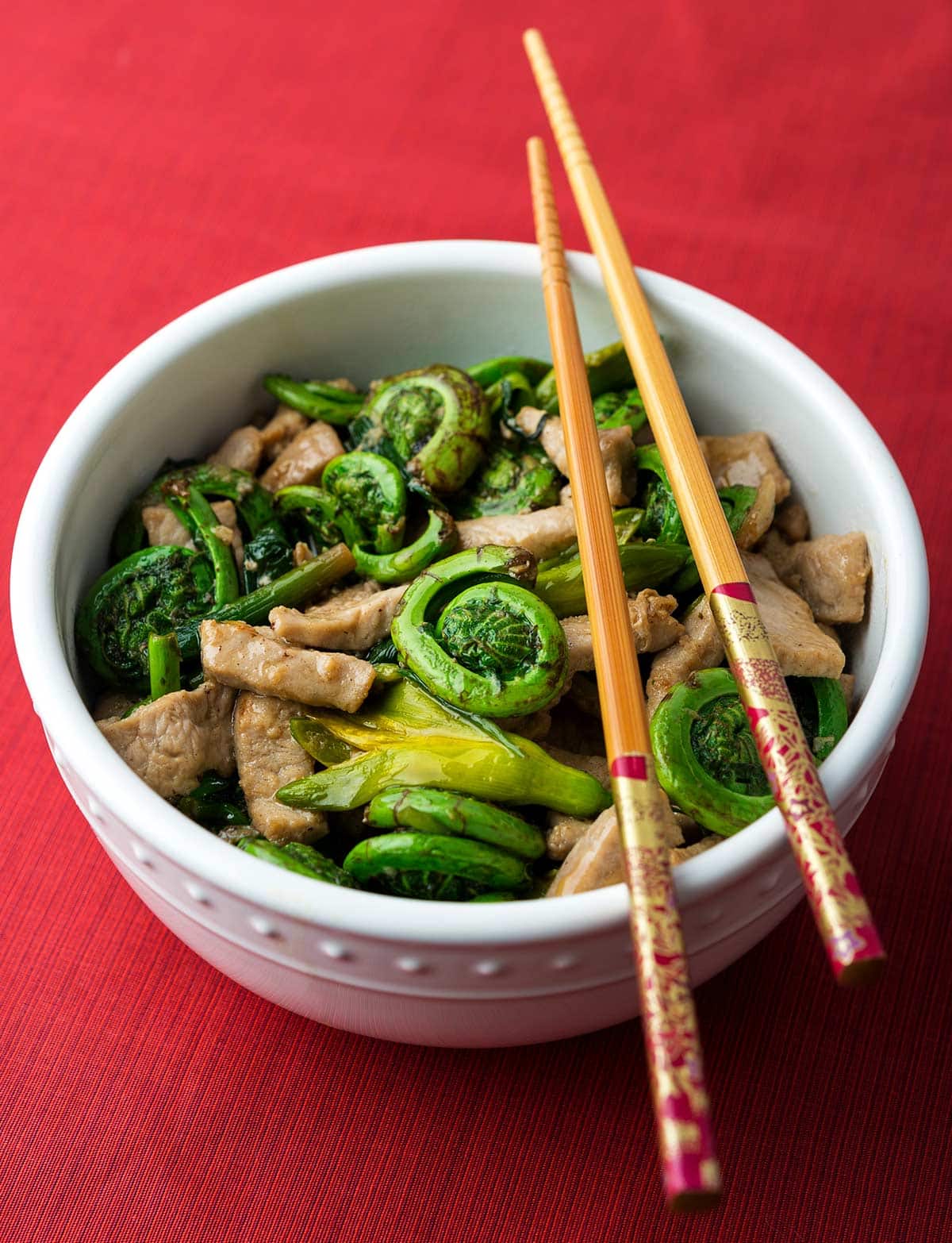 We only have lady fern fiddleheads here in California. They're OK, but not as good as the Eastern ostrich fern fiddlehead. If you are east of the Great Plains, you can often buy them in farmer's markets. Sometimes you can see them in ritzy supermarkets like Whole Foods.
Whatever fiddleheads recipe you use, you will want to highlight them. Their season only lasts a few weeks, and you'll want to savor your fiddleheads while they're around. (Although you can pickle fiddleheads to eat later in the year.)
I like to add fiddleheads to other springtime dishes, like rabbit with morels and fiddleheads, trout with morels, and added to springy things like ramp pasta or nettle spätzle.
As for my favorite fiddleheads recipe, this Chinese stir fry hits the spot.
It's all about the fiddleheads, although there's a healthy amount of shredded pork in there for good measure (vegetarians, sub in mushrooms like morels or shiitakes). It's light, with no heavy, goopy sauce to hide the flavors of the fiddleheads and other vegetables in the bowl. Serve it with simple steamed rice and you'll be in business.
I like to add unopened daylily buds to this fiddleheads recipe, because you find them around the same time as fiddleheads, but green beans are a perfectly good substitute.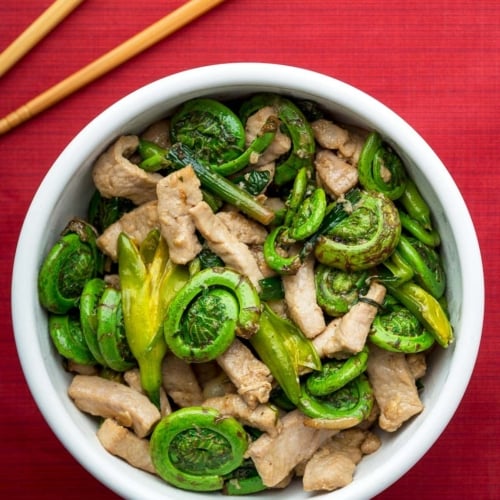 Fiddleheads Stir Fry with Pork
This is a great fiddleheads recipe and a classic Chinese stir fry, with the marinade, stir fry ingredients and then a simple sauce. You will want to "velvet" the meat first -- this pre-frying step keeps the meat super tender -- and then bring everything all together in just a couple minutes. Trust me, this recipe is a lot easier than it looks. Just make sure you have everything prepped before you start, so you can just reach for things as you need them.
Ingredients
MARINADE
2

teaspoons

corn starch

1/2

teaspoon

soy sauce

1/2

teaspoon

salt

1/2

teaspoon

sugar

1

egg white
STIR FRY
1

pound

pork loin,

cut into 1/4-inch matchsticks

2

cups

vegetable oil,

(peanut if possible)

2

garlic cloves,

sliced thin

1/2

to 1 pound fiddleheads

1/4

pound

daylily buds or green beans

1/4

cup

ramps,

wild onions or scallions, sliced on the diagonal
SAUCE
1/4

cup

chicken broth

2

tablespoons

Shaoxing wine or dry sherry

1

teaspoon

soy sauce

1/4

teaspoon

white pepper

(black is OK, too)

1

teaspoon

corn starch
Instructions
Mix all the marinade ingredients together in a bowl, then mix well with the shredded pork, making sure each piece is nicely coated. Set aside at room temperature while you chop the vegetables. Mix all the ingredients for the sauce together in another bowl.

Heat the oil in a wok or large frying pan to about 275°F -- not too hot. Working with about 1/4 of the pork at a time, fry the meat in the hot oil for 30 to 45 seconds, just to set the coating. Move to a plate and repeat with the rest of the pork. When you're done, remove all but about 3 tablespoons of the oil. (You can strain and reuse the oil 2 or 3 more times.)

Heat the remaining oil in the wok over very high heat on your hottest burner. When the oil is thinking about smoking, add the fiddleheads. Stir fry them until you get a little char on the edges of the fiddleheads, about 2 or 3 minutes.

Add the daylily buds or green beans and stir fry another minute. Add the pork, garlic and sliced green onions and stir fry 1 more minute. Finally, stir the sauce well so you get the corn starch (which will have settled to the bottom of the bowl) and pour it into the stir fry. Cook another 30 seconds or so and serve at once.
Notes
You can switch up the meat if you want. Chicken, wild turkey, grouse, quail, partridge -- even fish and shellfish -- are all good alternates. I'd stick to light colored meats here, but you could do duck or venison if that floats your boat.
Nutrition
Calories:
280
kcal
|
Carbohydrates:
6
g
|
Protein:
27
g
|
Fat:
16
g
|
Saturated Fat:
10
g
|
Cholesterol:
71
mg
|
Sodium:
491
mg
|
Potassium:
509
mg
|
Fiber:
1
g
|
Sugar:
2
g
|
Vitamin A:
290
IU
|
Vitamin C:
5
mg
|
Calcium:
22
mg
|
Iron:
1
mg
Nutrition information is automatically calculated, so should only be used as an approximation.