Ramp Pasta with Morels
May 23, 2013 | Updated March 13, 2021
As an Amazon Associate I earn from qualifying purchases.
Ramp pasta, with morels or any other treasure of spring such as fiddleheads, nettles or wild asparagus, is a great way to celebrate the season.
Spring for me is a paradise of green. Here in California, it begins early — our spring really starts at Christmas, if you're talking about the emergence of tender new green growth.
We move languidly through the cool, wet winter until the first waves of heat begin to change our hills from emerald to suede. A riot of flowers crackles across the landscape like fireworks, each in its own turn, until we bid farewell to spring with the azure stars of flowering chicory.
We approach this moment around May here in Sacramento, but I can still suck the marrow from the bones of spring by fleeing to the High Sierra, where I can capture a fleeting taste of spring all the way into July, if I travel high enough. It is in the High Sierra where I find wild onions and mushrooms.
Some years are harder than others, but I can usually find at least a few pounds of morels, and if not, there are always spring porcini. Wild onions have been everywhere, although ours are not as grand as the Eastern ramp.
Ramps have been trendy for a few years now, but it is for good reason. Ramps are the king of all wild onions, with a powerful flavor, a tight bulb and leaves that lend themselves to more dishes than any other green onion.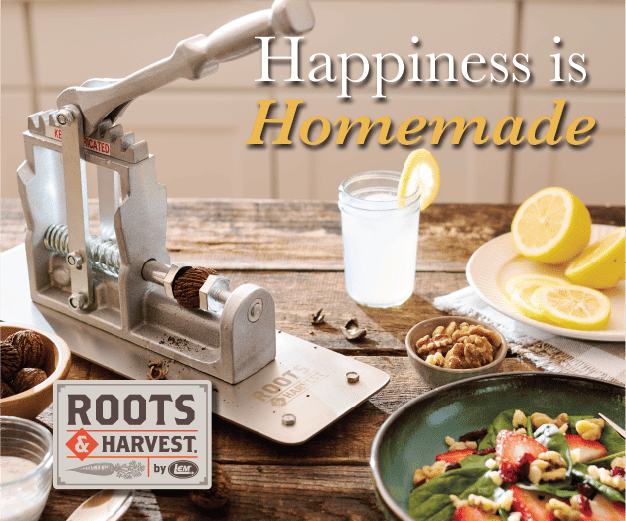 Dishes like this ramp pasta, where the ramp leaves color and flavor the pasta itself. I am pretty sure the Italians don't make a ramp pasta, but who knows? This is my variation on the classic green pasta you see all the time, which is most commonly made spinach. I also have a version made with stinging nettles that they do in fact make in Italy; it's called strettine.
Most green things you include in pasta dough lack the strength to actually flavor the pasta, but ramps are nothing if not strong.
The aroma of the ramps, morels and sweet butter scream spring, and you will find yourself lingering over every bite of this dish. Don't be tempted to add cheese, either. It will only sully an otherwise crisp and clean dish.
And don't skip this recipe if, for some odd reason you don't like mushrooms. The ramp pasta itself, which lasts for a couple days in the fridge, is just as good with butter and cheese; yes, this is the place for grated pecorino or parmesan. A ramp pesto would be another good dressing for the noodles.
Looking for other pasta recipes? I have an entire section on pasta here.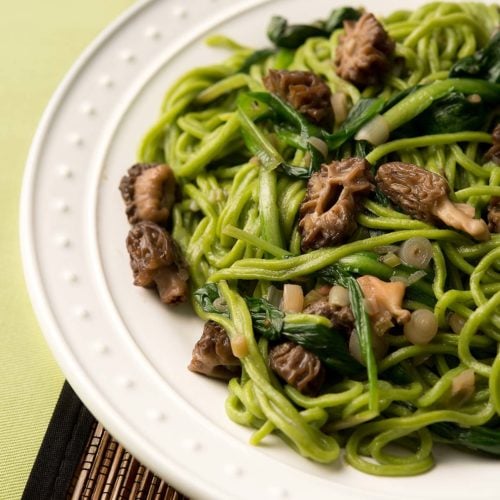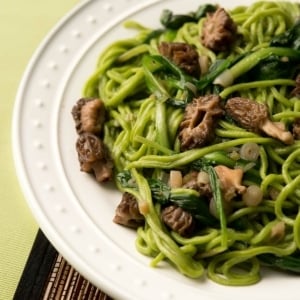 Ramp Pasta with Morel Ragu
Don't be frightened by the long instructions. This is a pretty simple recipe, and I am merely writing long to walk you through the nuances of making this dish -- I would not want you to mess up with precious ingredients like morel mushrooms and ramps. And while I did design this recipe for ramps and morels, a classic combination, you can do it with spinach (or another kind of green onion) and other mushrooms, if you'd like. The flavor will be different, but it will still be pretty.
Ingredients
PASTA
10

ounces

all-purpose flour,

about 2 heaping cups

4 1/2

ounces

blanched ramp leaves,

about a cup
MOREL RAGU
1

pound

fresh morels

1/2

pounds

ramps

or 5 green onions, leaves and bulbs separated

3

tablespoons

unsalted butter,

divided

Salt

1/4

teaspoon

caraway seed

1

cup

chicken or mushroom broth

Black pepper to taste
Instructions
Start by getting a huge pot of water boiling and add a handful of salt. Have a large bowl with ice water in it nearby.

Toss the ramp leaves into the boiling water. Stir around and boil for 2 minutes. Fish them out with a skimmer or tongs and immediately dump them into the ice water. Once they are cool, put them in a colander to strain.

Chop the ramp leaves roughly and put them in a blender. Add about 1/2 cup of the ice water to the blender and puree. Ramp leaves can be stringy, so blitz the hell out of them for a solid 90 seconds. Pour the contents of the blender into a fine-meshed strainer set over a bowl. Let this drain for a minute or two.

Put the flour in a large bowl and make a well in the center. Add the ramps from the strainer and begin mixing the dough with a fork. It should come together as a pliant dough, but if it looks like it will be a little to firm, add a splash of the green water from the straining bowl. Once you get a shaggy mass, start working the dough with your hands. Knead it on a floured surface for 5 minutes. Cover the dough with a thin film of olive oil and wrap in plastic. Let it sit for an hour or so to hydrate.

Cut the dough into 6 equal pieces. Cover the rest while you work with each one. Roll the dough out in a pasta machine; I use an Atlas pasta maker. Roll it out to No. 4 on the machine, which is about 1/8 inch thick or so -- not too thin. Dust the pasta sheet with some flour and run it through the spaghetti cutter that comes with the Atlas. Dust the ramp pasta with flour again and set it on a baking sheet or wooden board to dry. Repeat with the rest of the dough.

The pasta will sit like this for up to a day. Boil in lots of salty water until they float, and then for another minute or two. Serve at once with the morel ragout.

Wash the morels and slice them into disks. Separate the ramp bulbs from the leaves. Chop the bulbs and slice the leaves in halves or thirds, depending on how large they are.

Arrange the morels and chopped ramp bulbs in a saute pan. Turn the heat to high. Once the morels begin to release their water, turn the heat down to medium-high and sprinkle some salt over everything. Sprinkle the caraway over the pan now.

When the morels have released most of their liquid, add 2 tablespoons of the butter and stir to combine. Saute the morels and ramp bulbs until the begin to brown, about 3 or 4 minutes. Add the chicken stock and use a wooden spoon to scrape up any browned bits at the bottom of the pan. Boil this down by half over high heat.

When the ramp pasta is just about ready, add the remaining ramp leaves to the saute pan and cook them 1 minute, until they are just wilted. Put the finished pasta into the saute pan with the remaining butter and gently mix to combine. Grind some black pepper over everything and serve at once.
Nutrition
Calories:
432
kcal
|
Carbohydrates:
74
g
|
Protein:
13
g
|
Fat:
10
g
|
Saturated Fat:
6
g
|
Cholesterol:
23
mg
|
Sodium:
44
mg
|
Potassium:
593
mg
|
Fiber:
7
g
|
Sugar:
4
g
|
Vitamin A:
1768
IU
|
Vitamin C:
11
mg
|
Calcium:
115
mg
|
Iron:
19
mg
Nutrition information is automatically calculated, so should only be used as an approximation.