Rabbit with Morels and Gnocchi
March 23, 2015 | Updated April 16, 2017
As an Amazon Associate I earn from qualifying purchases.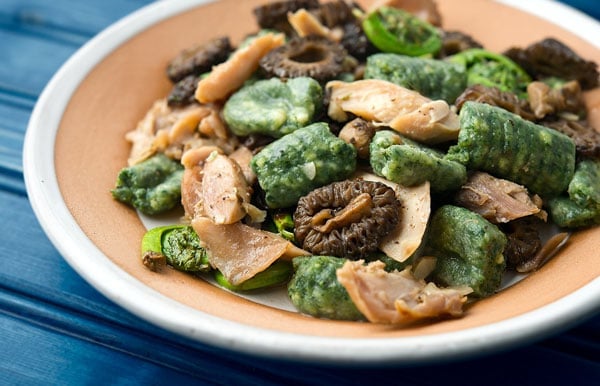 Sometimes you just gotta go for it.
Every spring I get overwhelmed by all the new ingredients that make this such a special season for food: morels, asparagus, fiddleheads, ramps, nettles, green garlic, fava beans — the list goes on. Spring is also when I start to move away from red meats and toward lighter fare like fish, turkey and rabbits.
You'll see these foods a lot in the next couple months, but I thought I'd start spring off with a recipe that is concentrated springtime.
Slow-poached rabbit (an almost-confit), shredded off the bone and tossed with a flavorful oil to keep it moist, simply seared morel mushrooms, barely cooked fiddleheads (or asparagus or favas or fresh peas), a little garlic and some very special gnocchi. Sometimes I add some lemon juice to brighten things up, sometimes I skip it.
The flavors shine strongly and each thing on the plate tastes somehow "clean" and fresh.
The gnocchi are made with stinging nettles, but any spring green would work. Spinach is an obvious choice, as is parsley. But you could use miner's lettuce, pea puree or any other soft, vivid green thing.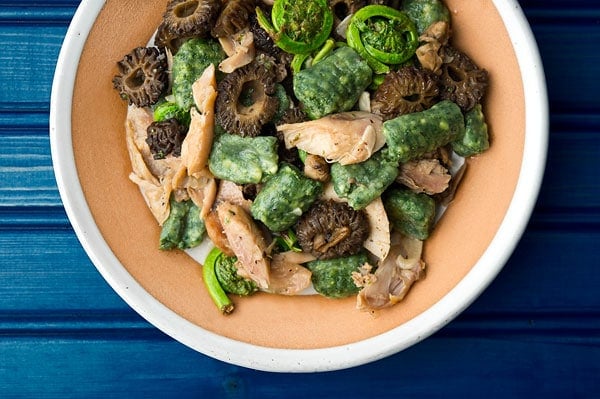 It's a deceptively simple plate of food, but you will need some time to put it all together. I can tell you it's worth your time, and what's more, you can do it in stages, even to the point where, you once you have everything made, you can whip this up in the time it takes to boil water.
Enjoy spring, folks! Get out there and gather, fish, hunt, garden. Embrace the green!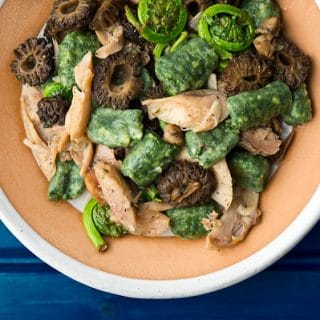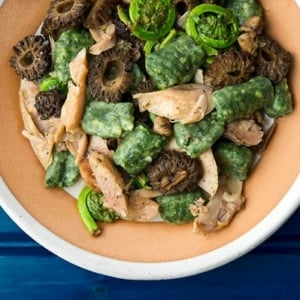 Rabbit with Morels and Nettle-Ricotta Gnocchi
There are three distinct things going on with this recipe, and you don't need to do all of them to enjoy this dish. For example, I really like the slow-simmered rabbit like this, but you could cook it another way and it would still be nice. You can also sub in chicken or turkey or pheasant or quail. And you can certainly use store-bough gnocchi or pasta if you don't want to make it by hand. If you do want to make this dish as written, it's a weekend type meal if you do it all at once. But you can work in stages. You can salt down the rabbit, rinse it, dry it and keep in the fridge up to a week ahead. Or you can go through with cooking it, pull the meat from the bones and have that stored in the fridge for up to a week. You can make the gnocchi up to a month or two before and freeze them. And you can blanch the fiddleheads (or other green thing) up to a day or two ahead and they will still be good.
Ingredients
RABBIT
22

grams

kosher salt

(about 2 tablespoons) per pound of rabbit

1

rabbit,

cut into serving pieces

2

cups

chicken,

rabbit or duck broth

1

sprig fresh thyme

1

bay leaf

3

tablespoons

walnut oil,

olive oil or melted butter
GNOCCHI
2

ounces

of blanched nettles,

parsley or spinach

1

egg

1

teaspoon

salt

10

ounces

of ricotta cheese

1/4

cup

grated parmesan

A pinch of nutmeg

1

cup

flour
MORELS
8

to 12 ounces of fresh morels,

cut into disks

3

tablespoons

of the same oil you used with the rabbit

4

garlic cloves,

sliced thin

8

ounces

of fiddleheads,

fava beans, fresh peas or asparagus

Salt and black pepper to taste

Lemon juice

(optional)
Instructions
Toss the rabbit with the salt so all the pieces are well coated. Set aside in the fridge for 3 hours, while you make the gnocchi and such.

Boil the nettles, parsley or spinach is a large pot of salty water: Boil nettles and spinach 2 minutes, parsley only 1 minute. Plunge into a big bowl of ice water, drain and squeeze to remove excess water. You want the greens to be damp, though. While you have the water boiling, boil the fiddleheads or whatever spring vegetable you're using: Boil fiddleheads 3 minutes, favas, peas or asparagus 2 minutes. Shock in the ice water, pat dry and set aside for now. Turn the heat off the water.

Chop the nettles, then put them in a food processor with the salt, the egg and half the ricotta cheese. Blitz this for about 30 seconds to 1 minute. You want the fibers of the nettles to be well broken down. Put the contents of the food processor into a large bowl and add the rest of the ricotta, the parmesan cheese and the nutmeg. Stir in the flour bit by bit until you have a loose dough that you can just barely roll into a log. If you are not familiar with making gnocchi, you will need more than 1 cup. Put a towel over the dough as you make the gnocchi.

Cut off 1/4 of the dough and roll it into a log about 1/2 inch thick on a work surface that you've dusted with flour. Cut off little pillows from the log. Carefully pick up each pillow -- this is a gnoccho -- and roll it off the tines of a fork held upside down to give it little ridges; you can skip this step if you are very new at gnocchi. Repeat with the rest of the dough. Set the finished gnocchi in the fridge for now.

When the rabbit has brined for 3 hours, rinse it off and pat it dry. Find a medium pot that will just barely fit the rabbit and submerge the pieces in the broth. Add the sprig of thyme. If the broth doesn't cover the rabbit, add a little water. Cover the pot and simmer the rabbit until it starts to fall off the bone, about 90 minutes. When the rabbit is ready, pick the meat off the bones and coat in the walnut oil. Set aside.

To finish the dish, get the blanching water hot again and keep it at a simmer. Put the morels in a large saute pan and set the heat to high. Soon the morels will steam and sizzle and give up their water. When they do, salt them. When most of the water is gone, add the walnut oil and saute the morels until they start to brown on the edges, about 3 to 6 minutes. Add the rabbit and the garlic -- and now's the time to start boiling your gnocchi. When the gnocchi go into the boiling water, add the fiddleheads to the pan with the morels. Saute just to get everything hot.

When the gnocchi are ready, add them to the pan with everything else, toss to combine and add salt and black pepper to taste. Add the lemon juice if you want and serve at once.
Nutrition
Calories:
486
kcal
|
Carbohydrates:
23
g
|
Protein:
52
g
|
Fat:
20
g
|
Saturated Fat:
6
g
|
Trans Fat:
1
g
|
Cholesterol:
194
mg
|
Sodium:
2043
mg
|
Potassium:
1012
mg
|
Fiber:
2
g
|
Sugar:
1
g
|
Vitamin A:
1849
IU
|
Vitamin C:
11
mg
|
Calcium:
274
mg
|
Iron:
10
mg
Nutrition information is automatically calculated, so should only be used as an approximation.