As an Amazon Associate I earn from qualifying purchases.
When it came time to make an elk stew, my mind immediately went to the Rocky Mountains, home of most of the world's elk. So this recipe is an ode to the Rockies, from Canada down to New Mexico.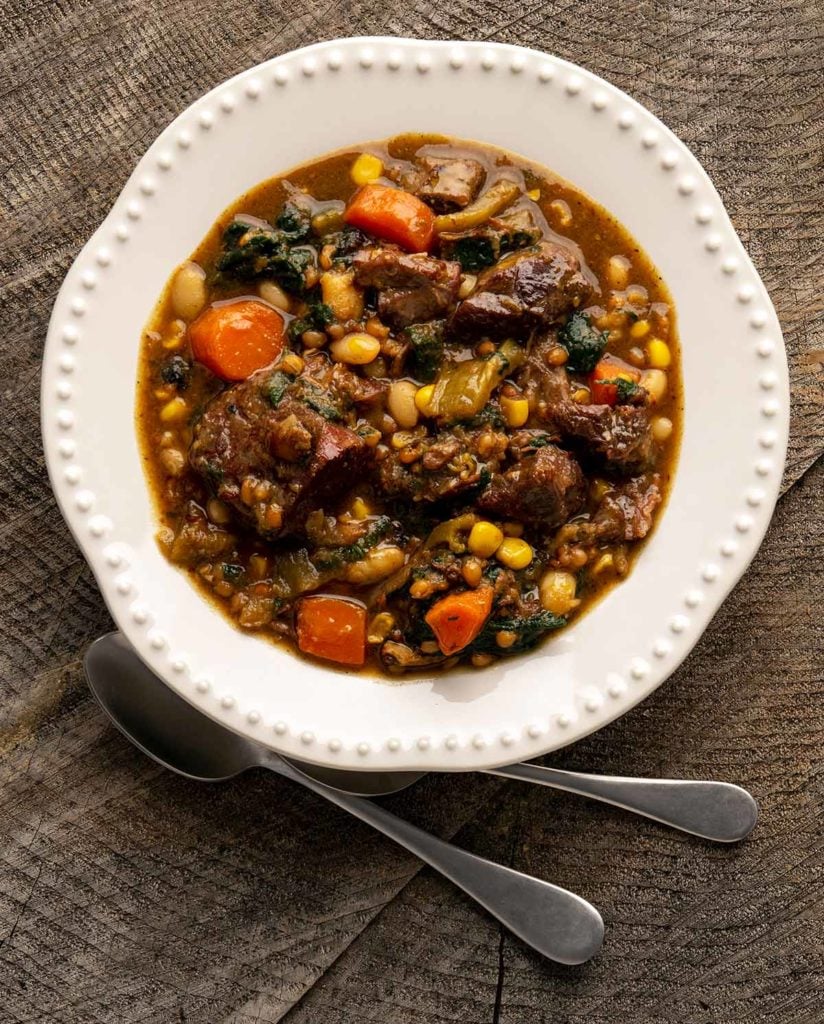 Pretty much every ingredient in this elk stew is something significant to a state or province in or around the Rocky Mountains: green chiles, Great northern beans, wheat berries, porcini mushrooms, greens and root vegetables.
Virtually nothing in it is hard to find — even the porcini, which are in many supermarkets sold dried in little packets. But if you can't find them, any mushroom will do.
Before I get too far with this recipe, know that while yes, this is an elk stew, there is absolutely no reason this couldn't be a deer or pronghorn, bison or beef stew. And if you happen to have some Rocky Mountain bighorn sheep, even better!
You'll notice cold-pressed, extra virgin canola oil in this recipe. Yep, it's a thing. I first encountered it in Edmonton, Alberta, and was entranced. It is golden, lush and full of flavor. And canola is a really big deal in Alberta.
You can buy cold-pressed canola oil online, but other good options would be sunflower oil or butter.
I use wheat berries here, because wheat is a vital crop throughout the Rocky Mountain region, but they can be hard to find in some places. Use barley in its place if you can't find wheat berries.
The other quasi-unusual ingredient is Belgian style beer. New Belgium Brewing is in Fort Collins, CO, and I happen to love their beers. So I used a bottle of their Trippel, a very malty, strong ale, in this elk stew. Any Belgian double or trippel would work, and even Blue Moon or Allagash White will do in a pinch. Just nothing hoppy.
After that, it's all easy supermarket stuff.
And you can load this stew up with a host of other ingredients important to the Rockies, like sweet corn, Great Northern beans, or chopped greens — I used nettles, which are a common wild green in the mountains.
All this elk stew asks of you is time. Elk meat sometimes takes 3 or more hours to get fall-apart tender, so make sure you have that kind of time. If you have an Instant Pot, cook the stew on high pressure for 35 minutes, then let it release naturally. You can also use a slow cooker, after you have browned the meat and onions.
Once made, this will keep a week in the fridge, and it freezes well.
Looking for other ways to make an elk stew? Try my North African venison stew, A venison stew I designed after all the ingredients in a "food plot" seed mix, or a classic New Mexican green chile stew.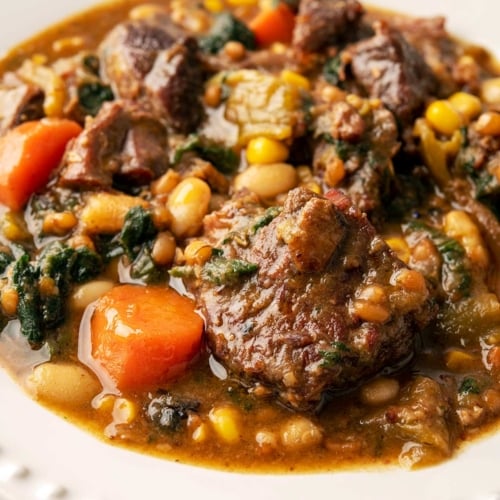 Rocky Mountain Elk Stew
Obviously this can be a deer, pronghorn, bison, beef, sheep, etc. stew. You could even use pork if you wanted to. Also note that there are a lot of optional ingredients, which I like a lot, but you can skip if you'd like.
Ingredients
4

tablespoons

butter, canola oil or sunflower oil

2 to 3

pounds

elk stew meat

Salt

1/2

cup

flour

1

large yellow onion,

chopped

4

cloves

garlic,

minced

1

ounce

dried porcini, crushed

(or some other dried mushroom)

5

Hatch, Anaheim poblano peppers,

roasted, seeded, and chopped

1

quart

elk, venison or beef stock

1

pint

Belgian beer

(anything malty)

2

large carrots,

peeled and cut unto chunks

1

tablespoon

fresh sage,

minced
OPTIONAL INGREDIENTS
1

parsnip,

peeled and cut into chunks

1

cup

corn kernels

1

cup

cooked barley or wheat berries

1

15-ounce

can, Great Northern beans

1

cup

chopped cooked greens,

like spinach, nettles, or chard
Instructions
Heat 2 tablespoons of the butter or oil in a large soup pot with a lid over medium-high heat. Salt the stew meat well, then dust in the flour. Brown the meat in batches, making sure they do not touch each other. Remove the meat to a bowl as it browns and reserve.

When all the meat is nicely browned, add the remaining oil and the chopped onion. Stir well, and brown this well, too.

While this is happening, put 2 of the roasted chiles into a blender with the stock and puree.

Add the garlic and stir to combine. Return the meat to the pot, along with any juices that have collected in the bowl. Pour the contents of the blender into the pot. Crush the dried mushrooms in your hands and add to the pot. Fill the blender bowl again with water and pour that into the pot. Finally, add the beer. Bring all this to a simmer, add salt to taste, partially cover the pot, and let this cook gently.

If you are using dried beans, wheat berries or barley and greens, now is the time to cook them. If you are using canned beans, wait.

After about 2 hours, add the carrots and the sage, as well as the parsnip, if using. When they are tender, about 40 minutes or so later, add the remaining green chiles, and any of the other optional ingredients you happen to be using. Taste for salt and black pepper and serve.
Notes
If you can't find dried mushrooms, use 1/2 pound fresh ones, chop them and add with the onions. 
Keys to Success
I like to use big chunks of neck or front shoulder meat here, sliced across the grain. They look gnarly at first, but after several hours in the pot, that connective tissue melts and you get a really nice stew. Shank chunks work well for this, too. 
Take your time with the browning step for both the meat and onions. This is the foundation of the stew's flavor. 
This is a place for canned green chiles. I like to roast chiles, but if you don't, canned will do nicely here. 
If you have the starchy optional things, like the wheat berries and beans, etc. you won't need anything else. If you skip them, serve this with crusty bread. 
Nutrition
Calories:
282
kcal
|
Carbohydrates:
25
g
|
Protein:
26
g
|
Fat:
8
g
|
Saturated Fat:
1
g
|
Polyunsaturated Fat:
1
g
|
Monounsaturated Fat:
5
g
|
Cholesterol:
50
mg
|
Sodium:
389
mg
|
Potassium:
733
mg
|
Fiber:
4
g
|
Sugar:
4
g
|
Vitamin A:
3876
IU
|
Vitamin C:
9
mg
|
Calcium:
55
mg
|
Iron:
4
mg
Nutrition information is automatically calculated, so should only be used as an approximation.