Dove Breast Jagerschnitzel
September 03, 2015 | Updated June 06, 2022
As an Amazon Associate I earn from qualifying purchases.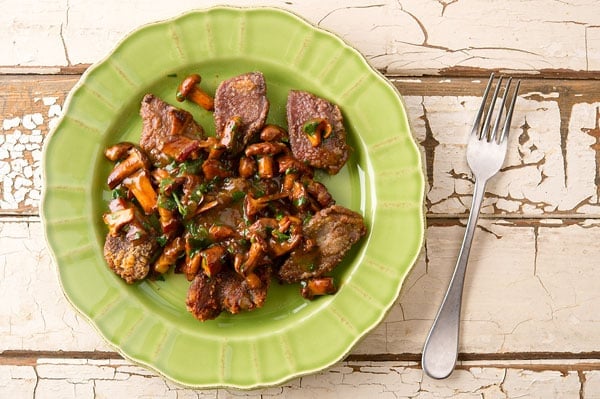 Jägerschnitzel means "hunter's cutlets" in German, so why not adapt this Teutonic classic for dove breast?
I did this recipe after slicing the breast meat off a bunch of doves I wanted to make a rich broth with, and in so doing found myself with what many dove hunters do routinely: cook with boneless dove breasts. I rarely breast my doves (or any bird), and didn't want to make poppers. So a traditional jägerschnitzel came to mind.
At its heart, jägerschnitzel, is a thin cutlet of meat served with a mushroom gravy, or in this case lots of little bite-sized cutlets. And while this is a great recipe for boneless dove breasts, like I said, any meat works.
What does it taste like? Damn good is what it tastes like. If your heat is high enough when you cook the dove breast, they will still be pink in the center, like a dove should be. And the mushroom gravy is, well gravy, man — and who doesn't like gravy?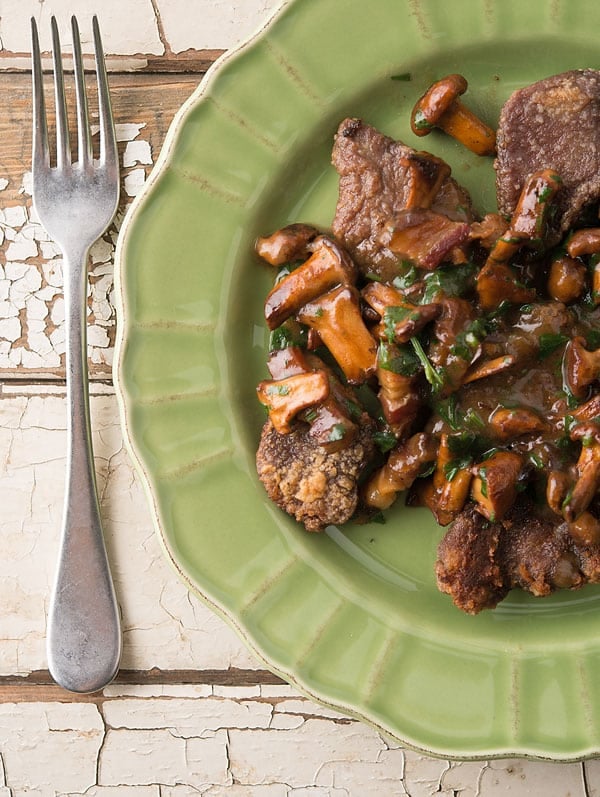 I love using chanterelles with jägerschnitzel, as this is traditional. If you can find them, use chanties: They taste wonderful, almost fruity, and look pretty on the plate. But don't let a lack of chanterelles put you off from making this recipe. Any mushroom will do.
So give this one a go this dove season. And if you run out of dove breast before you get to it, use any old meat, pounded thin of course. You won't be sorry if you do.
OTHER GREAT DOVE RECIPES
I have 25 dove recipes here on Hunter Angler Gardener Cook, ranging from Moroccan-inspired bacon-wrapped doves to grilled doves Cajun style. Some great Labor Day grilling or barbecue options include:
If you liked this recipe, please leave a ⭐️⭐️⭐️⭐️⭐️ rating and a comment below; I'd love to hear how everything went. If you're on Instagram, share a picture and tag me at huntgathercook.
Dove Schnitzel
While this is a dove breast recipe, you can use pretty much any meat you want. Über traditional Germans use veal or pork, but the 18th century origin of jägerschnitzel is venison. I have a venison-specific jagerschnitzel recipe here. What to serve with this? Potatoes would be typical, but good bread or hell, even rice would be fine. You want something to sop up all that sauce. A light red wine or a German beer would be what you'd want to drink here.
Ingredients
Breast meat from 12 to 16 doves

Salt

1

to 1 1/2 pounds chanterelles or other fresh mushrooms,

cleaned and roughly chopped

1/2

yellow onion,

roughly chopped

5

tablespoons

bacon fat,

lard or butter, divided

Flour for dusting

(optional)

2

tablespoons

flour

1

cup

dove,

duck or beef stock

1

or 2 tablespoons sour cream

2

tablespoons

chopped parsley

Black pepper to taste
Instructions
Place each dove breast between two pieces of plastic wrap and pound until it is about 1/8 inch thick. Do this firmly, but don't wail on the meat or you will tear it.

Set a large frying pan over high heat for 1 minute, then add the mushrooms to the hot, dry pan. Shake them around so they don't stick too much and cook the mushrooms until they give up their water, about 3 or 4 minutes. Add 2 tablespoons of the bacon fat and onions and stir-fry everything until the onions begin to brown, about 4 minutes. Remove the mushrooms and onions and set aside.

Dust the dove breasts in flour if you want to. Add the remaining fat to the pan and let it heat over medium-high heat. Do not let it smoke. Sear the cutlets for 1 minute on the first side. Keep them from curling up with a spatula. Flip the cutlets and sear another minute for medium doneness. Remove the cutlets to a plate and put them in an oven set to "warm."

Add the 2 tablespoons flour and mix with the fat in the pan. Turn the heat to medium and let the flour-and-fat mixture cook until it is the color of coffee-with-cream. Slowly pour in the stock, plus any juices that have come off the cutlets while they rest. You should have a thick gravy. If it is thin, let this boil down a minute or two. If it is really thick, turn off the heat, wait for the sauce to stop bubbling and stir in the sour cream. Add the mushrooms and onions back to the pan and toss to coat in the sauce. Add salt and black pepper to taste. Pour this over the cutlets and serve at once. Garnish with a little parsley.
Nutrition information is automatically calculated, so should only be used as an approximation.