Crab Pasta
May 14, 2020 | Updated December 23, 2021
As an Amazon Associate I earn from qualifying purchases.
Sometimes simple is best, and that's the case with this crab pasta.
I chose this route not only because I happen to already have a fantastic spaghetti with crab sauce recipe, which is a tomato-based sauce, but also because I happen to get some really high quality snow crab from Taku River Reds, the group I fish with in summer. But any crab you happen to have will do.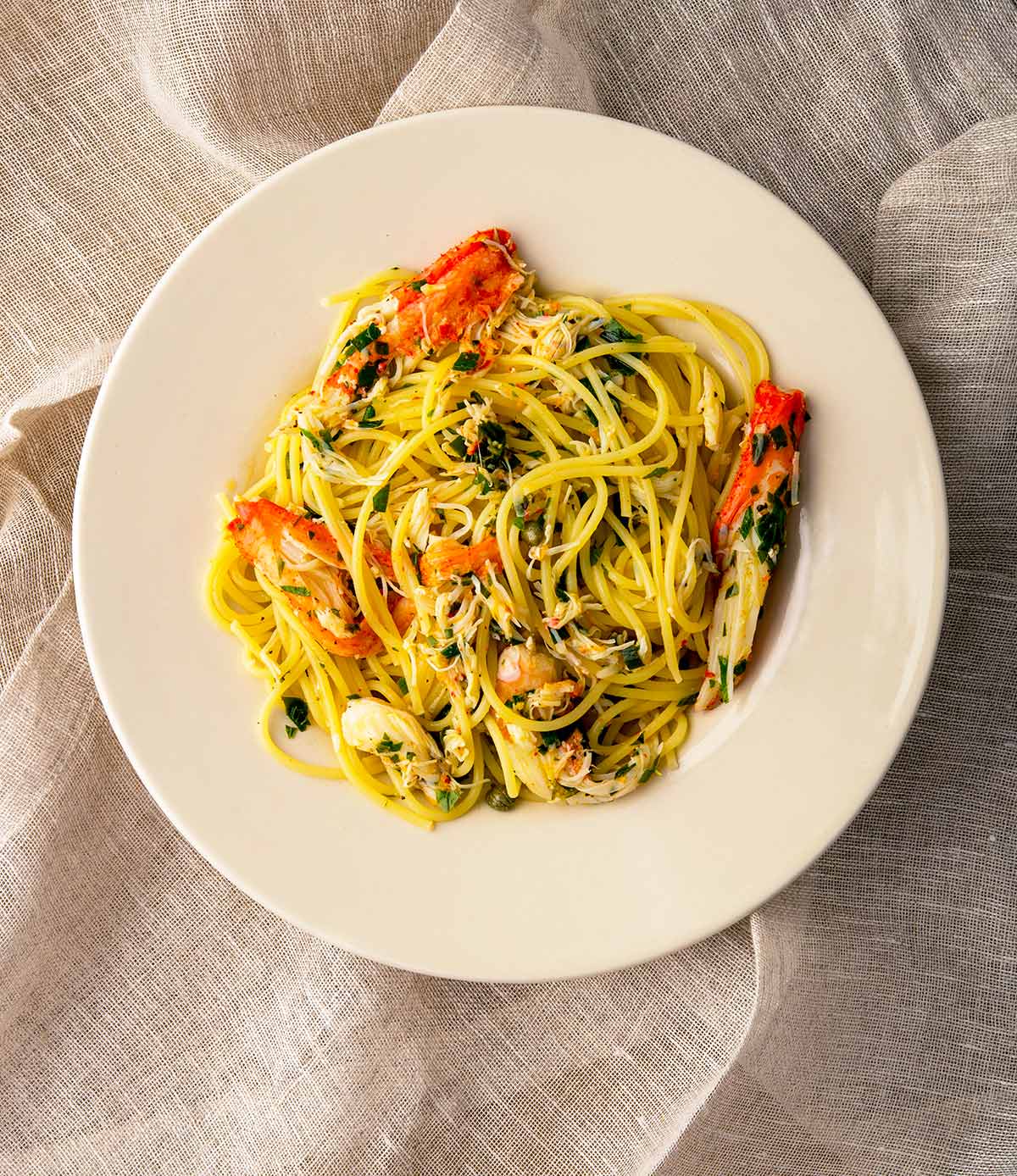 You get to savor the crab in this recipe because it's only olive oil, herbs, a little garlic, a couple of capers, and lots of lemon.
Hardly a recipe, really. But it works. I even went with regular store-bought vermicelli instead of some fancy noodle. What makes this crab pasta special is, like most Italian dishes, the quality of the ingredients.
Yes, it was store-bought vermicelli, but it was a good brand. What's a good brand? Well, there are lots of them, but what you want to see is that the noodles are rough, not super smooth. You'll have to look closely. A matte or rough surface on the pasta means it will hold onto the sauce better, and since this sauce is basically just olive oil and lemon, it's thin.
Handmade pasta would work, too. I'd go with a linguini. But honestly, the pasta police won't come to your house if you use something you happen to have lying around.
I added the little nonpareil capers because they pair well with both the crab and the thin pasta; they add a briny note. Olive oil and lemon are a given, and the herbs were basically what I had in the garden at the moment: parsley and garlic chives.
Other than those two, good herbs to add would be chervil, regular chives, tarragon, basil, fresh oregano or thyme — dried could work, but it would not be as nice — marjoram or maybe even cilantro.
My strongest advice with this crab pasta is to serve it quickly, and eat all of it at once; it will not keep well. Oh, and if you don't have crab, crawfish, shrimp or lobster sub in nicely, and there isn't any real reason you couldn't use small clams, mussels or scallops, too.
Serve this as part of a larger seafood feast with crab deviled eggs, a cream of crab soup or maybe a Dungeness crab salad.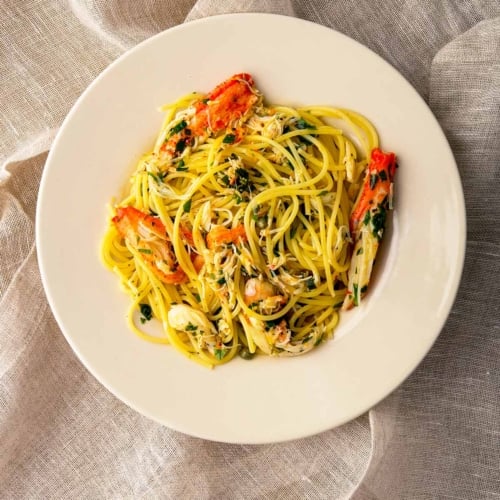 Crab Pasta
This is a fast, easy recipe you can whip up on a moment's notice... if you have crabmeat. If not, you will have to shell some crabs, first. As I mention above, it's really best eaten straight away and will not keep well.
Ingredients
1

pound

pasta

3

tablespoons

olive oil

1

clove

garlic, minced

1

tablespoon

capers

(optional)

8

ounces

crabmeat

2

tablespoons

minced parsley

2

tablespoons

minced chives

Zest of a lemon, grated or chopped fine

Juice of a lemon

Salt and black pepper
Instructions
Bring a large pot of water to a boil. When it's hot, add enough salt to make it taste like seawater. Start boiling your pasta.

When the pasta is almost ready, heat the olive oil over medium-high heat in a large pan. When it's hot, add the garlic and sauté for 30 seconds. Add the remaining ingredients and mix well. Cook for another minute or so.

Using tongs or somesuch, move the pasta to the pan. You want a little of the pasta water to come with it, so you don't need to drain it too much. Toss well and serve.
Video
Notes
I mostly use snow crab or Dungeness crab for this recipe, but any crabmeat you have available will work. 
Keys to Success
This comes together quickly so have everything all set. The best way to do this is to start the water for the pasta, and then start chopping. You'll have it all ready by the time the pasta's done cooking. 
For some variations, you could add red pepper flakes or chopped chiles, maybe a diced tomato or two, some blanched, chopped greens like chard or nettles, and you can play with the fresh herbs, too. 
If you want to make this recipe a little richer, mix in maybe 1/4 cup of heavy cream about 2 minutes before you serve. 
Nutrition
Calories:
564
kcal
|
Carbohydrates:
85
g
|
Protein:
25
g
|
Fat:
13
g
|
Saturated Fat:
2
g
|
Cholesterol:
24
mg
|
Sodium:
538
mg
|
Potassium:
380
mg
|
Fiber:
4
g
|
Sugar:
3
g
|
Vitamin A:
247
IU
|
Vitamin C:
8
mg
|
Calcium:
53
mg
|
Iron:
2
mg
Nutrition information is automatically calculated, so should only be used as an approximation.