Cream of Crab Soup
December 21, 2020 | Updated June 06, 2022
As an Amazon Associate I earn from qualifying purchases.
I wish I could call this she-crab soup, but alas, it is cream of crab soup. Both are wonderful, but there is something special about the added crab roe — that's what makes it she-crab soup.
But nowadays, in most places it is illegal to keep female crabs, especially those with that pretty red roe. So cream of crab soup it is.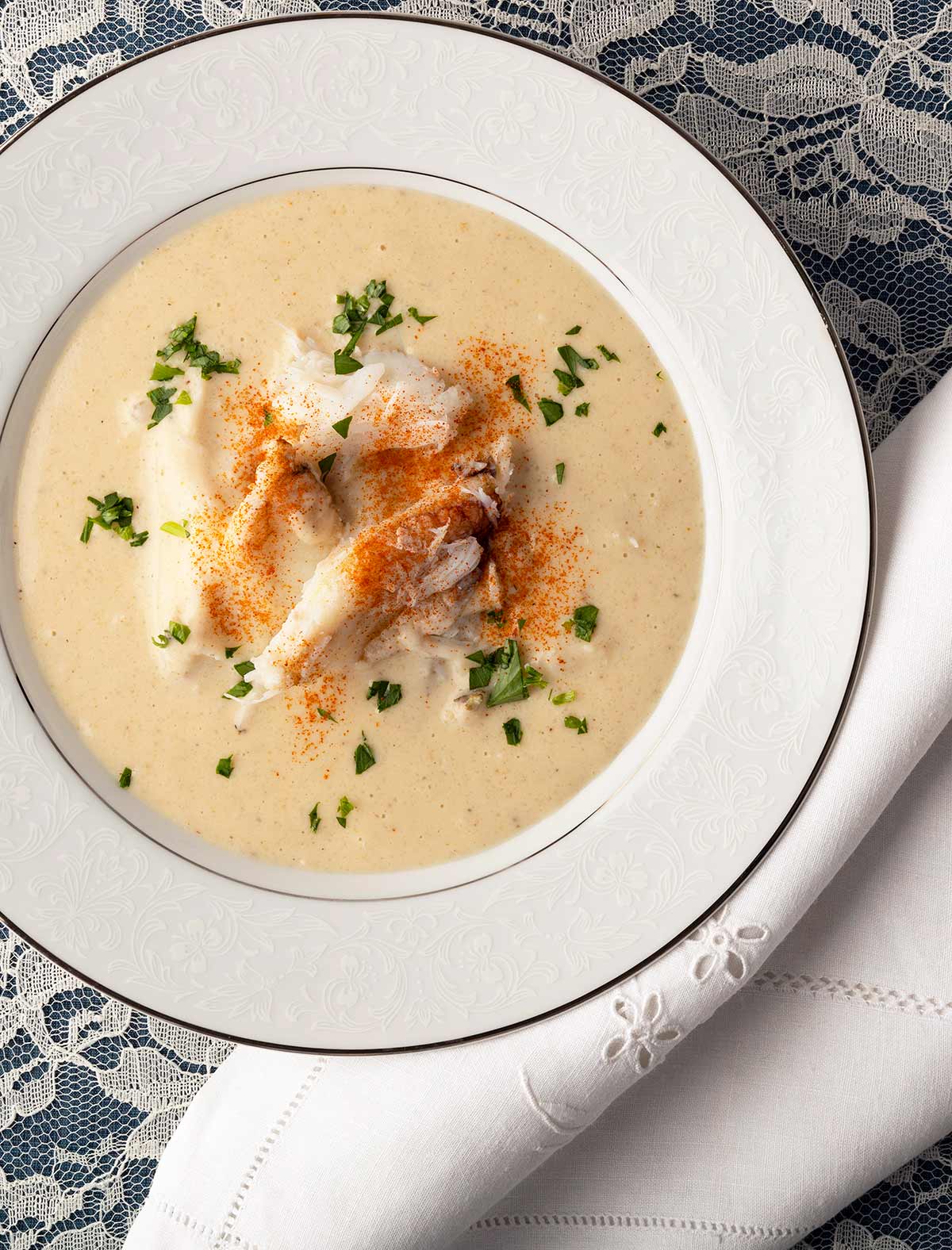 Make no mistake, this is a classic Charleston, South Carolina version of this soup, that would transform into she crab with the addition of roe mashed with some butter about 5 minutes before you serve it. So if you have some, do that.
What makes this soup a classic is how smooth and silky it is. To eat it is to sip spoonfuls of luxury. Cream, butter, crabmeat and a touch of sherry.
Some renditions of cream of crab soup include little or no crab, except for the crab stock, which I think is cheating. If you eat crab soup, you want crab in it, no? Any crabmeat will do, although blue crabs are traditional; I use Dungeness crab, because that's what's local here in NorCal.
Different recipes use different types of sherry, but my preference is an amontillado, or a "rainwater" Madeira, or even a dry Marsala. All are fortified wines. Dry "fino" sherry is too dry to me, and oloroso or cream sherry is too sweet. Can you skip the alcohol? I suppose, but it won't be quite as nice.
Because this is a Charleston version of cream of crab soup, it relies on rice grits to thicken it, not a flour roux. You can buy rice grits from Anson Mills, or you can roughly crack a bunch of long-grain rice in a spice grinder. So all you gluten-free people out there, this one's for you.
Cream of crab soup can be done with lobster, crawfish or spot prawns — all can sometimes be found with pretty red roe on them, which you can then use instead of the crab roe. You could even use mashed up lobster roe with this as a sort of "she lobster crab soup" thingie.
Once made, this will reheat well for a few days; just do so slowly and gently. It doesn't freeze well, however.
If you're looking to make this part of a larger Lowcountry dinner, try starting the feast with pickled shrimp, then serve this soup as a starter for either perloo or chicken bog.
Cream of Crab Soup
I've mentioned a few good substitutions above, which should make this soup more accessible depending on where you live.
Ingredients
4

tablespoons

butter

1

white onion, minced

1/2

cup

rice grits or broken up long-grain rice

(see above)

1

sprig

fresh thyme

2

bay leaves

1

cup

clam juice or crab stock

1/2

cup

sherry

(see above)

3

cups

whole milk

1

cup

cream

1

teaspoon

Old Bay Seasoning

(optional)

1/2

teaspoon

white pepper

1/4

teaspoon

ground mace or nutmeg

1/2

pound

lump crabmeat

Chopped parsley and paprika, for garnish
Instructions
In a large pot, heat the butter over medium-high heat, and when it's hot, cook the onion until soft and translucent, but not brown, about 5 minutes. Add the rice grits and stir to combine.

Pour in the clam juice or crab stock, sherry, milk, cream and then the Old Bay, white pepper and mace. Bring this to a gentle simmer and let it cook for 15 minutes. You want the rice grits to be soft.

When the rice is soft, puree this mixture in a blender, adding milk or clam juice or stock to thin it if it's too thick: You want it to be the consistency of house paint or melted ice cream.

Wipe out the pot and return the puree to it, keeping it warm over low heat. To serve, put some crabmeat in shallow bowls then pour the soup over it, garnishing with parsley and paprika.
Nutrition
Calories:
411
kcal
|
Carbohydrates:
26
g
|
Protein:
13
g
|
Fat:
27
g
|
Saturated Fat:
16
g
|
Cholesterol:
102
mg
|
Sodium:
596
mg
|
Potassium:
362
mg
|
Fiber:
1
g
|
Sugar:
9
g
|
Vitamin A:
1091
IU
|
Vitamin C:
6
mg
|
Calcium:
200
mg
|
Iron:
1
mg
Nutrition information is automatically calculated, so should only be used as an approximation.