Dungeness Crab Salad
December 24, 2018 | Updated August 11, 2022
As an Amazon Associate I earn from qualifying purchases.
I can pretty much guarantee you that this Dungeness crab salad will be unlike any other crab salad you've ever had. It's full of fresh, cool weather ingredients that mesh perfectly with Dungeness crab season. What's more, it comes together in a flash.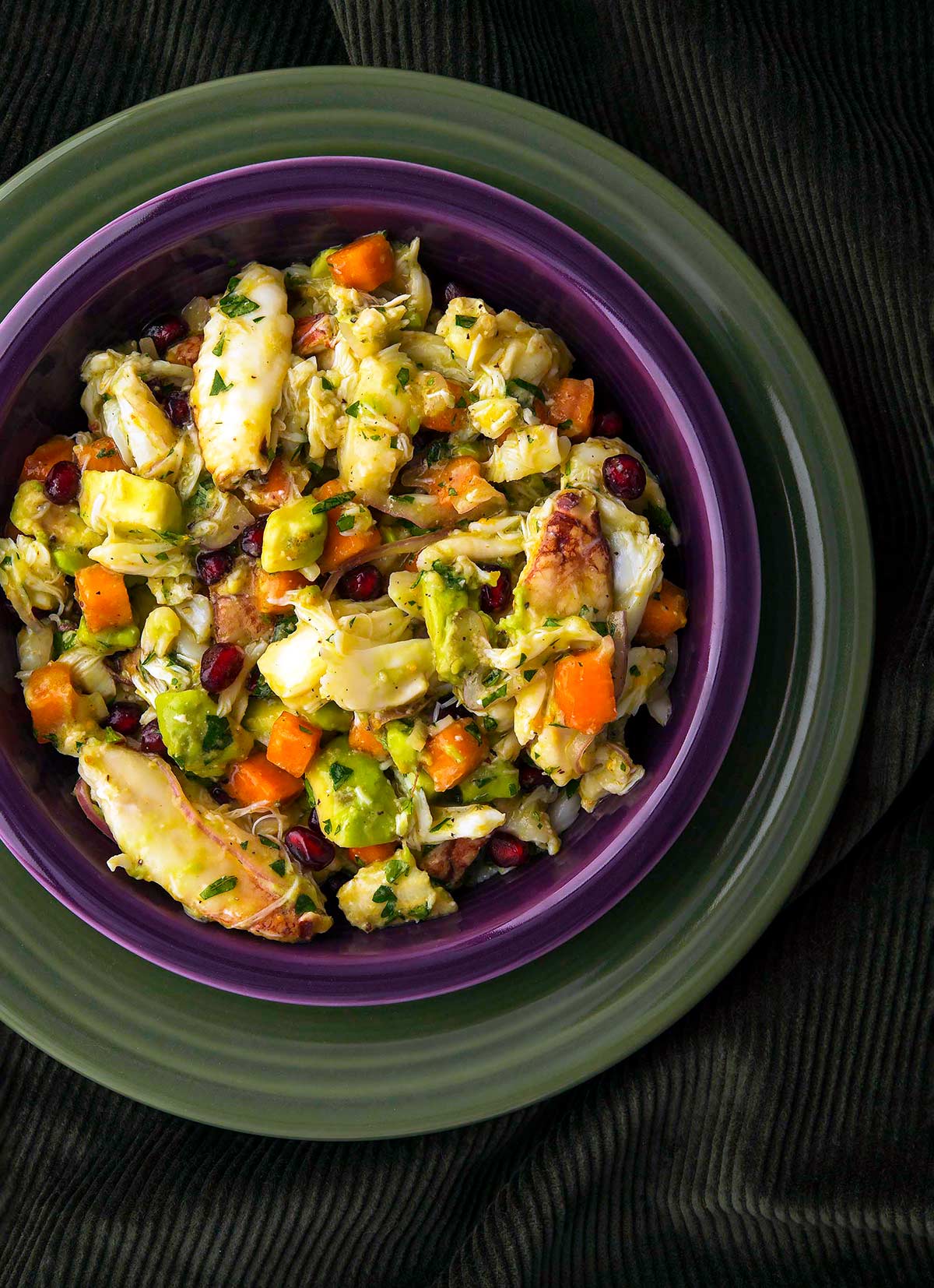 Let me start by saying, "Sorry, rest of the country," as this is a decidedly West Coast Dungeness crab salad. Considering that Dungeness crab is a West Coast thing, I don't feel so bad.
While most of the rest of the nation deals with snow and ice, here in California, our winter bounty is bursting: Dungeness crab, persimmons, pomegranates, avocados, citrus. This recipe has it all.
Crab, for most, is a summer thing. It was for me, too, until I moved to California in 2004. I soon learned crab here is a fall and winter thing, and that it is traditional — even required in some families — for Dungeness crab to be eaten at Thanksgiving and Christmas, normally Christmas Eve.
I grew up in New Jersey, where the Feast of the Seven Fishes is a thing, so this sat well with me. I'd definitely dish up some crab for the holidays.
After a recent crabbing trip outside the Golden Gate, I had my limit of 10 Dungeness crabs, and was thinking about how to use them as I sat in bumper-to-bumper Bay Area traffic. A Dungeness crab salad immediately came to mind.
I happen to love crab this way, but I normally do a sort of Mexican route. This would be something different. So I started thinking about what's in the farmer's markets when Dungeness crab is in season. Pomegranates, persimmons, citrus, avocados… well, it all just fell together.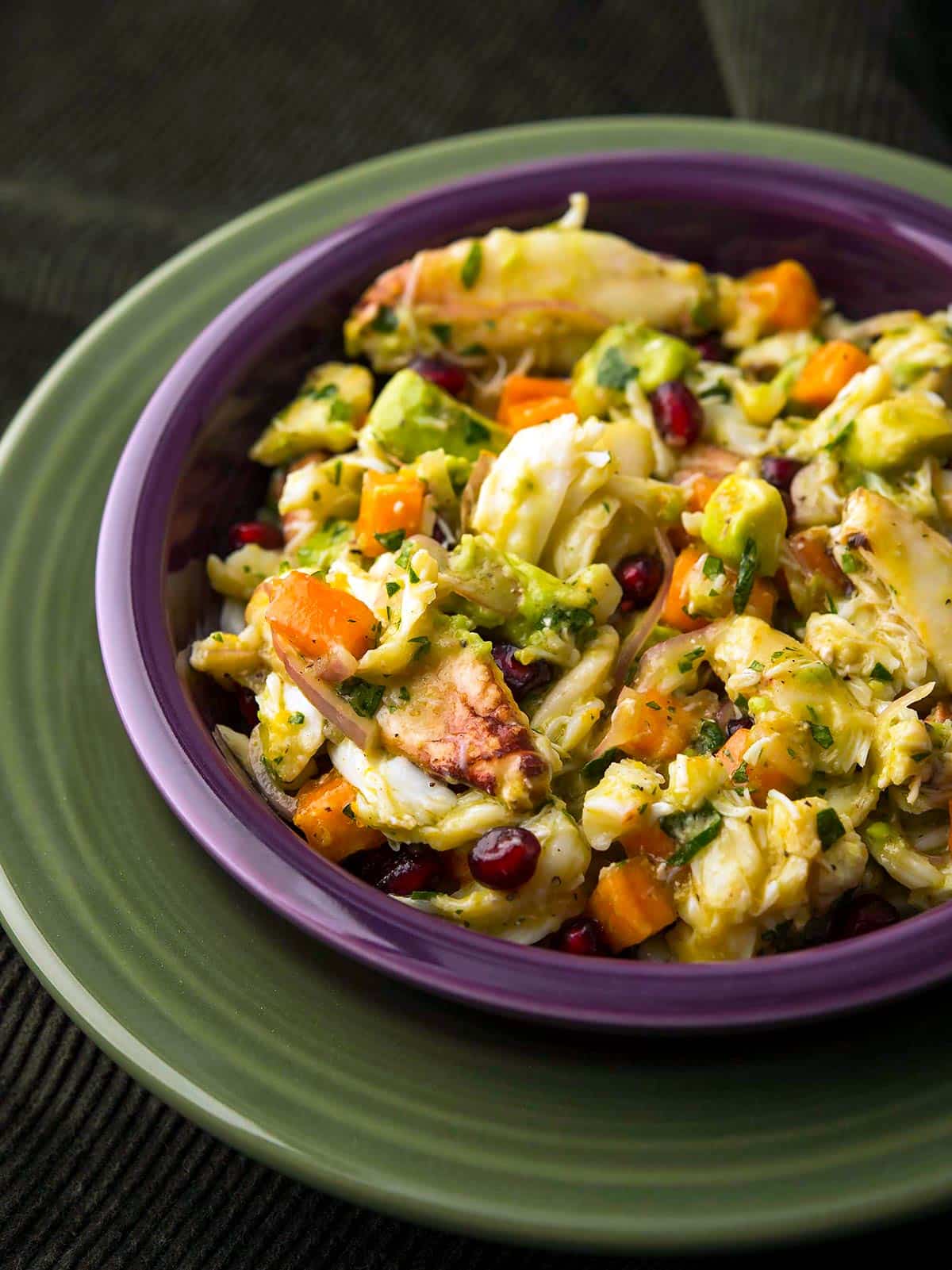 Avocado and crab is a classic. Pomegranate and persimmon is a classic. Turns out they all play well together, sauces with lots of fresh citrus juice and California olive oil.
This Dungeness crab salad is a winner. Seriously. If you can manage to collect the ingredients for it, I highly recommend you try this. It's one of the best things I've posted to this space in a long while.
It's only drawback is that this is not a good salad for long keeping. It's best freshly made, although I have eaten leftovers the following day and it was OK.
If you are looking to make a crab feast, try my recipes for spaghetti with crab sauce, or a simpler crab pasta with herbs, or cream of crab soup.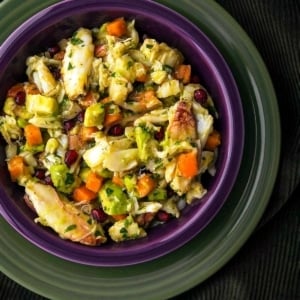 Dungeness Crab Salad
This is a holiday salad, as everything in it is in season here in California between Thanksgiving and New Year's. Obviously everything will be better if it is all freshly picked, crab included, but you can get away with pre-picked crab. 
Ingredients
3 or 4

lemons or limes

1

shallot, peeled and sliced very thin

Salt and freshly ground black pepper

1

firm fuyu persimmon, peeled and diced

2

avocados, skinned and diced

1/2

cup

pomegranate arils, about 1/4 of a pomegranate

3/4

pound

crabmeat

2

tablespoons

minced parsley

3 to 4

tablespoons

olive oil

(use the good stuff)
Instructions
Zest one or two of the lemons with a fine grater. I use a microplane. Put the zest into a large bowl. Juice all the citrus into the bowl and add the sliced shallot. Let this marinate while you cut everything else.

Add the remaining ingredients to the bowl and gently mix to combine. Serve as-is, or in hot corn tortillas, or on crackers or tortilla chips.
Notes
You absolutely can make this with other varieties of crab, such as blue crabs, rock crabs or red crabs -- even snow crab is a good substitute.
Nutrition
Calories:
383
kcal
|
Carbohydrates:
26
g
|
Protein:
19
g
|
Fat:
26
g
|
Saturated Fat:
4
g
|
Cholesterol:
36
mg
|
Sodium:
723
mg
|
Potassium:
861
mg
|
Fiber:
11
g
|
Sugar:
6
g
|
Vitamin A:
394
IU
|
Vitamin C:
55
mg
|
Calcium:
93
mg
|
Iron:
2
mg
Nutrition information is automatically calculated, so should only be used as an approximation.