As an Amazon Associate I earn from qualifying purchases.
While rabbit is not nearly as popular in Mexican cooking as, say, chicken or pork, you do see recipes for conejo en adobo, more or less rabbit in a red (or green) chile sauce, all over that country.
This recipe is from Tamaulipas, in northeastern Mexico, and is a great, simple way to serve rabbit with a Mexican flair.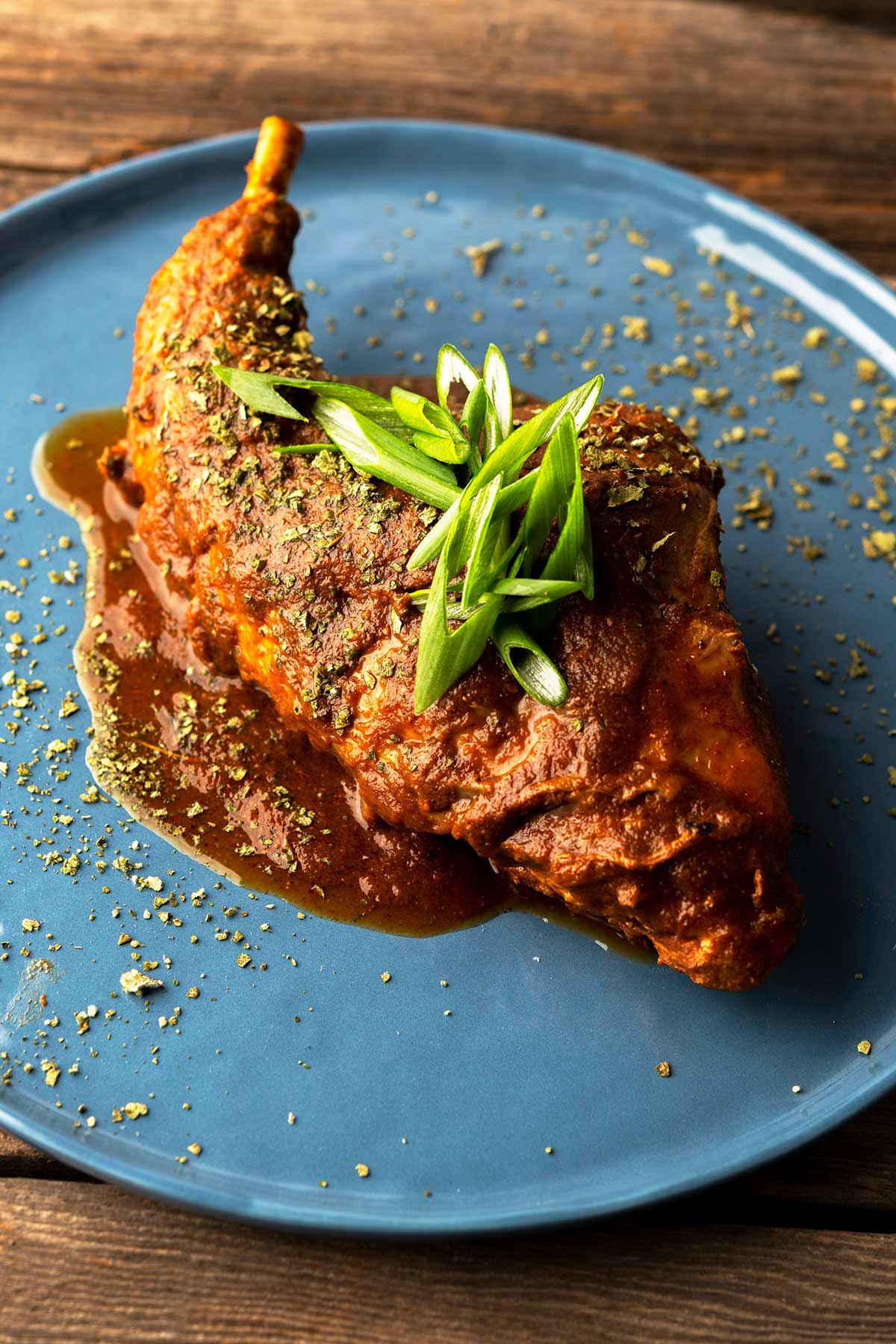 Typically you would use farmed rabbit for conejo en adobo, but cottontail rabbits or squirrels would be good, too. And chicken thighs would be a nice substitute from the supermarket.
A recipe for conejo en chile rojo in the cool (but hard to find) book Cocina Familiar en el Estado de Tamaulipas inspired me to make this dish, which is an amalgam of that recipe plus a bunch of others for conejo en adobo I've read online and in other Spanish language Mexican cookbooks.
Basically you make rabbit broth to cook the animal, then use some of that broth for the adobo. The adobo is a lot like a simplified mole sauce, with several chiles, onion, garlic and tomato, plus a little Mexican chocolate and some spices.
It reminds me a a simpler mole coloradito or chirmol sauce, both of which are from southern Mexico, not the north as this is. It's a great sauce, useful on way more than just rabbit, so keep some in a jar in the fridge, where it will keep about 10 days or so.
A couple things will make your conejo en adobo better: Real Mexican oregano and real Mexican chocolate. I grow my own Mexican oregano, but Rancho Gordo sells some really good stuff, when it's in stock. Most Latin markets will sell it, too. As for the chocolate, sure, Abuelita brand will work, but there are all sorts of better Mexican chocolates out there that are less sweet and processed; do an Amazon search for them.
Serve this as is, with beans and rice, or pull the meat off the bones and serve your conejo en adobo as a kick-ass burrito filling, or put it in Mexican empanadas, or serve it on homemade flour tortillas. Why flour? Because this is from the north, where flour is king. Homemade corn tortillas are fine, too.
Conejo en Adobo, Red Chile Rabbit
If you can't find the exact dried chiles I call for here, mix and match among the following: guajillo, pasilla, mulato, New Mexico, California and cascabel.
Ingredients
1

rabbit,

cut into serving pieces

2

white onions,

quartered

1

head

garlic

1

sprig

epazote

(optional)

2

leaves

hoja santa or avocado leaves

(optional)

2

tablespoons

Mexican oregano,

divided

Salt

4

ancho chiles,

stemmed and seeded

4

chiles puya,

stemmed and seeded

2

plum tomatoes,

sliced in half

1/2

teaspoon

ground allspice

1

tablet

Mexican chocolate,

finely grated

2

tablespoons

lard or vegetable oil

2

tablespoons

chopped cilantro or green onions,

for garnish
Instructions
Bring a large pot of water to a boil. Add the rabbit and return to a boil. Skim off any foam that forms, then drop the heat to a simmer. Add one of the quartered onions, the epazote, hoja santa and half the oregano. Peel half the garlic cloves and smash them with the flat of a knife. Add them to the pot, then salt to taste. Let this simmer.

Get a comal or cast iron frying pan or similar pan hot. Toast the dried chiles until they begin to blister a little, turning often. Don't let them burn. Move them to a blender with the allspice and grated chocolate.

When you are done toasting the chiles, put the other quartered onion on it to char, along with the remaining unpeeled garlic cloves and the tomatoes, cut side down. When you get some good blackening, peel the garlic and move all the vegetables to the blender, roughly chopping them if need be.

Add some of the broth you're cooking the rabbit in to the blender and puree. If you want, strain the puree through a fine meshed strainer to remove any stray bits of chile skin and seeds, which are undigestible. To finish the sauce, heat the lard in a pot over medium-high heat and pour in the sauce. Stir vigorously to incorporate the oil, and bring to a gentle simmer. Let this cook slowly while the rabbit cooks.

When you are ready to go, drop the rabbit pieces into the sauce, then move them to a plate. Garnish with the rest of the oregano and maybe some cilantro or chopped green onions.
Notes
NOTE: You will have sauce left over, which will keep a week or more in the fridge and is great with pretty much any meat, as well as oily fish, or beans. 
Nutrition
Calories:
517
kcal
|
Carbohydrates:
38
g
|
Protein:
60
g
|
Fat:
15
g
|
Saturated Fat:
8
g
|
Cholesterol:
203
mg
|
Sodium:
166
mg
|
Potassium:
1885
mg
|
Fiber:
14
g
|
Sugar:
19
g
|
Vitamin A:
10515
IU
|
Vitamin C:
23
mg
|
Calcium:
118
mg
|
Iron:
12
mg
Nutrition information is automatically calculated, so should only be used as an approximation.