Chile Colorado
May 31, 2012 | Updated September 13, 2021
As an Amazon Associate I earn from qualifying purchases.
I got an email from a reader a while back: "You should make a chile colorado recipe." Well hell, I thought, that's a great idea! Chile colorado, if you've never encountered it, is a pretty simple red chile sauce traditionally served over beef, venison or, less commonly, pork.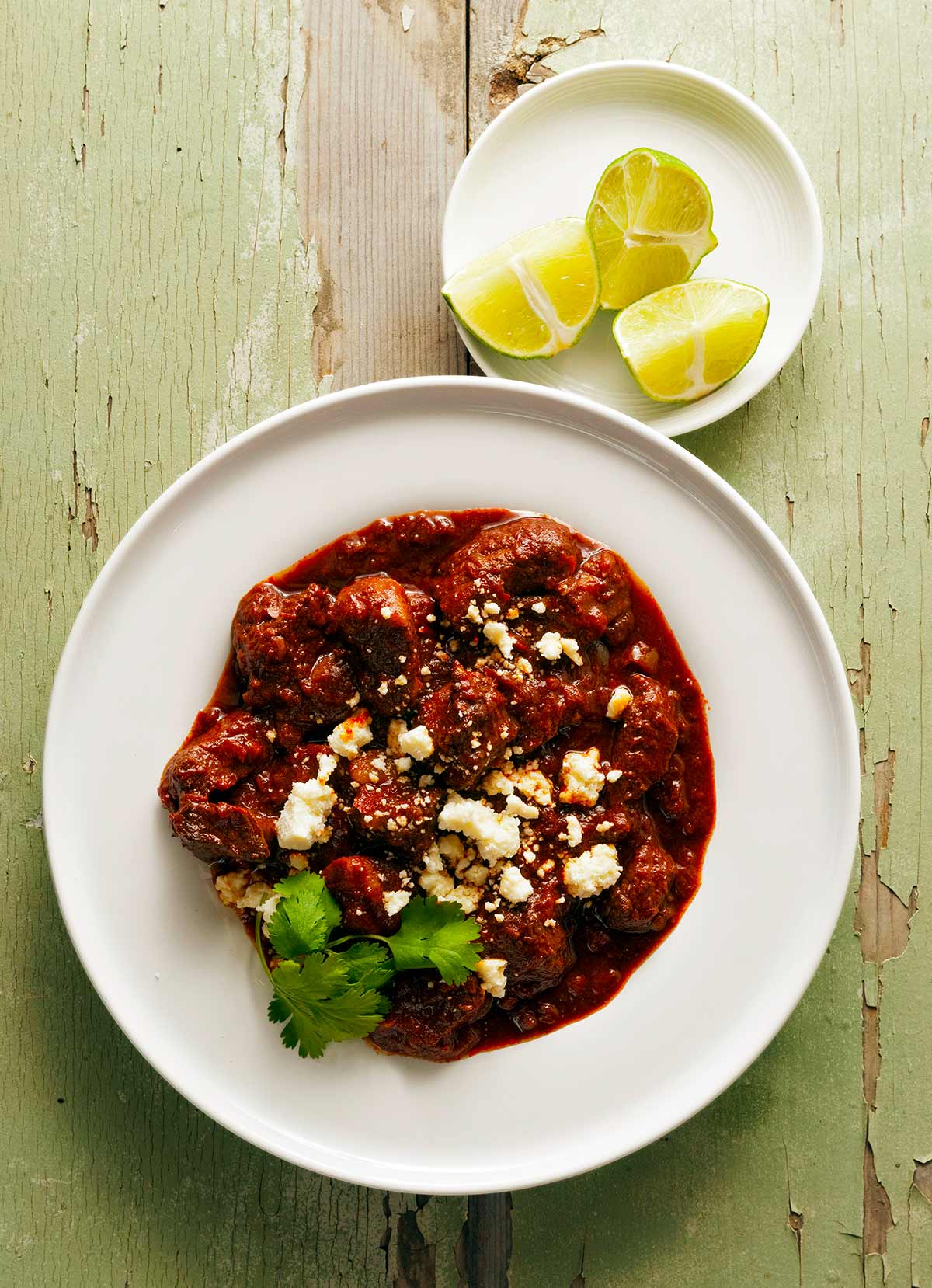 The origins of this sauce are unclear, but it seems to have come from the state of Chihuahua in Mexico, and has migrated up into New Mexico. There is a similar dish from Sonora called carne con chile, which I also like a lot.
"Colorado" here doesn't refer to the state. Colorado in Spanish is, more or less, "colored red," and is often used for blushing. I've also see it used specifically for the rich, dark reds of dried chiles.
For my chile colorado, dried, ripe New Mexican chiles are the most common pepper used to make it. Basically you soak dried chiles to soften them, grind them into a puree, season the sauce and simmer some tasty meat in it. Easy peasy.
Not so fast.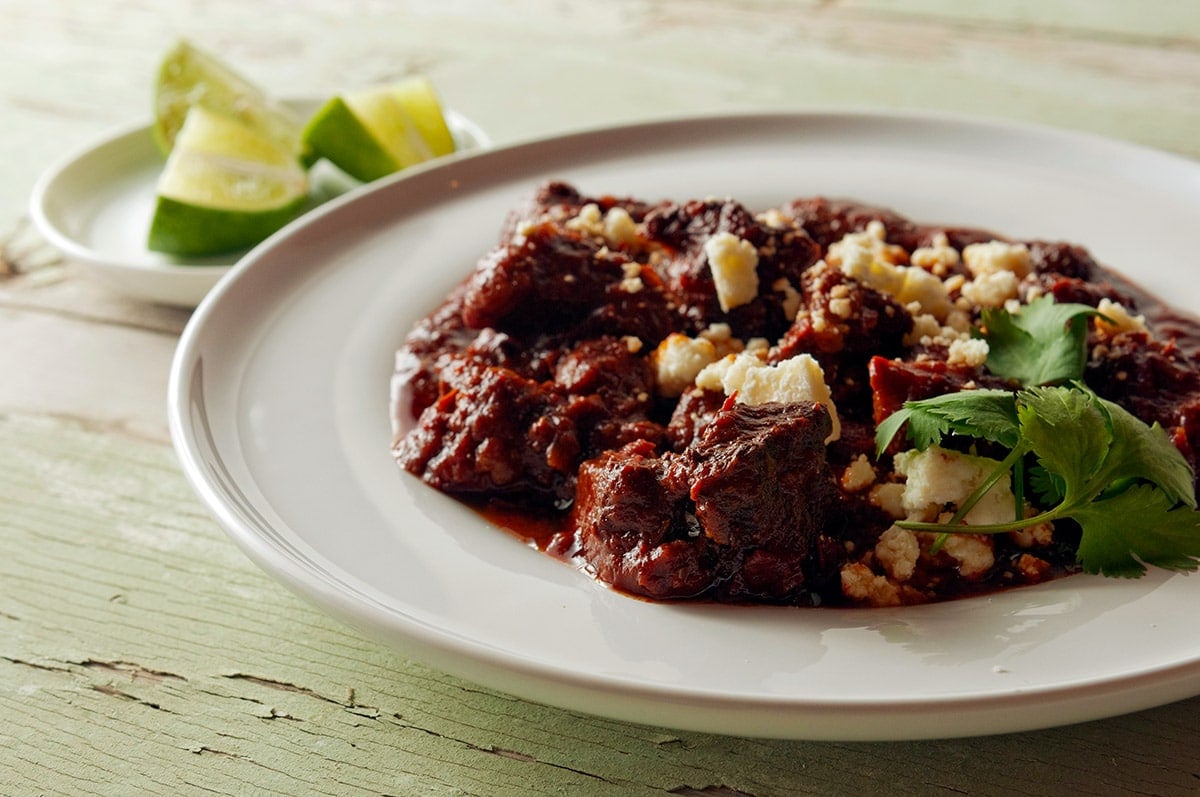 There is a step you need to take to make a great chile colorado: Strain out all the stray bits of chile skin. They do not puree well unless you have a badass blender. Poorly blended sauce will result in flakes getting stuck in your teeth, generally making a nuisance of themselves. And remember, pepper skins are not digestible.
Now you don't have to strain the sauce, but it will be a lot better if you do.
Some people toast the dried chiles first. If you want to, go ahead. Just do it quickly, lest you burn the chiles, which makes them bitter. You want to see a little puffing up, not scorch marks. So do it over medium heat.
And you need not restrict your chile colorado sauce to this dish. It is a pretty good catch-all sauce, good for enchiladas, tamales, etc. I've had it with beef, pork and chicken at restaurants, so there is really no reason not to cook anything else in it: pheasant, turkey, bear, venison, duck — your imagination is your only limit.
And if you'd rather go green, the other big New Mexican stew is green chile stew, which, obviously, uses unripe, green chiles.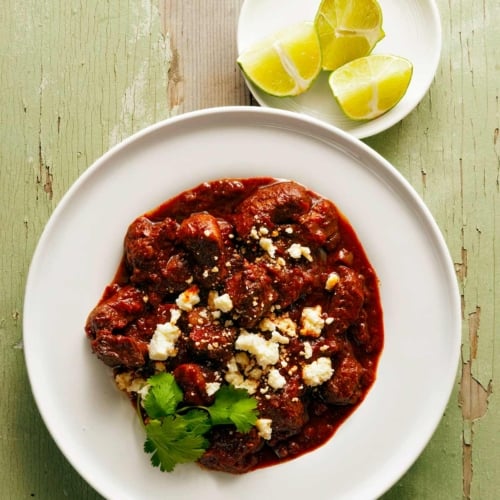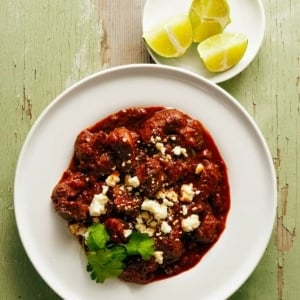 Chile Colorado
Chile colorado is a red chile sauce seasoned with a little cinnamon and Mexican oregano, and thinned with a little broth. There are many, many variations on this sauce, so use this recipe as a guide. One tip: Don't use overly hot dried chiles, or the stew will become inedible. If you want more heat, add it with hot sauce at the end. The sauce stores really well in the fridge, so if you make a big batch it will keep.
Ingredients
2

pounds

beef, pork,

venison, pheasant or turkey legs, etc.

Salt

2

dried chipotle chiles

(or chipotles in adobo)

4

dried ancho chiles

4

dried guajillo chiles

2

tablespoons

lard or vegetable oil

2

cups

chopped onion

5

garlic cloves,

minced

1

quart

of the appropriate stock,

pork, beef, chicken, etc

1/2

cup

crushed tomatoes

2

teaspoons

cinnamon

1

tablespoon

Mexican oregano
Instructions
Cut the meat into large stewing pieces about 1 to 2 inches across. Salt well and set aside.

Remove the stems and seeds from the dried chiles, tear them into pieces and put into a large bowl. Pour boiling water over them and cover. Let this stand until the chiles are rehydrated, about 30 minutes. Once the chiles are soft, put them in a blender with enough of the chile soaking water to make a puree the consistency of ketchup. If you want -- and I recommend this -- push the sauce through a fine-meshed strainer (into another bowl) to remove any stray seeds or bits of skin.

In a heavy, lidded pot or Dutch oven, heat the lard over medium-high heat. Pat the meat dry with a paper towel and brown it well. Do this in batches and take your time. Remove the meat as it browns and set aside.

Add the onions to the pot and cook them, stirring occasionally, until they just begin to brown on the edges. Add the garlic and cook another minute. Return the meat to the pot and mix in all the remaining ingredients. Bring to a gentle simmer and cook until the meat is tender.

Serve with tortillas or over rice, garnished with queso seco, cilantro, maybe some raw onion, avocado and hot sauce.
Video
Notes
Serve chile colorado with tortillas, rice, some dry Mexican cheese like queso seco, cilantro and a lime.
Nutrition
Calories:
283
kcal
|
Carbohydrates:
21
g
|
Protein:
31
g
|
Fat:
9
g
|
Saturated Fat:
4
g
|
Cholesterol:
68
mg
|
Sodium:
136
mg
|
Potassium:
980
mg
|
Fiber:
7
g
|
Sugar:
11
g
|
Vitamin A:
4745
IU
|
Vitamin C:
10.4
mg
|
Calcium:
53
mg
|
Iron:
2.9
mg
Nutrition information is automatically calculated, so should only be used as an approximation.