Chicken with Chile Walnut Sauce
As an Amazon Associate I earn from qualifying purchases.
I am in love with this recipe for Mexican chicken with walnut sauce not only for its rich, complex flavor and for how easy it is to make, but also for its story. Gallina en nogada, in various forms, dates back at least to 1808.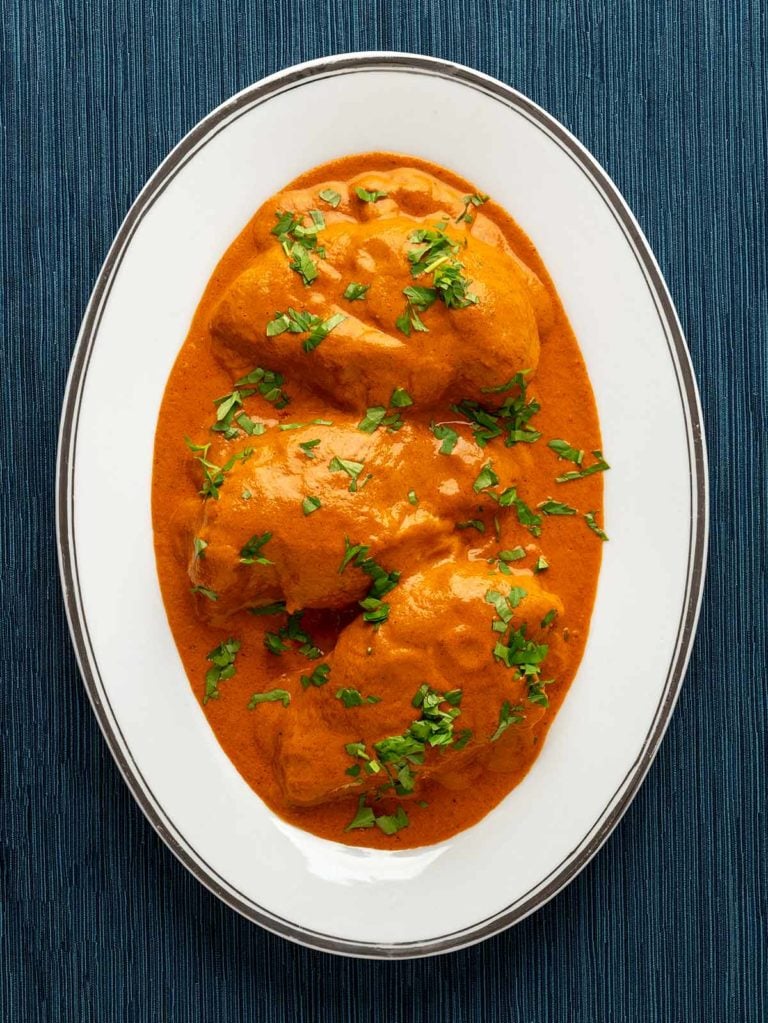 It all started when my friend dropped off a bunch of pomegranates. I immediately thought of the Mexican dish chiles en nogada — a stuffed poblano with a white walnut sauce, decorated with pomegranate seeds.
I knew that in the Mexican state of Chihuahua there exists a variant called gallina en nogada; a gallina is a hen in Spanish. As it happened, Holly had just returned with some pheasants she'd shot in Kansas, and pheasants are an excellent stand-in for an old stewing hen. Perfect!
Or not. I soon realized that gallina en nogada is a very different dish from the white sauce that goes over the poblano chile version. First off, it's not white. Second, no pomegranates. Oh well.
So down the rabbit hole I went.
I can read Spanish, so I searched my library of Mexican cookbooks and found a few renditions, mainly from Chihuahua and Veracruz. They all had chiles and some had tomatoes. Interesting.
Then I realized that gallina en nogada — "en nogada," by the way, simply means "in a walnut sauce" — was very old. The University of Texas at San Antonio has a collection of antique Mexican cookbooks, many handwritten, digitized and online.
A search of that collection turned up a rendition of the dish dating back to 1808, even before Mexico was independent. The book is Libro de Varios Guisados, Antes, y Postres by Doña Maria Ramona Quixano y Contreras.
The recipe is short: Translated, it is walnuts, garlic, and cumin ground in a mortar and pestle, fried in lard in a cazuela. Chicken and its broth are added, it's cooked until the chicken is tender, adding a little vinegar and parsley at the end.
No New World ingredients at all. The recipe feels Catalan, or even Moroccan. Then in 1828 a recipe appears that is even more Moroccan sounding, with the addition of cinnamon and cloves.

It's not until 1845, in Diccionario de Cocina, Nuevo Cocino Mexicano by Mariano Galvan Rivera, that you see charred tomatoes enter the recipe.
This makes sense, because as Mexico coalesced into a nation after 1810, it began to embrace the indigenous side of itself, and you see a gradual mix of Spanish with indigenous ingredients and techniques.
Nowadays, gallina en nogada resembles a simple mole coloradito, or a pipian rojo, only made with walnuts instead of sesame seeds or pumpkin seeds.
Enough about the history. On to the recipe.
The nogada, the chile walnut sauce, is easy to make, and it keeps for a week or two in the fridge. There are no ingredients you can't find either in a Latin market or a regular supermarket — I've seen ancho chiles in Walmart — so that shouldn't stop you.
As for the gallina, obviously you can use regular chicken here. I used those pheasants from Kansas. Other options would be partridges, Cornish game hens, quail, rabbits or turkey breast.
All you need to do to make the dish is to gently simmer the chicken or whatever to make a broth — or use pre-made broth and skinless breasts — then use that broth to help make the sauce, which comes together in a blender.
Pour the sauce over the meat, garnish with parsley and call it a day. Easy peasy.
The flavor of gallina en nogada is lush. Only vaguely spicy, rich from the walnuts and the lard you fry the sauce in, with a hint of char from the onions and garlic and tomatoes. It's addictive.
You will likely have leftover sauce. Use it on roasted potatoes, or toss shredded meat with it and make enchiladas or burritos, or to fill Mexican sopes or masa empanadas. It is also amazing with roasted squash.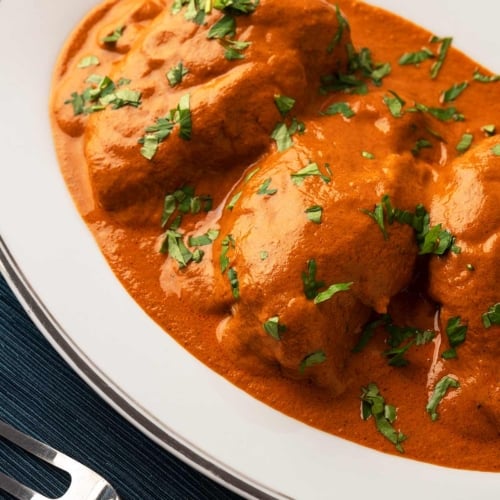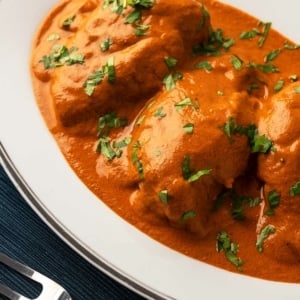 Gallina en Nogada
Chicken with walnut sauce is easy to make, and will impress a crowd. It's traditionally a chicken dish, but pheasant, quail, Cornish hens, rabbit, partridge or turkey breast are other good options.
Ingredients
1

chicken,

cut into serving pieces

Salt and black pepper

3.5

ounces

walnuts

(100 grams)

3

cloves

garlic,

whole but unpeeled

1

white onion,

quartered

2

Roma tomatoes,

sliced in half

3

tablespoons

butter

(50 grams)

1

thick slice of bread

4

ancho chiles,

stemmed, seeded and rehydrated in warm water

3

roasted red bell peppers

1/2

teaspoon

cinnamon

2

cloves

3

tablepsoons

chopped fresh parsley
Instructions
Cover the chicken with water and bring to a boil. Skim any froth that forms, then drop the heat to a bare simmer and add salt. After about 20 minutes, remove the breasts from the pot and set aside. When the legs and wings are tender, turn off the heat and leave the meat in the pot. Return the breasts to the pot to warm up.

While the chicken is cooking, toast the walnuts in a dry pan over medium-high heat, stirring or tossing often, until you can smell them, about 5 to 8 minutes. Move them to the bowl of a blender.

Heat a flat top, comal or heavy griddle or cast iron pan on high heat. When it's hot, char the outsides of the unpeeled garlic, as well as the cut sides of the onion and tomatoes. The garlic should be ready within 5 minutes, but the onions and tomato will take about 10 to 15 minutes. You want nice blackening. Roughly chop the vegetables and add to the blender.

While the vegetables are charring, heat the butter in a large frying pan over medium-high heat. Fry the bread until golden on either side. Turn off the heat but reserve the pan. Tear the bread to pieces and add it to the blender.

Tear up the ancho chiles and the red peppers and add them, along with the spices, to the blender and puree until smooth, adding ladles of the chicken stock to thin it to the consistency of house paint or melted ice cream.

If you still have a good 2 tablespoons of butter in the pan you fried the bread in, you're good. If not, add some more butter. Heat this over medium heat and pour in the sauce. It will spatter, so be prepared for that. Stir the sauce constantly until the sauce absorbs the butter, then drop the heat to low, cover the pot and let this cook very gently until the chicken is done.

Serve by putting a little sauce on everyone's plate, then the chicken, then more sauce. Garnish with parsley and black pepper.
Notes
If you are using only skinless breasts of chicken or pheasant, use 1 quart of premade broth to poach the meat in. Bring it to a boil, drop the breasts in, let this return to a simmer, then turn off the heat and cover the pot. Let this steep for 15 minutes. 
Keys to Success
You can keep the sauce uncooked for a week, and it freezes well. You can freeze the cooked sauce, too. 
Don't cook the sauce over high heat or it can break. Gentle is the key. To reheat it, just do so slowly over medium heat. 
If you feel like it, you can cook your meat however you choose, not just by poaching. Grilled chicken would be a nice touch, as would smoked. 
Anchos are easy to find, but any dried chile that isn't too hot will work. Pasilla, mulato, any of the "chocolate" colored dried chiles, as well as guajillo or dried red Hatch will work. 
I use canned roasted red peppers because it's faster, but you can roast your own if you'd like. 
Nutrition
Calories:
537
kcal
|
Carbohydrates:
25
g
|
Protein:
30
g
|
Fat:
37
g
|
Saturated Fat:
10
g
|
Polyunsaturated Fat:
13
g
|
Monounsaturated Fat:
11
g
|
Trans Fat:
1
g
|
Cholesterol:
110
mg
|
Sodium:
440
mg
|
Potassium:
870
mg
|
Fiber:
9
g
|
Sugar:
12
g
|
Vitamin A:
6806
IU
|
Vitamin C:
23
mg
|
Calcium:
67
mg
|
Iron:
3
mg
Nutrition information is automatically calculated, so should only be used as an approximation.