Wintergreen Ice Cream with Chocolate Chips
November 01, 2012 | Updated November 09, 2017
As an Amazon Associate I earn from qualifying purchases.
Wintergreen is a polarizing flavor, much like cilantro, or grouse. Where typical mints possess varying degrees of spiciness or warmth, wintergreen is pure. It is, to me, mint at its highest level: Icy, numbing and austere. It is the favorite fruit of the Snow Queen.
It is this purity of flavor that lends itself to medicine. Chances are you've only ever encountered wintergreen in toothpaste, mouthwash or somesuch. Apparently this association with the medicinal is why the English loathe its flavor in foods. We Americans tend to be more open about it's flavor, possibly because we have several native plants that bring it to us, notably the black birch, and Gaultheria procumbens itself, the wintergreen plant.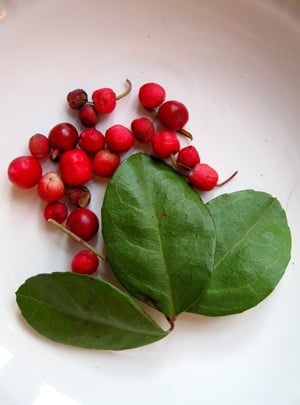 Also known as teaberry, the wintergreen is a pretty little groundcover in Eastern forests. It has simple leaves that are hard, waxy and stiff. They do not have a light green stripe down their middle, as does the similar partridgeberry, which is Mitchella repens. Incidentally, while you can eat partridgeberries, they don't taste like much.
Wintergreen grows in massive mats all over the forest floor, and it is often the only thing still green when autumn slides into winter. This is also the time the berries begin to ripen. Wintergreen leaves also have lots of the same flavor, so you can certainly use this for teas and whatnot as well; I steep the leaves in 100-proof vodka to make my own wintergreen extract. If you want to do this your self, fill a half-pint jar with wintergreen leaves and totally submerge them in the vodka. In a month or so, you will have an amber extract. It lasts forever.
The berries, while not really sweet per se, are sweeter than the leaves. That's why I prefer them for foods like this ice cream. The catch is that you will need lots of berries, and, sadly, the wintergreen plant is picky about setting fruit. A few weeks ago my friend Nate and I came across a nice patch near Gloucester, Massachusetts. It was a huge mat of wintergreen, but only a few of them had the crimson berries we were looking for. I am not sure what causes a wintergreen plant to fruit, but they seem to do so in patches.
It took some effort, but we gathered a couple cups' worth. I took most of them home, keeping them cool as best as I could. Wintergreen berries will keep for weeks or even months in cold weather; they will hang on the plant all winter long if nothing eats them. You can dry them, too.
What to do with them? Ice cream was my first impulse. I love mint ice cream, and especially a mint ice cream with chocolate chips in it. My recipe makes a very pure wintergreen flavor because I skip the eggs and use a combination of a little corn starch (buy GMO-free if you are so inclined) and a bit of an invert sugar, in this case maple syrup. Making the traditional egg yolk custard can mask certain flavors, especially herbal ones. It also makes the ice cream even heavier than it already is. The corn starch and syrup help keep the ice cream scoopable for weeks. Try it and you will see.
Wintergreen Ice Cream with Chocolate Chips
]I made this recipe with wild wintergreen berries from Massachusetts, but the berries live across much of the northern tier of states and in Canada. It is a pretty subtle wintergreen, so it shouldn't remind you too much of mouthwash or toothpaste. If you don't feel like foraging, you can use a teaspoon of wintergreen extract, but the flavor will be slightly different. I do not use eggs in this recipe. I am using corn starch and maple syrup. This lets me do several things: First, it keeps the color of the ice cream a pure white, which I like because it makes me feel cooler, as wintergreen should. Second, it keeps the flavors pure. Third, the corn starch and maple syrup, which is an invert sugar, keep the ice cream scoopable far longer than with a regular, egg-based ice cream.
Ingredients
2

cups

heavy cream

2

cups

whole milk

3/4

cup

sugar

2

ounces

of chopped wintergreen berries

1/2

teaspoon

wintergreen extract

(optional)

3

tablespoons

maple syrup

3

tablespoons

corn starch

4

ounces

of semi-sweet chocolate,

chopped fine and kept cold
Instructions
Save about 1/4 cup of the milk back to dissolve the corn starch in later. Heat the rest of the milk, the cream, sugar and wintergreen to the steaming point, about 160°F to 170°F. Turn off the heat, cover the pot and let steep for at least 2 hours, and up to overnight. To steep, let the mixture cool to room temperature on the stove, then pour it into a lidded container and refrigerate.

You can strain the mixture or not: The cooked wintergreen berries soften, have an innocuous texture and add a little color to the ice cream, but you can strain it if you want.

Pour the mixture back into a pot. Turn the heat on medium to heat it up again slowly. While it is heating, whisk the corn starch in with the remaining milk until it is dissolved. Stir the cornstarch mixture into the ice cream base. Stir in the maple syrup. Stir the ice cream base frequently until it gets back to the steaming point, then stir it constantly for 8 to 10 minutes. You need to do this to get the mixture to set up correctly.

Turn off the heat and cool the mixture. I do this by filling a large bowl with ice and then nestling a smaller bowl inside the larger bowl. Pour the ice cream base into the smaller bowl, then stir frequently to cool it rapidly. Now is the time to add the wintergreen extract, if you're using it. When the ice cream base is cool, put it in your ice cream maker and follow its directions.

As soon as the ice cream is made, gently fold in the chocolate chips. Either serve at once (it will be soft) or allow to harden in the freezer. The longer you store this ice cream, the harder it will get.
Notes
This recipe makes about 1 quart. 
Nutrition
Calories:
599
kcal
|
Carbohydrates:
53
g
|
Protein:
5
g
|
Fat:
39
g
|
Saturated Fat:
24
g
|
Trans Fat:
1
g
|
Cholesterol:
118
mg
|
Sodium:
69
mg
|
Potassium:
311
mg
|
Fiber:
2
g
|
Sugar:
43
g
|
Vitamin A:
1307
IU
|
Vitamin C:
1
mg
|
Calcium:
167
mg
|
Iron:
1
mg
Nutrition information is automatically calculated, so should only be used as an approximation.