As an Amazon Associate I earn from qualifying purchases.
Pine nuts are expensive, and should be celebrated when you have some. These pine nut cookies, pignoli in Italian, are just the thing. I make them with wild, American pine nuts, but you can use any kind of pine nut for this recipe.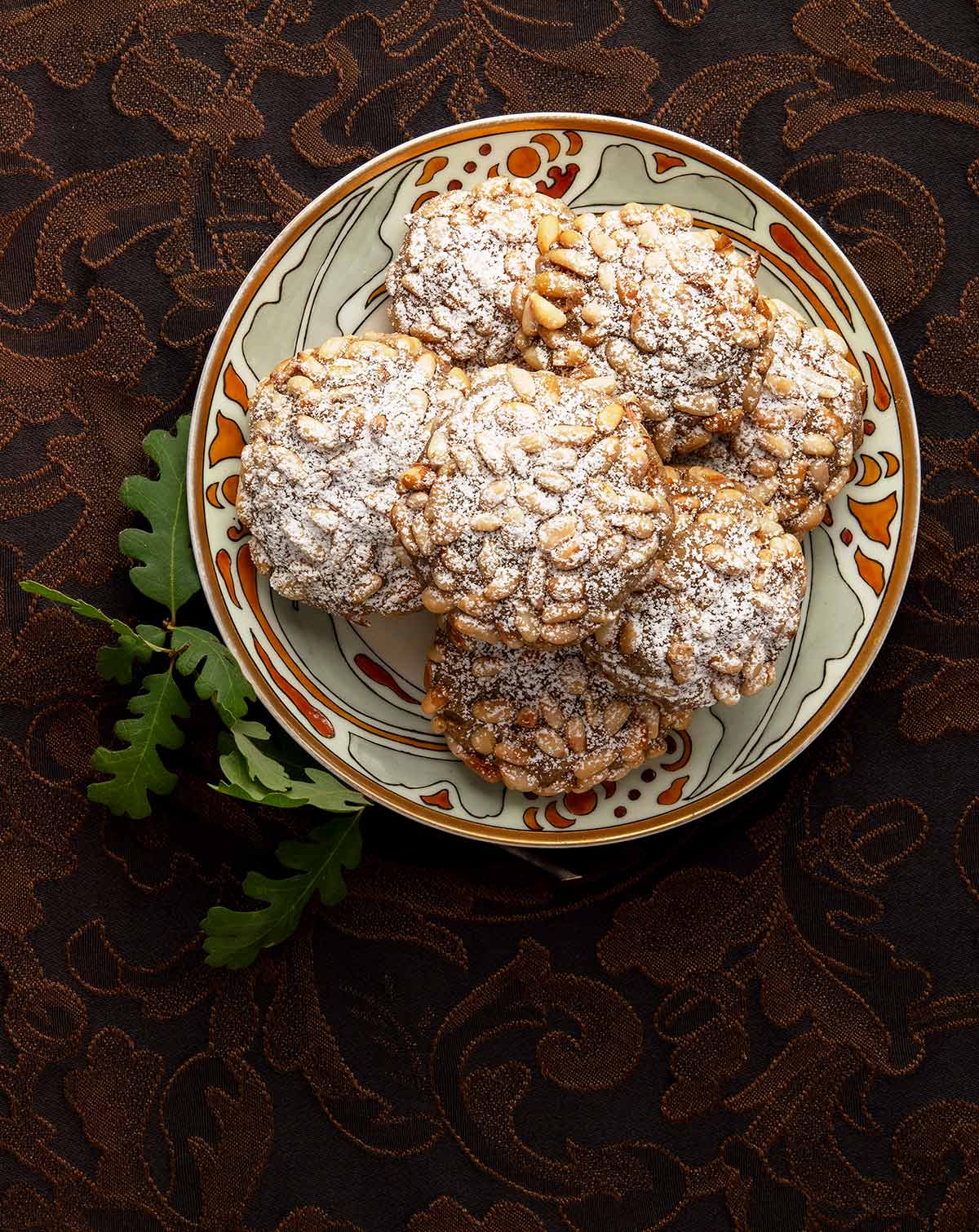 Now normally I am not much of a baker, but I do love my cookies, especially cookies with wild ingredients, like these pine nut cookies.
You'll notice a little bit of rosemary in these cookies, which can seem weird. It isn't. The combination of pine nuts and rosemary is a natural: pine and "pine," as rosemary's resiny, piney nature works well with the nuts. You can skip this if you want.
Almond Paste and Substitutes
Because these pine nut cookies are based on traditional Italian pignoli, they use almond paste as a base. You can buy almond paste online, in many supermarkets, or make almond paste yourself.
However, since I am a hunter-gatherer type person, I decided to substitute the almond paste in my pine nut cookies with homemade acorn paste. Yep, you read that right. You make it exactly like almond paste, only using acorn flour.
I have written a whole primer on eating acorns, as well as a specific recipe for acorn flour, if you want to go that route. This is how I make acorn paste, or almond paste, for that matter:
You will need:
1 1/2 cups of acorn flour or almond meal (140g)
A heaping 1/2 cup confectioner's sugar (70g)
A pinch of salt
2 egg whites
1/2 teaspoon vanilla extract
Mix all this together well with a spoon or a food processor, and you have essentially acorn marzipan. Nifty, eh?
Technically marzipan, whether made from almonds or another nut, is much sweeter than almond paste. It's also less important that the paste be super smooth, too; marzipan needs to be very finely ground.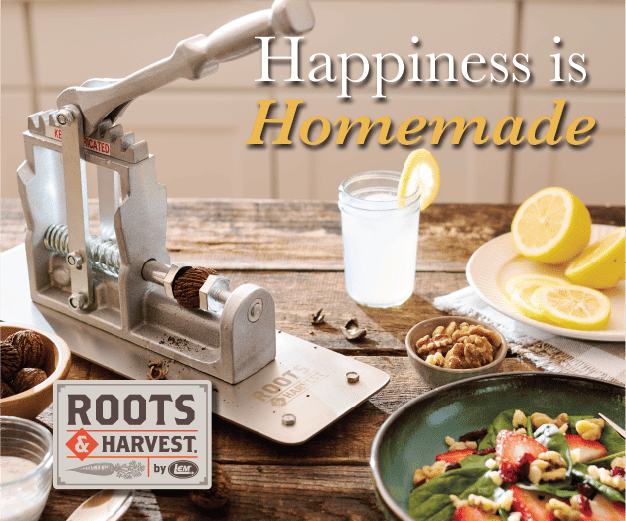 The Nuts in Pine Nut Cookies
I use wild pine nuts for my pignoli, from our local pinon pines, Pinus monophylla. There's another excellent pine nut pine tree, P. edulis, that grows in the Mountain West. You can also use our local Central Valley bull pine, P. sabiniana, which has tasty nuts, but the shells are harder to crack.
Here are primers on how to harvest pine nuts, and how to work with bull pine nuts.
Or, you know, you can buy your nuts for pine nut cookies, as most do. If by chance you can find real Italian pine nuts, pay the extra money. They're tastier, and they will never give you that nasty "pine mouth," you can get from fraudulent Chinese pine nuts.
That said, 99 percent of you will likely have to make do with Chinese pine nuts, so it's a game of roulette. Pine mouth comes from nuts of a different species of pine from the regular Chinese nuts, and unscrupulous vendors have adulterated the good ones with the bad ones.
One recipe note: Toast your pine nuts in a dry frying pan over medium heat, tossing and stirring often, until they begin to brown just a little. Move them to a bowl so they don't burn. Do not walk away from this process because pine nuts burn very easily.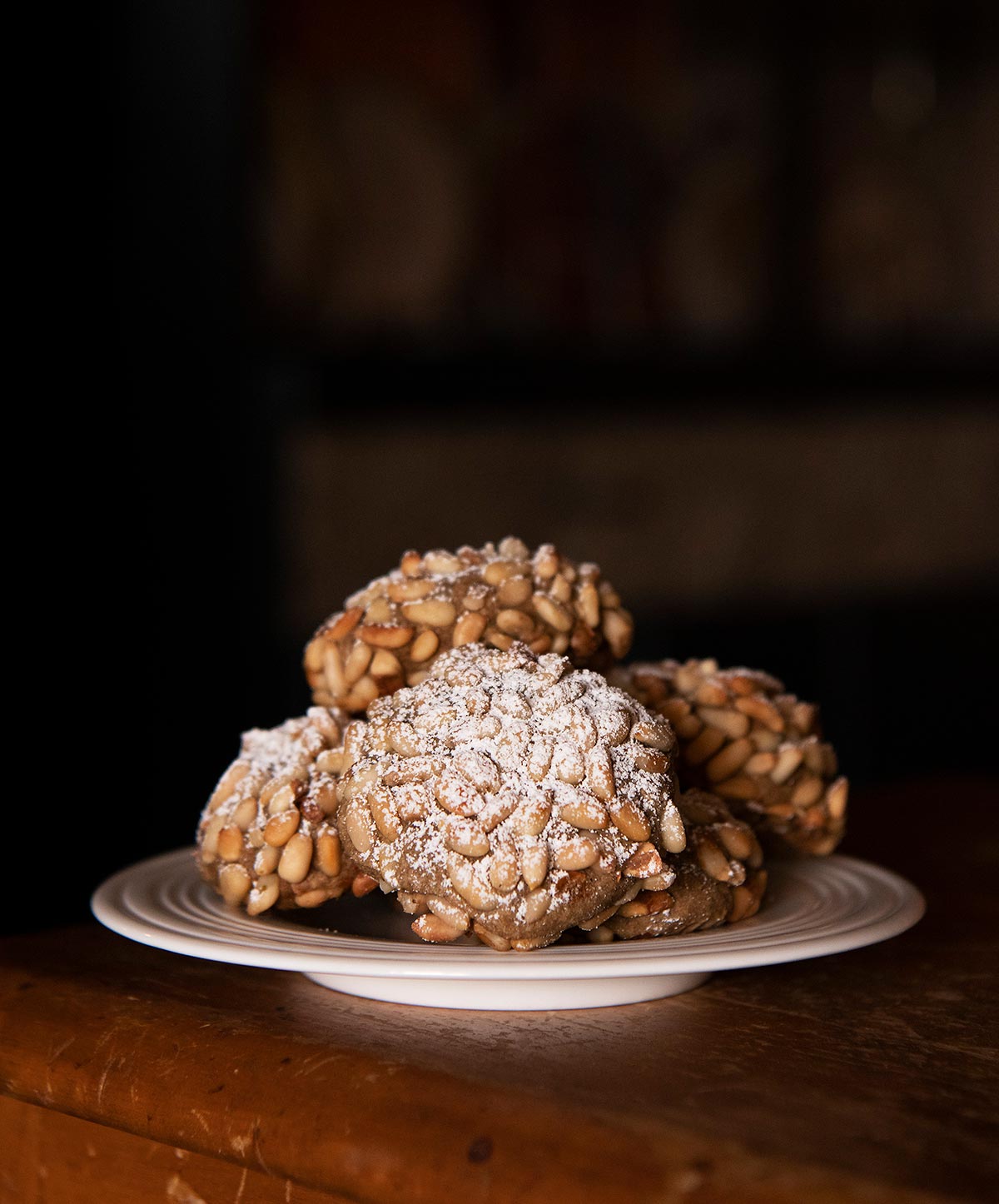 Making Pignoli
Once you have all your ingredients, making pine nut cookies is pretty easy. Mix all the ingredients and bake.
There is one tricky bit, though. Sometimes the mixture is too wet, and you can't realistically roll the dough into balls to roll in the pine nuts.
Two ways to fix this:
First, if you want your pine nut cookies to be gluten free, start with only one egg white. This will keep the dough a little drier and more rollable.
However, you really want lots of egg white in your pignoli because it provides a little bit of lift, and really helps prevent the cookies from falling to pieces. So I use 2 egg whites add a couple tablespoons of flour.
Once the pine nut cookies come out of the oven, let them sit for a few minutes to start cooling — they'll be molten at first and you won't be able to pick them up — then, once they have set, after about 5 minutes or so, dust with confectioner's sugar and move to a cooling rack.
Store them at room temperature in a closed container for a few days while you eat them all. You can freeze pignoli, but I've always just eaten them all first…
If you liked this recipe, please leave a ⭐️⭐️⭐️⭐️⭐️ rating and a comment below; I'd love to hear how everything went. If you're on Instagram, share a picture and tag me at huntgathercook.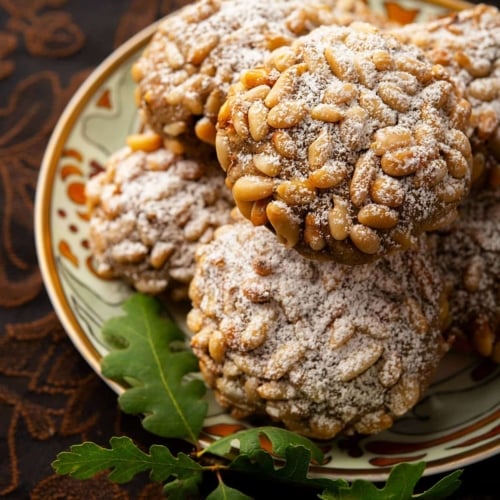 Pine Nut Cookies
These are simple pine nut cookies you can make with any sort of pine nut — I use American pinon pine nuts, or sometimes California bull pine nuts. I like using acorn flour, but you can skip it or use regular almond paste. See above for the acorn/almond paste recipe.  
Ingredients
1

teaspoon

finely chopped fresh rosemary

(optional)

2/3

cup

sugar,

or light brown sugar

10

ounces

almond paste,

or acorn paste (see above)

1

cup

pine nuts, toasted

(4 ounces)

1

egg white

(maybe 2, see below)

A pinch of salt
Instructions
Preheat your oven to 325°F. Line a baking sheet with parchment paper or a Silpat.

Buzz the sugar, 1/3 of the pine nuts and rosemary together in a food processor until you get small bits of pine nuts and rosemary sugar. Don't process into a paste. Pour the mixture into a bowl and add the almond or acorn paste, salt and egg white. Mix into a paste. You want this to be wet but workable. Sometimes you need a second egg white.

Option 2: Start with the 2 egg whites and, if you need it, add a tablespoon or 3 of all-purpose flour so you can form balls with your hands. I prefer this, but the cookies will no longer be gluten-free.

Divide the dough into 12 to 16 pieces – or about a heaping tablespoon per cookie – and roll with moistened hands. Gently set a cookie ball onto the whole pine nuts, rolling to coat. Set the cookie on the baking sheet. If rolling the dough in the pine nuts proves difficult, you can set pine nuts on top of each cookie after it's on the baking sheet.

Bake the cookies for 15 to 18 minutes, until you see just a bit of browning. Let them cool on the cookie sheet for a few minutes, then dust with confectioner's sugar if you want to. Move them to a rack to cool thoroughly. They should keep in an airtight container for 3 to 4 days.
Notes
If you happen to use marzipan, the additional sugar in it will make the cookies browner, so don't pull them before 15 minutes. 
Nutrition
Calories:
171
kcal
|
Carbohydrates:
18
g
|
Protein:
3
g
|
Fat:
11
g
|
Saturated Fat:
1
g
|
Polyunsaturated Fat:
4
g
|
Monounsaturated Fat:
5
g
|
Sodium:
5
mg
|
Potassium:
109
mg
|
Fiber:
1
g
|
Sugar:
15
g
|
Vitamin A:
3
IU
|
Vitamin C:
0.1
mg
|
Calcium:
32
mg
|
Iron:
1
mg
Nutrition information is automatically calculated, so should only be used as an approximation.