Walleye Minot: Why Not?
December 02, 2013 | Updated January 22, 2021
As an Amazon Associate I earn from qualifying purchases.
To me, a perfect dish is a plate of food that epitomizes a particular time in a particular place, an edible memory of an experience, whether good or bad, painful or blissful. At its most basic, this is the trout you catch at dawn and eat, fried in bacon fat, for breakfast later that morning. At its most complex, it's the food of renowned Danish chef Rene Redzepi of NOMA.
The food here at Hunter Angler Gardener Cook lies somewhere in between. Whether you call it "experiential cuisine" or terroir or whatever, I've been trying my best to make food like this for years — not every day, and with varying success.
I have notebooks filled with deeply thought-out recipes that just didn't work. Some looked a lot better than they tasted. Some tasted fine, but were essentially a bunch of shit on a plate, not a cohesive dish; put fried chicken, lobster and a ribeye on a plate and it's great, but it's not a dish. Catch my drift?
Walleye Minot is one of my successes. It came out of a day of fishing on Lake Sakakawea in North Dakota, halfway between Bismarck and Minot, on a pretty autumn day in October. I was the guest of the North Dakota Tourism Department, fishing with Tourism's Mike Jensen and pro walleye angler Jim Carroll.
Mike picked me up early, and as we drove north from Bismarck, we passed a lot of grain fields, mostly wheat, barley and sunflowers. Duly noted. And when we got to the lakeshore, I saw all these scarlet berries everywhere.
Buffaloberries! They are a very tart, tannic berry in the shepherdia clan that are sweeter after frost. I picked a few handfuls and stuffed them into my pocket.
Lake Sakakawea is a crazy lake. It's an immense reservoir that stretches from the western oil shale boomtown of Williston all the way to the center of the state, almost 500 miles. And being in the Great Plains, it's not a typical tree-lined lake you'd see in California or Minnesota or Maine. Its shores are stark, almost barren — at least they look that way in October.
And see that black line? That's lignite coal. Lewis and Clark first found it here on their way through to the Pacific back in 1804. It burns, but not well, so here on the lake the coal is essentially just a cool racing stripe ringing the shoreline.
Jim took us out to a spot he thought might be good. Unfortunately, it was a classic case of "you shoulda been here yesterday!" Fishing was slow. Real slow. But not entirely so. Jim caught a really nice walleye in the 6 pound class, plus a smattering of nice white bass. We released the walleye but kept the bass.
For the most part we were jigging lead-heads with curly tails on them, or fishing with live minnows. A few hours after Jim had caught his walleye, I was in the middle of telling a fish story when my rod bent with the weight of a nice fish. Had to be a walleye. Walleyes, if you'd never caught one, aren't the most thrilling fish in the world to catch. Once hooked, they rarely make slashing runs and never jump. But they sure taste good. Jim netted my fish, and it was a good one!
Jim guessed about 4 to 5 pounds, and while he would have released it, I did not. It would be the basis of this dish that was beginning to coalesce in my head. We didn't catch any more keepers that day, but it was a much-needed day off from the book tour.
The next day I drove to Fargo for another book event. I was thinking all the way about the dish. My first thought was to make a fish risotto the way they do in Venice, but North Dakota is pretty much as far from Venice as you can get, both culturally and geographically. But… barley makes a nice risotto! And hell, I was driving through thousands of acres of it at that moment.
I decided I would make this dish as a hat tip to everyone in North Dakota who helped me so much — NoDak was definitely a highlight of the fall tour — and as a thank you to my friends in Minnesota, Chris and Di, who were putting me up at their house for a few days. I'd cook it there.
Sitting in the back of my truck was a bottle of buffaloberry syrup that my friend Beth Schatz-Kaylor of Rhubarb and Venison had given me. I decided to make a sweet-hot-sour gastrique with it to brighten everything up. By itself, the syrup tastes like the illegitimate love child of a cranberry and a peach. I added some malt vinegar, salt and chile to balance it.
Walleye is your quintessential lean white fish. It is a blank slate. So I filleted the fish (along with the white bass, which are similar), skinned the fillets and portioned them out all pretty. I oiled the bones and heads with sunflower oil and salted them, then roasted the crap out of everything until it was well browned: If you've never tried this, brown-roasting fish bones takes longer than you might think because there is so much water in them. The stock I made from these roasted bones was unlike any fish stock I've ever made. It was so, well, roasty, it did not even taste like fish. A galaxy apart from a typical fish fumet. This is what I would use to cook my barley risotto.
As for the fish, I salted the meat for an hour, then poached it very gently in butter. Yeah, it was a lot of butter, but who cares? That left the skin. Nope, I did not toss it. Instead, I made walleye skin chicharrons using this method.
The result: An incredibly flavorful barley risotto, topped with sweet butter-poached walleye, ringed with a little zippy buffaloberry sauce and topped with a light and crunchy fish skin chicharron. Virtually everything in it was living in or around Lake Sakakawea on that day in October. I used no foams or molecular techniques to make this dish, but nor is it just a simple plate of fried walleye.
I am pretty proud of this recipe, and I hope you give it a go — and as you will see in the recipe below, it's basic structure will work no matter where you live.
If you live in North Dakota or wherever buffaloberries and walleye coexist, by all means make this recipe as-is. But most of you do not. So here's my advice:
Use a lean, white, basslike fish. Ocean perch, small redfish, sea trout, black seabass, smallmouth bass, Pacific rockfish, a big crappie, etc.
Use a tart berry syrup, such as cranberry, raspberry, huckleberry. It doesn't need to be red, but it needs to have tartness and be tied to wherever you live.
If you live near rice, make a normal risotto. If you are in the North, use barley. Everywhere else I'd suggest using farro, which is a very old kind of wheat.
If you don't want to bother with the chicharron, leave the skin on the fish and sear that side hard in a pan so it gets crispy.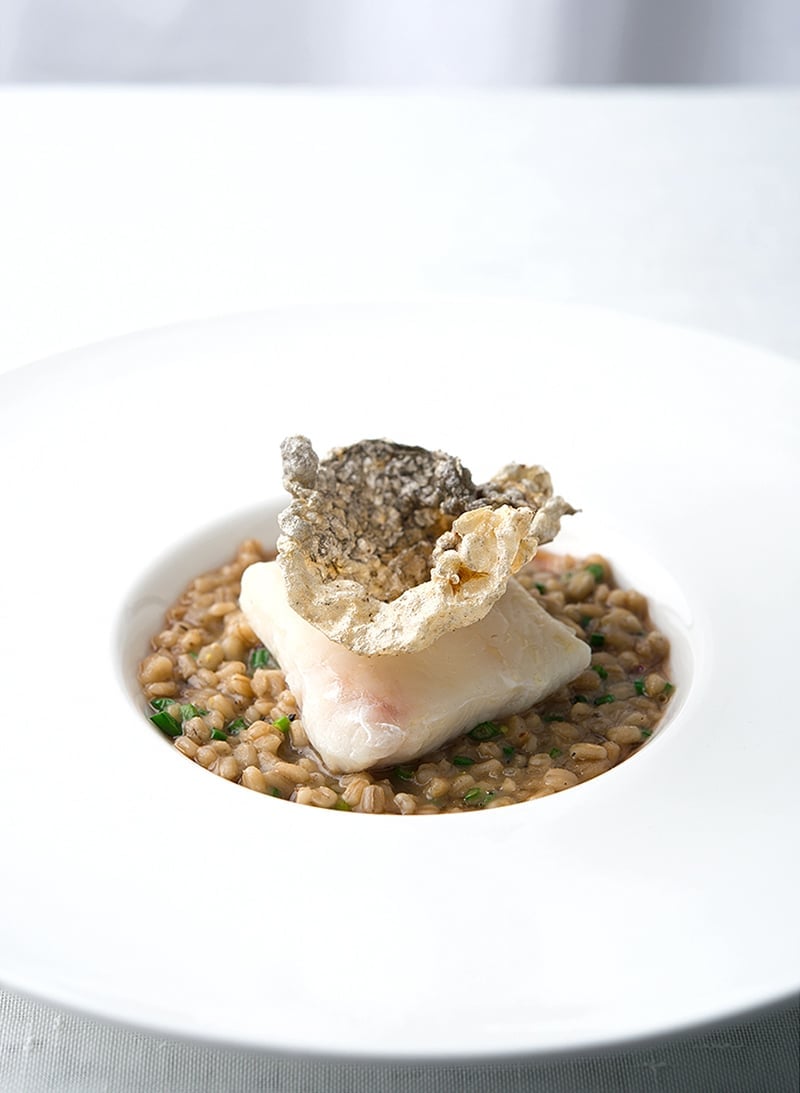 Walleye Minot
Note that you can make the fish stock, sauce and dry the fish skins for the chicharrons several days ahead of time. To make the chicharrons, use this recipe.
Ingredients
STOCK
3

to 5 pounds of bones and heads from the fish you are cooking

(gills removed)

1/4

cup

sunflower or other vegetable oil

Salt

2

large carrots,

peeled and chopped

2

celery stalks,

chopped

1

large onion,

chopped

2

bay leaves

1

teaspoon

celery seed

1

teaspoon

dried thyme

Salt
SAUCE
1/4

cup

buffaloberry syrup,

or some other syrup

2

to 3 teaspoons Tabasco sauce or other hot sauce

Salt to taste
FISH
4

skinless white fish fillets

Salt

1

pound

unsalted butter
BARLEY RISOTTO
5

tablespoons

sunflower oil or unsalted butter

(divided)

1

cup

minced onion

3

garlic cloves

, minced

2

cups

barley

Smoked salt or regular salt

1

teaspoon

dried thyme

1/4

cup

chopped wild green onions

(or scallions or chives)

Freshly ground black pepper
Instructions
Start by making the stock. Preheat the oven to 400°F. Make sure you remove the gills from the fish carcasses, as they will make the stock cloudy and bitter. Coat the fish carcasses with the oil and salt well. Lay the carcasses out side by side in a roasting pan -- stacking them will slow the browning process -- and roast until nicely browned, about 1 hour. I flip the bones halfway.

Once they're nicely browned, move the bones, heads, etc to a large stockpot and just barely cover with water. Pour some water into the roasting pan and use a wooden spoon to scrape up all the browned bits in the pan. Pour all this into the stockpot. Add the remaining stock ingredients and bring to a very gentle simmer. A shimmy, really. Let this steep/cook for 2 hours.

While the stock is cooking, mix together the ingredients for the sauce. When the stock has about 30 minutes left to go, take the fish from the fridge and salt it. Set it on a cutting board to cure quickly. Melt the butter over low heat in a pan large enough to hold the fish in one layer. Once the butter has melted, turn off the heat for now.

As soon as the stock is ready, begin the risotto by sauteing the onions in 3 tablespoons of sunflower oil or butter in a medium pot set over medium-high heat. Salt them as they cook. When the onions are translucent, add the garlic and the barley and saute for 2 minutes, stirring often. Grab a ladle in one hand and a fine-meshed strainer in the other. Ladle some stock through the strainer into the risotto pan. Start stirring the barley. You will need to do this more or less constantly until the barley cooks, which takes about 35 minutes or so.

Add the thyme and a healthy pinch of smoked salt and keep adding more hot stock as you go, one ladle at a time, replacing the stock when the liquid has mostly evaporated.

Once you start adding the stock to the risotto, pat the fish dry with paper towels and submerge it in the melted butter. Turn the heat to low on the butter and very gently poach the fish as you make the risotto. Don't let the butter sizzle!

When the barley is ready -- you want it to be cooked through but still a bit al dente -- add the wild onions, salt and black pepper to taste. Stir in the final 2 tablespoons of sunflower oil or butter.

To serve, spoon some risotto into shallow bowls on on plates and top with a piece of fish. Drizzle some of the sauce around the edge of the barley, and top each fish with the chicharron. The chicharron will get soggy quickly, so everyone should eat that first.
Nutrition
Calories:
1405
kcal
|
Carbohydrates:
92
g
|
Protein:
48
g
|
Fat:
97
g
|
Saturated Fat:
60
g
|
Trans Fat:
4
g
|
Cholesterol:
329
mg
|
Sodium:
172
mg
|
Potassium:
1231
mg
|
Fiber:
19
g
|
Sugar:
15
g
|
Vitamin A:
8064
IU
|
Vitamin C:
9
mg
|
Calcium:
132
mg
|
Iron:
5
mg
Nutrition information is automatically calculated, so should only be used as an approximation.