Venison and Broccoli
April 23, 2018 | Updated June 16, 2020
As an Amazon Associate I earn from qualifying purchases.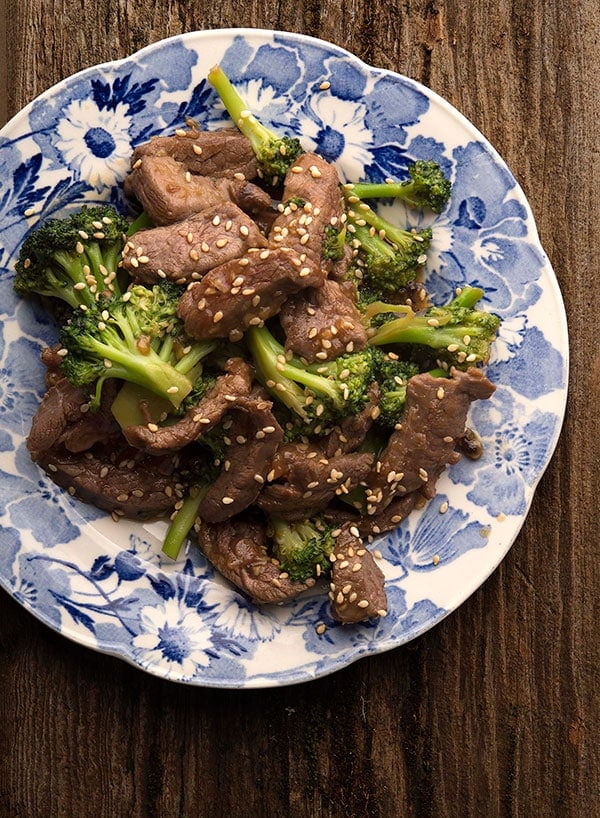 Venison and broccoli is yet another Chinese takeout classic that I've adapted to wild ingredients.
Everyone's eaten beef and broccoli at a cheapy Chinese place: It's often the healthiest thing on the menu, with lots of steamed and briefly stir fried broccoli florets, a light sauce and lean meat. The difference between using beef and venison of any kind — I used elk here, but deer or moose or antelope would be fine — is minimal.
I have to admit, this is not as aggressive in flavor as, say, my kung pao venison or my Chinese venison with cumin. But it's very easy to make and is great when you want to eat Chinese with some good vegetables. I like making this on a weeknight, when I am in full workout mode.
There are many, many versions of beef and broccoli. This one is inspired by a great little cookbook I stumbled across called Chinese Soul Food: A Friendly Guide for Homemade Dumplings, Stir-Fries, Soups, and More
, written by a friend of a friend. I love this book, because it walks you through a lot of really homey, comforting Chinese dishes, some familiar, some not so much. I definitely plan on making dumplings from this book soon.
Author Hsiao-Ching Chou does an interesting riff off the normal velveting process you use with meat in Chinese food; if you're not familiar with the process, it's what makes the meat in Chinese food taste the way it does. I go into it in detail in my recipe for venison stir fry.
She doesn't do the pre-frying step, where you deep-fry marinated meat in either cool-ish oil or hot, then drain most of the oil, then proceed with the stir fry. Chou's method is easier, and I repeat that here.
I used elk flank steak here, but any meat free of sinew will do. You need to slice the meat reasonably thin and against the grain to get the restaurant effect.
As for the broccoli, you can use store-bought broccoli, Chinese broccoli, broccoli raab, broccolini, or the "broccoli" florets of wild mustard, which I like a lot.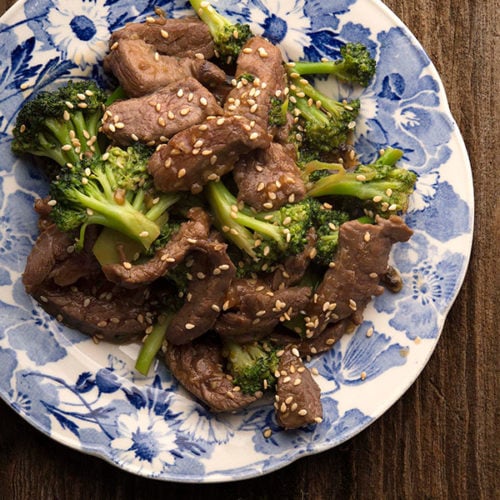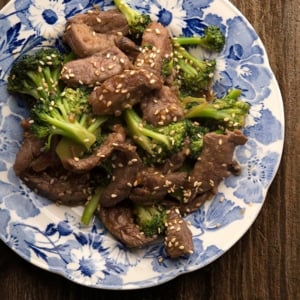 Chinese Venison and Broccoli
This is a classic Chinese takeout version of beef and broccoli, done with venison of some sort; deer, elk, antelope, etc. all work well here. Choose backstrap, flank, skirt or some other cut that is free of sinew. Pretty much everything in the ingredients is available at a decent supermarket, so this is easy to make.
Ingredients
3/4

pound

venison, sliced thin against the grain

3

tablespoons

soy sauce

2

teaspoons

minced fresh ginger

2

teaspoons

Chinese Shaoxing wine or dry sherry

3

cloves

garlic, minced

1 1/2

tablespoons

corn, potato or tapioca starch

3

tablespoons

lard, peanut or other vegetable oil

2

heaping cups

broccoli florets, boiled 2 minutes and drained

2

teaspoons

hoisin sauce

Sesame oil, for drizzling
Instructions
Put the sliced venison in a bowl and mix in the ginger, cooking wine, garlic, and 1 1/2 tablespoons of soy sauce. Make sure all the meat has some of this good stuff on it. Now sprinkle over the cornstarch and mix again very well. Let this sit as little as 10 minutes, or as long as an hour or two in the fridge.

When you're ready, heat your wok or heavy saute pan over the highest heat on the hottest burner until it's good and hot. Add the lard or peanut oil and the moment it begins to smoke, add in all the venison. Spread the venison out in the pan in one layer if possible, and let it sit for 30 seconds.

Now stir fry the venison for 2 minutes, moving the meat constantly. Add all the remaining ingredients except the sesame oil, plus about 3 tablespoons of water. Stir fry 1 to 2 minutes more, until the sauce has thickened a bit.

Turn off the heat and drizzle the sesame oil over everything. Serve at once with steamed rice.
Nutrition
Calories:
221
kcal
|
Carbohydrates:
5
g
|
Protein:
21
g
|
Fat:
13
g
|
Saturated Fat:
9
g
|
Cholesterol:
72
mg
|
Sodium:
831
mg
|
Potassium:
308
mg
|
Fiber:
1
g
|
Sugar:
1
g
|
Vitamin C:
1
mg
|
Calcium:
11
mg
|
Iron:
3
mg
Nutrition information is automatically calculated, so should only be used as an approximation.