Chinese Venison with Cumin
June 27, 2016 | Updated November 19, 2020
As an Amazon Associate I earn from qualifying purchases.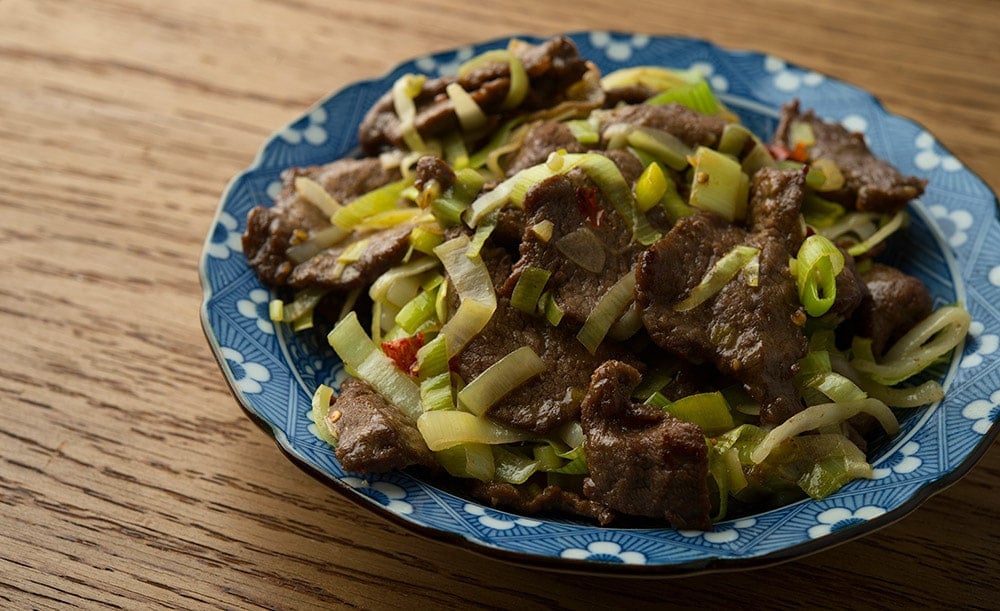 Chinese and "cumin" doesn't compute to most people. Me included. So when I first saw a dish on my local Sichuan restaurant's menu called "Cumin Lamb with Leeks," I had to try it out of sheer curiosity. It has become one of my favorite dishes at this restaurant, almost as good as their twice-cooked pork belly, which I have recreated here.
Lamb is an oddity in Chinese cooking, too, if you are only used to typical American Chinese fare. Trying to get to the bottom of this, I contacted my friend Kian Lam Kho, author of the Red Cook Blog and my favorite Chinese cookbook, Phoenix Claws and Jade Trees: Essential Techniques of Authentic Chinese Cooking
.
This is from Kian:
Historically, lamb or goat were not a major part of the Han Chinese diet. Lamb was introduced through the Silk Road into Xinjiang, the northwestern province of China, and serves as the dominant protein of the Muslin Uighur population there. The introduction of lamb was accompanied by cumin, which became the spice of choice by western and northern Chinese cooks to counter the meat's gaminess. This is why lamb is pretty much always cooked with cumin in the west and the north, whether it is braised, boiled, grilled or stir-fried. Still, around the Mongolian and Beijing regions lamb is often cooked, or poached, in hot pot and served with sesame paste and condiments of chives, and other aromatics. Although lamb has spread throughout most part of China, goat is more common in the southern part of the country.
Always great to have a friend who is a scholar of Chinese food around.
As it happens, Kian has a version of northern Chinese lamb with cumin in his Phoenix Claws and Jade Trees, and this recipe is, for the most part, his. I've upped the cumin in it to reflect what my local Sichuan place makes, and I use venison instead of lamb. The result is eye-opening.
When you eat this dish, you get a hit of "not beef" flavor from the venison or lamb, followed closely by the unmistakable warmth of cumin, which will confuse you, because everything else on the plate is most definitely Chinese — the combination of ginger, garlic and chile, plus the soy in the meat marinade set this dish firmly in China.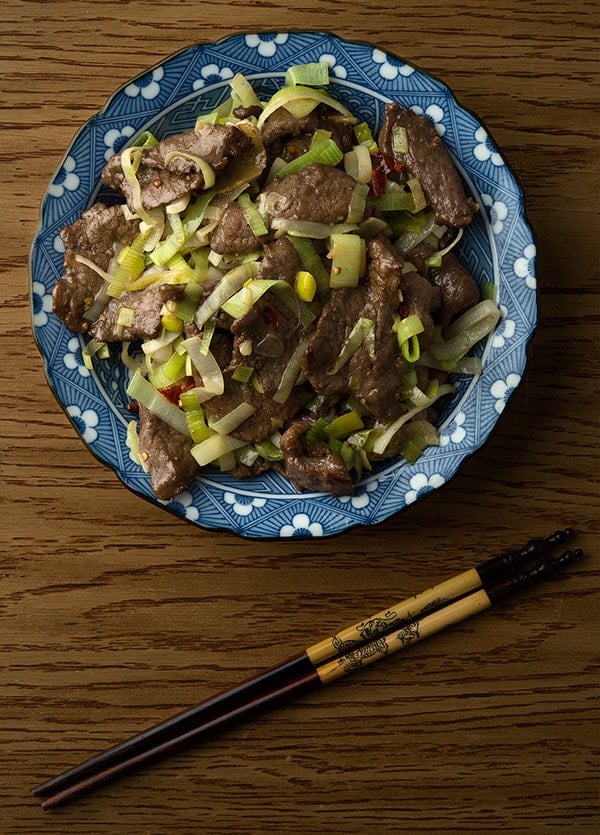 I happen to love this combination, and it is one of the best Chinese dishes I've come across that actually highlights the flavor of venison, rather than simply using venison as a stand-in for beef.
This of course is fine, and I love my kung pao venison, but if they still hunt deer in China it would be where this recipe comes from, and the marriage seems to work naturally.
What's more, it's dead easy to make, and requires nothing you can't get at a typical supermarket.
Chinese Venison with Cumin and Leeks
This is a very easy recipe you can make with any red meat. Lamb is traditional, and I use venison, but duck or goose would work, as would beef or goat. Try to get skinny leeks if you can find them, as they are more like the leeks the Chinese use. And if you can't find leeks, use onions. This dish doesn't keep well, so make and eat it. Also, if you want to double the recipe, don't double it and stir-fry it all at once: You don't want to overload the wok or pan; if you do, the dish won't cook right. Also use your strongest burner on its highest setting.
Ingredients
MARINADE
1

tablespoon

vegetable oil

2

tablespoons

soy sauce

1

tablespoon

corn,

potato or tapioca starch

2

teaspoons

sugar

2

teaspoons

ground cumin

1

teaspoon

ground white pepper
TO FINISH
1 1/4

pound

venison backstrap,

sliced into 1/8-inch pieces

2

cups

canola oil

2

tablespoons

minced garlic

6

to 8 very thin slices of ginger

2

to 10 small,

hot dried chiles, broken up and seeded

2

medium leeks,

white and light green parts only, sliced thin

1

teaspoon

salt

Cilantro for garnish

(optional)
Instructions
Mix all the ingredients for the marinade in a bowl that will hold all the sliced venison. Using your (very clean) hands, massage the marinade into the slices, making sure they separate from each other and get some of the marinade on every slice. Set the bowl in the fridge for 20 minutes while you chop all the other vegetables.

Bring the 2 cups of canola oil to 375°F to 390°F in a small pot or wok. Set a colander or coarse mesh sieve over a bowl, and get a Chinese spider strainer or slotted spoon, plus a chopstick or butter knife ready. Put about 1/4 of the venison in the hot oil, and use the chopstick to separate the slices as soon as they hit the oil. Let the meat flash fry for 10 to 15 seconds, then use the strainer to move the meat to the colander to drain. Repeat with the rest of the meat, 1/4 at a time. When all the meat has been flash fried, turn off the heat and let the oil cool a bit. You can pour it into a heatproof container, strain it and use it several times before you need to toss it. If you fried in a wok, leave about 2 to 3 tablespoons of the oil in the wok. If not, put 2 to 3 tablespoons of oil into a large frying pan.

Heat the oil over high heat until it is almost smoking. Add the garlic, ginger and chiles and stir-fry for 30 seconds. Add the sliced leeks and stir-fry for 1 minute, until they wilt.

Add the meat back to the wok or pan and stir-fry for another minute, sprinkling the salt over everything as you do this. Turn off the heat and toss in the cilantro,, if you're using it, and serve at once with steamed rice.
Nutrition
Calories:
384
kcal
|
Carbohydrates:
9
g
|
Protein:
45
g
|
Fat:
19
g
|
Saturated Fat:
5
g
|
Cholesterol:
112
mg
|
Sodium:
1171
mg
|
Potassium:
675
mg
|
Fiber:
1
g
|
Sugar:
3
g
|
Vitamin A:
212
IU
|
Vitamin C:
3
mg
|
Calcium:
30
mg
|
Iron:
7
mg
Nutrition information is automatically calculated, so should only be used as an approximation.