Wiener Schnitzel
December 21, 2012 | Updated June 23, 2022
As an Amazon Associate I earn from qualifying purchases.
Wiener schnitzel comes together quickly, and is deceptively simple, but like most such dishes, there is a secret knowledge about how to properly prepare it. Bad wiener schnitzel is cafeteria food, or worse.
At its best, however, this is one of life's simple joys: The meat is tender and can be cut with a fork. The breading crispy, not greasy, and the squirt of lemon adds that zing the dish needs.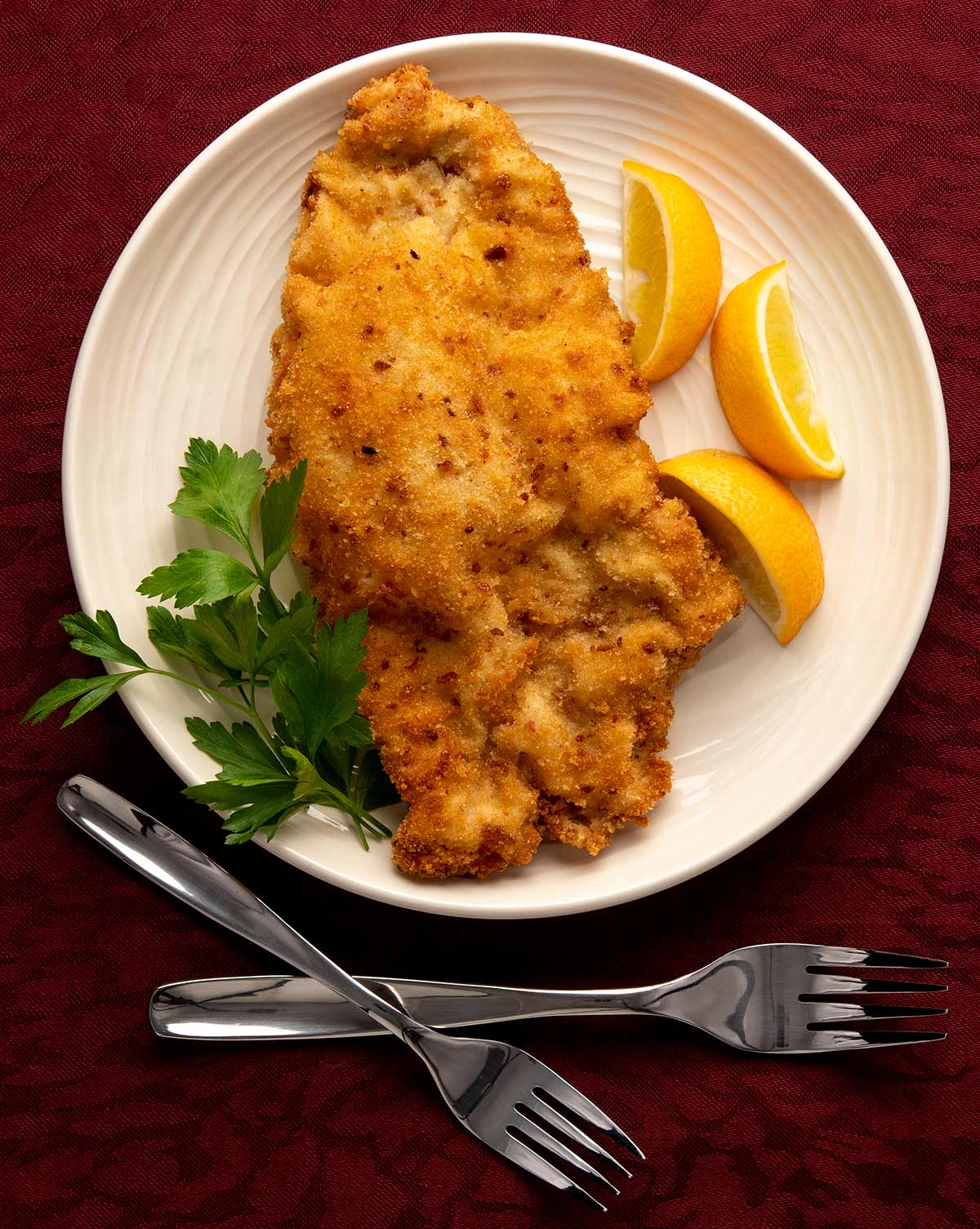 At its core, wiener schnitzel is just a breaded cutlet fried in fat and served simply with lemon, maybe a simple salad, cucumbers or potato salad. It is a blue collar lunch, a slightly more refined rendition of that Southern icon, chicken fried steak.
The trick is in the technique. The cutlet must be very thin, the flour light, the eggs beaten, the breadcrumbs applied with a light hand — and, most importantly, the schnitzel must swim in hot fat.
You read that right: not oil, fat. Lard is ideal, as is clarified butter, duck or goose fat. Wiener schnitzel is such a simple recipe that you really ought to use a flavorful fat or you will wonder what all the fuss is about.
That said, if you are violently opposed to using animal fats, go ahead and use sunflower or safflower oil. Not as good, but better than than not making wiener schnitzel. Oh, and one more thing: Regular butter doesn't work well, either. The solids will burn before you're done, making a dark, slightly bitter schnitzel.
Schnitzel? Cutlet? Scaloppini?
Yeah, they're all the same. You could add "chicken fried chicken" if you're in Oklahoma or Texas, too, or a milanesa if you are in Mexico. All are slabs of lean meat with little or no connective tissue, pounded very thin and either breaded or battered and fried.
Wiener schnitzel is, strictly speaking, made from veal. And it comes from Vienna, Austria.
So if you did not know, the name "wiener schnitzel" has nothing to do with hot dogs or wieners of any other kind. It's named for the residents of Vienna. It's actually been called the national dish of Austria, so the Austrians' love for it goes beyond the capital.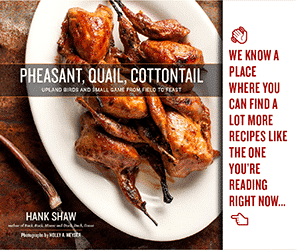 It is very good with veal. But wiener schnitzel is equally good with a pounded white meat cutlet of any kind. Pounded pork cutlets are wonderful, too, as are breasts from partridges or cutlets sliced from wild turkey breasts. It is less successful with dark meats like duck, venison or beef. Still fine, but this dish is really a white meat thing.
If you are not a hunter, make it with veal first and foremost — there is plenty of humanely raised veal out there. Barring that, go for pork loin, then chicken, then turkey.
Tips for Better Wiener Schnitzel
This recipe is not rocket science. In fact, it's one of the easiest, fastest, best recipes on the site. It's a go-to whenever I have lots of pheasant or wild turkey or pork around. Just remember, let the schnitzel swim. Use the leftover fat the next morning for your eggs.
A few other tips:
The cutlets need to be thin, thin, thin! I like to put pheasant or chicken breast, or a slice of turkey breast, or a slice of pork loin into a heavy freezer bag, then pound it thin with a rubber mallet, flipping the meat a couple times. Place your open palm over the cutlet and you'll feel any thick spots. You can go as thin as 1/8 of an inch.
Use fine breadcrumbs. Panko is terrible for wiener schnitzel. In fact, I will often toss regular breadcrumbs in the blender or food process to make them even finer. Why? To get the puff.
Good wiener schnitzel has "the puff," where the breading separates from the meat to form an ultra-crispy coating. This won't work with coarse breadcrumbs, and it requires enough oil or fat for the cutlets to float. You also spoon hot fat over the exposed side of the schnitzel while the other side is frying, to set it.
You want hot fat or oil, and this gets tricky because the smoke point of many animal fats is the 350°F you want to fry at. Keep an eye on things and you will be fine. Be sure to let the fat or oil heat back up again between cooking schnitzels.
Like this recipe? I'm betting you'll also like my jaegerschnitzel recipe, Same idea, different sauce. And that one is great with red meat.
Wiener Schnitzel
If you've never pounded your own cutlets before, read the directions below before you start. It really helps to have a rubber mallet or a meat mallet around, but you can use an empty wine bottle or a small pot. Lemons are a must here, and remember that real wiener schnitzel does not have a sauce.
Ingredients
4

to 8 veal or pork cutlets, or skinless chicken or pheasant breasts

Salt

1

cup

flour

3

eggs,

lightly beaten

3

tablespoons

milk

1

cup

fine breadcrumbs

Enough lard,

clarified butter or duck fat to come 1/2 inch up the sides of your frying pan
Instructions
Set out a work surface and place a slice of veal loin, pork loin, chicken breast or a slice of turkey breast in a freezer bag. Pound the meat out into a very thin cutlet, about 1/8 inch thick. Take your time, hitting the meat with about the same force as knocking on a door. Work from the center of the meat outward. If you are using pheasant or chicken, you will need to pound the thick end of the breast more than the thin end; pork or veal medallions should be evenly cut. Do one breast at a time.

Preheat the oven to 200°F. Place a cooling rack over a baking sheet in the oven; this is for the schnitzels as they come out of the frying pan. Salt the cutlets well on both sides. Set up a breading station. Put the flour in a large tray, plate or shallow bowl. Do the same for the beaten eggs and milk, and then the breadcrumbs. Put the lard or clarified butter in the frying pan and turn the heat to medium-high. You want to fry at a temperature of about 325°F to 350°F.

When the fat is ready, dredge a cutlet in flour, press it in well, then shake off the excess. Dredge it in egg-milk mixture, then the breadcrumbs. Do not press the breadcrumbs into the meat. Immediately put the breaded cutlet into the hot fat. Shake the pan a little to make sure the schnitzel does not stick to the bottom. The cutlet should float in the hot fat. Repeat quickly with as many cutlets as will fit in your pan, but don't crowd the pan.

Fry the schnitzels until they are golden brown, about 2 minutes per side. As the first side is cooking, spoon hot fat over the other side. This will speed up the cooking process. Flip only once. When the schnitzels are done, put them in the oven on the baking sheet and repeat until you're done.
Video
Notes
Serve this with lemon wedges, a simple green salad, bread, potato salad or boiled potatoes. And make lots of cutlets: They are awesome eaten cold as a sandwich filling the next day.
Keys to Success
The cutlets need to be thin. Take your time with this so you don't shred the meat. Place your open palm over the cutlet and you'll feel any thick spots. 
Use fine breadcrumbs. Panko is terrible for wiener schnitzel. 
Make sure the oil or fat returns to at least 325°F, and 350°F is better, before cooking more schnitzels. If the oil isn't hot enough, the schnitzels will be greasy.
Leftover cutlets are amazing eaten cold, right out of the fridge, the next day. Great on sandwiches, too. 
Nutrition
Calories:
451
kcal
|
Carbohydrates:
43
g
|
Protein:
45
g
|
Fat:
9
g
|
Saturated Fat:
3
g
|
Cholesterol:
214
mg
|
Sodium:
337
mg
|
Potassium:
741
mg
|
Fiber:
2
g
|
Sugar:
2
g
|
Vitamin A:
119
IU
|
Calcium:
75
mg
|
Iron:
4
mg
Nutrition information is automatically calculated, so should only be used as an approximation.