Teriyaki Duck Legs
August 04, 2016 | Updated November 06, 2020
As an Amazon Associate I earn from qualifying purchases.
Teriyaki duck legs. I'll reckon that this recipe is probably done by a significant proportion of duck hunters. Why I've taken so long to put it on Hunter Angler Gardener Cook is beyond me. Maybe it's because it seems so, well, simple.
Sometimes simple is good.
My recipe is designed for wild duck or wild goose legs, but you can use store-bought, too. Just remember they are going to cook faster than their wild cousins.
The way to make goose legs your favorite part of the bird is to braise them first, then grill. Yep, let them cook in the teriyaki sauce for a few hours to get tender, then get a layer of smoky, caramelized char from a quick hit over charcoal, or, even better, wood.
Real Japanese teriyaki is a grilled thing, served over that fancy charcoal they use that doesn't smoke much. You can of course use bincho-tan charcoal, but I don't. Still, grilled is the way to go. Not broiled if you can help it.
And while you can use store-bought teriyaki, it is often too sweet, at least to me. I have instructions on how to make your own below, and I highly recommend you do, so you can control how sweet and salty it is.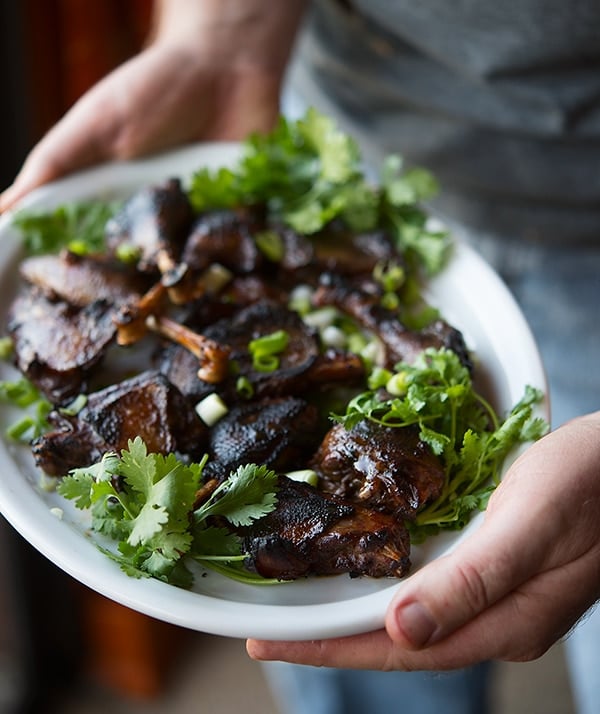 If, for some crazy reason you've never actually tasted teriyaki, it is sweet, salty, a little acidic from the sake and mirin, with a big burst of savory umami from the soy sauce.
It is one of the world's great sauces, which is why its popular well beyond Japan.
Teriyaki Duck Legs
You must braise the legs first with wild duck and goose legs.. You might be able to get away with not braising the legs if you have store-bought duck legs, but if you want to guarantee tenderness, even with them, braise first. This recipe works best with skin-on legs. I prefer specklebelly goose legs or big mallard legs, but you could do it with pretty much any waterfowl leg. If you do skinless legs, you absolutely need to cover the pan that you braise the legs in or they will dry out horribly. Leave the pan uncovered with skin-on legs.
Ingredients
2

to 4 pounds duck or goose legs

1/2

cup

teriyaki sauce

2

tablespoons

soy sauce

2

tablespoons

Chinese black vinegar or malt vinegar

Cilantro and scallions for garnish
Instructions
Braise the legs. Arrange the legs skin side up in a shallow pan and pour in all the liquid ingredients. The liquid should come up to just about the skin level of the legs. If not, add some water. Put in the oven and turn it to 300°F. Roast uncovered until the legs are tender, anywhere from 90 minutes for domesticated duck legs to 3 hours for old Canada goose legs. The specklebelly goose legs in the picture took about 2 hours.

When the legs are tender, pour off the sauce into a small pot. Skim off some fat and use that to coat the legs when you put them on the grill. Boil the sauce down until its as salty and sticky as you want, about 10 minutes for me.

Grill the legs. Coat the legs in some of the fat and boiled down sauce. Grill over high heat just until they get a nice char, about 3 to 5 minutes per side. Serve with rice and grilled vegetables and garnished with cilantro and chopped scallions or chives.
Notes
Any teriyaki sauce will work, but I prefer the thinner varieties that don't have sugar as their No. 2 ingredient. I serve these with steamed rice and grilled vegetables -- you have the grill going anyway, might as well use it. 
Nutrition
Calories:
151
kcal
|
Carbohydrates:
4
g
|
Protein:
17
g
|
Fat:
7
g
|
Saturated Fat:
2
g
|
Cholesterol:
66
mg
|
Sodium:
1318
mg
|
Potassium:
67
mg
|
Fiber:
1
g
|
Sugar:
3
g
|
Vitamin C:
1
mg
|
Calcium:
12
mg
|
Iron:
2
mg
Nutrition information is automatically calculated, so should only be used as an approximation.