Squirrel Carnitas
September 19, 2019 | Updated October 28, 2020
As an Amazon Associate I earn from qualifying purchases.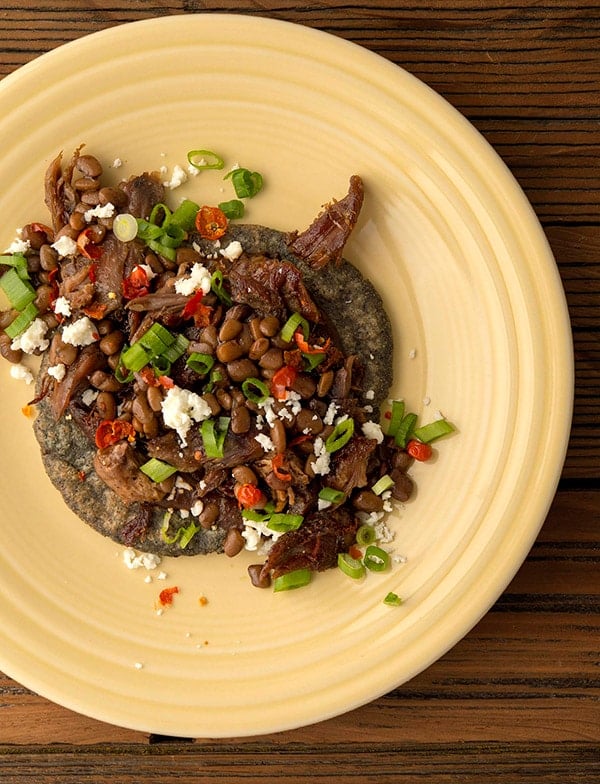 This recipe can be as simple or as complex as you want to make it.
At its core, this is squirrel carnitas. You can make that part of this recipe and serve it however you'd like. But this dish as a whole, which I call Arizona Gray, is an absolute knockout. It is quite possibly the best Mexican dish I've ever created. But it's neither simple nor quick.
Let's start with the squirrel. I call the dish Arizona Gray because that's what I used to make it with: Sciurus arizonensis. It only lives in Arizona, small parts of New Mexico, and Sonora in Mexico.
I managed to shoot one in a full-on blizzard near Sierra Vista in southeastern Arizona, and it was the second-to-last squirrel I needed to get to earn myself the Squirrel Slam. Incidentally, I think I may be only the second person to hunt and eat all eight legal species of tree squirrel in America; my friend and Squirrel Hunting Yoda Johnathan O'Dell is the first.
Given that we were basically 25 miles north of Mexico at the time, I reckoned I needed to make a Mexican dish, much as I did the pipian rojo with the Mexican fox squirrel I shot in the Chiracahua Mountains not far from Sierra Vista. Squirrel carnitas was a natural choice.
To make it, I salted the squirrels overnight, rinsed them and then packed them into a vacuum bag with lard, a few hot chiles and some avocado leaves. Avocado leaves are used like bay leaves in that they are aromatic, a little anise-y. You can use bay leaves instead.
You then cook the squirrel in a big stockpot of steaming water for a few hours. You can also skip the vacuum bag and simply submerge your squirrels in lard and cook them in a 225°F oven for about four hours.
Once the squirrel is tender, shred it off the bones. Use some of the lard to coat the bottom of a frying pan, ideally cast iron, and sear just one side of the squirrel, hard. This makes your squirrel carnitas both crispy and meltingly tender.
Serve this in a burrito, on a taco, or however you'd like. I made huaraches, which are named for sandals and are a sandal-shaped masa cake stuff with pureed beans. And of course I had to use a blue-gray masa, right?
Over the huaraches, I spread some mole I'd made — you can use either the recipe for mole chichilo or my turkey mole — and mixed the squirrel with slow-cooked tepary beans, which are a wild bean native to Arizona.
A little Mexican cheese and crushed wild chiltepin chiles and there you have it. A worthy meal from a memorable hunt.
Squirrel Carnitas
I'm going to give you just the recipe for the squirrel carnitas, largely because you would need a fair number of unusual ingredients and the skill to make huaraches at home to make the full Arizona Gray. Any squirrel or rabbit will work here, and of course this is pretty much how pork carnitas is made in Mexico, too.
Ingredients
2 to 4

Squirrels,

or 2 cottontail rabbits or 1 domestic rabbit

Salt

1

cup

fresh lard or butter

(see note below)

3

avocado or bay leaves

(optional)
Instructions
Cut the squirrels into serving pieces, or not. Cutting them makes it easier to bag them up, but you don't have to. Rinse briefly under cold water, then salt them well. Put the meat into a covered container and let them rest in the fridge overnight, about 8 hours.

Rinse the meat off and pat it dry; not that if you are using pork you don't need to salt it this way first. The overnight brine helps keep wild meats moister. Pack the squirrel pieces into a vacuum bag with the fat and avocado or bay leaves, seal.

Submerge the bag in a large pot of hot water, about 160F or thereabouts, and hold it there for 3 to 4 hours. If you have a sous vide machine, it's ideal for this, but a stockpot will do. If you are unsure whether the meat is tender, err on adding more time.

When the meat wants to fall off the bone, remove the bags from the hot water, open into a large bowl and let cool enough to handle. Discard the leaves. Shred the meat off the bones and discard the bones.

Take some of the fat from the bag and heat it in a large frying pan. Cast iron is ideal. It will pop and sizzle because there will be some juice from the meat in it. As soon as it starts popping furiously, add all the shredded meat in one layer. Sear hard for about 4 minutes, not moving the meat. You want a crispy side and a tender side to the meat.

Serve in tacos, burritos, on a huarache... or however you want!
Notes
NOTE: I only use freshly rendered lard here, not the shelf-stable stuff, which is bad for you. Duck fat is another good choice, but you can easily find manteca, the Spanish word for lard, in any Latin market. 
Nutrition
Calories:
570
kcal
|
Carbohydrates:
1
g
|
Protein:
109
g
|
Fat:
12
g
|
Saturated Fat:
3
g
|
Cholesterol:
405
mg
|
Sodium:
250
mg
|
Potassium:
1890
mg
|
Calcium:
60
mg
|
Iron:
16
mg
Nutrition information is automatically calculated, so should only be used as an approximation.