Pan Roasted Ptarmigan or Grouse
September 28, 2020 | Updated June 06, 2022
As an Amazon Associate I earn from qualifying purchases.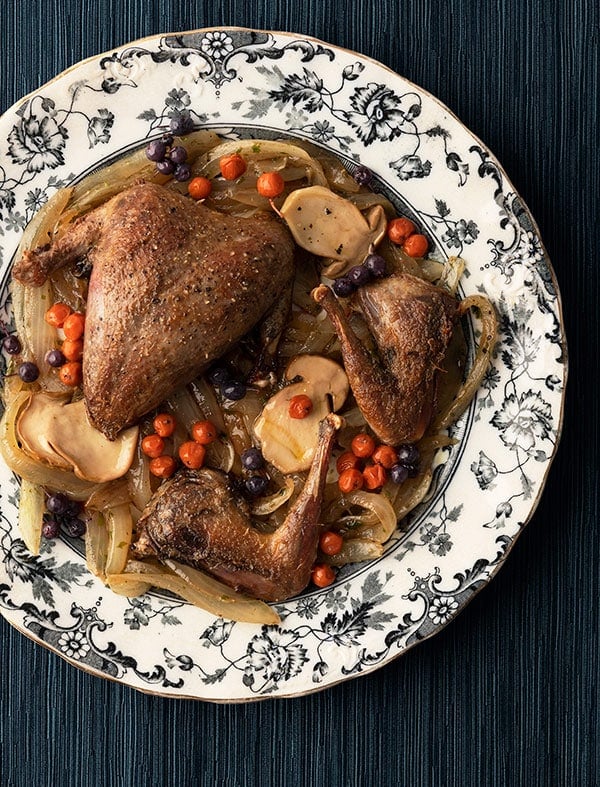 Unless you are in Alaska, Canada or are an adventure hunter in the Lower 48, chances are you have no need for a ptarmigan recipe. Bear with me a moment.
You can use this general recipe for lots of different birds, ranging from Cornish game hens to quail, to ruffed grouse or really any other sort of small grouse, partridges, chukars, pigeons or small ducks.
I know, that's a wide range. So if you pin me down, I'd prefer this with the following birds that aren't ptarmigan: In order of preference, I'd choose spruce grouse, woodcock, pigeons, sharp-tailed grouse, prairie chickens, snipe, doves, teal ducks or rails. You'll notice that all are red meat birds.
The general principle behind this ptarmigan recipe is my method for pan roasting all small birds. Details are in the link, but the short version is to break them down in the way you see in the pictures — backbones cut out and leg/thighs separate from the "crown," the breast with drumettes on the bone — and to cook them steadily with lots of fat or oil, spooning it over the hard-to-reach areas.
While you can of course pan roast your birds whole, I've found it easier to get a good result by breaking them down, and it looks pretty, too.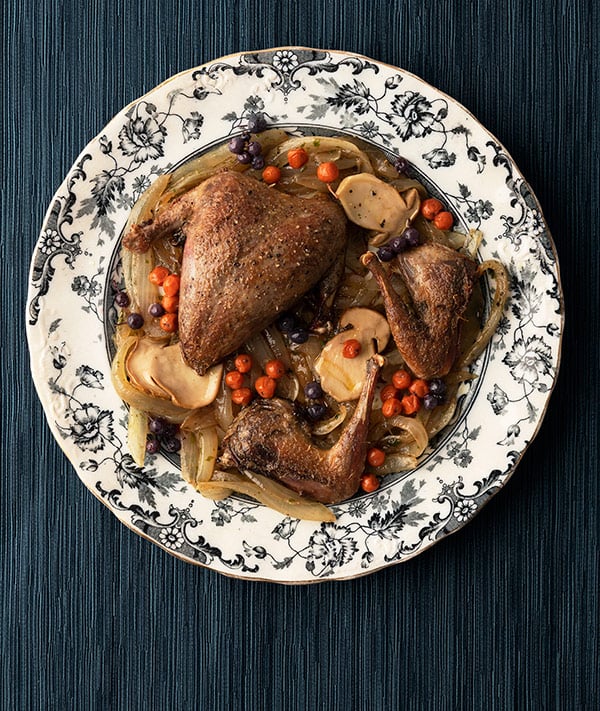 A word about ptarmigan. There are three, really four, ptarmigan species in the world: The white-tailed ptarmigan, the willow, and the rock. The famous Scottish grouse is also really a ptarmigan, very closely related to the willow. The bird in the pictures is a white-tailed ptarmigan from Colorado.
They are all birds of cold, forbidding places, and are all dark meat that is strongly flavored. Do not serve ptarmigan to people who only like skinless chicken breasts. They are an eater's bird, full of flavor and slightly funky, as all grouse are. Their breast meat should also be served pink, anywhere from rare to medium. This is another good reason to separate the breasts from the legs.
If you are worried about overcooking your ptarmigan, remember you can always cook it more. You can't uncook it. Generally, if you start with room temperature meat, it will take about 10 minutes to cook the breasts. The legs will take a little longer.
You'll notice other things on this plate. They are all optional, but I'll walk you though them and why I chose them, so you can freestyle.
First, any ptarmigan recipe I create will have a Northern feel. These are tundra grouse, after all. So I chose mashed potatoes as the starch; they're not in the picture. Use whatever recipe that makes you happy. Also, caramelized onions. I love them and they appear in most cold weather cuisines. Use the caramelized onions recipe I feature here.
After that, it's playing with cool preserved stuff. Lacto-fermented rowan berries (mountain ash). Pickled wild alpine blueberries. Marinated, preserved porcini mushrooms. You don't need to make this recipe verbatim, but you want something tart and pickled, something salty, and something funky-preserved to add interest on the plate. One simple addition? Sauerkraut.
Making the caramelized onions will take the longest, but it can be done up to a few days in advance. Serve this with a big malty beer or a mellow red wine.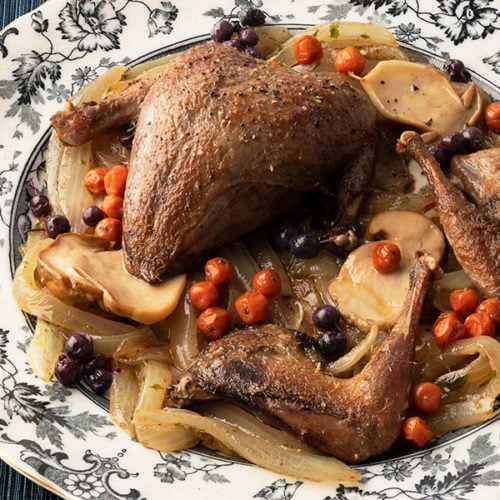 Pan Roasted Ptarmigan
As I mention in the headnotes, you can use this recipe with lots of small birds, or even squirrels. You will want to make some mashed potatoes and caramelized onions, too.
Ingredients
1

recipe, caramelized onions

(See link in headnotes)

4

ptarmigan, plucked, gutted with legs and breast separated

Salt and black pepper

3

tablespoons

butter, clarified if possible
Instructions
You'll want to make the caramelized onions and mashed potatoes first, and while you are doing that, take the birds out of the fridge and salt them well. Keep the onions and potatoes warm.

When you are ready to cook the birds, pat them dry with paper towels. Heat the butter in a pan large enough for the birds, and when it is hot, set the legs in, skin side down, and the breasts, skin side up. Let this sizzle the way bacon does, typically at a medium-high heat.

Start spooning the butter over the birds, focusing on the front of the breasts, the the "armpit" between the wings and the breasts, then the very tail end of the breast. Spoon the hot butter over these places until the skin contracts and the meat turns opaque.

At this point, you will want to turn over all the legs, then the breasts. Let them all sear for about 90 seconds to 2 minutes. Let the legs keep cooking, but flip the breasts back over. Keep basting the hard-to-reach parts with the butter for a minute or so. Now flip the legs again. Finally, tip the breasts on their sides to sear on each side for a minute or so. They should be done now.

Remove all the breasts and grind black pepper over them. Let the legs cook another minute or three, then grind black pepper over them, too. Add whatever pickled or salty or preserved things you want to, along with the caramelized onions. Mix that all together. Serve everyone some mashed potatoes, then the onion-legs-pickled things mix, and top with the breasts.
Notes
NOTE: You'll want an array of pickled and salty things to serve with the birds, caramelized onions and mashed potatoes. In a pinch, even just sauerkraut will be good. 
Nutrition information is automatically calculated, so should only be used as an approximation.