Drunken Squirrel with Pumpkin Dumplings
November 15, 2018 | Updated June 16, 2020
As an Amazon Associate I earn from qualifying purchases.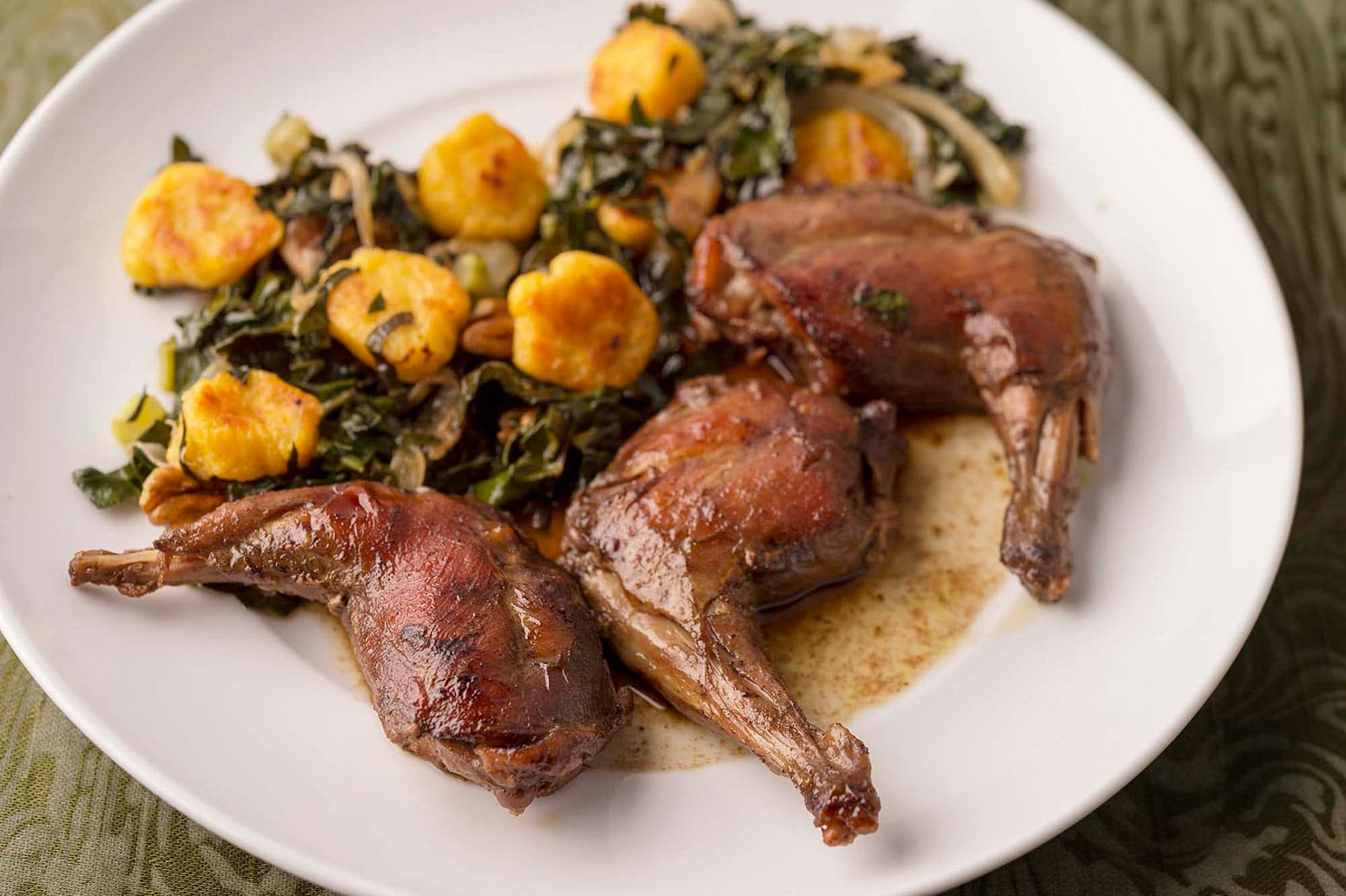 This is not your grandma's squirrel-n-dumplins. Nope, this is my modern twist on that classic: Drunken squirrel with pumpkin dumplings.
It takes the idea of the old classic, braised squirrel and dumplings, and mashes it up with lighter, more seasonal touches… and, well, I happen to love all those videos of squirrels getting drunk on fermented pumpkins. Never seen one? Look it up on YouTube.
The squirrel itself is super simple: Brown in butter, braise in white wine and a little stock. Squirrel stock, in my case. Yes, that's a thing.
Alongside go my recipe for squash or pumpkin gnocchi, only not shaped like gnocchi. Boiled to set, then seared in a little more butter to brown a bit. Add to that some black (Lacinato) kale, onions, garlic and pecans — I can't resist adding nuts to squirrel recipes — and you have a damn good plate of food.
If you want or need to substitute, you can use rabbit or pheasant or grouse or turkey in place of the squirrel, and some other green or nut that makes you happy. And butternut squash actually makes better dumplings than pumpkin — it's drier.
Oh, there is one unusual ingredient I love to use in this recipe: pumpkin or squash seed oil. It's dark, luscious and oddly peanut-y. You can buy it in some supermarkets or you can buy pumpkin seed oil online. Or you can skip it and use something like walnut oil or whatever.
Drunken Squirrel and Pumpkin Dumplings
As I mention above, you can sub in rabbit legs, or the thighs from chicken, turkey or grouse here. Any nice green will work besides kale, and you can use whatever nut or squash/pumpkin you have available. The dumplings can be made ahead and frozen, too.
Ingredients
DUMPLINGS
1

cup

cooked, pureed squash

1

cup

ricotta cheese

1/4

cup

parmesan cheese

2 3/4

cup

all-purpose flour

2

eggs, lightly beaten

A big pinch of salt

A few swipes of fresh nutmeg, or 1/4 teaspoon ground

3

tablespoons

butter, for frying
SQUIRREL
3

tablespoons

butter

2

pounds

squirrel meat,

I prefer back legs only

Salt

1

cup

white wine or vermouth

1/2

cup

squirrel stock,

or chicken stock

3 to 6

bay leaves

1

tablespoon

squash seed oil

(optional)
VEGETABLES
2

tablespoons

butter

1

small onion, sliced thinly root to tip

2

cloves

garlic, sliced thin

1

pound

black (Lacinato) kale, chopped

Salt

1/2

cup

toasted pecans,

or some other nut

1

tablespoon

squash seed oil

(optional)

Lots of freshly cracked black pepper
Instructions
COOK THE SQUIRREL
Preheat the oven to 325F. In a large, shallow, ovenproof pan, melt the butter and brown the squirrel legs well over medium-high heat. Take your time. You want them nice and brown.

When the legs are all done, add the white wine and use a wooden spoon to scrape up any browned bits in the pan. When you've done this, add the stock and bay leaves, cover the pot and set it in the oven to cook for at least 90 minutes and, more likely, 2 hours. You want the meat to be tender, but not so much that it falls off the bone.
MAKE THE DUMPLINGS
While the squirrel is cooking, mix the squash puree, ricotta, beaten eggs and parmesan together in a large bowl. Add the salt and nutmeg, then mix in the flour 1 cup at a time. If you are new to dumplings, you might need more than 2 3/4 cup flour, but don't use more than 3 1/2 cups in any case -- that will make the dumplings too heavy.

Set a large pot of water to a boil. Add a handful of salt to it when it's hot.

As soon as you can roll the dough into a log about the diameter of your finger -- doing this with well-floured hands helps -- cut that log into coins about 1/4 inch thick. The dough will be soft, and you'll need to wipe your knife clean periodically.

Set out a baking sheet and flour it well. Pick up each piece of dough and gently shape it into a round, coin-like shape, then set it on the baking sheet. You might need to carefully dust each dumpling in more flour so it won't stick to everything.

Using a spatula, carefully move the dumplings to the boiling water. Boil in batches, probably 3 or 4 batches, until the dumplings float and then for 1 more minute. Move the dumplings to another baking sheet that's been well oiled, so they don't all stick.
TO FINISH
When the squirrel is ready, move the covered pot to the stovetop and set aside for the moment. Get a large, wide pan and heat 3 tablespoons of butter over medium-high heat. Lay out the dumplings in one layer in the pan and shake to prevent them from sticking. Now let them sear for 90 seconds to 2 minutes undisturbed, so they can brown a bit. Toss the pan to mix up the dumplings, then let them sear another minute or three to brown a touch more. Move the dumplings out of the pan and set them in a bowl in the oven, which should still be warm.

If you think you need more butter, add some to the pan you seared the dumplings in. Add the onion and saute for 6 to 8 minutes, stirring often. Add the kale, pecans and garlic and saute for a few minutes to coat the kale, then turn the heat to medium and cover the pan. Cook like this until the kale wilts, about 4 minutes.

To finish, drizzle some squash seed oil over the squirrel and kale, then grind some black pepper over them both. Mix the dumplings with the vegetables and serve with some of the juices from the squirrel pot.
Nutrition
Calories:
1159
kcal
|
Carbohydrates:
89
g
|
Protein:
78
g
|
Fat:
51
g
|
Saturated Fat:
24
g
|
Cholesterol:
361
mg
|
Sodium:
556
mg
|
Potassium:
1883
mg
|
Fiber:
5
g
|
Sugar:
4
g
|
Vitamin A:
16190
IU
|
Vitamin C:
146
mg
|
Calcium:
469
mg
|
Iron:
14
mg
Nutrition information is automatically calculated, so should only be used as an approximation.