All Hail Spot Prawns!
September 04, 2018 | Updated May 17, 2020
As an Amazon Associate I earn from qualifying purchases.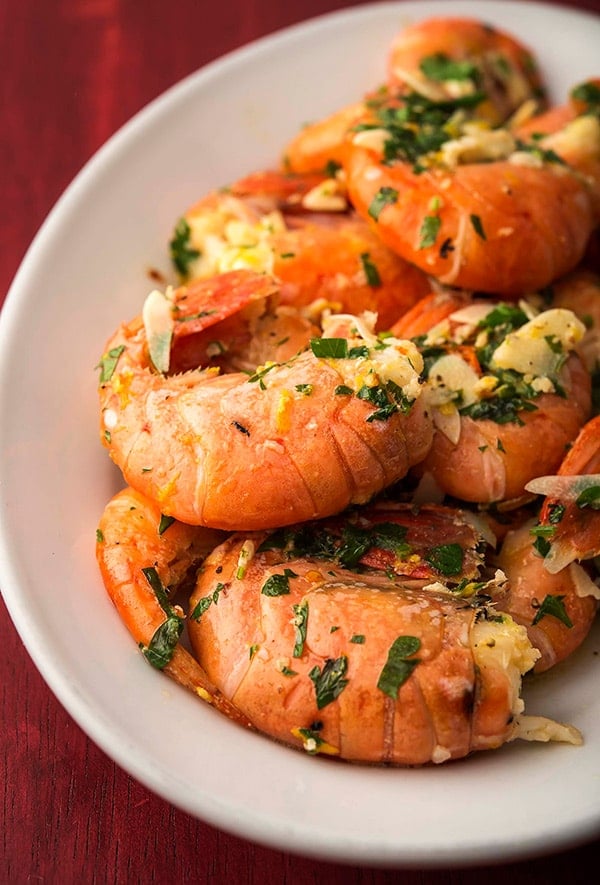 Spot prawns, a large shrimp that ranges from Baja California all the way up to Alaska, are arguably the greatest shrimp in all of North America — if not the world.
I've eaten dozens of varieties of shrimp all over the world, and the only other species that come close are the Royal Red in the Gulf and the spot prawn's cousin, the coonstripe prawn. Don't get me wrong, all the other shrimp I've had in the United States and Canada have been fantastic, but spotties are special.
Why? For starters, there is a reason they are called amaebi, or sweet shrimp, on sushi menus. Spot prawns are sweet. Really sweet. Almost dessert sweet. Second, they can be huge, more than 10 inches long. Third, they are far more lobstery than any other shrimp I've ever eaten, richer and less, well, crunchy than normal shrimp.
And besides, aren't they gorgeous?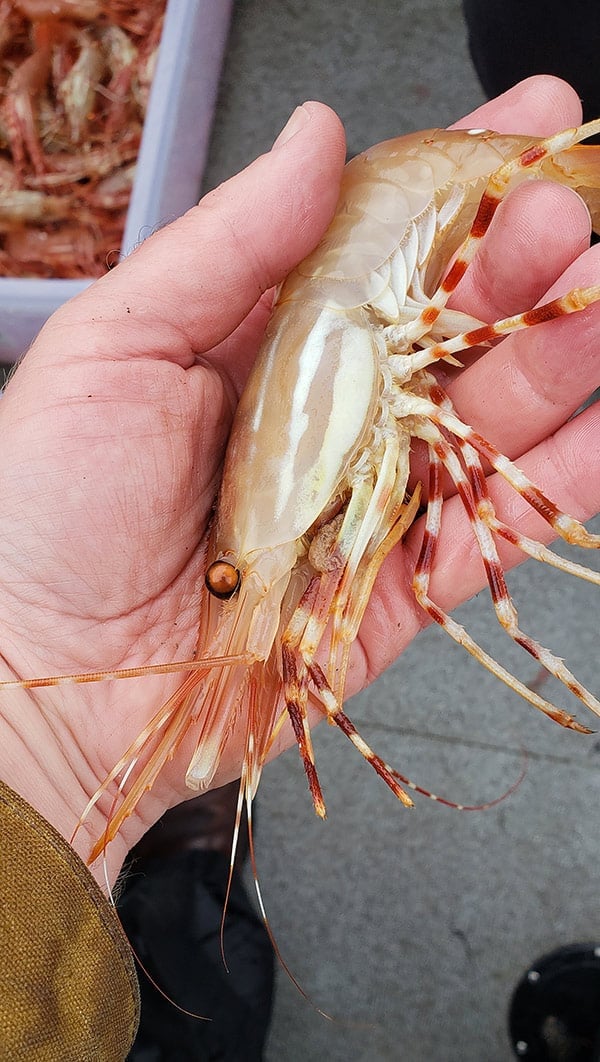 Finally, spot prawns are a sustainable fishery, so you can eat them without worrying about ruining the oceans. You catch them in pots dropped anywhere from 150 to 1000 feet down (300 feet is a sweet spot for prawns… see what I did there?) and when you haul the pots up, everything in them is alive. So you can toss back any bycatch.
I for one like to eat my bycatch, however. Whelks, Pacific pink shrimp, spotties' cousin the coonstripe shrimp, etc.
Once you have some spot prawns, how to cook them? In a word, simply. I cannot overemphasize how important it is to not bury the flavor of these shrimp in heavy sauces.
If you have them ultra fresh, as in heads-on, suck the head like you would a crawfish. If that skeeves you out, try dusting them in corn starch and deep frying the heads for about 2 minutes. Shockingly good, and yes, you eat the shell and all. Heads also make a boss shrimp stock.
I prefer to cook my spot prawns shell on, because the shell adds flavor. And if the prawns have eggs under their little swimmerets, you gnaw them off like corn on the cob; they taste like tiny briny pop rocks. (Note that keeping prawns with roe is illegal in British Columbia.) If you do peel before cooking, save the shells for stock.
I have never seen an icky "mud line" in spot prawns the way you do with all other shrimp, so I never devein them. Go for it if it makes you feel better.
Cooking spot prawns should be a short process. Grill over high heat, or saute in a pan with olive oil or butter. Spot prawns like garlic, a little citrus and maybe some chiles or grated horseradish. Most people I know in Alaska or British Columbia just leave it at that — no curries, or heavy cocktail sauces or stews. Leave that for other shrimp.
This recipe for gambas al ajillo, or Spanish garlic prawns, fits the bill: Olive oil, lemon, garlic, a little chile, maybe a bit of parsley for color. That's it. Peel and eat.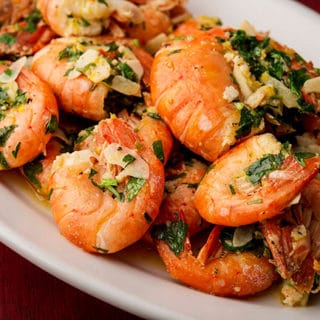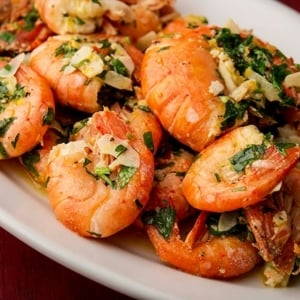 Gambas al Ajillo, Spanish Garlic Shrimp
Any shrimp will do here, but I love this with spot prawns. You want lots of garlic, a little chile, and enough lemon to balance out the olive oil. This recipe is best done with shell-on shrimp that you peel at the table, but you can do it with peeled and deveined shrimp, too.
Ingredients
1/4

cup

olive oil

1 to 2

pounds

large shrimp, preferably spot prawns

Salt

4 to 6

cloves

garlic, roughly chopped or sliced thin

1 or 2

small, hot chiles, sliced thin,

or 2 dried, hot chiles, crumbled

Juice of a lemon
Instructions
Heat the olive oil in a large saute pan over high heat. When it just barely begins to smoke, add all the shrimp and toss to coat with the oil.

Add the garlic, chile and salt the pan well. Cook over high heat, tossing and/or stirring, until all the shrimp just barely turn pink, about 2 minutes, tops. Toss with the lemon juice and serve at once.
Notes
NOTE: These are also excellent served at room temperature or chilled as an appetizer. 
Nutrition
Calories:
238
kcal
|
Carbohydrates:
1
g
|
Protein:
23
g
|
Fat:
15
g
|
Saturated Fat:
2
g
|
Cholesterol:
286
mg
|
Sodium:
882
mg
|
Potassium:
103
mg
|
Fiber:
1
g
|
Sugar:
1
g
|
Vitamin A:
27
IU
|
Vitamin C:
11
mg
|
Calcium:
170
mg
|
Iron:
3
mg
Nutrition information is automatically calculated, so should only be used as an approximation.