South African Bobotie
November 06, 2017 | Updated August 11, 2022
As an Amazon Associate I earn from qualifying purchases.
This is South African bobotie, a casserole of venison or beef with curry and a baked custard on top. Sounds odd, but it tastes amazing. And this bobotie recipe is shockingly easy to make, as spicy as you want it to be, meaty, and a touch sweet. Rich. Comforting. I'm a believer.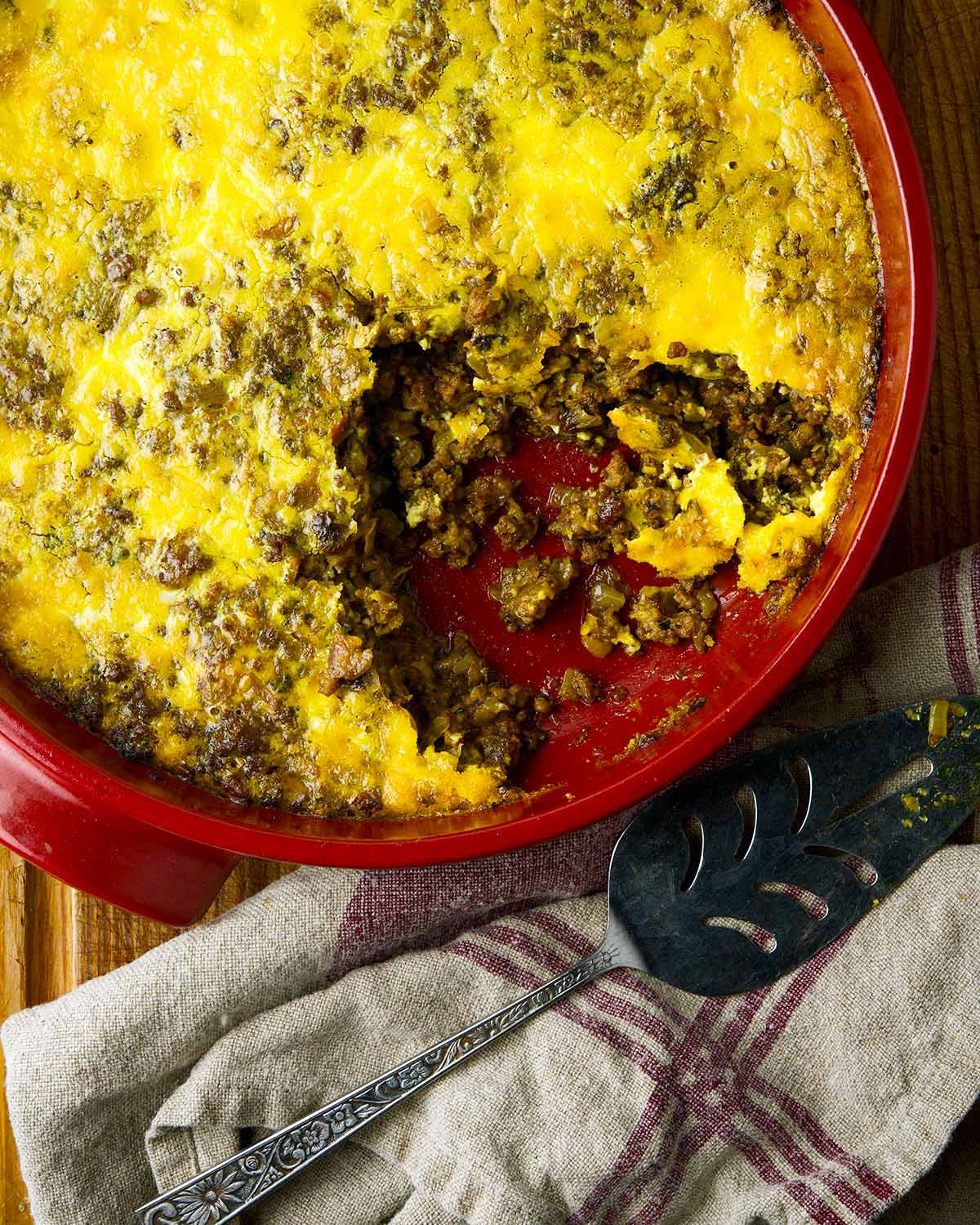 I know, I know. What is South African bobotie? It's basically a beef or venison casserole. I am not normally a fan of casseroles, but this one's different. Bobotie, pronounced buh-BOH-tee, is — amazingly — a dish with ancestry 2000 years old.
The Roman gourmand Apicius described a dish very much like a bobotie recipe in his De Re Coquinaria
called Patinam ex lacte, which consisted of meat, pine nuts, some dried fruit and herbs, baked until done, then topped with a mix of milk and eggs, which was allowed to set. That's pretty much what bobotie is, two millennia later.
Variations on this dish remained popular in Europe all the way into the 1600s. And, as it happened, that's when the Dutch began carving out a trading empire. And part of that empire included the Cape of Good Hope, where South Africa's Capetown is today.
What's up with the funky name? Also look to the old Dutch empire. Most think it has something to do with Indonesia or Malaya in Southeast Asia, where variations on the word refer to curry spices. Both places were Dutch territories back in the 1600s, and it is believed they carried this dish to Capetown when it was founded in 1652.
Southeast Asia definitely has an influence on this casserole.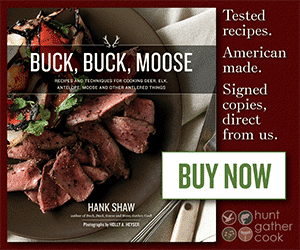 What's in South African Bobotie?
Any bobotie recipe needs curry powder (hot or mild), and one other sweet-sour thing, typically Major Grey's or some other mango chutney, or tamarind paste. I've seen recipes with apricot or peach jam, too.
Mutton, beef or lamb are typically the meat of choice, but I ate it in South Africa in the 1990s made with kudu and eland, so I figured it would be fine with venison. You want it relatively lean, as the final topping of the whipped up eggs and cream adds quite a bit of richness.
My bobotie recipe includes a panade, a French term for a paste made from bread and milk; most recipes include this. You add bread to a bobotie for the same reason you would, say, a meatloaf or venison meatballs — to keep the mix tender. If you leave this out your casserole will be dry.
Some recipes include citrus leaves and raisins (mine does), and some leave them out.
How to Serve Bobotie?
I normally serve South African bobotie with rice or bread, and either a salad or some pickles. I've seen it served as part of a big spread with boerewors sausage, potato salad and cole slaw, green beans and the like.
You can make this bobotie recipe ahead of time and reheat it if you'd like. Covered, it will keep several days in the fridge. It does not freeze well, although you could freeze the main part of the casserole minus the topping of egg and cream.
(Not exactly what you're looking for? Here are more recipes for deer burger or ground venison. )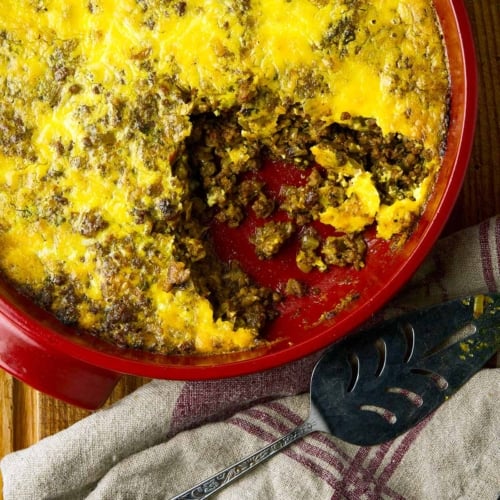 Bobotie
This is one of the national dishes of South Africa. You can make bobotie with any ground meat, but I typically use deer burger. You can make this as spicy or mild as you want. It reheats well, too, and will keep in the fridge for a week. 
Ingredients
3

slices

white bread

2

cups

milk

2

large onions,

chopped (about 3 cups)

3

tablespoons

butter

2

garlic cloves,

chopped

2

pounds

ground venison

Salt

2

tablespoons

mild curry powder

2

teaspoons

garam masala,

or ½ teaspoon ground clove and 1 1/2 teaspoons ground allspice

1/3

cup

chopped cilantro or parsley,

loosely packed

Cayenne pepper to taste

(I use 1 teaspoon)

2

tablespoons

tamarind paste,

mango chutney or peach jam

3

tablespoons

golden raisins

(optional)

3

citrus leaves

or bay leaves

Juice of a lemon or lime
TOPPING
1

cup

heavy cream

2

large eggs
Instructions
Preheat the oven to 325°F. Soak the bread in 2 cups of milk.

Cook the onions in the butter over medium heat until they're soft, about 6 to 8 minutes. Sprinkle some salt over them as they cook. Add the garlic and the venison and brown well. Salt this as it cooks, too. Break apart the ground venison as it cooks so it looks like taco meat.

When it's pretty much browned, add the curry powder, tamarind and all the remaining spices and herbs, and the raisins if using. Cover the pan, add the lemon or lime juice, and let this cook for a few minutes.

Squeeze out the milk from the bread and mash it into the mixture. Turn off the heat. Move the mix into a casserole dish and press it down well.

Beat the eggs and cream together and pour over the casserole. Bake for 45 minutes to 1 hour, until the egg mixture is set and turning golden.
Nutrition
Calories:
442
kcal
|
Carbohydrates:
19
g
|
Protein:
30
g
|
Fat:
27
g
|
Saturated Fat:
15
g
|
Cholesterol:
190
mg
|
Sodium:
226
mg
|
Potassium:
633
mg
|
Fiber:
2
g
|
Sugar:
10
g
|
Vitamin A:
785
IU
|
Vitamin C:
3.1
mg
|
Calcium:
153
mg
|
Iron:
4.6
mg
Nutrition information is automatically calculated, so should only be used as an approximation.