Slow Cooked Deer Shoulder
December 18, 2017 | Updated December 23, 2020
As an Amazon Associate I earn from qualifying purchases.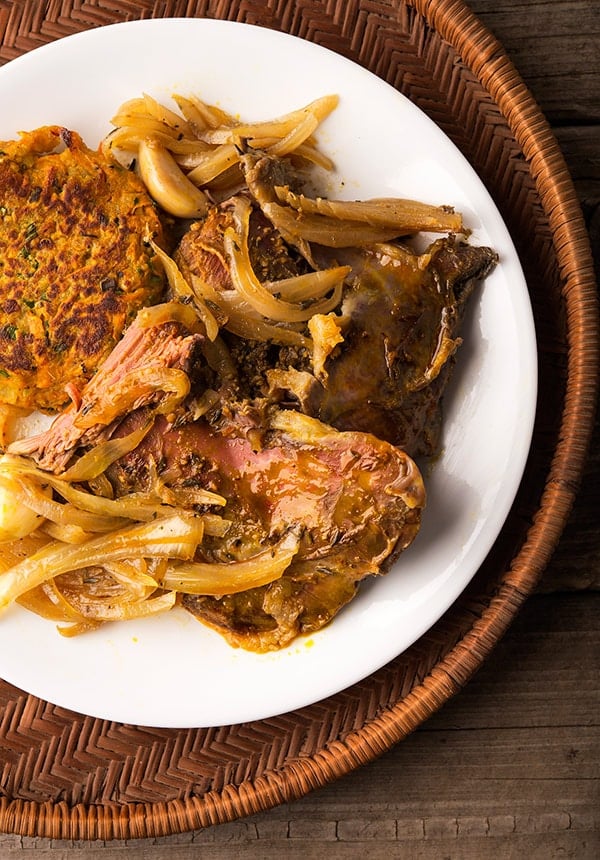 What can you do with deer shoulder? Lots of things, but it all depends on the deer. I shot a Coues deer recently, and, as you may know, they are very small deer. So small I decided to slow cook a whole shoulder in one shot.
I love doing this. When you have a cut of meat small enough to fit in a pot or roasting pan, you really owe it to yourself to leave it on the bone and cook it whole. Why? You get the benefit of all that connective tissue, and the meat stays moister when it's on the bone. Still, with venison shoulder, you need to cook some sort of pot roast.
Slow, moist cooking is the way to go because it will melt all that connective tissue in a deer shoulder without drying out the meat. This process takes hours.
Which route you take is up to you. I already have a fantastic venison pot roast recipe, that uses Polish cuisine as a base. But I prefer to use venison neck for that recipe. While deer shoulder can certainly be used for that Polish-style dish, I decided to look more south for inspiration this time. Really far south. As in Africa.
Senegal, to be exact. Before you click away, thinking this must be too weird to even try, it isn't. Senegalese food is heavily influenced by France, which was the country's former colonial overlord. And while there are some cool Senegalese touches you can add to make this more "African," the basic recipe is easy to make.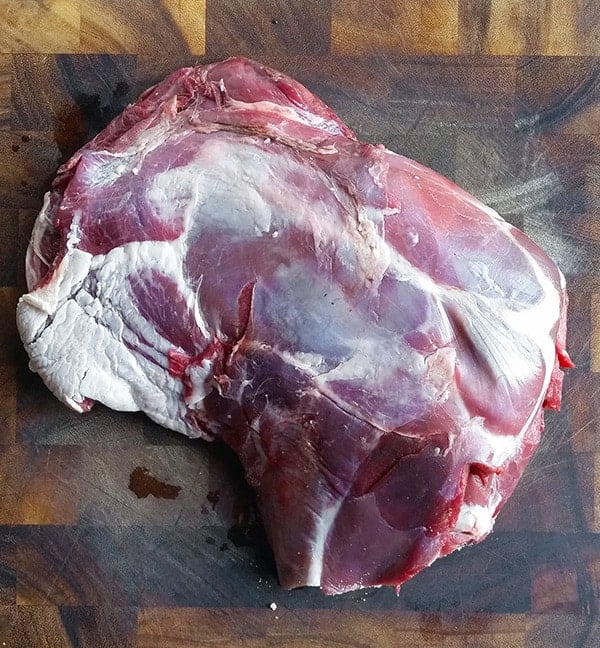 You salt a deer shoulder and then jam garlic cloves into it. You then smear it with a mixture of Dijon mustard, cumin, and black pepper. Slice a bunch of onions to serve as a bed for the deer shoulder, then sprinkle dried thyme on them. Set the meat on the onions, pour over a little stock, seal the whole shebang and cook very slowly until tender.
In Senegal, this is called dibi-style lamb. Normally done with young lambs at a very low temperature, you need to modify it for deer shoulder. I got my inspiration for this recipe from Chef Pierre Thiam's cookbook Senegal: Modern Senegalese Recipes from the Source to the Bowl
, which is a great introduction to one of the most interesting cuisines of Africa.
Notice that there are no "weird" ingredients yet? You can "Africanize" this by using red palm oil
 instead of peanut oil, and intoxicatingly aromatic selim pepper instead of regular pepper. But it's not necessary.
Lamb or venison shoulder can then be served with Senegalese tamarind Kani Sauce, which is essentially a tomato sauce with tamarind and Scotch bonnet peppers in it (recipe below). But many Senegalese just serve it with more Dijon mustard.
What to serve it with? Well, good bread is normal. You can also serve your deer shoulder with rice, or with sweet potato-plantain fritters. Or really whatever you'd like.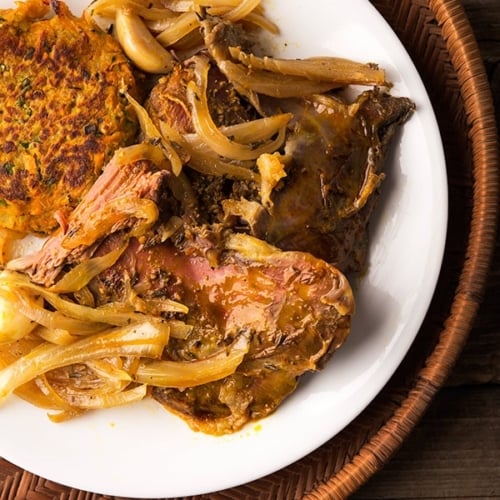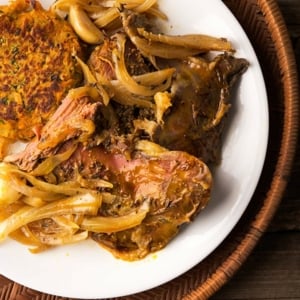 Slow Cooked Deer Shoulder, Senegalese Style
Everything in this recipe is simple, although, as I mention above, you can add a few West African ingredients to make this a bit more exotic, if you want. Unrefined palm oil can be had in major supermarkets or health food stores, as can tamarind; tamarind is very common in Latin or Indian markets, too. Remember to only do this recipe with smallish deer shoulders, ones that can fit into a pot or roasting pan.
Ingredients
FOR THE POT
1

large onion, sliced thinly root to tip

1

head

garlic, cloves peeled but whole

2

teaspoons

dried thyme

1 1/2

cups

broth or stock,

any kind
FOR THE DEER SHOULDER
1

deer shoulder

4

cloves

garlic, cut into little batons

3

tablespoons

melted palm oil or peanut oil

Salt

3

tablespoons

Dijon mustard

3

tablespoons

ground cumin

2

tablespoons

freshly ground black pepper,

or selim pepper
TAMARIND KANI SAUCE
1

tablespoon

peanut oil

1

small onion, chopped

2

cloves

garlic, chopped

6

plum or paste tomatoes, chopped

1 or 2

habanero or Scotch bonnet peppers, chopped

1

bay leaf, crumbled

3

tablespoons

tamarind paste, seeds removed

(some brands still have seeds in them)

1

tablespoon

sugar

(optional)

2 to 3

tablespoons

Vietnamese or Thai fish sauce

Salt and black pepper to taste
Instructions
PREPPING THE ROASTING PAN
Line a roasting pan with lots of foil, overlapping so it's reasonably watertight. You will need to completely wrap the deer shoulder, so have enough foil to do that.

Scatter the sliced onion and garlic cloves in the pan, then sprinkle with the thyme. Pour in the stock.
PREPPING THE POT ROAST
Using a thin knife, stab the venison in various places and shove the batons of garlic inside. Coat the whole deer shoulder with the oil. Salt it well. Mix the mustard, cumin and black pepper together and smear this all over the deer shoulder, getting it into every crevice.

Seal up the shoulder and set in a 200F oven. Roast until tender, which should take at least 3 hours, and as many as 10. With normal deer, start checking after about 5 hours. You want the meat to lift off the bone easily.
TAMARIND KANI SAUCE
If you're making the sauce, do this while the venison cooks. Heat the peanut oil in a large pan over medium-high heat. Cook the chopped onion until translucent, but not browned, about 5 to 8 minutes, stirring often. Add the garlic and chopped habanero chiles and cook another minute.

Add the remaining sauce ingredients, mix well and simmer for about 15 minutes. Turn off the heat and puree in a blender. The sauce should be thick like ketchup.
TO SERVE
To serve, give everyone some deer shoulder with some of the juices from the pot, stewed onions and garlic, and serve with the tamarind kani sauce on the side. Crusty bread, rice or sweet potato-plantain fritters are a good accompaniment.
Notes
Depending on the age of your deer, cooking can be done in as little as three hours, or as long as 10.If you think you have an older animal, increase the temperature to 225°F. 
Nutrition
Calories:
203
kcal
|
Carbohydrates:
14
g
|
Protein:
16
g
|
Fat:
9
g
|
Saturated Fat:
2
g
|
Cholesterol:
41
mg
|
Sodium:
529
mg
|
Potassium:
506
mg
|
Fiber:
2
g
|
Sugar:
8
g
|
Vitamin A:
469
IU
|
Vitamin C:
16
mg
|
Calcium:
66
mg
|
Iron:
4
mg
Nutrition information is automatically calculated, so should only be used as an approximation.