Spanish Shark with Tomatoes
July 09, 2018 | Updated March 29, 2021
As an Amazon Associate I earn from qualifying purchases.
For many of you, the idea of a shark recipe borders on the immoral. You are half right.
A great many sharks are indeed overfished, some to the point of being officially endangered. And the barbaric practice of "finning," where people slice the fins off live sharks, tossing the gasping, helpless fish back into the ocean, needs to be banned worldwide. (It already is in America.)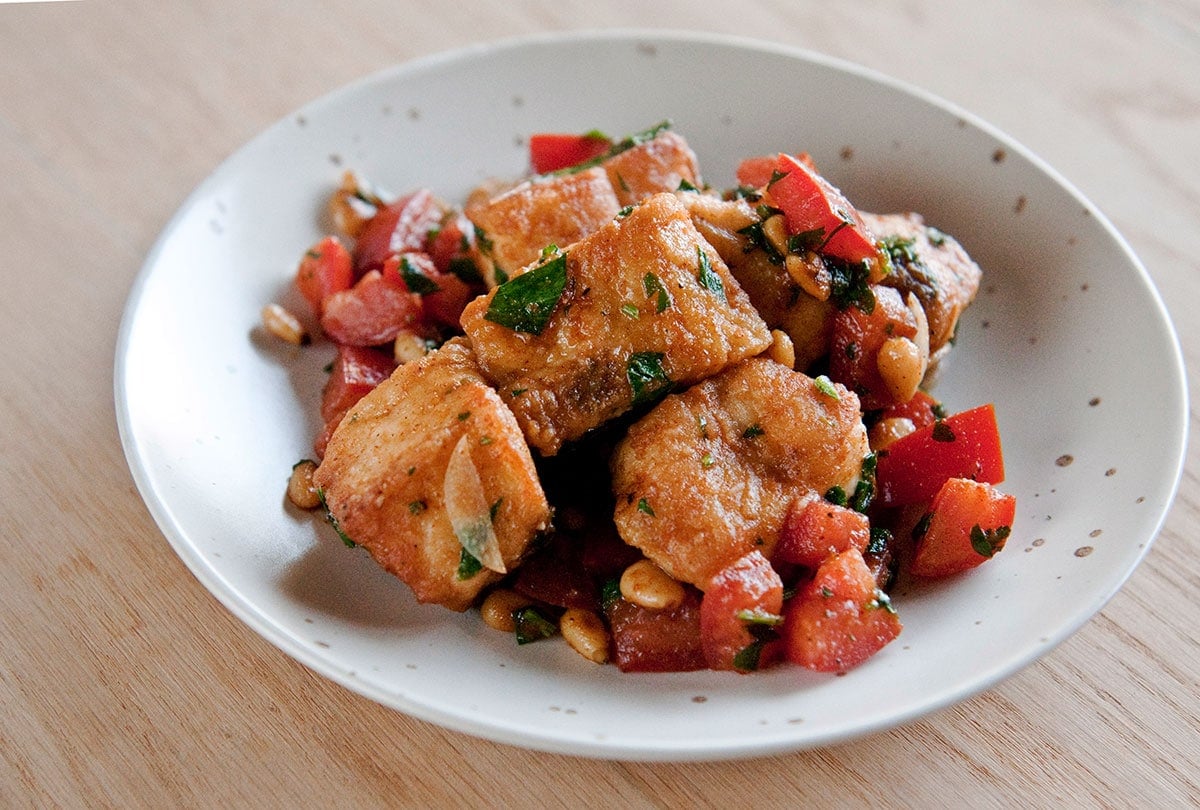 But there are lots of shark species that are doing just fine, and indeed there are healthy recreational fisheries for them on all our coasts.
And, according to Seafood Watch, which monitors the sustainability of commercial fisheries, several species you can buy in the store are listed as "Good Alternative," and dogfish caught by trawling on the West Coast is even listed as a "Best Choice."
For us in the West Coast, we mostly catch soupfin sharks, dogfish and leopard sharks, with the occasional thresher and seven-gilled shark here and there. Easterners will be most familiar with dogfish, bonnethead sharks, lemon sharks and occasional bull sharks. All can be amazing table fare, none are threatened or endangered, and all can be used for this shark recipe.
Anglers reading this need to think about fish care. After all, many sharks can stink of ammonia if poorly handled, rendering them unfit to eat. This is what you need to do if you want to eat a shark you catch:
Bonk it when it comes over the side.
Slice the gills to bleed the shark, and hang it over the side for a bit by running rope through the mouth and out the gills.
Gut the fish after a few minutes of bleeding (use the stomach contents as bait for the next shark)
Get the shark on ice ASAP. This is hugely important.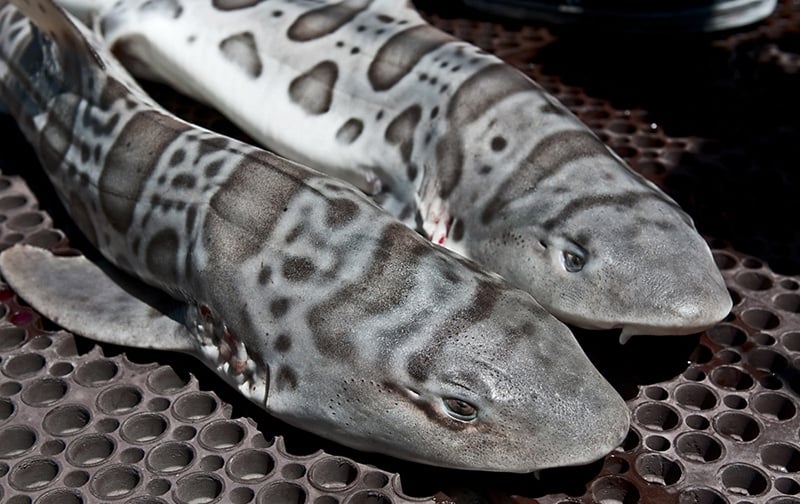 I happen to love catching and eating leopard sharks, although I only do it once or twice a year, and I don't keep females. I firmly believe in wise use of this resource, so we can all keep catching sharks long into the future.
Why bother eating sharks? Because their meat is, well, meaty. Very firm, snow white and savory in the way the meat of a striped bass is. Shark loves to be fried.
Which leads us to this shark recipe.
This is a knockout dish. I read about something called tiburon con pasas y pinones in Calvin Schwabe's classic book Unmentionable Cuisine. That book has no real recipe, just ingredients. So I made it up from there. The dish Schwabe describes has both pine nuts and raisins in it. I don't much like raisins, so I left them out. You could put 2 tablespoons in if you'd like.
The texture differences between the shark chunks, the fresh tomatoes and the pine nuts makes this recipe interesting, and I love the way the flavors play with each other.
Have everything ready before you start this dish, as it comes together fast. Serve with saffron rice, potatoes or just crusty bread. White wine is a must with this, although an ice cold pilsner would be good, too.
Looking for another great shark recipe? Try my Italian "glutton's style" fish, which is great with shark.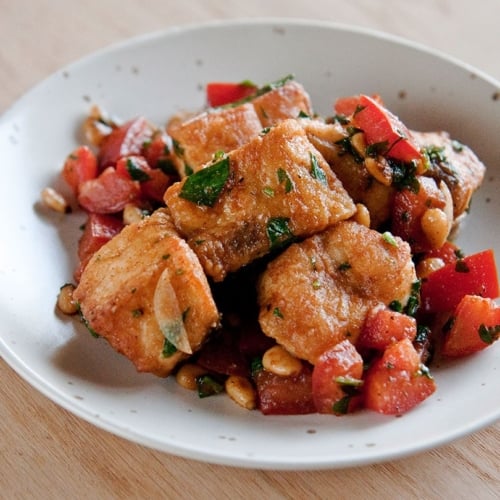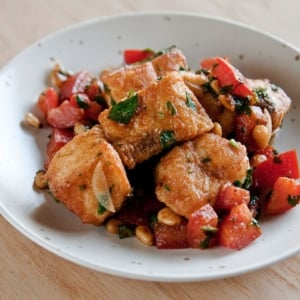 Spanish Shark with Pine Nuts and Tomatoes
Shark is a firm, white fish. I used leopard shark, but you could also use dogfish or any small shark. Other good choices would be sturgeon, tilefish, white seabass, tautog, halibut -- really any very firm, white fish you can cut into chunks.
Ingredients
1 1/2

pounds

skinless fillets of shark or other firm,

white fish

Salt

Flour for dusting

1/4

cup

olive oil

4

garlic cloves,

slivered

1/3

cup

pine nuts

1/4

cup

white wine

4 to 6

Roma or other paste tomatoes,

seeded and diced

1/3

cup

chopped parsley

2

teaspoons

Spanish smoked paprika

Black pepper
Instructions
Cut the shark, or any other firm, white fish, into chunks of about an inch across. Salt well and set aside.

Put a saute pan over medium heat and add the pine nuts. Toast them well. Do not walk away at this point, because pine nuts can burn in a hurry. Toss the pan frequently to toast all sides of the nuts, and to see if any are burning. Once you get a nice brown on even a few nuts, turn off the heat and pour the nuts into a bowl.

Wipe the saute pan down with a paper towel and add the olive oil. Turn the heat to medium high.

Dust the shark in the flour and saute in the oil. I cook two of the four sides well, for 2 to 3 minutes per side, and then just "kiss" the other sides to lightly brown them. Set the cooked shark on a paper towel to drain.

Add the garlic and pine nuts to the pan and saute. Add a little more olive oil if the fish soaked up too much. The second you see the garlic brown, add the chopped tomatoes and toss to combine. Grind some black pepper over everything.

Add the wine and scrape up any stuck-on bits from the bottom of the pan with a wooden spoon.

Sprinkle a little salt over the tomatoes, then add the fish back to the pan. Sprinkle with the smoked paprika and the parsley and toss to combine. Cook for only another minute or so, just to coat everything evenly. It is very important that you not cook the tomatoes so much they break down. Just a couple minutes is all they need. Serve at once. I'd recommend a nice white wine, maybe a Torrontes, or an Albarino.
Nutrition
Calories:
391
kcal
|
Carbohydrates:
6
g
|
Protein:
37
g
|
Fat:
24
g
|
Saturated Fat:
3
g
|
Cholesterol:
85
mg
|
Sodium:
97
mg
|
Potassium:
801
mg
|
Fiber:
2
g
|
Sugar:
2
g
|
Vitamin A:
1434
IU
|
Vitamin C:
16
mg
|
Calcium:
41
mg
|
Iron:
2
mg
Nutrition information is automatically calculated, so should only be used as an approximation.