Italian Glutton's Style Fish
April 04, 2016 | Updated July 28, 2022
As an Amazon Associate I earn from qualifying purchases.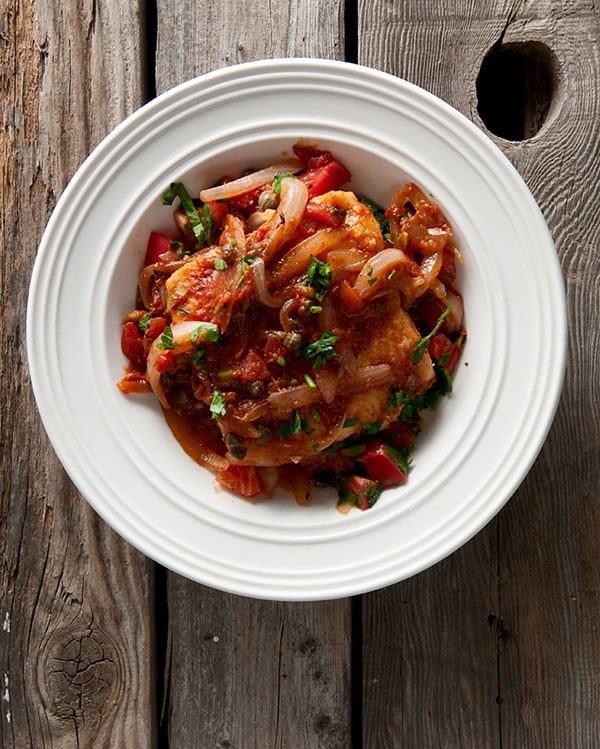 The first time I saw this dish I was entranced. It was in my colleague Rosetta Constantino's excellent book My Calabria: Rustic Family Cooking from Italy's Undiscovered South, and there this recipe is made with swordfish. It's called pesce alla ghiotta, which means "glutton's style."
Now this might not sound like something you want to be associated with — "I'd like the morbidly obese style fish platter, please!" — but think of this as something more than the infamous "garbage plate" of Rochester, New York, which is a heaping plate of admittedly good things, but it's a heart attack on a plate. Glutton's style fish is not that.
Think of it more like the famous timpano of the movie "Big Night," which, as Chef Primo says, contains "all of the most important things in the world." In this case, it is tomato, capers, olives, onions, fresh herbs and just enough anchovies to make things savory, not fishy-fishy.
If I had to describe it, which I do, I'd say this recipe's closest relative is puttanesca, or harlot's sauce. This one has many of the same ingredients as pesce alla ghiotta, tossed with pasta. Incidentally, it's called harlot's sauce because most of the ingredients are pantry staples you can grab at 4 a.m. after your, er… shift.
What does it taste like? The tomatoes are sweet and acidic, the seared onions add a bit of sweetness, too. You get rich saltiness with the olives, briny-vinegary capers, a savory undertone from the anchovies, which you can't recognize in and of themselves in the dish, all topped with the fresh, aromatic bitter of herbs. A little black pepper kicks it up a notch, to steal a line from Emeril.
That leaves the fish.
Swordfish is traditional, and I would say you'd want to use any firm fish. Ideal substitutes would be sturgeon, halibut, tilefish, monkfish, tuna, paddlefish, cobia and grouper. Any large flatfish fillet would work, like a big California halibut. Lingcod is a good choice, too. Inland, you'd want to make this with a big walleye or pike, or a slab of catfish. But honestly, it will taste good with anything other than a salmon or trout, and even then you might like it that way even though I do not.
Hell, you could even use chicken or turkey or some other white meat. Play with it. After all, as Primo says, this recipe has all of the most important things in the world in it.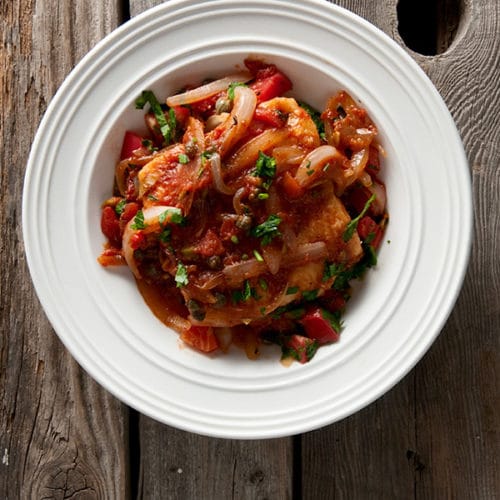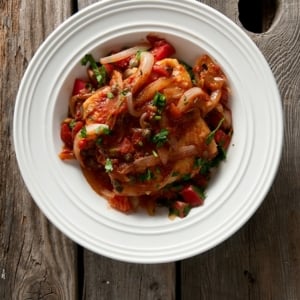 Calabrian Fish, 'Glutton's Style'
This is not quite a sauce, not quite a stew. It's a piece of fish, floured and seared in olive oil, briefly stewed with seared onions, tomatoes, capers and green olives. My version adds a little anchovy and hot chile peppers. If you are wondering how it tastes, it's a lot like pasta puttanesca: salty, savory, a little sweet-sharp from the tomatoes, a little spicy from the chiles. Damn good. Have lots of good crusty bread around when you serve to get all that sauce. A red wine would be a good idea, too.
Ingredients
1 1/2

pounds

skinless fish steaks or fillets

Salt

1

cup

semolina flour or fine cornmeal,

for dusting

4

tablespoons

olive oil

1

large onion,

sliced thinly from stem to root end

4

anchovy fillets,

mashed

1

small hot chile,

such as a Thai chile

2

or 3 tablespoons small capers

and rinsed, preferably preserved in salt

1/2

cup

chopped green olives

1

cup

crushed tomatoes

1

to 2 cups diced fresh tomatoes,

seeded

1/2

cup

fresh parsley,

chopped
Instructions
Salt the fish well and dust in the semolina flour.

Heat the olive oil in a large saute pan with a lid over medium-high heat. Sear for 90 seconds on each side -- you don't want them cooked all the way just yet. Remove the fish to a plate for now.

Add the onions and saute over high heat for 2 minutes before stirring. You want a little sear on the onions, here and there. Now stir them well, add the anchovy and chile, and cook for another 3 to 4 minutes over medium-high heat, until the onions get soft and are beginning to caramelize. Add the capers and green olives and crushed tomatoes and stir well. Add the fish back to the pan and turn to coat. Cover the pan and turn the heat to low. Cook 3 to 6 minutes, depending on how thick the fish steaks are.

Uncover the pan, add the fresh tomatoes and parsley, cover again and cook for 2 minutes more. Serve hot or at room temperature.
Notes
I have cooked this with all sorts of fish, from catfish to sturgeon, cobia to codfish, lingcod to leopard shark; the original dish uses swordfish. You want a firm-textured fish. I bet this would be equally good with chicken or turkey or pheasant.
Nutrition
Calories:
504
kcal
|
Carbohydrates:
39
g
|
Protein:
42
g
|
Fat:
20
g
|
Saturated Fat:
3
g
|
Cholesterol:
87
mg
|
Sodium:
449
mg
|
Potassium:
903
mg
|
Fiber:
4
g
|
Sugar:
4
g
|
Vitamin A:
957
IU
|
Vitamin C:
22
mg
|
Calcium:
76
mg
|
Iron:
4
mg
Nutrition information is automatically calculated, so should only be used as an approximation.