As an Amazon Associate I earn from qualifying purchases.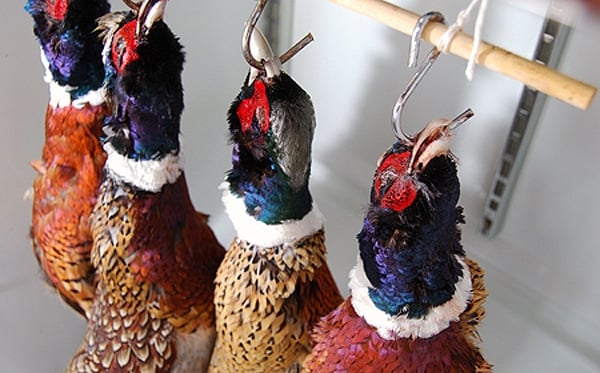 For several years after I began hunting, I recoiled at the idea of hanging game birds. The idea of hanging shot pheasants or partridges undrawn and in the feathers for days and days just did not seem terribly hygienic or sane to me. Old texts wax rhapsodic about the sublime flavor of "high" game, which usually means pheasants and usually means birds that have hung for more than a week. This, I decided, was madness.
I was wrong.
So I took a systematic look at the science of hanging pheasants and other game birds.
Nearly everyone who reads this space would probably agree with me that dry-aged beef is the finest expression of that meat. It is concentrated, savory and tender — and very expensive because dry-aging necessarily means a layer of crusty, slightly moldy ick on the outer edges of the meat. This is cut off before selling or serving.
Hanging beef and venison is important in part because these animals tend to be dispatched at about 18 months to 2 years old — old enough to get a tad tough on the teeth. Think about it: A whitetail buck sporting trophy antlers is likely to be 4 to 7 years old. Conversely, we don't hang pork because hogs are slaughtered young. Ditto with domestic chickens. Young animals are already tender, so that aspect of aging isn't needed.
Enter the pheasant. A pheasant really is a "ditch chicken." It is a close cousin of the domestic chicken and when eaten fresh has, as Brillat-Savarin puts it in his The Physiology of Taste
, "nothing distinguishing about it. It is neither as delicate as a pullet, nor as savorous as a quail."
Those who have eaten fresh pheasant — and by fresh I mean un-hung — can't help but thinking: "So what? This just seems like a slightly tough and slightly gamy chicken." They are of course correct, especially with pen-raised birds.
So for my initial experiment I put our four pheasants in the salami fridge, which is set at 55°F. One had a big open spot on it where the breast skin had been ripped, so that bird I plucked after just one day. More on him later.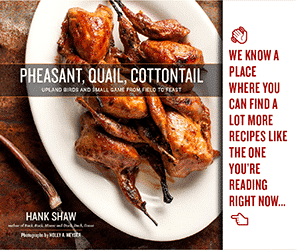 Off to the library. One of my idiosyncrasies (I have many) is that I collect game cookery books. I have many, and several discuss hanging pheasants.
The great Jean Anthelme Brillat-Savarin doesn't give a timetable, but says, "the peak is reached when the pheasant begins to decompose; its aroma develops, and mixes with an oil which in order to form must undergo a certain amount of fermentation, just as the oil in coffee can only be drawn out by roasting it." Sounds pretty hardcore.
Roy Wall wrote in 1945: "The flesh of either wild game or domesticated animals and fowl can certainly be improved by aging, but it is my opinion that there must be a limit to the aging process…aging in the open air for 10 days or a month, according to weather conditions, is, in my opinion, most beneficial to domestic and wild meat alike."
Don't freak out. Roy doesn't specify what game he's talking about there, and aging an old buck deer in proper conditions for a month isn't such a crazy idea, although I'd prolly cut it down after two weeks. More recently, Clarissa Dickson Wright — one of the Two Fat Ladies, my favorite TV food personalities — says of pheasant: "Hang it you must, even if for only three days, for all meat must be allowed to rest and mature." Clarissa's preference is a week to 10 days.
The current Authoritative Source on All Things Meat is Englishman Hugh Fearnley-Whittingstall, who in his The River Cottage Meat Book says "four or five days would be about right for me" if a bird is hung at 55°F.
This is what the food writers say, but to me that's only a piece of the puzzle. What about science?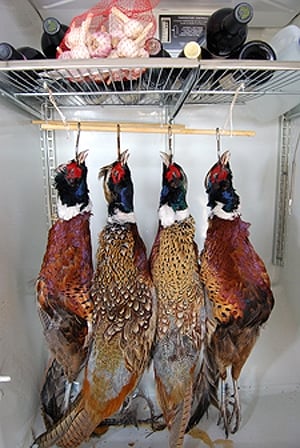 Fortunately science exists on the topic of hanging pheasants and other game birds. My best source is an Australian government publication that did some rigorous experiments. For example:
Pheasants hung for 9 days at 50°F have been found by overseas taste panels to be more acceptable than those hung for 4 days at 59°F or for 18 days at 41°F. The taste panels thought that the birds stored at 59°F were tougher than those held for longer periods at lower temperatures. Pheasants hung at 50°F became more 'gamy' in flavour and more tender with length of hanging.
Aha! One issue solved. Food writers rarely talk about temperature of hanging because most of them think about hanging pheasants outside, which is fine if you don't live in Arizona, Louisiana, Texas or California; even in autumn it is often too warm to properly hang game. It seems 50°F is ideal, and the 55°F my fridge is set at is acceptable.
Furthermore, an English study from 1973 found that clostridia and e. coli bacteria form very rapidly once you get to about 60°F, but very slowly — and not at all in the case of clostridia — at 50°F.
That same study found that field care of the birds is vital. Under no circumstances should you allow pheasants to pile up in warm conditions because doing so will slow cooling so much that the dead birds will develop bacteria in their innards. This is no bueno.
All the bacteria and taste tests converge on two things: 50 to 55°F and 3 to 7 days. That's your takeaway, folks.
Left undiscussed is the importance of feathers and innards. Brillat-Savarin speaks about a mysterious "oil," and Wall talks about bacterial decomposition. Here's my take: The feathers provide protection for the skin against drying out during aging. Pluck the feathers right away and you can still age the bird, but the skin will be unacceptably dried out and unusable.
As for the guts, I am on the fence here. I think they do add something: Fish guts will affect the fillets because of the animal's digestive enzymes. No reason to think land animals aren't the same way, although at 50 to 55°F this is going to take some time to develop — for what it's worth, a pheasant's body temperature runs about 105°F.
Yet, when I plucked and gutted my experimental pheasants I noticed two things: One, they were pretty dry inside, and two, the innards in three of the four birds looked fine and wholesome, not ratty and stinky. Maybe this je ne sais quoi does not appear until later.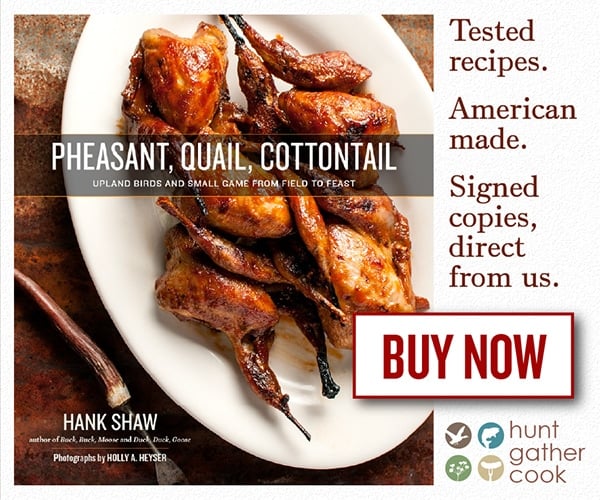 All of which brings me to my own experiments with hanging pheasants. Like I mentioned before, I had one damaged bird I let hang for only a day. This bird's body was drier and tighter than a fresh-killed bird, and I dry-plucked it because of the damage.
This pheasant went into a pheasant and pork pie, which turned out to be an outstanding dish. Hat tip to Fergus Henderson for the inspiration on this one. How was the pheasant? I noted two things: One, the bird browned better (less moisture?), and it was more flavorful — even after just one day.
That left three birds. I plucked the next one at three days. This is the beginning of the sweet spot in the Australian study. I noticed that this bird was pretty limp, but there was no bad smell and the fat and giblets looked pristine. I was, honestly, pretty shocked. I jointed this bird because that's what I do with most pheasants; the legs and thighs always need more time than the breast.
The aging really came into play with the breast. It was soft, not unpleasantly so, but definitely less firm than the day-old bird or a fresh one. Then it hit me: These pheasants were pen-raised and had only been wandering around wild for days or weeks (months at the most). They were all young birds. I had originally planned to leave one bird for a full week, but scotched that idea immediately. I plucked the next two birds at 3 1/2 days and 4 days. I kept both whole.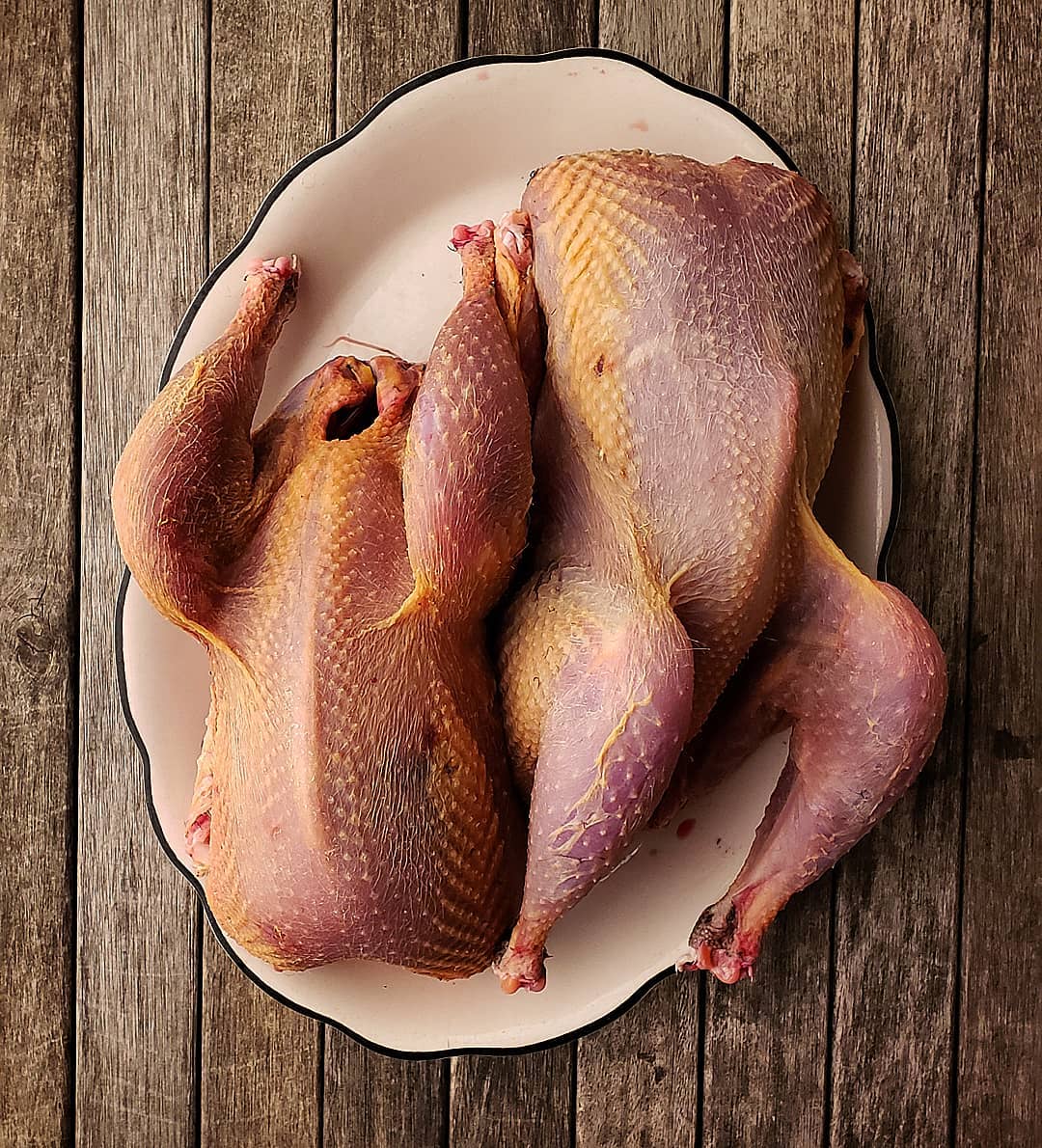 I've since done experiments on old roosters and they can be successfully aged for a full week. In fact, if you get an old, wild pheasant, 3 days would be a minimum for proper aging.
This of course with other game birds. Over the years I've come to these conclusions on hang time:
Pheasants, grouse, partridges, turkeys and geese I will hang 3 to 7 days, depending on how old they were. If you hang turkeys or geese you must eviscerate them, as they retain too much heat otherwise.
Pen-raised pheasants, all quail, woodcock, snipe and ducks I only age 1 to 3 days, again, depending on size and age. The smaller the bird and the younger the bird, the shorter the hang time.
And, to be honest, I rarely age my waterfowl this way anymore. If I want to age them, I do so in the fridge. The problem with ducks and geese is their down: It causes the birds to retain heat too long, and I end up getting a bit of gangrene on their butts, which is no bueno.
A few things you should know. Don't try to wet-pluck an aged game bird as I instruct you to here. You must dry-pluck these birds because the skin gets looser and scalding did not seem to help one bit with the feathers. It was a major bummer to scald one bird and rip some of the skin. Dry-plucking, you should be warned, sucks. It takes forever, but is worth it for the results.
To eat the giblets or not? I'd say go for it for birds up to three days, if they have not been shot up. Any sign of ickiness in the innards and toss them at once. One way to tell if you are unsure is to render the fat the way you would with a duck. If it stinks, toss it.
So, to wrap up, here's what I found:
Keep your birds as cool and as separate as possible in the field. Use a game strap, not the game bag in your vest. Separate your birds in the truck or put them in a cooler — do not get them wet!
Hanging your birds by the neck or feet does not matter, as several studies has shown.
Hang upland birds between 50 to 55°F for at least three days, up to a week with an old rooster. Old roosters will have horny beaks, blunt spurs and feet that look like they have been walked on for quite some time. They will also have a stiff, heavy keelbone. Hen pheasants only need 3 days.
Do not hang any game birds that have been gut-shot or are generally torn up. Butcher these immediately and use them for a pot pie.
Dry-pluck any bird that has hung for more than 3 days.
Wash and dry your birds after you pluck and draw them. Only then should you freeze them.