Sharptail Grouse, Prairie Style
April 13, 2011 | Updated October 28, 2020
As an Amazon Associate I earn from qualifying purchases.
Sharptail grouse is distinctive, unique — and strong-tasting. It is not to everyone's taste. Unlike most upland game birds, sharpies have dark meat like ducks or doves, and that meat is decidedly gamey. Almost funky. You have to either embrace it or run screaming.
Those who prefer skinless chicken breasts will run screaming. But those of us who like our meat to taste like something can linger over the beguiling taste of this bird, which is native to our Great Plains, for long moments, wondering where this bird has been all our lives. The flavor is acquired, but addicting.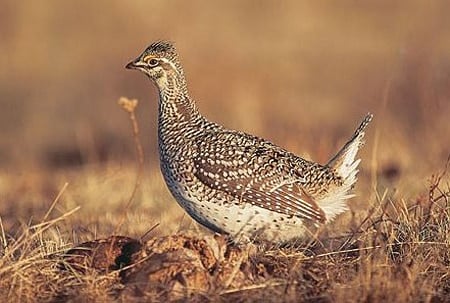 Holly and I shot our first sharpies this past season in North Dakota, which is one of the best places to hunt them in North America. We've eaten all but a final brace of our grouse, and I wanted this last sharpie meal to be something special.
I also wanted to see if I could overcome something weird that happens to sharptail grouse meat: It goes from a pretty pink to gray in a heartbeat. Unlike any other meat I've ever worked with, the color change is nearly instantaneous. The breast meat can still be juicy and tender once it turns gray, but the color becomes less than appetizing. The answer to this problem is to cook it sous vide.
Sous vide, a water oven, lets you cook at a precise temperature, and, because you use your vacuum sealer to seal the food in, you can also get some dramatic effects with flavor on the meat. The pressure of sealing makes it like a power marinade.
The Plains Indians call the sharptail grouse the "fire bird" because it relies on huge prairie fires to keep its habitat in good shape. So I decided to call my dish "Prairie Fire Grouse," and make smoke a big component. But since this is kind of a cheffy dish, I was not going to just toss the grouse into the smoker. Smoked salt, however, gives me close to the same effect, especially when it is sealed in with the meat as it cooks.
Whenever I try to figure out what to serve with wild food, I think about something the great British chef Marco Pierre White once said: "Nature is the artist. The chef is just the technician." What goes together in life will go together on the plate. That idea provides the road map to the final dish.
For starters, these sharpies had been eating rose hips. So I decided to make a rose hip gastrique by melting rose hip jelly with salt and vinegar and glaze the grouse with this.
I knew grain would have to be in here somewhere, as North Dakota is one of those "amber waves of grain" states we all sang about in grade school. So I made a stock from the rest of the grouse (I was only using the breasts in the recipe) and cook farro in it; farro is an ancient form of wheat. As it happens, NoDak is also one of the nation's largest producers of sunflowers — so in would go sunflower seeds, and sunflower oil.
Wild onions, which grow everywhere, would make an appearance, too, and I'd use malt vinegar — also from grain — to brighten up the flavors. Garnish? Onion flowers and some pretty purple vetch flowers growing in my yard; vetch is a relative of the bean or pea and it grows wild all over the country.
The dish looks simple, but there is a whole lot going on there.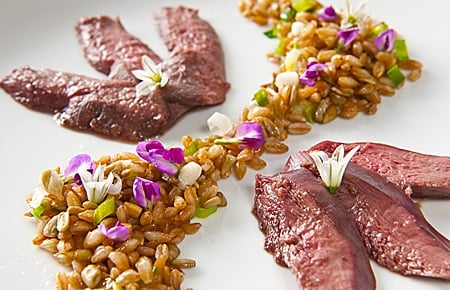 Can you make this dish at home? You can get close, with some substitutions, which I will outline below. Is it worth it? Oh, yes.
This recipe tastes as good as it looks. The grouse is meltingly tender, a little smoky and sweet-and-sour from the rose hip glaze, yet still a bit funky (because it is sharptail grouse, after all). The farro is surprisingly light, and the wheat-malt vinegar-sunflower seed-green onion mixture really, really works. The magenta vetch flowers add some beauty.
Everything on the plate is a flavor of our Great Plains. And I bet you thought it was just Flyover Country, didn't you?
Sharptail grouse, prairie flavors
To make this dish exactly as I did, you will need a vacuum-sealer and a sous vide machine -- two items that are totally worth it to own if you are a wild game cook, but which are not cheap. Don't give up if you don't have these, though, as I give you alternate directions below. Now, the substitutions: If you don't have sharptail grouse, use skinless duck breast, squab or pigeon breast, or dove breasts. If you can't get smoked salt, skip it. You can use apricot jelly in place of rose hip jelly Use cider vinegar in place of malt vinegar Use wheat berries, rye berries, barley or brown rice in place of the farro Skip the flowers if you can't find any, but remember that bean and pea flowers are just as good.
Ingredients
GROUSE
2

sharptail grouse or prairie chickens

1

tablespoon

smoked salt

2

tablespoons

sunflower oil or other neutral oil
ROSE HIP GASTRIQUE
1/4

cup

rose hip jelly,

or apricot jelly

2

tablespoons

white wine vinegar

1/4

teaspoon

salt
FARRO
1 1/2

cups

farro or wheat berries

1

quart

stock or broth

(any kind)

1

teaspoon

smoked salt

1

teaspoon

regular salt

2

tablespoons

sunflower oil or other neutral oil

4

green onions,

white parts and green parts separated

3/4

cup

shelled, roasted sunflower seeds

1

tablespoon

malt vinegar

Onion or vetch flowers to garnish

(optional)
Instructions
Coat the grouse with the sunflower oil and sprinkle with the smoked salt. Seal in a vacuum bag and cook sous vide at 138 degrees for 30-50 minutes. If you are not cooking the grouse sous vide, wait to cook it until after the farro is done.

To make the gastrique, melt the jelly in a small pot over medium heat, then whisk in the vinegar and salt to combine. Turn off the heat and set aside.

Bring the stock to a boil, add both salts then the farro. Simmer this gently until the grains are tender, about 30-40 minutes. Drain the farro and discard any remaining stock, or use it in another recipe.

Heat the sunflower oil over medium-high heat in a large saute pan and saute the white parts of the green onions for 1 minute, stirring often. Add the cooked farro and the sunflower seeds and toss to combine. Add salt to taste. Turn off the heat and cook your grouse if you are not cooking it sous vide.

To finish the grouse, take it out of the vacuum bag and let it rest a couple minutes, then slice it thin. Do the same if you've sauteed the breast. Bring the rose hip gastrique to a boil, turn off the heat and pour it over the grouse slices. Toss well and serve.

To finish the farro, turn the heat on to warm it through, then toss in the green parts of the onions and the malt vinegar and serve at once.
Nutrition
Calories:
669
kcal
|
Carbohydrates:
83
g
|
Protein:
24
g
|
Fat:
28
g
|
Saturated Fat:
3
g
|
Cholesterol:
36
mg
|
Sodium:
3587
mg
|
Potassium:
673
mg
|
Fiber:
14
g
|
Sugar:
14
g
|
Vitamin A:
657
IU
|
Vitamin C:
5
mg
|
Calcium:
54
mg
|
Iron:
3
mg
Nutrition information is automatically calculated, so should only be used as an approximation.