Roast Grouse and Minnesota's Glories
November 06, 2009 | Updated October 29, 2020
As an Amazon Associate I earn from qualifying purchases.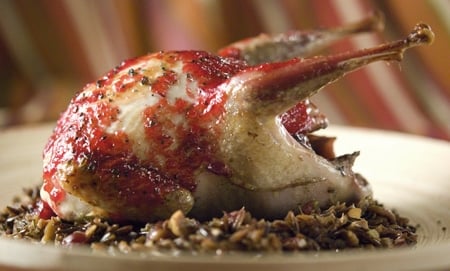 I've met many here in California who think that all good things can be had in our Golden State, where the magic of fresh and local and seasonal cooking is strongest. They're wrong.
Just five years after Alice Waters opened Chez Panisse, a similar restaurant opened in chilly Madison, Wisconsin, called L'Etoile. Just as Waters' mantra was (and is) fresh-local-seasonal, so it was with Odessa Piper. I first ate there as a graduate student in 1992 and was, frankly, shocked at such good food so far from my home in New York. Piper has retired, but L'Etoile lives on and is still a giant of Midwest restaurants.
I mention this little history lesson to make this point: It requires far more skill and imagination to be seasonal and local in a place like Madison, where winter temperatures can drop to -30°F, than it is in Berkeley, where it rarely, if ever, actually freezes.
With that skill and imagination, the Upper Midwest becomes a treasure trove of magical ingredients that are all-but unobtainable if you are a California locavore: Wild rice, hickory and butternut, walleye, yellow perch and wild currants to name a few. As a hunter and forager, I can add others, none more important than woodcock and ruffed grouse.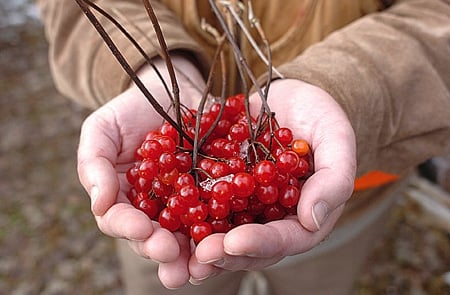 These are high bush cranberries (not actually cranberries), a member of the viburnum family. They taste like cranberries, however, and are softer and sweeter after a frost — you can see the snow on the ones in my hands. Very tart, the berries need sugar to balance them out. But they make a great glaze for the grouse.
I also saw tons of mushrooms while walking in the woods, and noticed that most of the grouse we flushed had been eating catkins off hazel bushes. My friend Chris, who I was hunting with, said these bushes will set little hazel nuts the size of your pinkie finger, but the bears usually get them first; we saw a lot of bear shit around, too.
Mushrooms… Hazel nuts… Grouse… I decided to invent a Minnesota North Woods pilaf to go with roast grouse. Many of my decisions about this meal (and other wild meals) I made using a slightly grisly method: As I cleaned and plucked the grouse, I opened up their crops and looked inside.
A bird's crop is a sac at the base of its throat that stores whatever it eats until the muscular gizzard can grind it up enough for the bird to use it as nutrition. These grouse all had viburnum berries, hazel catkins, clover and strawberry leaves in their crops. Ideas for later.
Grouse are not corn-eating pheasants. I might serve pheasants with polenta, but I would never do that with a ruffed grouse. They are woodland birds and need to be treated that way. The pilaf, I decided, would look like the duff on the forest floor — only tasty.
As for the grouse themselves, plucking them is difficult. Most hunters skin them, as it is far easier, but I couldn't bear to lose that skin, which adds flavor and protects the meat from drying out. If you have grouse and want to pluck them, follow my instructions for plucking pheasants, only dip your grouse for 20 seconds at a time, not 30. If you do it right — be patient! — you should get a lovely plucked grouse.
The woodland pilaf — wild rice, toasted hazelnuts, shallots, maitake mushrooms, cranberries, rosemary, shallots and butter — needed a good 50 minutes to come together. It wasn't the most colorful dish I've ever made, but it fit: It really did look like the forest floor. It all came together nicely.
How can I describe the flavor of a roast grouse? The first words that spring to mind are "funky" or "gamey," but in a good way. There is an aroma to grouse that I've never encountered before, and, just like roast pigeon, the legs and thighs have the best flavor by far. The breasts remained fairly tender, and tasted closer to "chicken," although the grousey aroma and flavor was still there.
The woodland pilaf brought it all together. Earthy, dark and welcoming, it was quite the bed for the grouse to rest on. The hazelnuts had softened and became meaty, and the crushed maitake mushrooms melded with the wild rice to create a texture and flavor that's tough to describe; al dente pasta comes closest. The balsam notes from rosemary and the tart craisins tied it to the grouse above. And the butter gave it a proper North Woods richness.
No matter where you live, flavors are all around you; all you need to do is put them together.
Simple Roast Grouse
A simple roast grouse is no simple thing. No cook ever has an abundance of ruffed grouse — and it is the forest-dwelling ruffed grouse I am talking about here, not the sharptail of the Great Plains (if you have them, instructions on how to roast a sharpie are here) Even if you do have a bunch of ruffies, it would be a sin against God and Nature to waste them. Grouse are not to be trifled with. The cardinal rule with grouse is don't mess with it. Roast it simply, add a sauce that compliments it, and enjoy.
Ingredients
2

grouse,

plucked and whole

3

tablespoons

unsalted butter

1

lemon

Salt and pepper
Instructions
Preheat oven to 450°F. Remove grouse from the fridge and pat dry. Let stand at room temperature for 30 minutes while the oven is heating. Halve the lemon and stick each half into the grouse. Smear butter all over the grouse, including a small knob in the cavity and under the neck where the crop once was. Use more than you think you need, at least a tablespoon per grouse, preferably two.

Place the birds in a roasting pan or cast-iron frying pan and roast for 15 minutes. Turn the heat down to 350°F and turn the grouse on one side. Baste it thoroughly with the melted butter in the pan. Roast for another 10 minutes. Repeat by turning the grouse on the other side. Be sure to baste again. Roast for 10 more minutes.

Remove the birds from the oven and let rest on a cutting board, covered in foil, for 10 minutes.
Notes
I like to brine my birds for up to 8 hours before roasting them. Make a brine of 1/4 cup kosher or pickling salt and 1 quart of water. Submerge the grouse in this for at least 2 hours. Four hours is good, and 8 hours is on the edge. If you leave them too long they get very salty. For the pilaf recipe, use either the pilaf I make with Roast Duck or the pilaf I make with venison. Both are excellent.
Nutrition
Calories:
898
kcal
|
Carbohydrates:
5
g
|
Protein:
126
g
|
Fat:
38
g
|
Saturated Fat:
11
g
|
Cholesterol:
45
mg
|
Sodium:
243
mg
|
Potassium:
1955
mg
|
Fiber:
2
g
|
Sugar:
1
g
|
Vitamin A:
525
IU
|
Vitamin C:
29
mg
|
Calcium:
139
mg
|
Iron:
31
mg
Nutrition information is automatically calculated, so should only be used as an approximation.