Venison Steak with Wild Rice Pilaf
February 04, 2015 | Updated March 24, 2020
As an Amazon Associate I earn from qualifying purchases.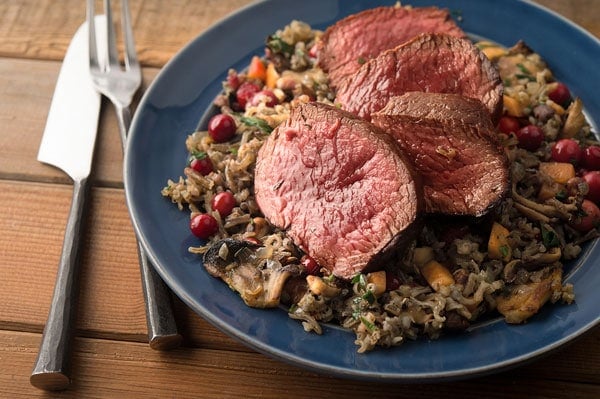 This venison steak recipe is something of a scattered, random dish that happened to work out really well. The "teachable moment," if there is one, is to think about all those things that make up a good plate of food when you are freestylin'. Let me walk you through it.
First, I had some nice backstrap from a red deer a friend in Texas gave me. I didn't want to do anything to it but give it a simple sear, it was so nice. So, built around that, I thought about what I wanted on the plate to go along with the meat.
Wild rice was a natural. Wild rice and American game (and yes, I realize the irony of using it with a non-native deer) just works, and I happen to have some real-deal wild rice from Wisconsin.
If you've never had it, real wild rice is a) actually wild, and b) cured differently from farmed wild rice. It's got longer grains and is parched over smoke, which adds flavor. It also cooks faster. If you don't live in the Upper Midwest, good luck finding it in stores, but you can buy real wild rice online. And yes, regular store-bought works fine, too.
Moving on, I happened to have some nice hen of the woods mushrooms kicking around, so they went in. Why? Mushrooms are another natural with venison, and with wild rice. What I am getting at here is a concept chefs call "bouncing flavors." The more things you add to a plate, the more complicated everything gets.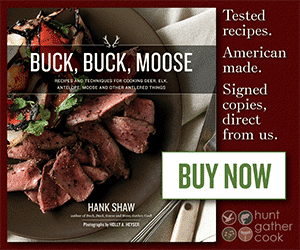 For it all to work, every single thing on the plate must play well with every other thing — otherwise you can get a weird bite that puts you off, and that will sour you on the rest of the dish.
There's a great book that helps you do this called The Flavor Bible, which essentially consists of lists of ingredients with other ingredients that work well with them. Almost every chef I know owns this book, and while necessarily incomplete — as any such book is bound to be — I still find it invaluable years after its publication.
The rest of the dish came together easily. Onions fried in butter? A gimme. Cranberries? I love them, both for color and for tartness and for their ability to play well in savory dishes. Persimmon? I took a flyer on that one, but it worked. Nice color and a crispy, gently sweet flavor definitely added something. Absolutely necessary? Not as such, but even an apple or pear treated the same way would have worked (and are easier to find).
The last bit, the hazelnuts, came when I thought about the textures in the dish. We all know what rice and steak feel like when we eat them. Cranberries snap and pop, the persimmon is firm. I needed a definitive crunch. Nuts are very common in a pilaf, so I went with some wild hazelnuts I had around. Walnuts would have worked, too, as would pistachios.
The takeaway to all this is to think about "bouncing flavors" when you are winging it in the kitchen. Think about color, about flavors that work together — even if they might seem unusual at first — temperature and texture.
The more you do this, the more successful you will be as a cook. Think about your mom, or your dad, or your grandmother. Old school, traditional cooks are so good at bouncing flavors because they've cooked for many years. They've internalized a lot of what I've just ran through.
Some of you are already there, others are still on your way. Wherever you are, enjoy your time in the kitchen!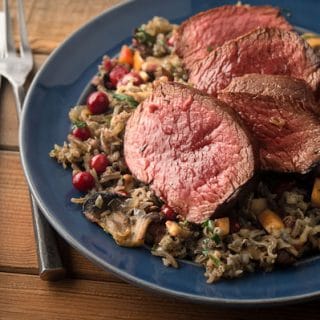 Venison Steak with Wild Rice Pilaf
This is a free-form pilaf if you think about it. The general idea is to have a mix of savory things, like mushrooms, something crunchy, as in hazelnuts, something tart (the cranberries) and something fruity, which is where the persimmon comes in. No persimmons around? Use a firm apple or pear, just toss the pieces with a little lemon juice so they don't get brown. I do this with a length of venison backstrap, but you could use any sort of venison steak. Just make sure it's free of connective tissue and silverskin. To drink? A big malty beer like a Scottish ale or a German dunkelweiss, a good red wine or even a rich white, like a white Burgundy or Cotes du Rhone.
Ingredients
1 1/2

pounds

venison steaks

Salt

1

cup

wild rice

3

cups

venison or beef stock

1/2

pound

mushrooms

(maitake, hen of the woods if you can find them)

6

tablespoons

unsalted butter,

divided

1

onion,

chopped

1/4

cup

chopped hazelnuts

1

cup

cranberries

or 1/4 cup craisins

1

fuyu persimmon, peeled and dived

(optional)

1/4

cup

chopped parsley

Black pepper

Squash seed oil, for finishing

(optional)
Instructions
Take the venison out of the fridge and salt it well. Let it sit on the cutting board while you make the rice and such.

Cook the wild rice in the beef broth. You might need to add a cup of water or so, depending on how old your rice it. Also, real, traditional wild rice cooks in half the time as typical store-bought, and it requires less water. If you have the real stuff, use 2 cups broth and 1 cup water. Cook the rice until tender and drain.

Put the mushrooms in a large frying pan or saute pan and turn the heat to high. Dry saute the mushrooms, shaking them frequently, until they sizzle and begin to give up their water. When they do, boil off this water. When it's almost gone, add 2 tablespoons of the butter and saute until the mushrooms begin to brown. Salt them as they cook. Remove and set aside.

Add the chopped onions to the pan as well as another 2 tablespoons of butter. Saute on medium-high heat until browned on the edges, about 6 to 8 minutes. Remove the onions and put them with the mushrooms.

Add the remaining 2 tablespoons of butter to the pan. Dry the venison with paper towels and add it to the pan. Sear the venison medium-rare. How long this will take depends on how thick the venison is. Use the finger test for doneness to determine how done you want your meat. Take the meat out and let it rest.

Turn the heat to medium-low and add back the mushrooms and onions to the pan. Add the remaining ingredients except for the squash seed oil (if using) and toss to combine. Heat this just until everything is warm, then divide it onto people's plates. Grind some black pepper over everything. Slice the venison thickly and serve, drizzled with the squash seed oil.
Nutrition
Calories:
656
kcal
|
Carbohydrates:
41
g
|
Protein:
64
g
|
Fat:
27
g
|
Saturated Fat:
13
g
|
Cholesterol:
180
mg
|
Sodium:
465
mg
|
Potassium:
1494
mg
|
Fiber:
6
g
|
Sugar:
6
g
|
Vitamin A:
856
IU
|
Vitamin C:
12
mg
|
Calcium:
58
mg
|
Iron:
9
mg
Nutrition information is automatically calculated, so should only be used as an approximation.