As an Amazon Associate I earn from qualifying purchases.
This is a simple poached fish recipe to learn, along with tips and tricks to mastering the technique of poaching fish in wine, broth or other liquids. Virtually any fish or seafood works with this method.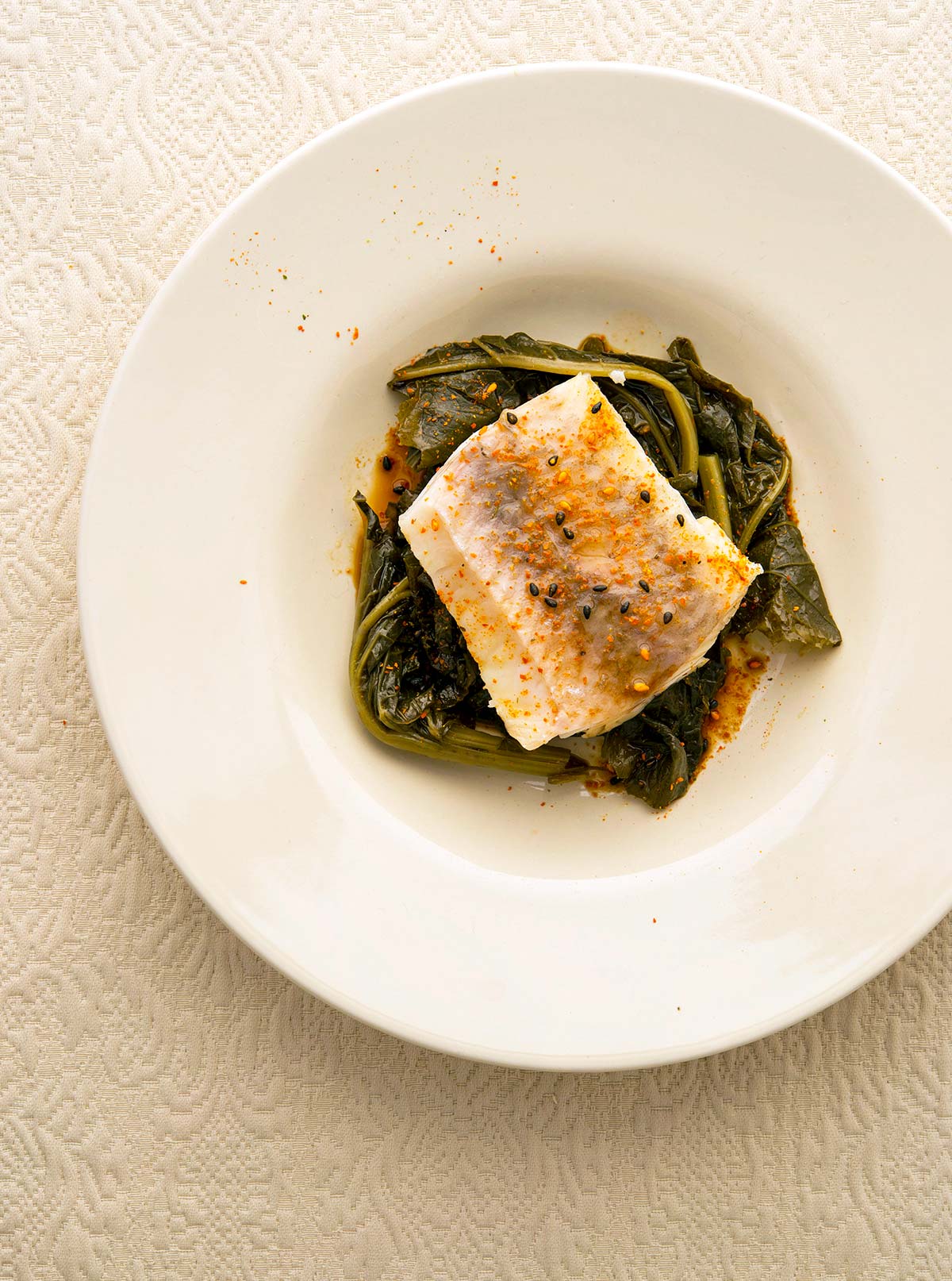 Let me start by noting that is is a recipe for fish poached in anything other than butter or oil. I have a separate recipe for butter poached fish, so go there if that's what you are looking for.
What I'm talking about here is true poaching in a liquid that isn't fatty. Sure, it could be just water, but that's borderline revolting. Literally anything works, so the choice is yours; what follows below is a Japanese-inspired recipe that I like very much.
I've seen and poached fish in everything from elaborate broths to tomato juice to wine, beer, even 7-Up and cola. They'll all cook fish, and each imparts its own flavor.
Poached Fish Basics
A general rule is that lean fish are better poached in oil, fatty fish in something like broth or sake or wine or whatever. This, as with everything in this world, is a guideline, not dogma. Butter poached salmon is amazing, as is burbot poached in 7-Up, weirdly enough…
Any good poached fish will:
Be cooked in something flavorful and aromatic
Cooked very gently
Finished with something rich – oil, fat or dairy – something sour, something salty and, if you want, a little spicy.
A plain slab of poached fish is drab. Don't be drab.
You want your liquid to be below the simmer. That's typically around 160°F. Hot enough to kill germs and parasites, but not hot enough to wreak havoc with delicate fish flesh.
Don't believe me? Try it sometime. Take two identical pieces of fish, like the fillets from one fish, and boil one and gently simmer the other. You will definitely notice the difference. Hard-boiled fish is dry and chalky. Perfectly poached fish is juicy and delicate.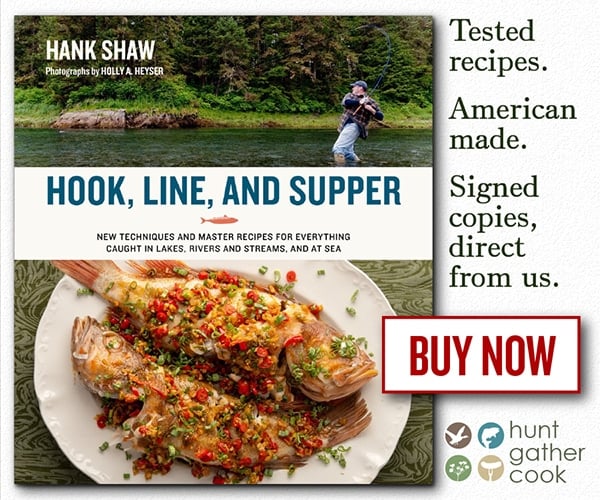 Some Tricks
Poached fish and seafood breaks up easily, so you need to move it carefully from where it cooks to where it will be served. Using two spatulas helps a lot for larger pieces.
With very delicate fish, like flounder, sole, small walleye and such, leave the skin on. Why? Because it will help hold the pieces together. Serve skin side up, and you can either a) carefully peel it off and discard, or b) sear it crispy with a torch.
Make the poaching liquid flavorful — almost too flavorful. Why? Because the fish or seafood will only be swimming in it a short time, so you have minimal time for poached fish to pick up that flavor.
To that end, much of the time it takes to make poached fish can be simmering the liquid until it's where you want it. Cooking the fish itself often takes less than 10 minutes.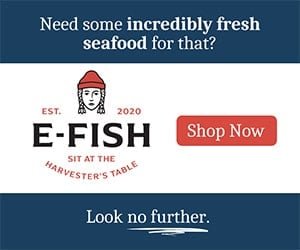 Use interesting fats at the end. This is where you bust out the fancy olive oil, or pumpkinseed oil or flavored butter. I absolutely love poached fish finished with a little Ethiopian niter kibbeh, a bright yellow, heavily spiced butter.
Go sour or spicy. You poach fish to bring out its delicate flavor and for health reasons: poached fish is arguably the most healthy way to cook fish. But you'll want a counterpoint somewhere on the plate. In the case of this recipe, I used some pickled mustard greens under the fish, along with just a sprinkle of togarashi, a Japanese spice mix.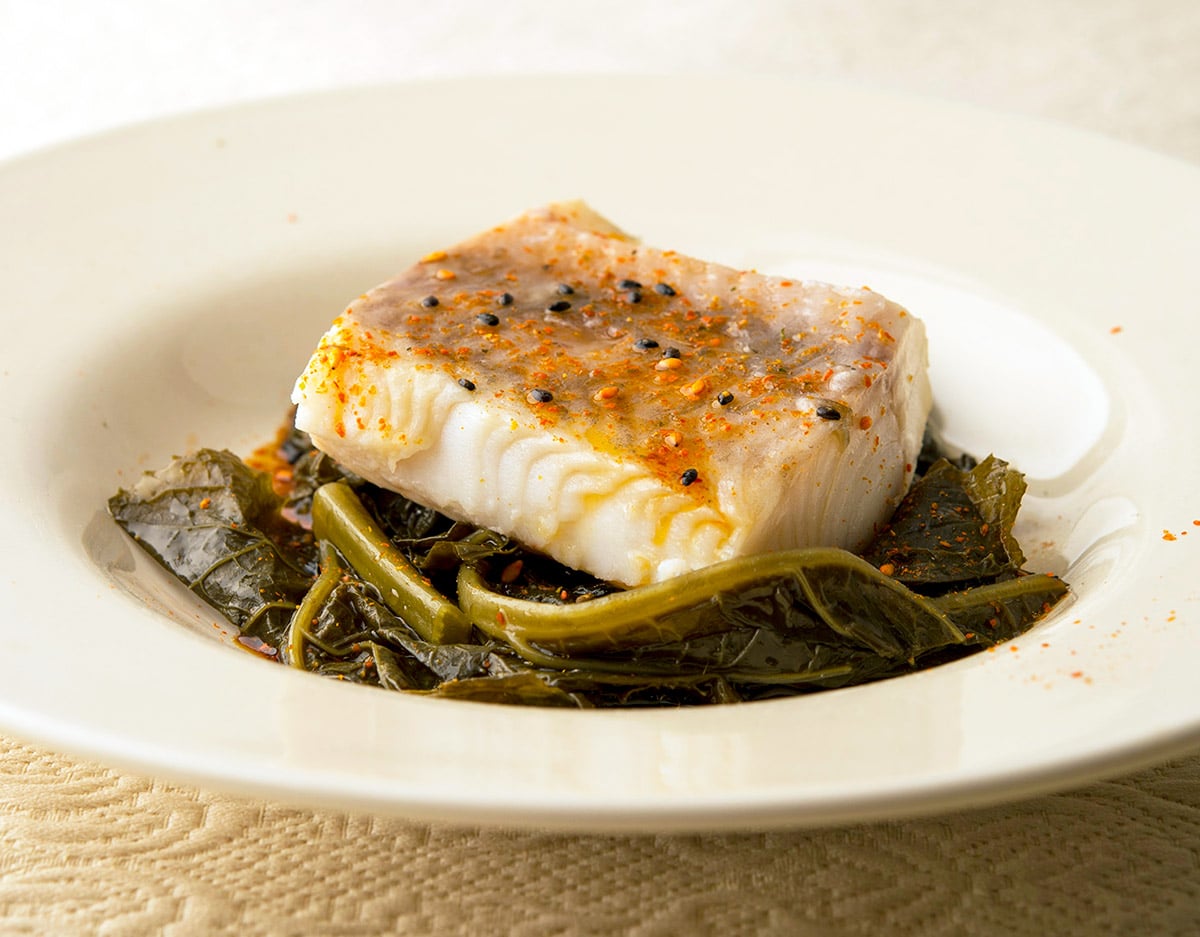 Variations on Poached Fish
Clearly this recipe has a Japanese feel to it, but you can alter the poaching liquid and finishing ingredients and get very different effects.
A British take might be to poach in a light ale – something malty, not hoppy – then add a bit of melted butter, Worcestershire and black pepper.
A French rendition would be to poach in white or rosé wine, then hit it with butter or crème fraiche, then perhaps pepper or even quatre epices.
I've seen fish poached in green tea, 7-Up, mushroom soaking water, Champagne, whey, you name it.
And obviously the classic poached fish cooking liquid is a light fish or shellfish stock, with a little wine added in for acidity.
Leftovers
If you like things like cold fish salads, or fish cakes, you might want to poach a bunch of fish and use it later for those dishes. Poached fish flakes nicely, and will keep a few days in the fridge.
Other than fish cakes or a "tunafish" salad with your own fish, leftover poached fish is great added to soups and stews, rice, or pasta.
If you liked this recipe, please leave a ⭐️⭐️⭐️⭐️⭐️ rating and a comment below; I'd love to hear how everything went. If you're on Instagram, share a picture and tag me at huntgathercook.
Use this sablefish recipe as a model for your "water" poaching adventures.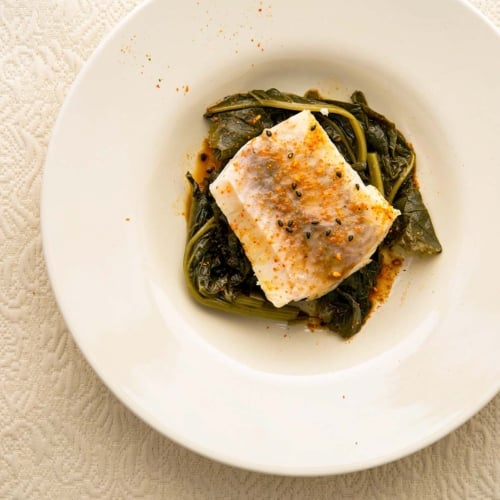 Sake Poached Sablefish
Obviously, you don't have to use sablefish, but its high fat content really shines with this method. Salmon and any other fatty fish works very well here, and lean fish or shellfish are also good.
Ingredients
1

pound

sablefish,

or other fish (see above)

2

cups

sake

1

cup

fish,

shellfish or chicken stock

3

bay leaves

Salt

Sesame oil,

soy sauce and togarashi to taste
Instructions
Cut pieces of sablefish to serve. Leave the skin on.

Bring 2 cups sake, 1 cup fish or chicken stock, 3 bay leaves, pinch of salt to a boil. Let this simmer at least a few minutes and up to 20 minutes.

Turn off heat. Set a saucer in the pot then place the fish, skin side up, on it, making sure the fish is submerged. Cover the pan and let sit about 6 to 10 minutes.

Very carefully remove the saucer, then carefully set the fish on cutting board to rest for 3 or 4 minutes. Peel off the skin.

Serve the fish with greens of your choice, (pickled mustard greens in my case), a little sesame oil, soy sauce and togarashi, which is a Japanese spice mix. If you can't find togarashi, which is in the Asian aisle in many supermarkets, toasted sesame seeds are a nice touch.
Nutrition
Calories:
296
kcal
|
Carbohydrates:
6
g
|
Protein:
30
g
|
Fat:
1
g
|
Saturated Fat:
0.4
g
|
Polyunsaturated Fat:
0.4
g
|
Monounsaturated Fat:
0.4
g
|
Trans Fat:
0.01
g
|
Cholesterol:
83
mg
|
Sodium:
377
mg
|
Potassium:
476
mg
|
Fiber:
0.02
g
|
Vitamin A:
11
IU
|
Vitamin C:
0.04
mg
|
Calcium:
22
mg
|
Iron:
1
mg
Nutrition information is automatically calculated, so should only be used as an approximation.