Pike Soup
November 27, 2017 | Updated June 06, 2022
As an Amazon Associate I earn from qualifying purchases.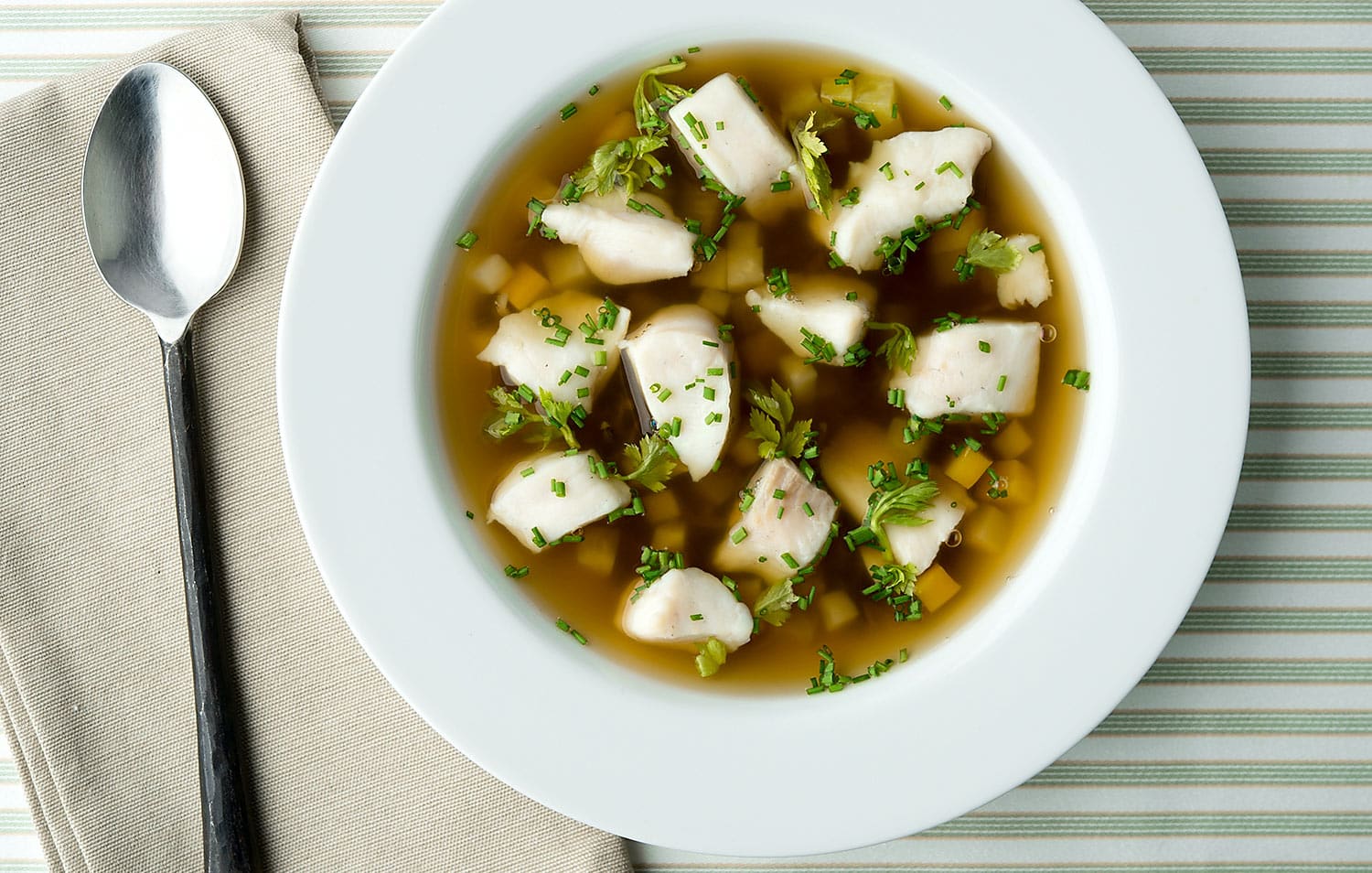 I have a thing for the North. I love the foods up there, the cold winters that require such resourcefulness. This pike soup is firmly in that tradition, a Germanic-Scandinavian style soup that uses a lot of ingredients from where I got this Northern pike, Manitoba, Canada.
I've written about the fantastic fishing trip I took to Manitoba earlier this year, and the first thing I made from that fish I brought home was classic pickled pike, which was perfect for our hot summers here in California.
Now that autumn is here, I can do more with this fish, which, to me, is a cold-weather food. Pike and tomatoes is certainly great, but I just associated northerns with cold weather. Probably it's because I used to catch them through the ice in Minnesota.
Readers of this space know my mantra when designing new recipes is that if it lived together, it will go together on the plate. As the great Chef Marco Pierre White said, "Mother Nature is the true artist, and the chef is merely the technician." In that vein, last year I created a dish I called Walleye Minot, using all sorts of ingredients I found around me in North Dakota when I was fishing for da walleye hey dere…
This dish is inspired by Manitoba. Root vegetables. Wild rice, and a seriously Teutonic clear broth I am really, really proud of. Oh, and when I say wild rice I mean real, honest-to-goodness wild rice, not the cultivated stuff grown here in California, which sucks. This is the stuff you want, and if you live in the North Country you can find it all over the place; I bought some from a gas station in Michigan once. Yes, you can use the store-bought stuff, but it ain't the same.
Make this soup on a cold day. It's a refined soup worthy of a main course on a Sunday, or a special occasion. Everything in the bowl plays well with each other, all tied together by a special broth that comes together in less than two hours. If it looks too fancy for you, read the directions below — I give you all sorts of possible shortcuts, which you can use and still make a kick-ass pike soup. But do me a favor? Make it as I suggest just once. It's worth it.
This is a weekend or date night soup, something you might see in a fancy restaurant. I make the soup in a very particular way to get it exactly the way I like it. My method keeps the broth clear and has everything cooked perfectly. Do it my way if you want it to look like the pictures.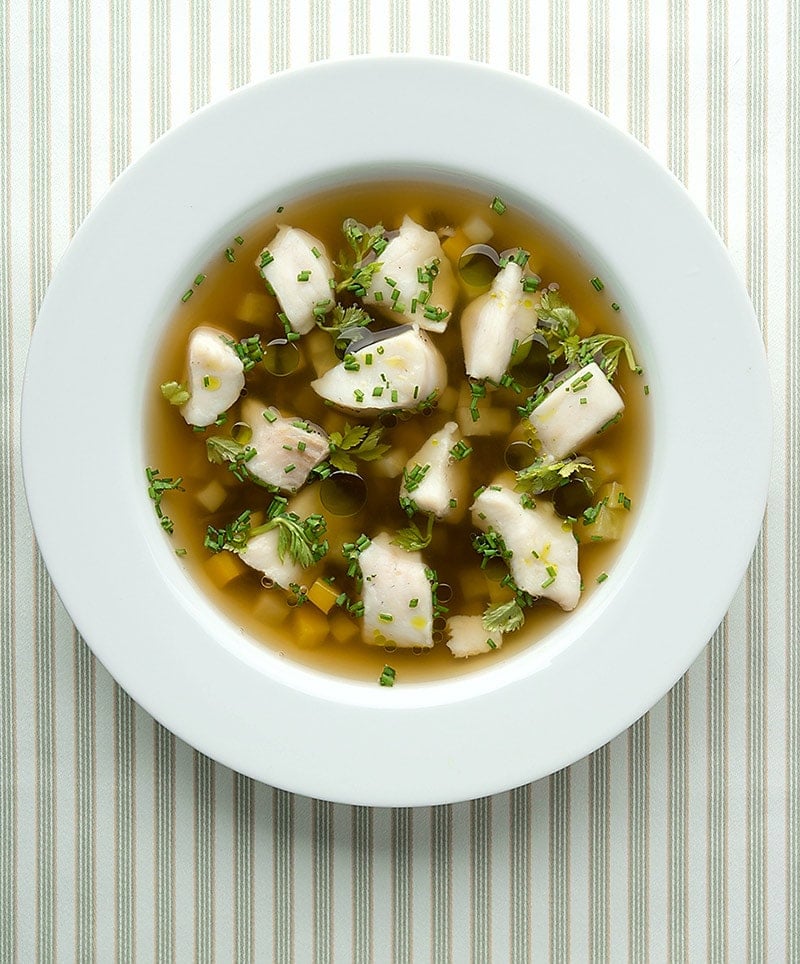 That said, you can of course make the broth and then put the rice in first, then when it's almost tender, add the diced root vegetables, then finally the pike and the garnishes. It will still taste great, but the broth will be cloudy.
Or, you can shortcut this even more by skipping the broth-making altogether and using homemade or store-bought chicken broth. The recipe will be different, but still good.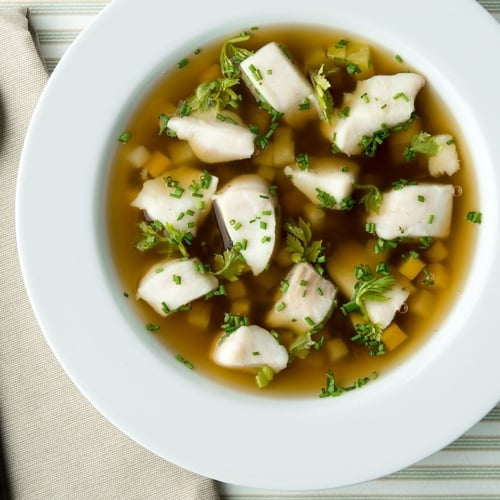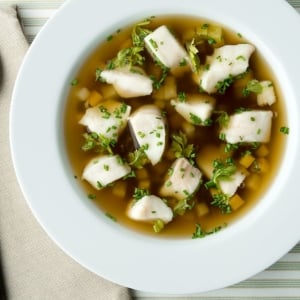 Pike Soup Manitoba
As is always, pike is not the only fish you can use with this soup. Other good options are yellow perch, walleye, smallmouth bass, burbot or codfish, haddock, Pacific rockfish, striped bass, California seabass, redfish, tautog, black seabass... you get the point. For time-saving, you can make the broth up to 3 days ahead of time. Keep the finished broth in the fridge.
Ingredients
BROTH
Carcass of a 5-7 lb pike,

gills and guts removed

Sunflower,

canola or safflower oil

Salt

1

small onion,

chopped

1

tablespoon

juniper berries, smashed

(optional)

1

teaspoon

dried thyme

1

teaspoon

black pepper

Trimmings from the roots,

see below

About 10 to 20 dried morels or other dried mushrooms,

crushed

1

cup

chicken broth

5

cups

water
SOUP
1

cup

diced celery root

1

golden beet or small rutabaga,

peeled and diced

1

cup

wild rice

Meat from the pike,

cut into bite-sized pieces

Celery leaves and chives,

for garnish
OPTIONAL DILL OIL
1/2

cup

chopped dill

1

cup

neutral oil,

such as canola or grapeseed
Instructions
Make the broth first. Pat the pike carcass dry with paper towels and coat with a little vegetable oil. Salt it well and grill it, bake it or smoke it until it's nicely browned. While that's cooking, caramelize the onion in the stockpot. Cook the onion over medium-low heat in about 2 tablespoons of the same oil you used for the fish carcass. Take your time here, as you want the onions to be nicely browned.

NOTE: If you are making the dill oil, do this while the fish is roasting and the onions are caramelizing. Put the dill and oil into a blender and puree for a solid minute to 90 seconds -- you want the mixture to heat up a little. Set a fine-meshed strainer over a bowl and pour the puree into the strainer. Let this drain untouched while you make everything else. If you find that too many solids are passing through the mesh, restart the straining process with a paper towel set inside the mesh; the oil will soak through, the dill won't.

Once the carcass and onions are nicely browned, add the remaining broth ingredients and bring to a bare simmer. Simmer for 40 minutes to 1 hour -- no longer than that -- and then strain though a fine-meshed strainer with a paper towel set inside. You want as clear a broth as you can get, although clarity is mostly for looks, not flavor. Salt the broth to taste and keep the broth hot (but not simmering) in a pot on very low heat.

Cook the wild rice in 2 cups of the broth. True wild rice cooks quickly, but if you can only find the cultivated variety (which is what is sold in most stores), add another cup of water to the stock and cook until tender. Drain the rice but keep the cooking liquid.

Use this cooking liquid to simmer your diced root vegetables until tender but not mushy. It should not take long, as they are cut small. It should take about 8 to 15 minutes. Drain the vegetables, set them aside and again, keep the liquid.

Now use the cooking liquid to poach the pike. Add a little more broth or water if you need to. To do this, bring the liquid to a boil, drop the pike pieces in and turn off the heat. Let them poach in the hot liquid for 5 minutes. Remove with a slotted spoon.

To finish the soup, divide the rice, root vegetables and fish among your soup bowls and pour over the hot broth. Garnish with the choped celery leaves and chives and drizzle a little dill oil over each bowl. Serve at once.
Nutrition
Calories:
343
kcal
|
Carbohydrates:
20
g
|
Protein:
4
g
|
Fat:
28
g
|
Saturated Fat:
3
g
|
Sodium:
48
mg
|
Potassium:
249
mg
|
Fiber:
2
g
|
Sugar:
2
g
|
Vitamin A:
240
IU
|
Vitamin C:
6
mg
|
Calcium:
33
mg
|
Iron:
1
mg
Nutrition information is automatically calculated, so should only be used as an approximation.