Pickled Sunchokes
November 16, 2012 | Updated October 29, 2020
As an Amazon Associate I earn from qualifying purchases.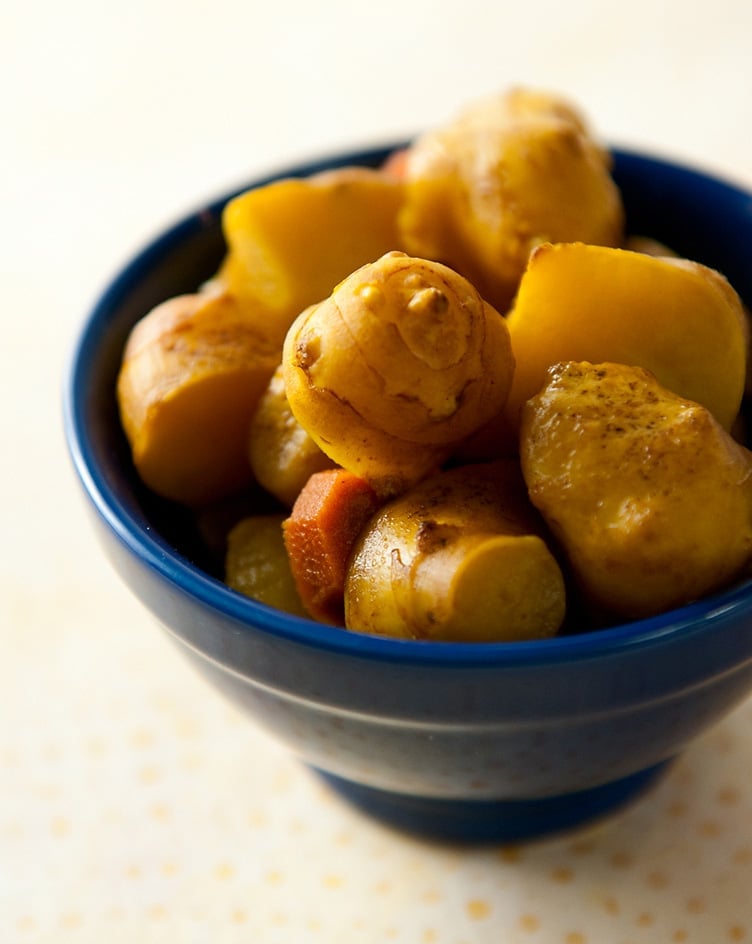 I have a love-hate relationship with sunchokes: I love their taste and crunch, but hate the explosive gas I get from them if I eat too many. Yeah, never heard of that? It's pretty awesome, especially at dinner parties…
There are ways to minimize or even eliminate the Great Fartichoke Problem.
First and foremost is to dig up your jerusalem artichokes after several frosts — after a mid-winter thaw is perfect — as the indigestible (read farty) starch inulin within the tuber slowly converts to fructose, a sugar we all know, love… and can digest.
But jerusalem artichokes start hitting the farmer's markets in November. That early in the season, the other way to keep the wind down is to make pickled sunchokes. You don't end up eating huge amounts of sunchokes this way, although I have with no ill effects.
This sunchoke recipe itself is a nod to the Moroccan style of pickles, which is strongly spiced and often sweet. It will also work with cucumbers, carrots, parsnips and parsley root, if you happen to be growing parsley root.
Pickled sunchokes are a great addition to a larger pickle plate, or an array of cured meats, and  they are nice to just munch on when you are drinking beer and watching football. Or whatever.
And it's a good side dish to go with Middle Eastern stews and couscous. Try it alongside my recipe for Venison Stew Tunisian.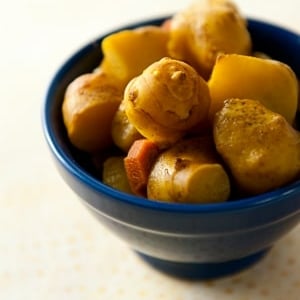 Pickled Sunchokes
The key to crunchy pickles is to use small pieces, like 1/2 inch or smaller. If you try to pickle them larger the middle of them will be soft and icky, not crunchy. If you want to use fresh turmeric root, look in Whole Foods or at Middle Eastern markets. I've made it with powdered turmeric too, and it's just as good.
Ingredients
2

to 3 pounds sunchokes

(choose small ones if possible)

Juice of 2 to3 lemons

4

cups

water

1/4

cup

kosher or pickling salt

2

tablespoons

turmeric,

or 1 large fresh turmeric root, sliced

4

cups

cider vinegar

1

cup

white wine vinegar

1

cup

water

1

to 2 cups sugar

(depending on how sweet you want them)

2

tablespoons

mustard seed

1

teaspoon

dry mustard

1

tablespoon

chile flakes or 1 dried chile per quart

1

clove

per quart

1

bay leaf per quart
Instructions
Cut jerusalem artichokes into 1/2 inch pieces and put any cut pieces into a bowl of water with the lemon juice in it -- they will discolor otherwise. When you have them all cut, mix the 4 cups water, 1 tablespoon of the turmeric (or the sliced fresh turmeric root) and the 1/4 cup salt. This is your brine. Brine the sunchokes overnight, about 8 to 12 hours.

To make the pickling liquid, mix the vinegar, sugar, 1 cup water, the rest of the turmeric (if you are not using fresh turmeric root), mustard seed, dry mustard, chiles, cloves and bay leaves (basically everything else) and bring to a boil. Stir well and let it cool to room temperature.

Get your hot water bath ready if you plan to can these. Skip this if you plan on keeping the pickles in the fridge.

Fish out a chile, clove and bay leaf from the pickling liquid and put one in each jar.

Rinse the sunchokes well, then pack into jars. Cover with the cooled vinegar mixture. Make sure to leave at least 1/4 inch of headspace if you are canning. Process in a hot water bath for 10 to 15 minutes. Wait at least a week before eating.
Notes
This recipe makes about 2 quarts. 
Nutrition
Calories:
38
kcal
|
Carbohydrates:
4
g
|
Protein:
1
g
|
Fat:
1
g
|
Saturated Fat:
1
g
|
Sodium:
1777
mg
|
Potassium:
150
mg
|
Fiber:
1
g
|
Sugar:
2
g
|
Vitamin A:
3
IU
|
Vitamin C:
1
mg
|
Calcium:
15
mg
|
Iron:
1
mg
Nutrition information is automatically calculated, so should only be used as an approximation.