Pheasant Noodle Soup
November 23, 2015 | Updated May 20, 2020
As an Amazon Associate I earn from qualifying purchases.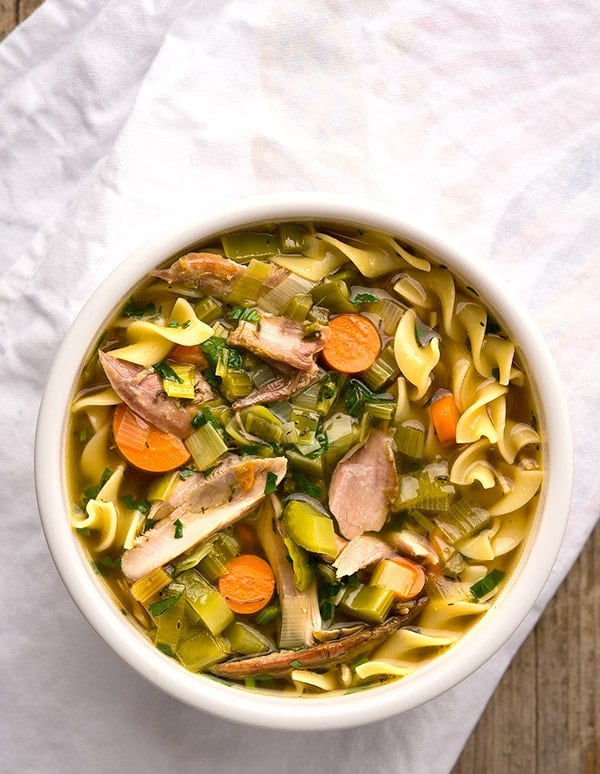 Life is a series of hits and misses, ups and downs.
Hunting, as anyone who has ever done it knows, is an imperfect art. A pheasant, in an ideal world, should be shot cleanly in the head. A quick death, no meat loss. This, sadly, is the exception rather than the rule. All of us have, well, "pillowed" a rooster or two, catching the bird in the full pattern of pellets. It is disappointing. No roast pheasant with this rooster.
So what to do? Make pheasant soup.
Pheasant soup is, essentially, chicken soup, only with a wild ditch chicken instead of a yardbird. It is equally satisfying to body and soul, a tonic for your down days, or days when the icy chill of the world — whether emotional or physical — has cut a bit too deep. My recipe is one hardwired within me, a soup I have enjoyed virtually unchanged since I could remember being me.
I came by these pheasants as a gift; my friends Cory and Bryce had arrived from Utah bearing dead pheasants. We were headed out on a duck hunt the following day, so they skinned the birds and I set them in the fridge for later.
Cory and Bryce returned home, and Sunday came. It was a chilly day that became a day of disappointment. A powerful storm blew through the area, promising a rain of ducks in our blind. It did not happen. A mallard and a spoonie were all we had to show for hours of being soaked in the elements. Oh well. Such is hunting.
Back home, I turned to make this soup without conscious thought. Roast the carcasses of the pheasants with a little oil and salt, make a broth from them. Pick off the meat, strain the broth and add new vegetables, a little wine, and the obligatory egg noodles.
Chicken noodle soup must always have egg noodles, or at least mine must. I've eaten it this way for more than 40 years, and I am not about to change now. You might prefer rice, or orzo, or something else — and that is OK by me.
Next time you have an ahem, "well shot" pheasant, or grouse or even a turkey, make this soup. Make it for your down days, make it for your children. Watch them wrap their hands around the bowl and inhale the gift you have given them. Watch them eat one bowl, two. Three. Watch them file away this moment forever. And smile.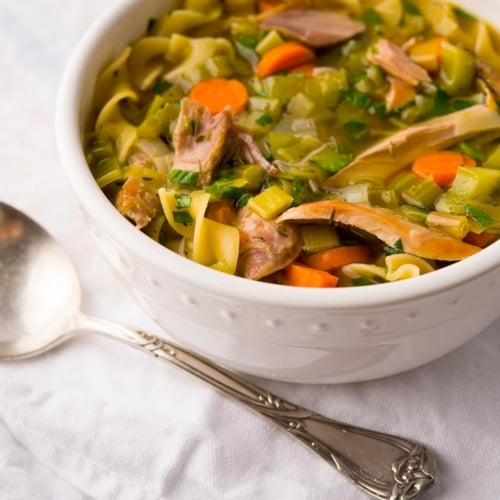 Pheasant Noodle Soup
This is my rendition of pheasant noodle soup. Everyone who makes this probably does something a little different. If you are short of pheasants, use any white meat. Turkey, rabbit, grouse, partridge or quail all spring to mind. You could even make this with fish if you were so inclined, but if you do, don't cook the broth more than 1 hour. Everything else is pretty easy to find. For me, this is a winter warmer, something to eat for lunch on a cold day. For a dinner, you might need only some bread and a salad to go with it.
Ingredients
BROTH
2

Pheasants,

breast meat removed

A little oil to coat the carcasses

Salt

3

bay leaves

2

celery stalks,

chopped

4

leeks or 1 onion,

chopped

2

carrots,

peeled and sliced into discs

1

garlic clove,

mashed

1

sprig rosemary

2

star anise pods

(optional)
SOUP
3

tablespoons

butter

White parts from the leeks

or 1 chopped onion

2

celery stalks,

chopped

2

carrots,

peeled and sliced into discs

1

bay leaf

1/2

to 1 cup white vermouth or white wine

Salt and black pepper

1

pound

egg noodles,

orzo or other soup pasta

1/4

cup

chopped parsley
Instructions
Make the broth first. Coat the pheasants with some oil and salt well. Put them in a roasting pan and roast in the oven at 400°F for about 1 hour. Remove the pheasants and put into a stock pot and just barely cover with water. Set the heat to medium-high. Pour some water into the roasting pan and let that sit for a few minutes to loosen things up. Scrape any browned bits off the bottom of the roasting pan with a wooden spoon and pour that into the stock pot. As soon as the stock begins to simmer, drop the heat to low and let this cook very gently for 2 hours.

While this is simmering, drop the pheasant breasts into the broth and let them cook gently for 20 minutes. Remove them, shred the meat and set aside.

Fish out the pheasants and pick off all the meat from the legs, thighs, wings and carcass. Set this aside and return the bones to the stock pot. Add 2 stalks of celery, 2 carrots, the smashed garlic clove, rosemary, bay leaves and the star anise if using. Separate the light from dark parts of the leeks. Chop the dark green parts and add to the stock, and slice the white and light green parts and set aside for the soup. If you're using onions, just add 1 chopped onion now. Let the stock cook another 90 minutes.

When you're ready to make the soup, you can do one of two things: You can simply set up a fine mesh strainer over the pot you are going to make the soup in, or you can properly strain your stock and use that. To properly strain the stock, put a piece of paper towel in the strainer and set that over a big bowl or other large container. Ladle the stock from the stockpot through the strainer set-up into the big bowl. This will give you a nicer, clearer broth.

To finish the soup, heat the butter in a Dutch oven or other soup pot set over medium heat. Saute the white parts of the leeks (or the onion), the final 2 celery stalks and carrots until soft and translucent, but not browned. This should take about 5 to 8 minutes. Add the vermouth and let this boil a minute or two, then add the bay leaf and about 4 to 8 cups of the stock you just made. Let this simmer very gently.

To cook the noodles, you can do one of two things: You can just drop them into your soup, which is fine but it will make the broth cloudy. Or, you can boil your noodles in some salty water and add them later. I boil mine separately because I like clear broth.

While the noodles are cooking, return all the picked-over pheasant meat (and the shredded breast meat) to the soup. Add salt and black pepper to taste. When the noodles are ready, add the parsley and serve.
Notes
Note that prep time assumes you are making broth. Once made, the broth will keep a week in the fridge. If you want to have leftover soup ready to go, undercook the noodles so they are al dente when you first eat the soup. They'll absorb more broth in the fridge and still be nice a few days later.
Nutrition
Calories:
918
kcal
|
Carbohydrates:
51
g
|
Protein:
87
g
|
Fat:
39
g
|
Saturated Fat:
13
g
|
Cholesterol:
301
mg
|
Sodium:
233
mg
|
Potassium:
1208
mg
|
Fiber:
4
g
|
Sugar:
5
g
|
Vitamin A:
6855
IU
|
Vitamin C:
28
mg
|
Calcium:
111
mg
|
Iron:
6
mg
Nutrition information is automatically calculated, so should only be used as an approximation.