Pheasant Confit
December 19, 2013 | Updated October 29, 2020
As an Amazon Associate I earn from qualifying purchases.
Many of you know about duck confit, pronounced "con-fee." It's a classic French method of slightly curing meat, then poaching it gently in fat until it is meltingly tender. With ducks or geese, it's a natural: I've confited domesticated duck legs with only the fat on the legs themselves — no added fat needed!
Upland game birds, however, being lean, require special care.
You should know that making pheasant confit takes hours, or even days if you are looking to preserve the meat for months. So why bother with it? Because the end result is so wonderful you will change your perspective on eating pheasants: Done this way, the legs and thighs of a ringneck are far better eating than the breast meat. Really.
Here's why. Start by thinking about people for a moment: The older we get, the more interesting we are. Talking to an 18-year-old is not nearly the same experience as drinking whisky with someone in her 50s, right?
Well pheasants are the same way. The meat of an old rooster, which can be several years old, will be way more flavorful and memorable than the legs of a domestic chicken, which is typically less than 2 months old.
But in this case, as in most cases, flavor comes at a price. Sinew. Tendons. Tendrils of tissue so tough you can use them as dental floss. It's as if all that deliciousness is imprisoned by those sinews. Confit is a way to deal with this.
By slowly cooking the legs and thighs, you break down an awful lot of connective tissue. By cooking them in fat or oil, and not a broth, you infuse a normally über-lean bird with luxurious fat. Not a bad thing to my mind.
Still, I am not going to lie to you: Nothing on this earth will break those tendons down completely. That means the legs of pheasants and turkeys (not so much with quail, partridges or grouse) will still be best eaten shredded off the bone. But fear not. Serve the thighs in one piece and shred the leg meat and put it into…
…well anything. A bitter green salad is a nice choice, but then so is a taco. Or you can shred, reform into patties and make into "pheasant confit cakes" that are so good you will wonder why on God's Green Acre you have not saved the legs from your pheasants before. The possibilities are myriad.
A word on the salt. You will need to measure your meat here, as the salt is added in proportion to its weight. Weigh your legs and wings in grams and then measure out 2 percent of that weight in sea salt or kosher salt. This method of curing will prevent your pheasant from getting too salty no matter how long it is in the cure.
Your best bet is to massage the salt and spices into the meat, then vacuum seal it and set it in the fridge for a few days before proceeding.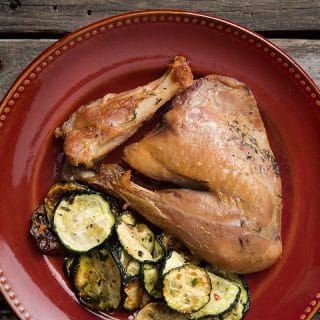 Pheasant Confit
I use a modified sous vide method for this, as it uses less fat than submerging the pheasant legs in 4 to 5 cups of fat or oil. I save up chicken fat or pheasant fat and combine it with butter, but you could also use lard or olive oil. I don't recommend using duck fat, which is traditional with confit, because I don't want a ducky flavor with upland birds. But if this doesn't bother you, go for it. Of course you can use this technique with lots of animals, and I find these flavors work well with any chicken-like bird: Chickens of course, but also turkeys, grouse, quail and partridges.
Ingredients
6

legs and thighs of pheasants,

grouse, quail or partridges

kosher salt

(see above)

1

tablespoon

dried thyme

1

tablespoon

fresh ground black pepper

Zest of a lemon, minced

(optional)

2

bay leaves

(optional)

1

cup

olive oil,

lard or butter
Instructions
This recipe works best with a vacuum sealer. If you don't have one, you should get one, as they are endlessly useful. But alternative directions are at the end. Mix the salt, thyme, black pepper and lemon zest together. Pack the pheasant legs with the mixture. Press it into the skin and exposed meat, and make sure every part has some on it. Refrigerate for at least 6 hours, and up to three days.

When you are done curing the legs, rinse them off, then pat dry with paper towels. Put on a rack to dry further while you make the vac-bags. Make two vacuum bags each large enough to hold the legs in one layer. Put a little butter, lard or oil into the bottom of each; I add about 1/4 cup. Add the pheasant legs and the bay leaves, then divvy up the rest of the fat between the two bags.

Seal the bags and and place in a large pot (the largest you have) two-thirds filled with water that is somewhere around 170°F to 180°F, which is below a simmer; you need a large pot to keep the temperature stable - the smaller the pot, the faster the water temperature will change. Poach the legs for 4 to 8 hours, flipping every half hour or so if they float. Young, tender birds (or pen-raised birds) will need only 4 hours, old pheasants might need the full eight hours.

Remove the bags from the water and plunge them into a large bowl of ice water. When they're cool, store in the fridge.

When you are ready to eat your confit, you will probably want to crisp it up. You can sear it in a pan, but that method spatters a lot. I prefer to roast the leg/thighs, skin side up, in a pan in a 400°F oven. No need to preheat the oven, just pop in the legs and cook until it is as crispy as you like, anywhere from 15 to 45 minutes.
IF YOU DON'T HAVE A VACUUM SEALER:
Rinse the cure off as above, then pat dry very, very well.

Totally submerge in oil — you will need 4 to 5 cups — and put, uncovered, in an oven set on "warm," or not hotter than 200°F. Alternatively, you can do this on a stovetop with a weak burner set on low, or with a flame tamer. Watch that the oil never sizzles. Cooking time will be about the same. When you are done, filter the oil through cheesecloth -- you can use it again.
Notes
Once made, this confit will last — sealed in its bag — for a month. It can also be frozen for up to a year.
Nutrition
Calories:
1102
kcal
|
Carbohydrates:
2
g
|
Protein:
78
g
|
Fat:
86
g
|
Saturated Fat:
17
g
|
Cholesterol:
242
mg
|
Sodium:
138
mg
|
Potassium:
849
mg
|
Fiber:
1
g
|
Sugar:
1
g
|
Vitamin A:
642
IU
|
Vitamin C:
19
mg
|
Calcium:
66
mg
|
Iron:
6
mg
Nutrition information is automatically calculated, so should only be used as an approximation.