As an Amazon Associate I earn from qualifying purchases.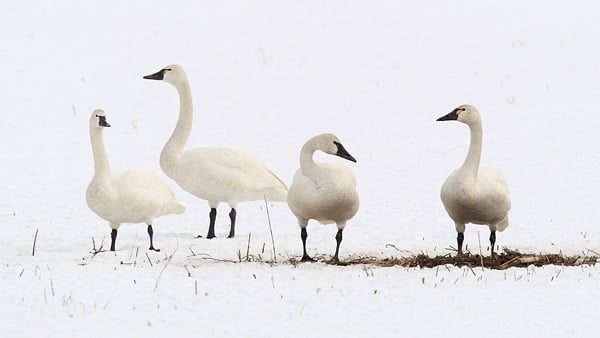 A few years ago in Utah, under the shadow of the Wasatch Front on Great Salt Lake, I hunted and killed a tundra swan. Two years later I hunted and shot black swans near Christchurch, in New Zealand. Now I could write about these hunts as if they were any other, but that would ignore the simple fact that in Western culture hunting and eating swans is something of a fringe activity, to put it mildly.
Shoot a goose and people ask you how you're going to cook it. Shoot a swan, which, after all, is essentially a long-necked goose, and people ask you why you'd want to do such a thing. This is understandable. You can't just pick up a pack of swan breasts at your local Safeway and only six states allow swan hunting, so it's unlikely that even hunters know much about these birds. Again, unlike geese or ducks, swans are not creatures we automatically place into our mental "food animal" buckets.
But neither are a lot of perfectly edible animals, like, say, woodchucks. Swans, however, are not woodchucks. Few animals are so loaded with cultural baggage as are swans. For starters, Leviticus 11:18 bans the eating of swans as "unclean," which I find ironic considering that it is a mute swan that's the medieval symbol of love. Mute swans also make an appearance in "Swan Lake." and the "Ugly duckling," and a swan is the national bird of Denmark. Exactly how swans went from unclean to symbols of love isn't clearly understood.
One reason could be because swans are visually striking. Trumpeter and mute swans are the largest flying birds in North America, weighing upwards of 33 pounds; the tundra swans we hunt, by comparison, are a dinky 17 pounds on average. Incidentally, it is the mute swan that we mostly see in parks. It's a European native brought over in the 19th century that happens to compete with the trumpeters for habitat. Black swans (Cygnus atratus) are just as striking, weighing about 18 pounds with charcoal feathers and a bright red bill.
I can hear you saying, "Oh, but swans mate for life!" Yes, they do. But then again so do turkey vultures. And "mating for life" has been shown to be a fallacy even in the bird world; scientists have recorded "divorces" and cheating among supposed life partners. But still, I get it: Even if the reality is mundane and base, the swan, idolized of course, makes for a majestic symbol of faith, beauty and love. I used to work in politics, and in that realm it is a truism that perception is reality.
Interestingly, however, since my hunt I've been getting the "Oh God, how you could kill a swan?!" reaction a lot less than I'd expected. I suspect this is because a great many of us have had personal experience with mute swans in parks. For every negative reaction I've received, I've had at least two people recount to me their version of having their idyllic notion of swans broken by a giant, hissing monster that chased them around as a child. All I wanted to do was feed it bread — and it bit me!
The most common response to me has been a sidelong look, as if to silently wonder whether I've become Hunter Angler Poacher Cook. So for the record, everything about my swan hunts was legit. In Utah, you must take a test to even apply for a permit, then you need to be lucky enough to draw one of the 2,000 tags, and if you are so lucky, as I was, you only get one bird a year. In New Zealand, where I was hunting, the bag limit was 5 per day.
And in Utah, if you get a swan, you must immediately check it into the local Fish and Wildlife office so they can mark your tag — and be sure you did not shoot a trumpeter swan, which although not technically threatened is still in low numbers even a century after hunting trumpeters was banned. In Utah, if hunters kill 10 trumpeter swans, they close the whole season down. So far, it's never happened.
On a typical year, somewhere between 35,000 and 50,000 tundra swans congregate on the Great Salt Lake. November is prime time for swan hunting, and as it happened, my book tour took me through Salt Lake at the perfect time. So I teamed up with my friends Matt and Steve from Camp Chef, as well as Jeff Bringhurst and Tony Smith; I'd hunted ducks with all of them the previous year.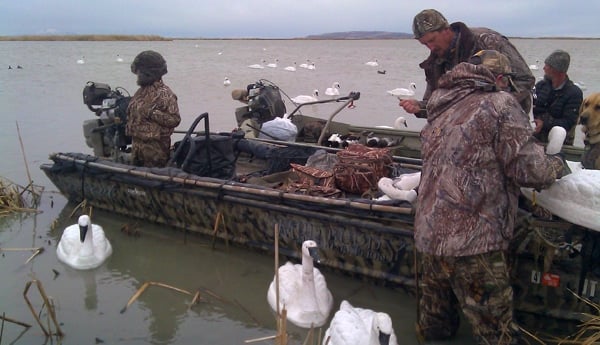 Watch the video for the full experience, but suffice to say it was a little like duck hunting, a little like goose hunting. We motored out with a few huge sacks of swan decoys, and set them out in thigh-deep water just like a duck spread. This was very much different from the massive goose spread we put out for specklebelly and snow geese last week. Five of us had swan tags we were eager to fill.
Now no one manufactures a swan call, but they are remarkably easy birds to call in by voice: "HOO! WHOOP!" shouted in the right tone really does approximate what a tundra swan sounds like. And these Utah boys knew the right tone. It didn't take long for the first swans to come in.
Any duck hunter who has watched swans lazily fly overhead can see how slow they fly… only they're wrong. This is an optical illusion. Swans are so large and they get so far with each wingbeat they only appear to be slow. Get this: The maximum recorded speed for a tundra swan was an eye-popping 83 miles per hour! That makes a canvasback look slow. I tell you this because we were all horribly behind on our first shots.
I looked at Matt, and he looked at me: "Guess we need to lead 'em a lot more." Fortunately we got another chance soon. This time it was a pair of swans, and as they came closer it was obvious that one was a juvenile; juvies are splotched with gray feathers and are markedly smaller. Everyone knew I was hunting specifically for the table, so they let me take a crack at the young swan. Jeff called the shot, I rose up and rocked the swan with the first shot, quickly realized I needed even more lead in front of it and fired again. A wing cracked and the swan fell, head down, splashing like a bowling ball in a swimming pool.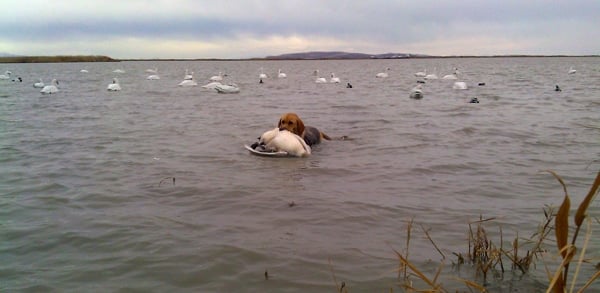 Both swans had gone down. And as the dog retrieved them, I could see how much larger the adult was: Easily 5 pounds or more larger, and a foot's worth of wingspan. I didn't care. I was happy to put my tag on the juvenile, which by all accounts would be the best eating.
And by all accounts, I mean all. There is a surprisingly large body of literature on the eating of swans, most of it from Britain. Swans were legitimate table fare in the UK up until the late 1800s; it was a luxury bird reserved for special occasions or for royalty. Queens Elizabeth and Victoria reportedly ate cygnets for Christmas dinner — a cygnet is another word for a juvenile swan — and by acclamation were wonderful eating. Every reference I could find about swans as table fare stressed the need for a young swan. Older swans are said to taste like "fishy mutton."
Back home, I bent to the task of plucking my swan. This took a while. And I was not about to skin what might be the one and only swan I'd ever eat. I wanted the full experience: fat, skin, meat, giblets, everything. Once plucked, the bird looked like a cross between a snow goose and a Canada goose. Pale skin, ivory fat, and not a ton of it. As I broke the bird down (no way I would try to roast a swan whole!), I kept mentally remarking how, well, unremarkable this bird was. Really no different from a Canada goose, only with a really long neck.
Holly and I waited to serve the swan until Christmas dinner. Seemed fitting. The wingtips, neck meat, feet and giblets all went into a wonderful German soup called ganseklein, a recipe for which is in my new book. (German-speakers would say I made schwanseklein…)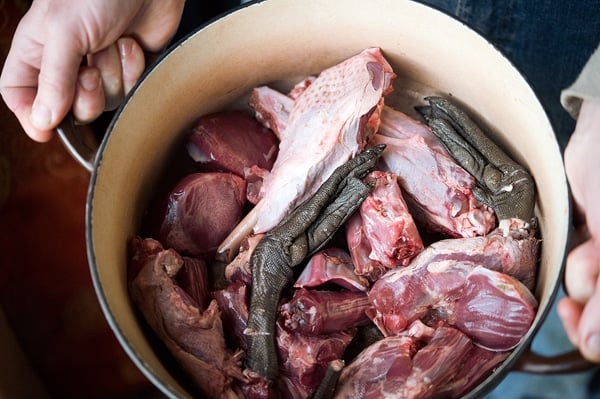 The main course was the breast pan-roasted to medium-rare, with wild cranberry chutney and leberknödel, liver dumplings made from the swan's liver. The legs we ate the next day mixed into some fried rice.
The verdict? Swan is, oddly, more like duck than it is like goose. In fact, the closest thing I can compare it to would be canvasback duck: Dark, tender, mild and clean-tasting. It did not have that toughness Canada goose breast can have, nor that beefiness that many geese possess. Gotta say I like it. But it still doesn't compare to a specklebelly goose, which retains its position as the World's Finest Waterfowl, at least to my palate.
Would I shoot another swan? Sure. If I happened to be in Utah, Nevada, Montana, South Dakota, North Dakota, Virginia or North Carolina during the season, I'd apply for a tag. But I am pretty certain I would not go on a special trip just for swans. Specklebelly geese? Now that's a different story.