Mexican Fried Fish
October 14, 2019 | Updated June 15, 2020
As an Amazon Associate I earn from qualifying purchases.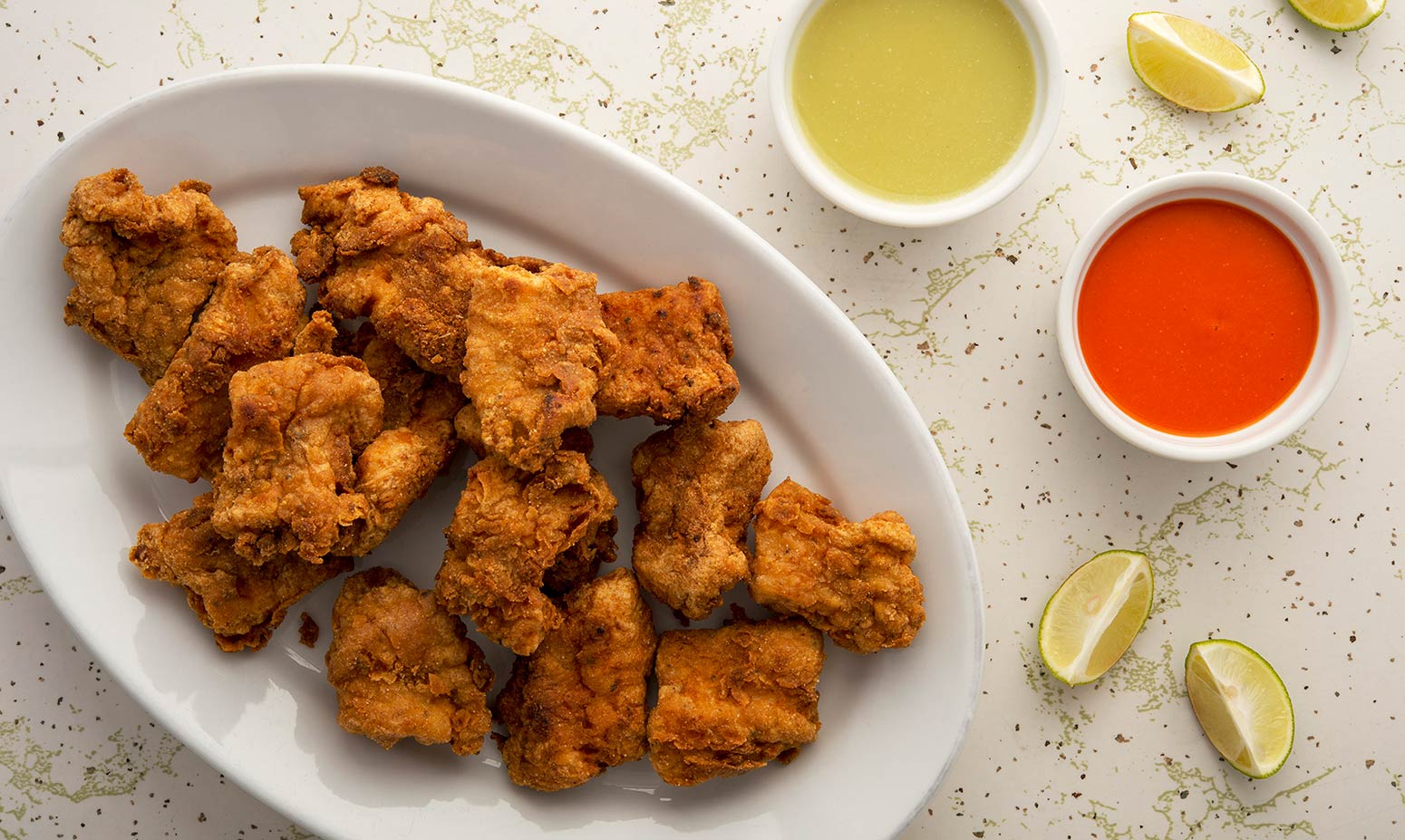 I've been obsessed with Mexican fried fish ever since I first ate it at a little Mexican seafood place called Mariscos Lauro Villar in Brownsville, Texas.
I was down there with my friends Jesse and Miguel chasing the wily chachalaca (a sort of grouse), and we saw a sign on the window that said "Chicharron de Catan." Huh? Fried gar? Catan being the local word for alligator gar; everywhere else in Mexico calls the fish pejelegarto.
While I was intrigued, Jesse and Miguel were over the moon — they'd eaten gar before, and I had not.
We walked into the unassuming restaurant, it's in a strip mall next to a liquor store that has really good mezcal, by the way, and confirmed that the chicharron de pescado was indeed catan. Claro que si, the waitress said, "yes, of course." We asked for two orders.
It was amazing. What makes Mexican fried fish different from everyone else's fried fish is that they're going for a sort of cracklins' thing with their fry — really kicking the spurs to it with the hot oil. So yeah, the fish is a bit overcooked, but it is super crispy.
Add gar to the equation and it's even better. Gar fish has a texture closer to chicken breast than to its fishy cousins: white as snow, meaty and firm.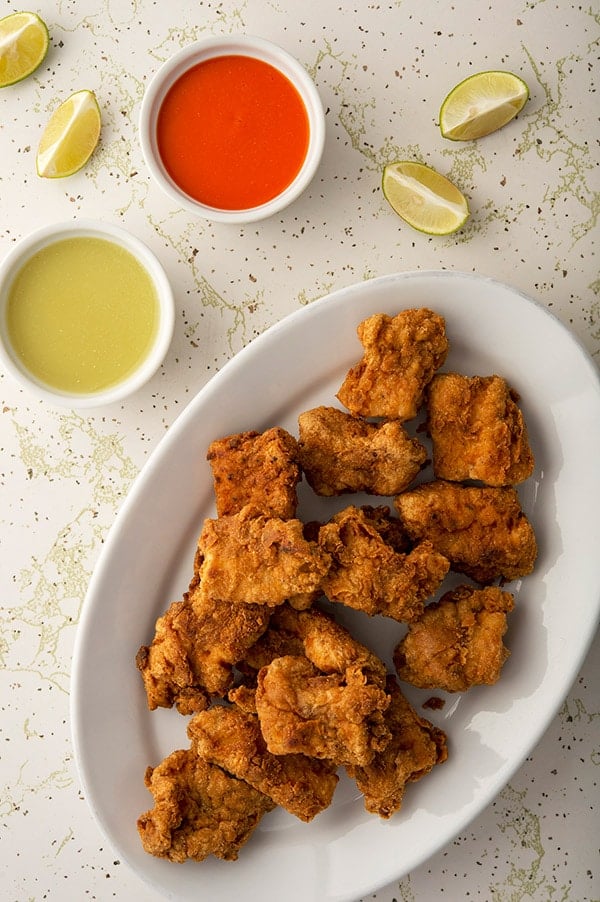 The dish was super simple. Fried gar on a plate with some shredded lettuce, a pickled jalapeno or two, limes and our choice of hot sauces.
Flash forward to a recent teal hunting trip to the Galveston area of Texas, and, as it happened, a guy named Austin, who takes care of the ranch we were on, brought me a little gar to cook. This was a spotted gar, not a giant alligator gar, but it'd do.
The meat was just like the alligator gar in miniature, and Austin showed me the fine art of getting inside one of these prehistoric fish; the skin on an 18-inch fish was almost as thick as that of a six-foot alligator.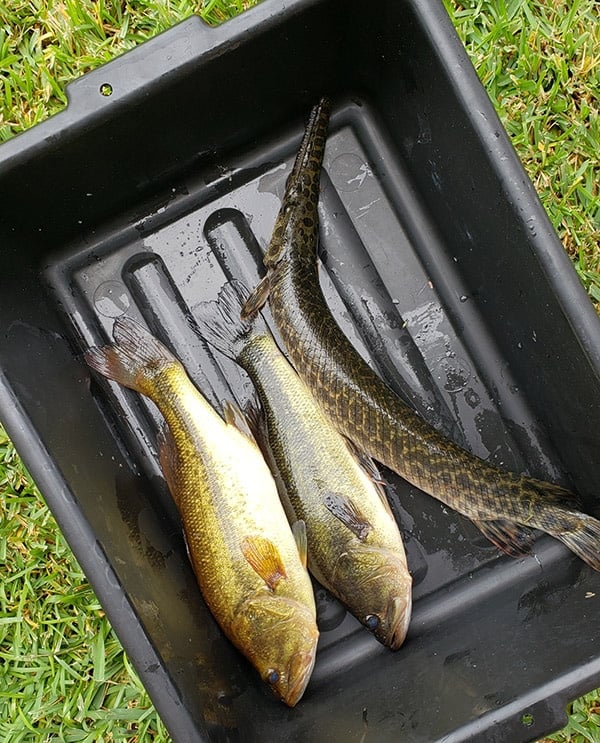 I seasoned the fish, coated it in egg and then flour, then — and this is important — let it rest in the fridge for an hour. This helps the coating stick to the fish better. I fried it all in fresh lard and ¡A huevo! was it good!
You don't need gar to make Mexican fried fish, but you do need a reasonably firm fish. We made it with largemouth bass as well as halibut, and both were good. Use what you have available.
Serve your chicharron de pescado with salsa de chile de arbol as well as tomatillo salsa verde.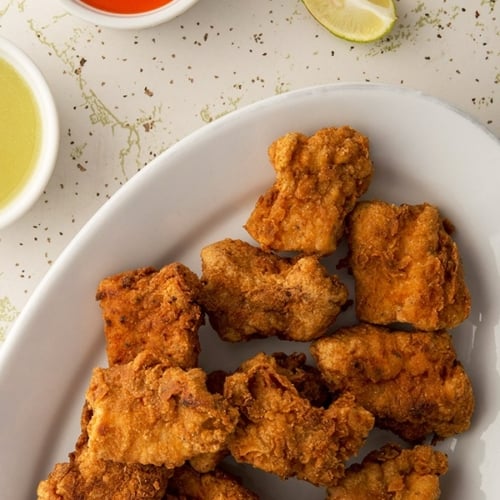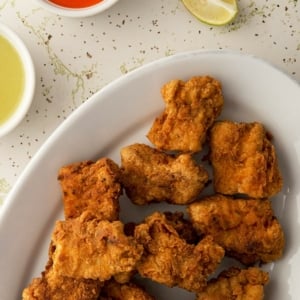 Mexican Fried Fish
Use whatever fish you have available, but a firm, white fish is best. Use fresh-rendered lard if you want to be authentic, but any vegetable oil works fine. Serve with your favorite salsas. Oh, and yes, it's good in a tortilla, too.
Ingredients
2

pounds

skinless fish, in chunks

Salt and black pepper

1

tablespoon

garlic powder

2

eggs, lightly beaten

1

cup

flour

Lard or oil for frying
Instructions
Season the fish with salt, pepper and garlic powder, then coat well with the beaten egg. Dust in the flour, pressing it in well. You want some eggy bits coated in flour to adhere to the fish; this give you a better texture. Put on a plate in one layer and set in the fridge for 1 hour.

Pour the oil into a large frying pan and get it very hot, about 350F to 360F. Fry your fish hard, about 3 to 4 minutes per side. You want them just past golden brown. If you can't fit all the fish in your pan, set up a rack on a baking sheet in your oven and set the oven to "warm."

Serve your fried fish with a selection of salsas or hot sauces and limes.
Notes
Note: You can skip the resting step if you need to, but it won't be as good. 
Nutrition
Calories:
410
kcal
|
Carbohydrates:
25
g
|
Protein:
49
g
|
Fat:
11
g
|
Saturated Fat:
3
g
|
Cholesterol:
236
mg
|
Sodium:
192
mg
|
Potassium:
895
mg
|
Fiber:
1
g
|
Sugar:
1
g
|
Vitamin A:
346
IU
|
Vitamin C:
5
mg
|
Calcium:
198
mg
|
Iron:
5
mg
Nutrition information is automatically calculated, so should only be used as an approximation.