Greek Rabbit Stifado
January 06, 2012 | Updated August 25, 2021
As an Amazon Associate I earn from qualifying purchases.
Stifado is truly a classic of Greek cuisine. I have read at least a dozen different recipes for it, and this one is a rabbit stifado, called kouneli stifado in Greek. You see a beef stifado a lot, too, but that is a different dish.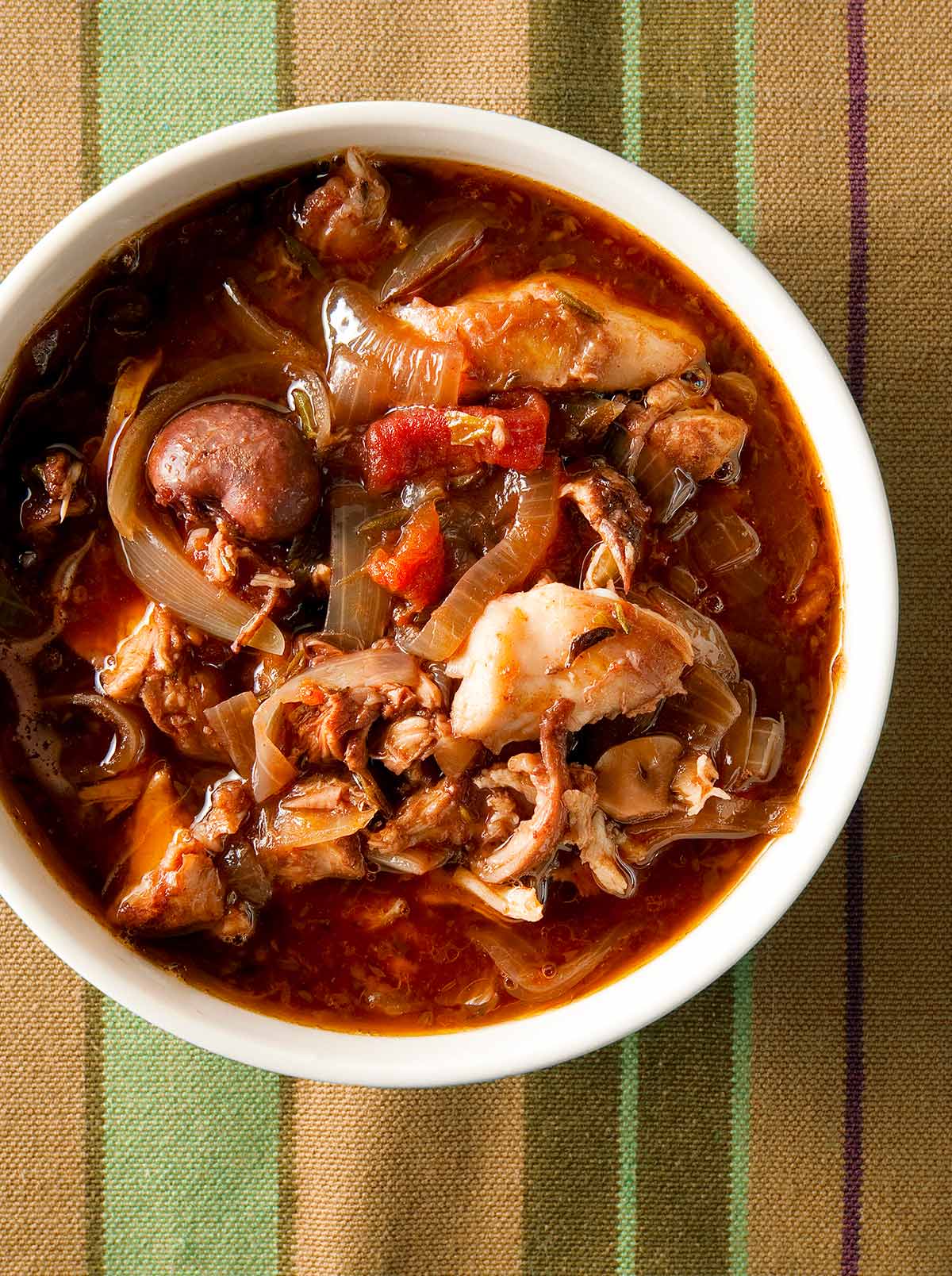 In the case of stifado (stee-FAH-do), debate centers on the tomatoes and wine. Simple chopped tomatoes? Or tomato paste and crushed tomatoes? Red wine or white? Sweet or dry? I use both, largely because I live in Sacramento and have access to the incomparable Greek sweet wine Mavrodaphne. Without Mavrodaphne my rabbit stifado is a shadow of itself, although you can use Port in a pinch.
What does rabbit stifado taste like? The Orient, in its classical sense. It must have been quite the treat when it was invented, most likely in the Middle Ages when Greece was under Venetian rule. Any combination of sweetness with exotic spices such as cinnamon and allspice in an otherwise savory dish screams 1300 or 1400 to me.
Stifado uses a lot of olive oil, so it is smooth going down. This moistens the rabbit as well, which is braised slowly until it is about to fall off the bone. You can pull the meat off the bone before serving, as I do, or just leave the pieces in the stew. The Greeks typically leave the pieces as-is.
The spices give the stew zing without heat, and the tomatoes, which are obviously a post-1492 addition, add a bit more sweetness as well as needed acidity. There's a reason stifado is such a strong part of Greek cooking.
You'll want either a nice Greek red wine, a lager beer, or ouzo with a glass of water as a chaser to go along with this stew. And don't forget to have lots of good crusty bread around, too.
If you want to make this part of a Greek feast, try starting with my favorite Greek fish recipe, and maybe serve Greek venison shanks after this stew.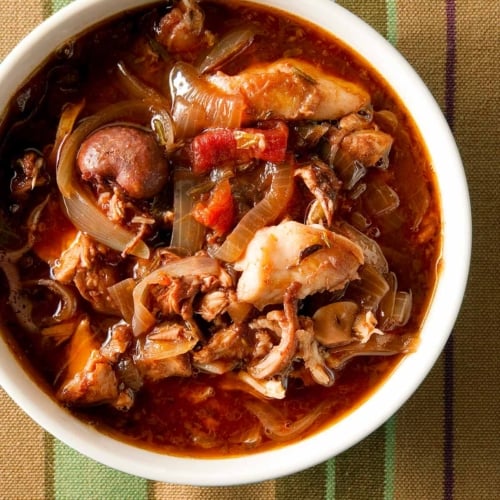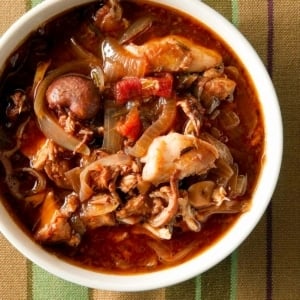 Greek Rabbit Stew. Kouneli Stifado
I have made this rabbit stew many times, and I always seem to like it better with the skinny cottontails here in California, although it is very good with domestic rabbits, too. You could use snowshoe hare or pheasant, too, although you'd need add another 30 to 45 minutes on the cooking time. Freaked out about rabbit? Use chicken.
Ingredients
2

cottontail rabbits or 1 domestic rabbit

Kosher salt

2

medium red onions,

sliced

5

cloves

chopped garlic

10

allspice berries

1

cinnamon stick

4

bay leaves

1

tablespoon

dried oregano

2

tablespoons

tomato paste

4

large tomatoes,

grated, or 1 14-ounce can of crushed tomatoes

1

cup

dry red wine

1/2

cup

sweet red wine

1/2

cup

chicken or rabbit stock

1/4

cup

red wine vinegar

Freshly ground black pepper

1/4

cup

olive oil
Instructions
Cut up the rabbits and cut into serving pieces. Be sure to include little bits, like the belly flaps, the front legs, the kidneys and such; they become yummy surprises in the finished stew. Salt the rabbit pieces well and set aside for 30 minutes.

Heat 1/4 cup olive oil in a frying pan and brown the rabbit well. As each piece browns, move it to a brazier or Dutch oven or other heavy, lidded pot. When the rabbit is browned, sauté the onions for 4 to 5 minutes over medium-high heat, until they begin to brown. Add the garlic and sauté for another minute. Sprinkle with salt. Do not let the garlic burn.

Turn the contents of the frying pan into the brazier or a Dutch oven, then arrange the bay leaves, oregano, allspice berries and cinnamon stick over them.

In the pan you browned the rabbit and the onions, add the wine, sweet wine, vinegar, stock, tomato paste and grated tomatoes — cut tomatoes in half and run them through your coarsest grater to leave the skins out of your pot. Cook this down over high heat for 3 to 4 minutes, then pour over everything in the pot.

Cover the pot and bring to a simmer. Cook slowly for 1 hour, then check. It may need up to another hour. You want the rabbit to be just about falling off the bone. You can pull the rabbit meat off the bone, as I do, or just let your guests do that. Grind some black pepper and drizzle some really good olive oil over everything right when you serve.
Notes
If you want to serve this as a main course, have some crusty bread or rice to serve alongside. 
Keys to Success
Brown the rabbit really well. Take your time. It makes a difference in the finished stew. 

Include the sweet wine (Mavrodaphne if you can find it), as well as allspice and cinnamon. If you can't find Greek Mavrodaphne, which is highly likely, use Port or any other sweet red wine. 

Like many stews, this one is best a day or two after you make it. It will keep a week in the fridge. 
Nutrition
Calories:
557
kcal
|
Carbohydrates:
11
g
|
Protein:
75
g
|
Fat:
17
g
|
Saturated Fat:
4
g
|
Cholesterol:
270
mg
|
Sodium:
223
mg
|
Potassium:
1625
mg
|
Fiber:
3
g
|
Sugar:
5
g
|
Vitamin A:
779
IU
|
Vitamin C:
16
mg
|
Calcium:
82
mg
|
Iron:
12
mg
Nutrition information is automatically calculated, so should only be used as an approximation.