Goose Tacos
December 02, 2019 | Updated October 29, 2020
As an Amazon Associate I earn from qualifying purchases.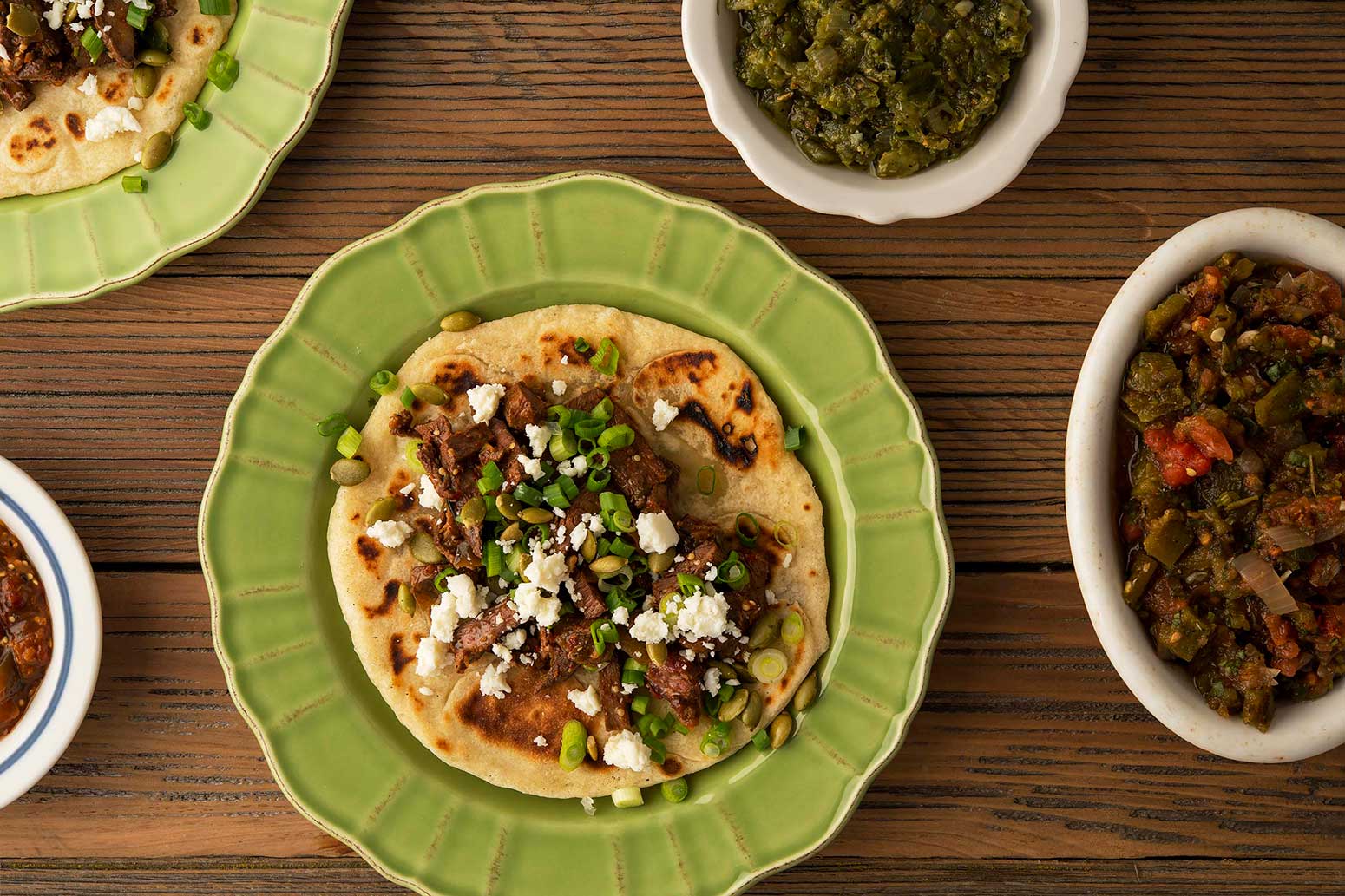 What to do when life gives you goose breasts? Goose tacos, of course.
Hunters often find themselves with lots of skinless goose breasts, mostly from Canada or snow geese. They make good eats, but too many of us get stuck in a goose pastrami or goose jerky rut. Both are good, but I'm going to show you a great technique for cooking goose breasts hot and fast.
Goose breasts, especially Canada goose breasts from bigger subspecies, can be challenging to cook because they can be up to 3 inches thick at their thickest point. Add to this the fact that Canada geese can live a very long time — up to 30+ years (!) — and you have a gnarly, hard-to-cook piece of meat in your hands.
Goose tacos are the answer.
First, you will want to slice your goose breast in half, lengthwise. You are basically butterflying the goose breast. I did a short video of the technique here if you want to see it in action.
This will make the goose breast cook much, much faster. What you're actually doing is getting the meat to act like Mexican arrachera, or skirt steak. Mexican cooking uses a lot of thinly cut meats for this reason. They cook fast, take a marinade well, and are easily chopped into taco-size pieces.
Once you have your goose breast butterflied, you have to decide if you're going to pound it or not. If you have a giant Canada goose breast, I recommend putting the pieces between two sheets of plastic wrap and pounding thin with a meat mallet or empty wine bottle. You want the meat to be about 1/4 inch thick. Snow geese aren't so large that this is needed, but if you want to, you can.
Either way, a marinade is a good idea here. Since the meat is very thin, it will take a marinade well; marinades don't penetrate very deep into meat. I have a great arrachera marinade in this recipe you can use, or you can just go with a simple lime juice, cilantro and garlic powder, with however much chile you can tolerate.
How long? Up to overnight. At least an hour.
After that, you want to sear your goose breast very hot, very fast. I like to set them on an oiled comal, a Mexican flat top, and put a bacon press on top of the breasts. This keeps them flat and gives you a good crust. Only a minute or three will be needed. Flip and sear the other side.
How to slice your meat for tacos? There is a method here, if you watch real taqueros do their thing. It's a thin slice against the grain of the meat first, then a chop perpendicular to that to make little pieces of taco meat that won't pull out the moment you bite into your taco. I did another short video on this cutting style here.
That's it. Butterfly, marinate, sear, chop, eat. Repeat.
As for what you put on your tacos, that's up to you. Flour or corn tortillas is your call, as are toppings. I have an entire section of this website devoted to tacos and salsas here, so give it a look and have fun after your next goose hunt!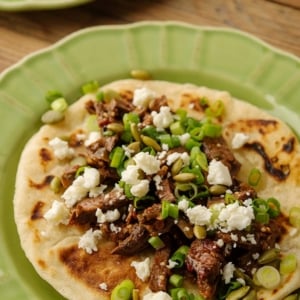 Goose Tacos
I make this with skinless Canada or snow goose breasts. Follow the technique I describe above and you'll definitely enjoy them more, whether in a taco or not. Keep in mind my marinade is one you'll seen in Baja California for skirt steak, but you can use whatever marinade you want.
Ingredients
2

large goose breasts, or 4 smaller ones

2

tablespoons

canola, avocado or other high smoke point oil
MARINADE
1/2

cup

soy sauce

1/3

cup

lager beer

1

teaspoon

ground black pepper

1

teaspoon

ground cayenne or other chiles

1

teaspoon

garlic powder
Instructions
Butterfly the goose breasts as I describe in the text above. If you want, place the pieces between two sheets of plastic wrap and pound to an even thinness of about 1/4 inch. Soak in the marinade in the fridge for an hour and up to overnight.

When you are ready to cook, take the goose breasts out of the marinade and wipe dry with paper towels. Lightly oil them, as well as a comal, flat top or heavy frying pan. You want the pan to be very hot, and the meat to be cold. Lay it down on the flat top and, if you have one, set a heavy weight on top of the meat to press it flat as it sears. Keep this on the goose breasts for 1 to 3 minutes.

Flip the meat and put the press back on. Sear another 1 to 3 minutes, depending on how well you like your meat. I typically go for 3 minutes on side one, then 2 on side two.

When you're ready, let the meat rest on a cutting board for a minute or two, then slice it very thinly against the grain (watch the video I link to in the text above), then chop the thin slices into taco-sized pieces.

Serve with the tortillas, salsa and toppings of your choice. I went with a simple salsa, cilantro, crumbly cotija cheese and pepita pumpkin seeds.
Nutrition
Calories:
167
kcal
|
Carbohydrates:
3
g
|
Protein:
26
g
|
Fat:
5
g
|
Saturated Fat:
2
g
|
Cholesterol:
87
mg
|
Sodium:
1686
mg
|
Potassium:
383
mg
|
Fiber:
1
g
|
Sugar:
1
g
|
Vitamin A:
268
IU
|
Vitamin C:
7
mg
|
Calcium:
9
mg
|
Iron:
6
mg
Nutrition information is automatically calculated, so should only be used as an approximation.