Buttermilk Fried Rabbit
October 15, 2014 | Updated June 06, 2022
As an Amazon Associate I earn from qualifying purchases.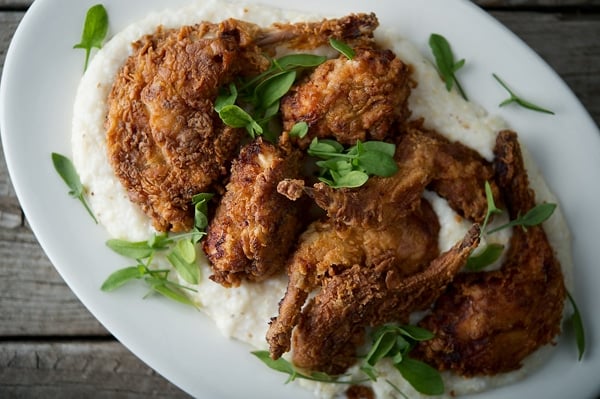 Buttermilk fried rabbit isn't the fanciest rabbit recipe, but it's just so comforting. If you like fried chicken — and who doesn't? — you will like fried rabbit, which is a lot like chicken, in looks, although it definitely tastes of itself, not chicken.
Most people make this recipe with store-bought rabbits, but I use cottontails. If you happen to be blessed with a young snowshoe hare, squirrel or jackrabbit (look for white teeth and ears that tear easily), you use them, too.
My recipe based on a buttermilk fried chicken recipe from my friend Elise at Simply Recipes. I kicked up her spice mix by adding more garlic, cayenne and paprika, thus the red color.
Any spice mix you like works. Cajun, Montreal, Cavender's, whatever.
You need a lot of oil for this, but you can reuse it. When you're done, let the oil cool and then pour it through a fine-mesh strainer that has a paper towel set inside it put over a bowl. The paper towel will filter the brown bits and you can just pour the strained oil back into the container. I generally get three uses from my oil.
Most rabbits are sold whole, and if you don't know how to get them into serving pieces, here is a primer on how to cut up a rabbit.
Serve your fried rabbit with grits, or by themselves with some cole slaw and potato salad on the side. This is picnic food, or food to munch on while watching the game. Like I said, comforting, not challenging.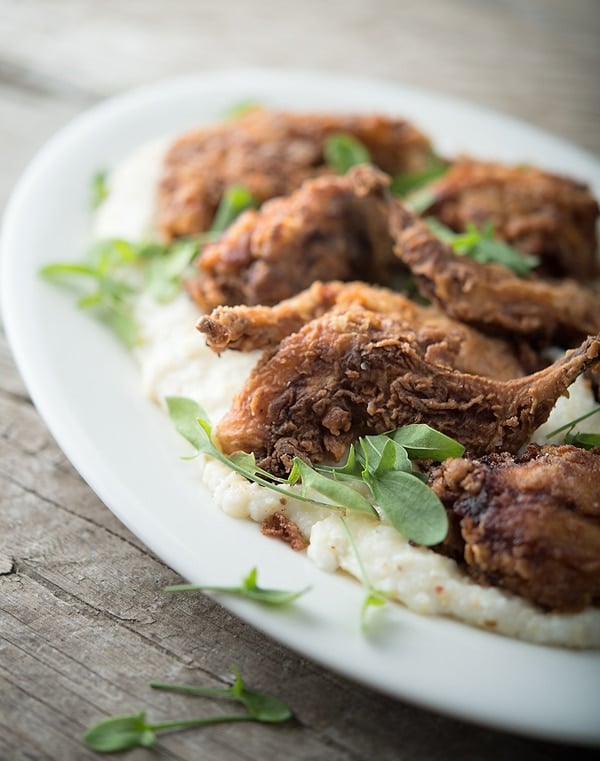 As a general rule, 1 domestic rabbit will serve 2 to 3 people, as will a jackrabbit. A snowshoe hare will serve two, a cottontail and a squirrel just one. You can also do this with chicken (of course), pheasant, quail, and walleye.
Oh, and should you have leftovers, they are fantastic cold for lunch the next day.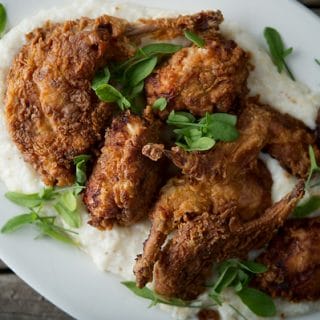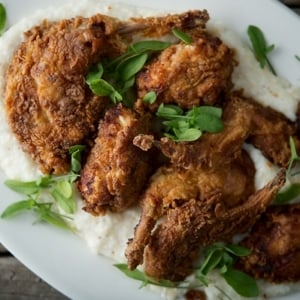 Buttermilk Fried Rabbit
If you are using wild cottontails, I highly recommend you brine your rabbits before frying. A simple brine of 1/4 cup kosher salt to 4 cups water will do -- the rabbit is going to get plenty of seasoning later. Submerge your bunny in this brine about 8 hours. This process keeps them moist. Domesticated rabbits don't really need this, but if you want to brine them, do so for no more than 4 hours.
Ingredients
2

to 4 cottontails,

cut into serving pieces

2

cups

buttermilk

2

tablespoons

Italian seasoning,

or mix together 1 1/2 teaspoons oregano, 1 1/2 teaspoons thyme and 1 tablespoon dried parsley

1

tablespoon

paprika

1

tablespoon

garlic powder

2

teaspoons

cayenne,

or to taste

1 1/2

cups

flour

1

teaspoon

salt

2

cups

vegetable oil
Instructions
Mix the buttermilk with the all the spices except the salt and flour. Coat the rabbit with the mixture and set in a covered container overnight, or at least 4 hours.

When you are ready to fry, pour the oil into a large pan -- a big cast iron frying pan is ideal -- to a depth of about an inch. The general idea is you want the oil to come halfway up the side of the rabbit. Set the heat to medium-high.

Meanwhile, take the rabbit out of the buttermilk and let it drain in a colander. Don't shake off the buttermilk or anything, just leave it there.

Let the oil heat until it is about 325°F; this is the point where a sprinkle of flour will immediately sizzle. When the oil is hot, pour the flour and salt into a plastic bag and shake to combine. Put a few pieces of rabbit into the bag and shake to get it coated in flour.

Set the coated rabbit pieces in one layer in the hot oil so they don't touch. Fry for about 8 to 12 minutes. Fry gently -- you want a steady sizzle. Turn the rabbit pieces and fry for another 10 minutes or so, until they are golden brown. The forelegs will come out first, followed by the loin, and the hind legs will come out last. You will probably need to fry in batches, so just leave the uncooked rabbit pieces in the colander until you are ready to flour them up and fry them. Don't let floured pieces sit.

When the rabbit is gready, rest them on a rack set over a paper towel to drain away any excess oil. If you are cooking in batches, set this in a warm oven.
Nutrition
Calories:
930
kcal
|
Carbohydrates:
46
g
|
Protein:
119
g
|
Fat:
27
g
|
Saturated Fat:
15
g
|
Cholesterol:
418
mg
|
Sodium:
962
mg
|
Potassium:
2218
mg
|
Fiber:
3
g
|
Sugar:
6
g
|
Vitamin A:
1519
IU
|
Vitamin C:
1
mg
|
Calcium:
249
mg
|
Iron:
20
mg
Nutrition information is automatically calculated, so should only be used as an approximation.